It has taken a salmonella outbreak for the NSW Food Authority to conduct checks – and nearly half NSW' egg farms failed inspections.
Industry fails egg checks after mass Sydney salmonella outbreak
Nearly half of the state's egg farms have failed inspections or audits after a crackdown by authorities in response to a major salmonella outbreak in Sydney.
More than 200 residents were struck down with salmonella enteritidis during 2018 and 2019, as a wave of contaminated eggs hit the market across metropolitan Sydney.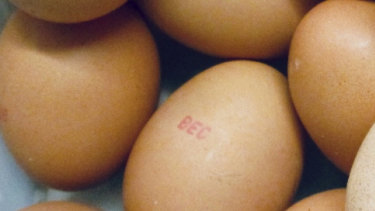 Emergency biosecurity orders were introduced in 2019 to halt the outbreak and improve food safety at the farms, after the disease was detected across at least 13 businesses.
The NSW Food Authority ramped up surveillance of egg producing and processing facilities after the orders were introduced. Of the 479 inspections or audits it carried out last financial year, 42 per cent uncovered non-compliance with the new orders.
The result, contained in the authority's latest annual report, fell well short of the goal of 95 per cent compliance.
The report blamed "increased regulatory controls placed on the industry", which includes mandatory salmonella testing, for the low level of compliance.
The authority said each licensed facility that failed to comply with the orders had been issued with directives outlining the corrective action needed.
"Follow-up inspections are scheduled six months after the initial inspection to check if the licensed premises have complied," it said.
The report noted that despite the "ongoing challenges" of the individual strain known as salmonella enteritidis, there had been a decline in the prevalence of salmonella generally since 2014.
The food authority's annual report showed high levels of compliance with food safety rules in other sectors.
The compliance rate was at 97 per cent for seafood and dairy, 95 per cent for shellfish and plants and 93 per cent for the meat sector.
Name and shame listings for food businesses dropped to 1301 last financial year, from 1483 in the previous year.
The NSW Food Authority licenses 11 egg processors across the state, in addition to 280 egg producers and cold food stores and 2700 vehicles that are authorised to transport egg products.
Salmonella enteritidis is able to enter the reproductive tract of chickens and contaminate the internal contents of eggs before they are laid.
Hygiene expert Dr Charles Gerba and bleach company representative, talks about how to keep household germ hot spots sparkling clean.
It can spread from property to property through the movement of birds, eggs, manures, produce, equipment, feed, rodents, people and vehicles.
It spread rapidly after it was first detected in NSW poultry in September 2018. It was the first time the strain known as salmonella enteritidis had been detected in the state, even though it is present in most international egg industries.
Symptoms of exposure including diarrhoea, nausea, vomiting, headache, fever and stomach cramps.