There's a reason a popular Hills cafe has been crowned as one of the best, time and time again, a list of the best cafes have been listed.
FRED Eatery
The Perfect Note Cafe
Emma & Ivy
The Pallet Cafe
Sazon Espresso
Related Food: Price of a cup of coffee set to rise
Related SA: Coopers Brewery $15m redevelopment plans
from Adelaide now 18.11.21
Adelaide Hills
Don't miss out on the headlines from Adelaide Hills. Followed categories will be added to My News.
From the best hot brews to cult pie classics and breakfast classics, Hills' eateries continue to set the standard.
The Adelaide Hill News takes a look at the movers and shakers behind some of the region's top cafes – and reveals some of the secrets to their success.
Todd Langley and Aaron Bond – Fred Eatery, Aldgate
There's a reason a popular Hills cafe has been crowned as one of the best, time and time again – it's all thanks to passion and dedication of its two owners.
Todd Langley and Aaron Bond are the masterminds behind FRED Eatery at Aldgate, which was crowned best cafe and best brunch spot in our Delicious Local poll.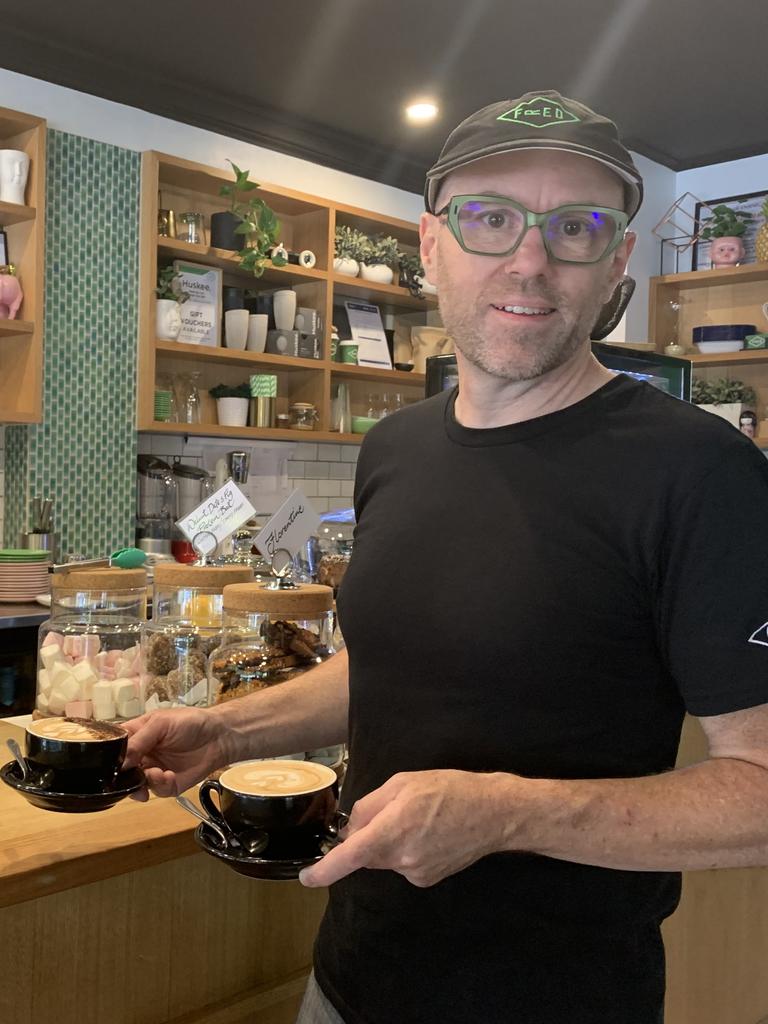 FRED Eatery co-owner Tod Langley. Picture: Lydia Kellner
Both owners had extensive hospitality experience before opening the cafe at 22 Mount Barker Rd in 2015.
"We were looking seriously for a place to open a cafe for about 12 months, but nothing ticked all the boxes," Mr Langley said.
"But we just loved the energy at Aldgate and as soon as we walked in to this location, we said 'this is it'."
The cafe is open from 7.30am to 4pm Tuesday to Sunday.
Rob – Chase Chocolate Notes, Woodside
This Hills cafe is so popular with locals that some of its canine customers even make an appearance without their human owners.
It's all thanks to owner Rob's love for dogs, which never miss out on a treat when visiting its Onkaparinga Valley Road service window.
It's what has made the cafe and Rob – who is always up for a friendly banter – a hit with the crowd for the past five years.
"I've worked in hospitality for 26 years (and) opened this cafe as a semi-retirement project –but that hasn't worked out, as it goes with any project," he said.
"I'm here at 4.30am every morning but I don't really see it as a job as I enjoy what I do so much.
"I think what sets us apart is probably the quality of our coffee and our food but we also have a huge and very loyal clientele and that's really what has kept on going when (Covid hit).
"All dogs that come here also get a dog treat from the window – I'm a big dog lover and they know it – to the point that we had some runaways come here without their owners."
Chase Chocolate Notes is open from 6.30am to 4pm Monday to Saturday and 7am to 3pm on Sundays.
Megan and Tom Hoskins – The Perfect Note Cafe, Blackwood
Some couples garden together, while others decide to go into business.
The latter has certainly been true for Megan and Tom Hoskins who took over The Perfect Note Cafe in Blackwood Two-and-a-half years ago.
While Megan brought with her years of experience in the hospitality industry, running a cafe is a first for Tom – but that hasn't stopped the couple from leaving their mark on the local brunch scene.
"It was just something we wanted to do together and we really enjoy it," Ms Hoskins said.
"We both love coffee and food and try to use all local products, which includes a local coffee roaster.
"Our most popular meal is the BLT crunch wrap – so it's a BLT with a hashbrown in the middle.
"The other thing that sets us apart is that we run old music – so things like Frank Sinatra but unfortunately we had to stop that during Covid as people weren't allowed to sing."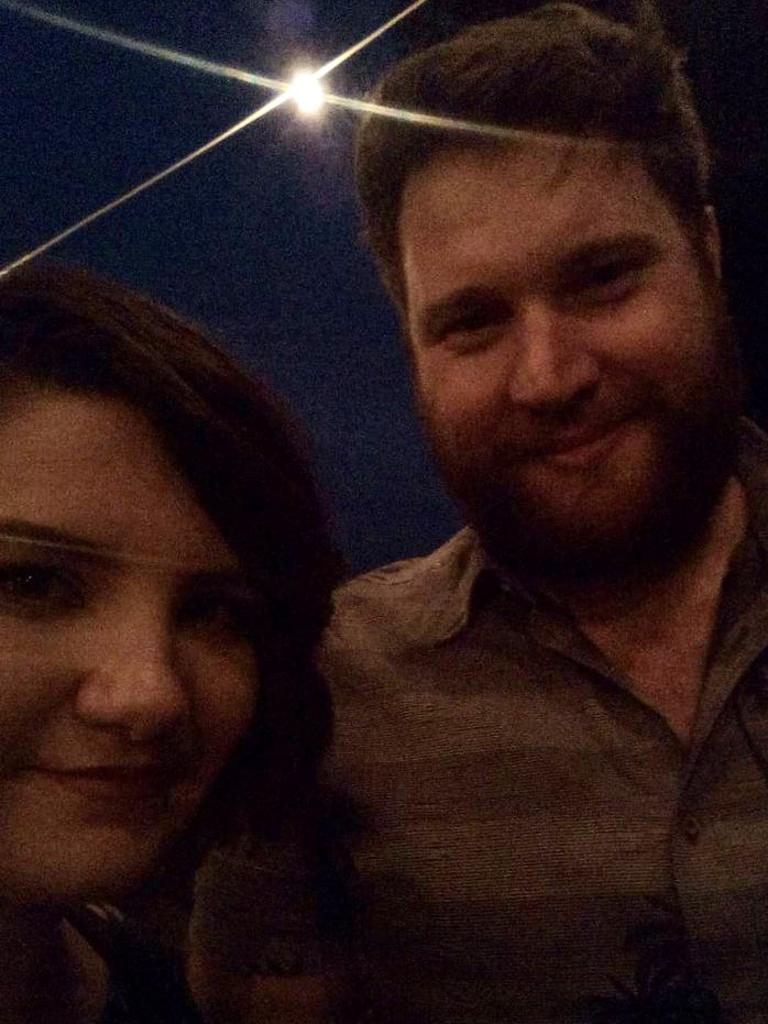 The Perfect Note Cafe owners Megan and Tom Hoskins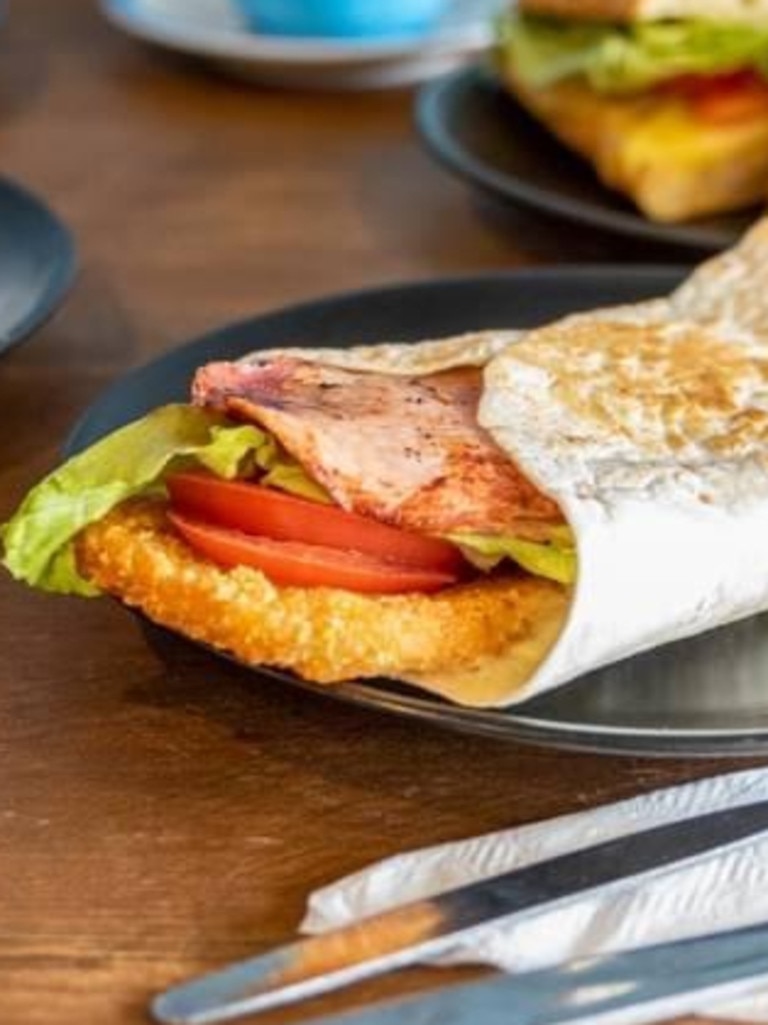 Fancy a BLT with a hashbrown?
Ms Hoskins said the pandemic had undoubtedly left its mark on the business which, at one point, was only allowed to host six people at a time.
However, a loyal clientele has allowed the business to continue, something Ms Hoskins said she was immensely grateful for.
"It was pretty much dead space in here for a while but we started up Uber Eats and that did help," she said.
"We also have a fantastic group of regulars which we see most days of the week and we really appreciate that."
Emma Edwards – Emma and Ivy, Lobethal
Where there is a will, there's a way and in Emma Edwards case – it was finding a way to combine her love for blooms and coffee.
She has achieved as much with the creation of Emma & Ivy in Lobethal – a bustling lifestyle community hub for both food and plant lovers.
It is also a hub for passionate and inspiring Hills women who have banded together to create team Ivy.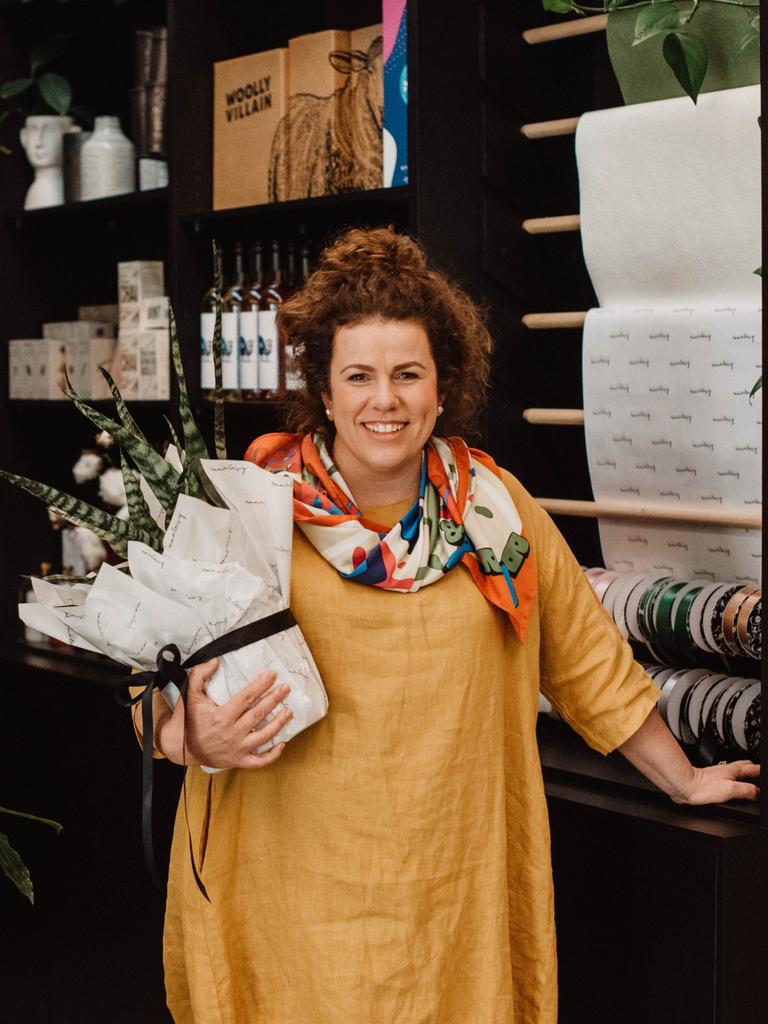 Emma Edwards, owner of Emma and Ivy in Lobethal.
Mrs Edwards, who was also named one of the Hills most inspiring business women, said the decision to start her own business as a means to create her dream job that encompassed all of her passions.
This includes running floral workshops and pizza nights – both of which have been hailed a huge success.
"We moved to the Adelaide Hills from Broken Hill (and) once my boys were settled into their new school I decided to create my own business and chose to do it locally in the Adelaide Hills as the produce is of high quality and abundant," she said.
"I believe the Adelaide Hills is a prime location and should be showcased to the whole of Australia and beyond.
"My mottos are to support local and support those that support you."
Emma and Ivy is open from 6.30am to 4pm Monday to Friday and 8am to 3pm on the weekend.
Brad Short and Marcelo Soares – Pallet Cafe, Nairne
An ongoing effort to make their well-loved Nairne business feel like a second home for customers is the secret behind the success of Pallet Cafe, according to owners Brad Short and Macelo Soares.
The duo took over the cafe three-and-a-half years ago and have since turned the business into a vibrant brunch scene.
They have even started their own coffee company – Husky Coffee Co, with blends named after dogs breeds.
This includes a well balanced OG Husky with notes of chocolate and tobacco, a smooth Smug Pug with its nutty and syrupy character, and the gutsy Raging Bull with caramel notes and double the caffeine.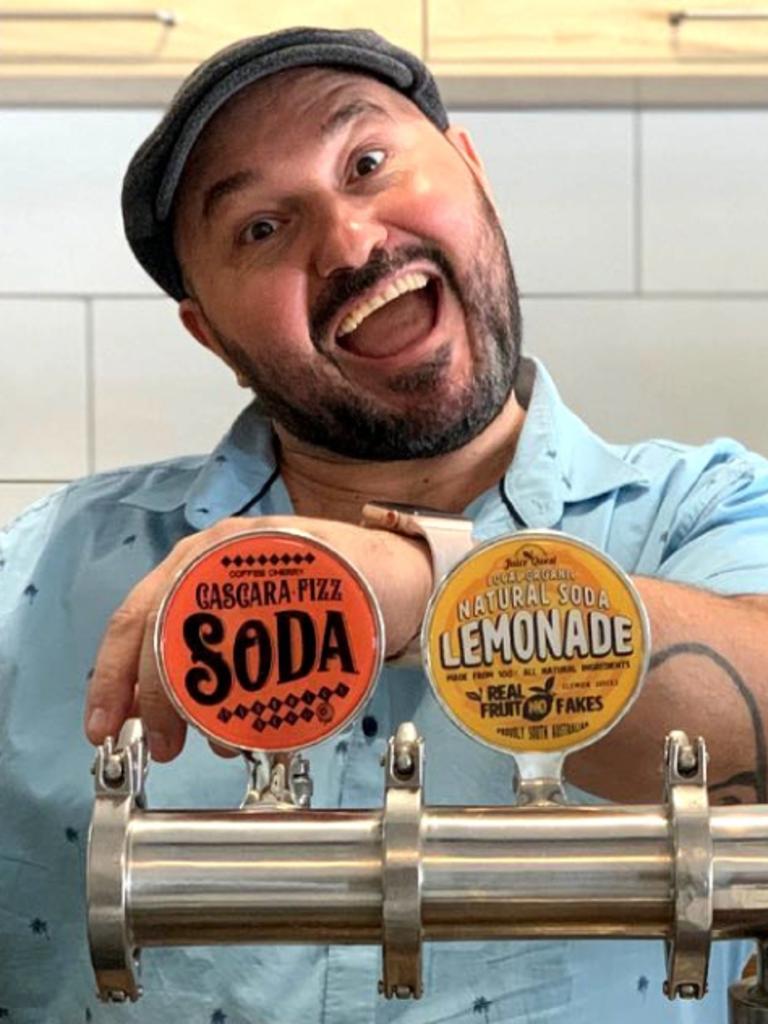 Service with a smile: Pallet Cafe co-owner Macelo Soares.
"We just wanted to come in and make the place and friendly and acceptable as we could and then just provide best food and coffee," Mr Short said.
"I think sometimes, coffee can be a bit pretentious in the way it's shown to customers, so we wanted to make it simple and fun and pair it with dogs, so that people get an idea in their head of what they may be drinking.
"When it comes to food, we have a few different Eggs Benedicts and they are always very popular."
Mr Short said the couple also pride themselves on customer service.
"We try to remember names of every customer that comes in and just generally try to have a friendly vibe and make people feel like this is their second home," he said.
The Pallet Cafe is open from 6am to 4pm Monday to Friday and 7am to 4pm on Weekends.
The cafe is currently working on a new menu and will also open up a portion of the shop to homeware in the New Year.
Oswaldo Estrella and José Estrella – Sazon Espresso, Mt Barker
Cousins who work together, succeed together
Just ask Oswaldo and José Estrella who have been running one of the Hills first espresso bars for the past 12 years.
Situated in Mt Barker's main street, Sazon Espresso is undoubtedly one of the town's busiest cafes – known for its quality coffee, good food and friendly staff.
"We'll be here for 13 years in January and my cousin and I are business partners, that's how we got into this," José said."
"We started with half of the size but expanded two years later as that has been fantastic for us ever since.
"We are lucky that we have very loyal customers and staff but quality is also very important to us.
"We are also very particular in training our staff in making coffee as not everyone can make a coffee."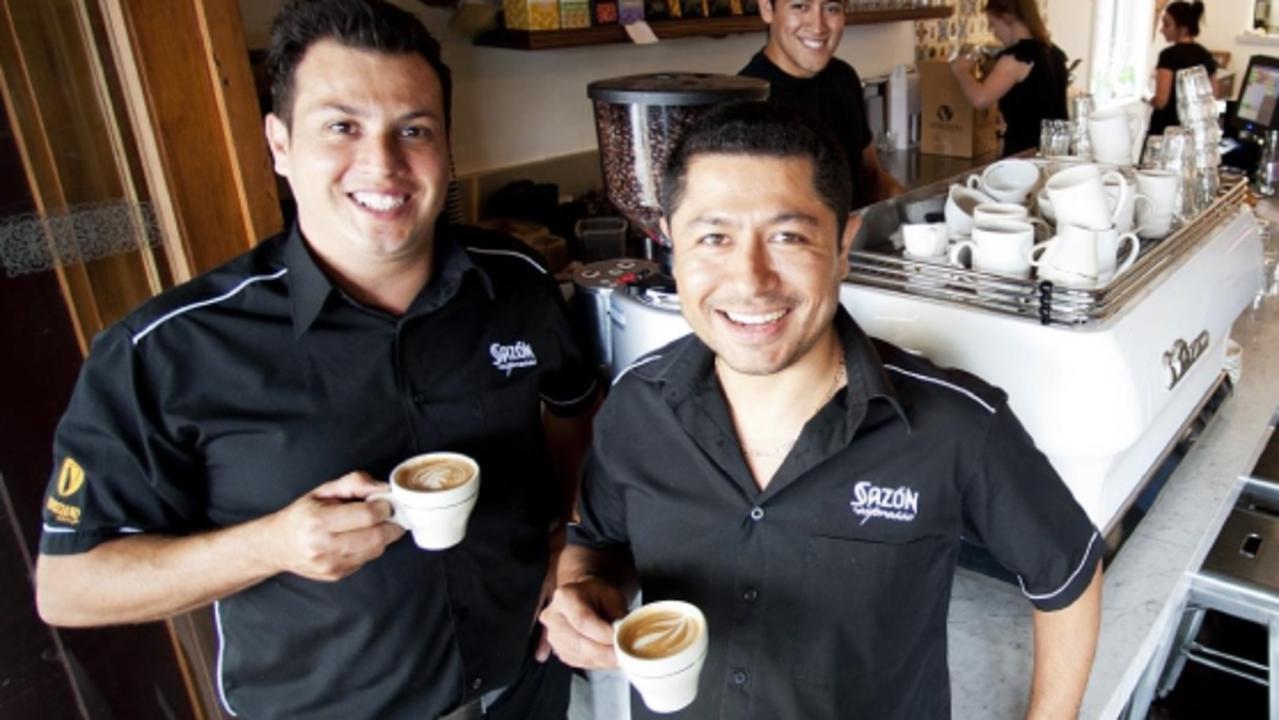 Sazon Espresso owners Oswaldo and José Estrella.
Breakfast is the busiest time for the cafe with its key menu item – Huevos Rancheros – a customer favourite.
The dish includes Mexican ranch-style scrambled eggs, Spanish chorizo, cheese,
pico de gallo and adobo salsa on an oven baked flour tortilla.
"This has been an icon since we opened and has been on the menu for that long as customers keep on asking for it," José said.
"That said, we'll be refreshing our menu very soon and that should be out early next year."
Sazon Espresso is open 7am to 5pm Monday to Friday, 7.30am to 4pm on Saturday and 8am to 3.30pm on Sunday