Tasmanian pride is on show, as AFL star Nick Riewoldt is appearing on masterchef.
Related Tasmania: The world wants Tasmanian produce
Related Food: Industry condemns no jab, no dine, policy for QLD hospitality
from the mercury 16.10.21
AFL star Nick Riewoldt has been extolling the virtues of Tasmanian on Celebrity MasterChef Australia and a leading brand expert says it's the type of publicity that money can't buy.
Brand Tasmania chief executive Todd Babiak said watching the former St Kilda captain talk passionately about his home state and the family shack he visits on Tasmania's East Coast had been a joy and was "enormously valuable" to the state.
"I think he's doing a nice job letting everyone know that there is something different and something special about Tasmania,'' Mr Babiak said.
He said Riewoldt had successfully brought "the personality and charisma of Tasmania'' into the show and provided an honest snapshot of Tasmanian culture, which was "the most powerful way" to promote the state.
Riewoldt grew up in Tasmania before moving to Queensland when he was 10. He returns to the state regularly and has spent the first two episodes of the show spruiking the state – everything from our fresh produce and natural beauty to our laid-back lifestyle and unique shack culture – while serving Tassie-inspired crayfish pasta and scallop pies to the judges.
Mr Babiak said such exposure would spark a range of flow-on effects ¬ from people eating or drinking something Tasmanian to putting Tasmania on their radar as a place they might like to holiday, study, live or work.
"Over 90 per cent of people are now watching TV with phones in their hands,'' Mr Babiak said.
"And as they're watching they sit there and they're googling what's being talked about on their shows.''
"What we hope is that they are so far along that they'll click the 'buy' button.''
"We do tend to see a spike [in online interest in Tasmania] when anything about the state is mentioned.''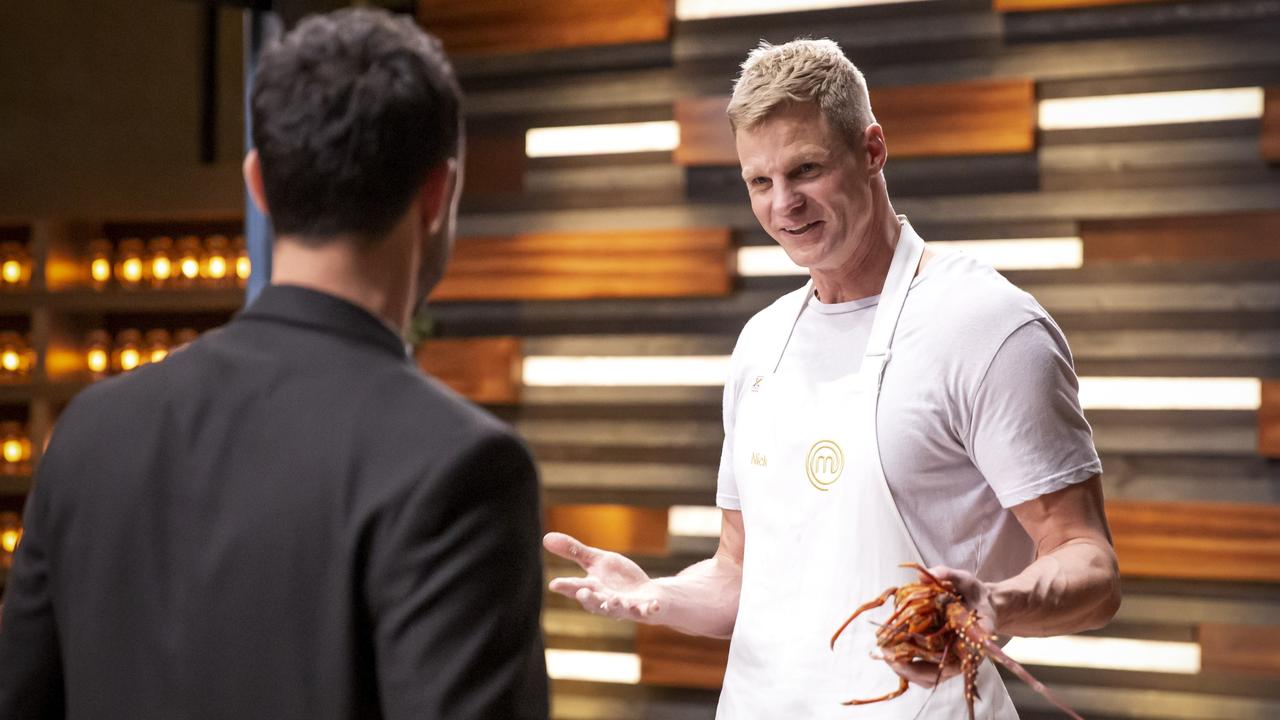 Nick Riewoldt on Celebrity MasterChef Australia. Supplied.
He said people were becoming increasingly sceptical of social media influencers who were paid to promote businesses and destinations.
But a representative like Riewoldt, who was simply promoting Tasmania because he loved it, was the best possible kind of representation.
"Those are the best ambassadors,'' Mr Babiak said.
"It's enormously valuable.''
Riewoldt, who celebrates his 39th birthday on Sunday (October 17), joked he wouldn't be allowed to return to Tasmania if he messed up the meals he cooked on the show, which were inspired by recipes handed down through generations of his Tasmanian family.
Based in Melbourne, Riewoldt loves bringing his wife and three young sons to Orford whenever he can.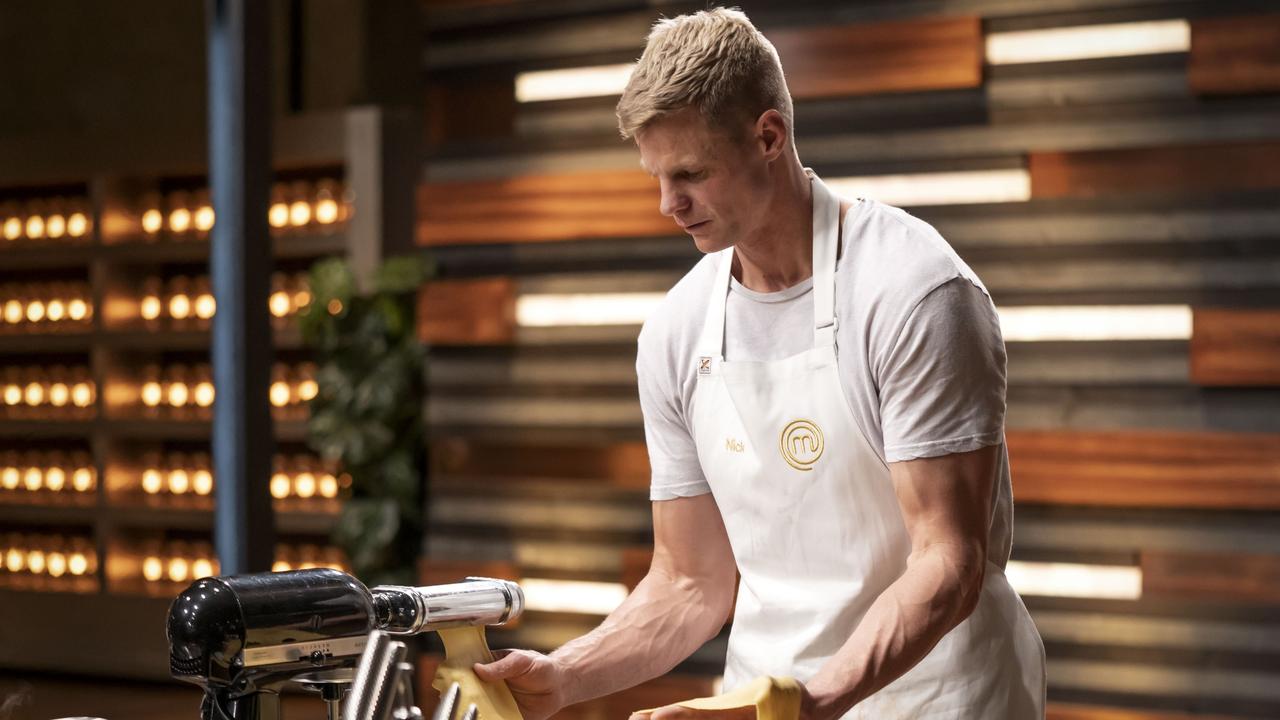 Nick Riewoldt on Celebrity MasterChef Australia. Supplied.
"I take a lot of pride in being Tasmanian,'' he said.
"To be able to tell a couple of those stories and showcase a bit of what Tassie has to offer, it was a privilege to be able to do that.''
Riewoldt said he loved appearing on the show, which was filmed in July, and said fellow contestants including actor Rebecca Gibney, Olympian Ian Thorpe, fashion designer Collette Dinnigan and singer Dami Im had become "lifelong friends".
"We essentially became like a big family,'' he said.
Watch Celebrity MasterChef Australia on Channel 10 on Sunday at 7.30pm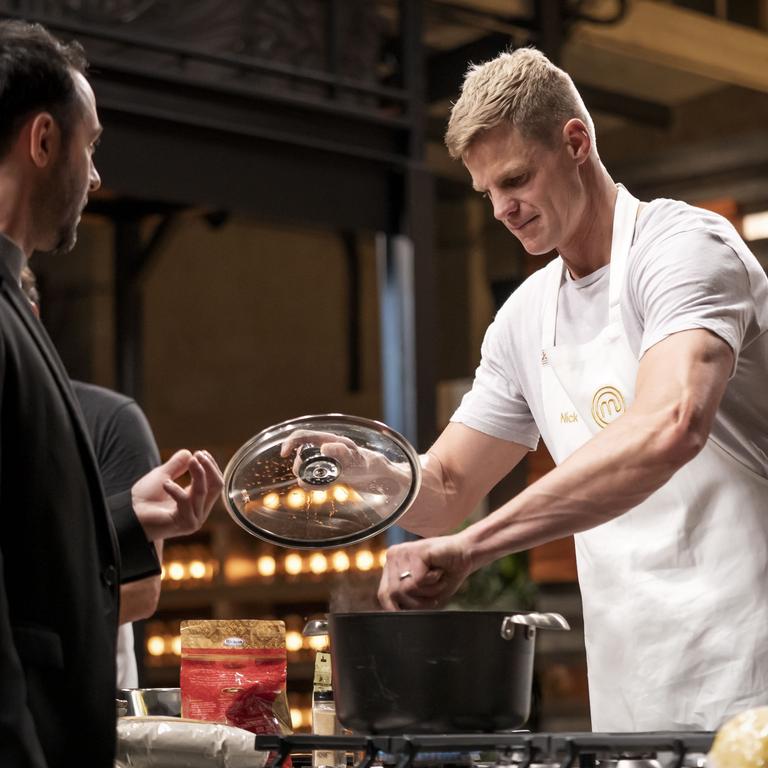 Celebrity MasterChef. Ep1. Nick Riewoldt