Sydney has some new hospitality venues, that have opened after the pandemic offering amazing foods.
Venues include: 
Il Pontile
Malika Bakehouse
The Keel
Frank Mac's
Cash Only Diner
Lady Banks Rooftop
Lola's Level 1
Tiny's
Casa Mérida
Santa Catarina
Burger Room
Related Community: Britains fourth wave
Related Food: Where to eat and drink in Sydney
from daily telegraph 6.11.21
Take a tour of Sydney's best eateries right here with The Sunday Telegraph's Eat Street. Are you hungry for more inspiration? Follow us on Instagram or Twitter. #SydneyEatStreet
Il Pontile
The enviable harbour view and elegant alfresco seating are certainly alluring, but for Il Pontile's head chef and owner Mario Percuoco, it's what goes on behind the scenes that truly sets the restaurant's tone.
"The kitchen is the engine room of a restaurant, and if it's not working, nothing works," Mario says.
Il Pontile is the latest addition to Woolloomooloo Wharf, the Rodeo Drive of waterfront dining, swapping out the previous tenant's (The Amalfi Way) cheery decor of navy blue and sunny yellow for a more sophisticated neutral palette.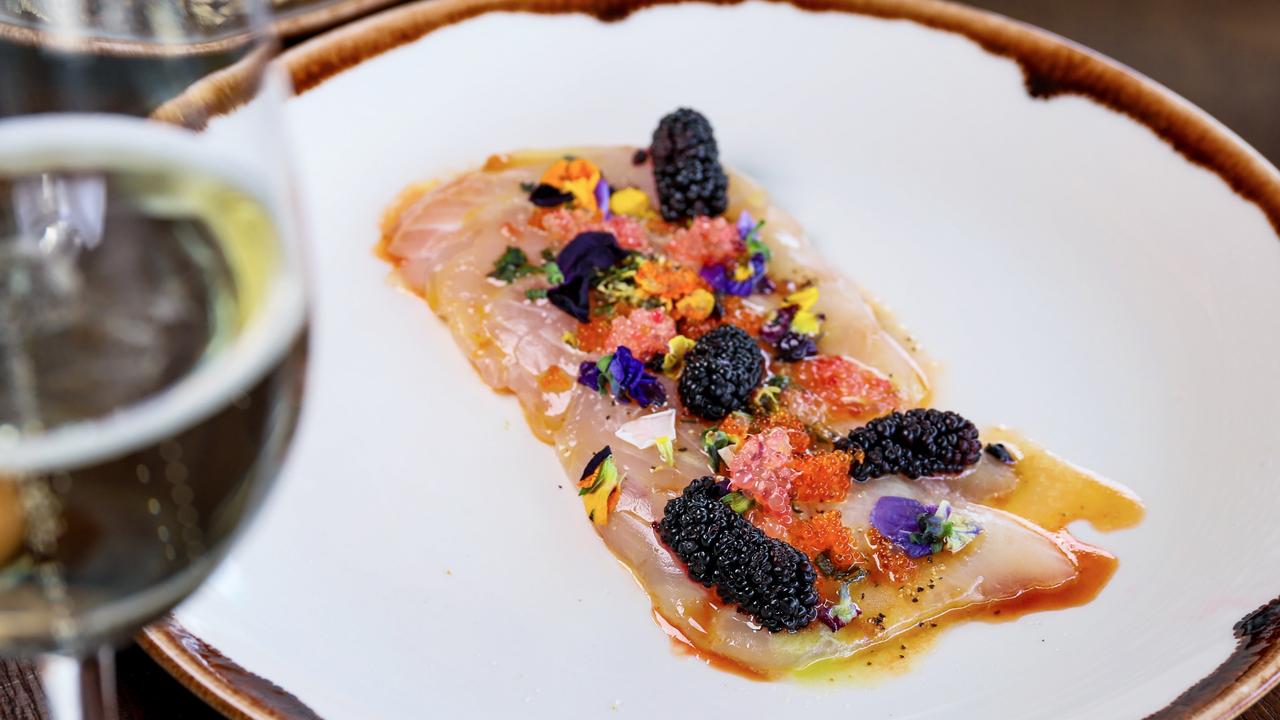 The fresh kingfish. Picture: Jenifer Jagielski
It's an evolution that called for a significant amount of manpower, but because of lockdown, the crew couldn't even get in to paint, and when they could, most of the workers were from Western Sydney, so they weren't able to travel to work anyway.
That left Mario with quite a bit of downtime, but instead of wallowing, he spent much of that time fine-tuning the menu, not just the dishes themselves but what he could expect from suppliers and kitchen staff.
Il Pontile translates to jetty/pier, appropriately named with all the superyachts that literally pull up for lunch which assuredly will include entrees of mussels, kingfish, and house-cured ocean trout followed by Mario's signature dish, Linguine al Cartoccio, linguine with mixed seafood, baked in a parcel, brought to the table where the server deftly unfolds the paper to reveal a generous serving of pasta, prawns, calamari and more.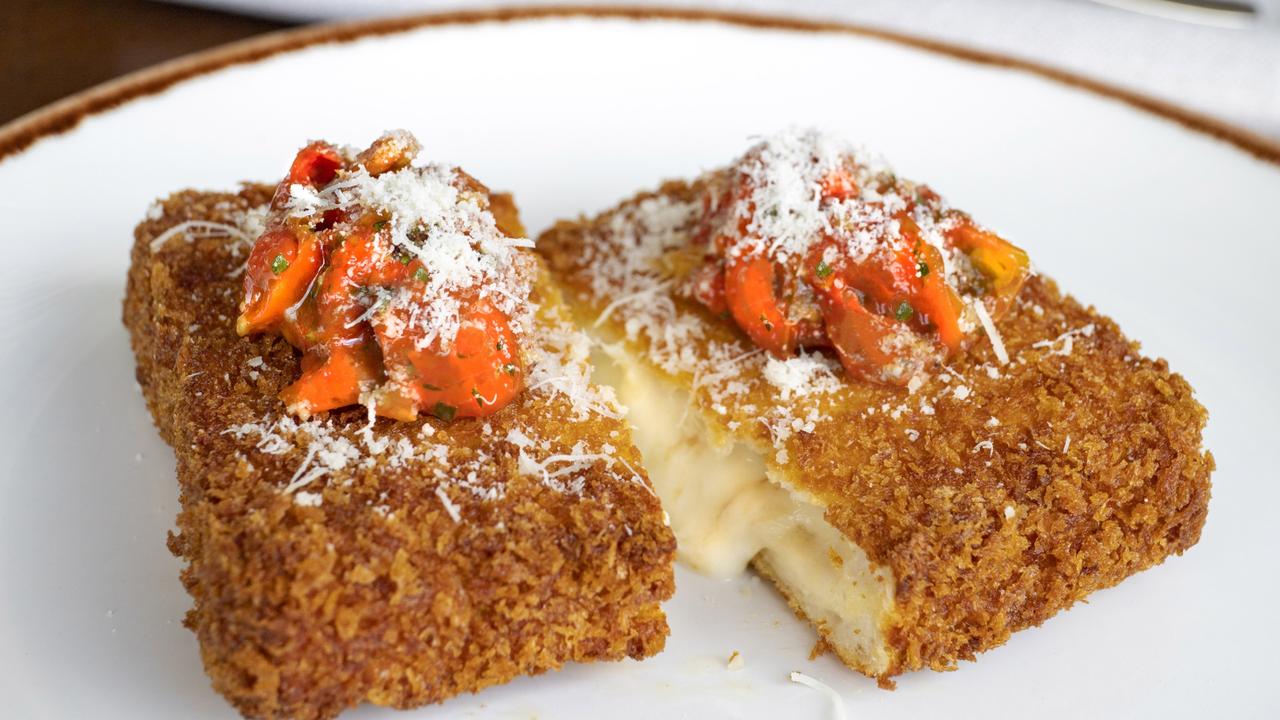 Mozzarella in Carrozza. Picture: Jenifer Jagielski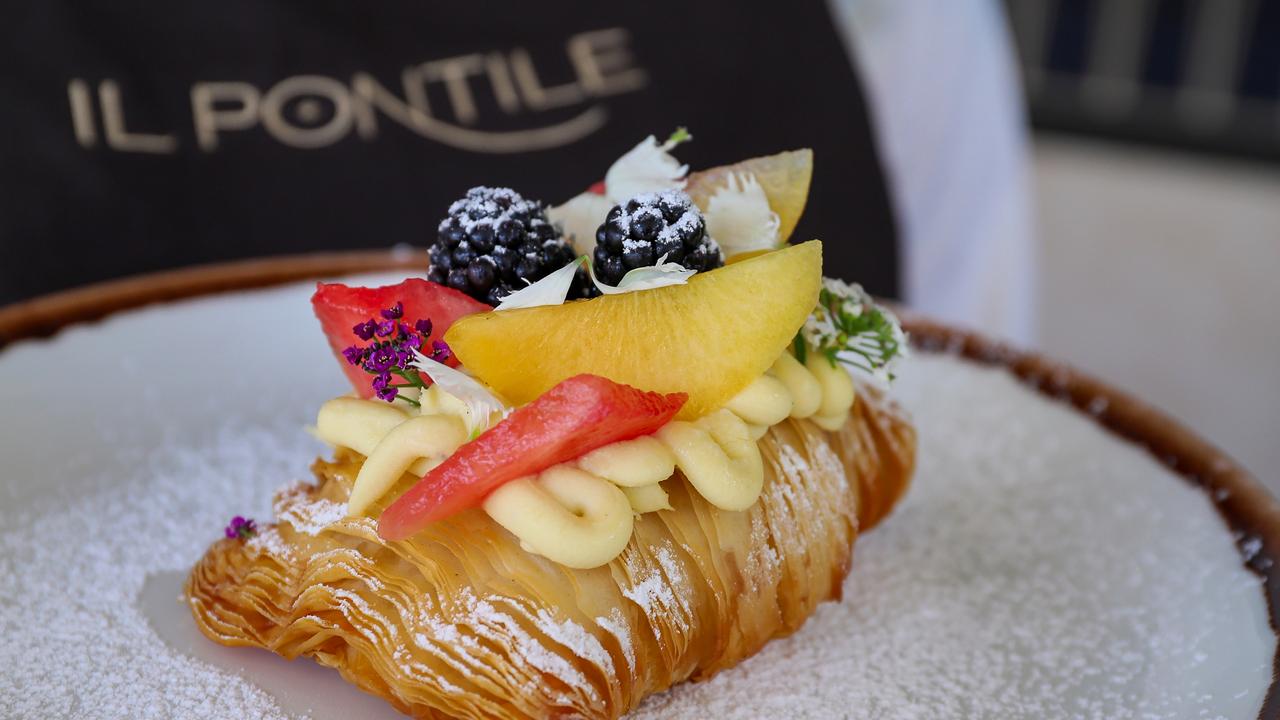 Il Pontile's Sfogliatella. Picture: Jenifer Jagielski
While the menu is rather seafood-centric, meat and vegetarian dishes have equal footing. Tuscan-style Black Angus T-bone to share, rigatoni with meat ragu and what has already become a house-favourite, Mozzarella in Carrozza, smoked mozzarella coated in breadcrumbs and served with confit cherry tomatoes. Definitely, hold out for dessert, one masterful Sfogliatelle Torta di Crema, layers of whisper-thin pastry filled with cream and topped with berries. It probably took all of lockdown to perfect, so there's that.
— S2/6 Cowper Wharf Roadway, Woolloomooloo; ilpontile.com.au
Malika Bakehouse
When the best-laid plans of a grand Turkish restaurant were derailed by lockdown, rather than lose momentum, Efe Topuzlu and Ozgur Sefkatli, the team behind renowned CBD Middle Eastern eatery Above Par, changed tracks and moved their efforts from the city to open an authentic Turkish bakery, Malika Bakehouse in Botany.
Every day, a team of Turkish bakers (as well as relatives who have been recruited to help get things going) prepare a large selection of freshly-baked pastries, many of which are family recipes that have been handed down through generations.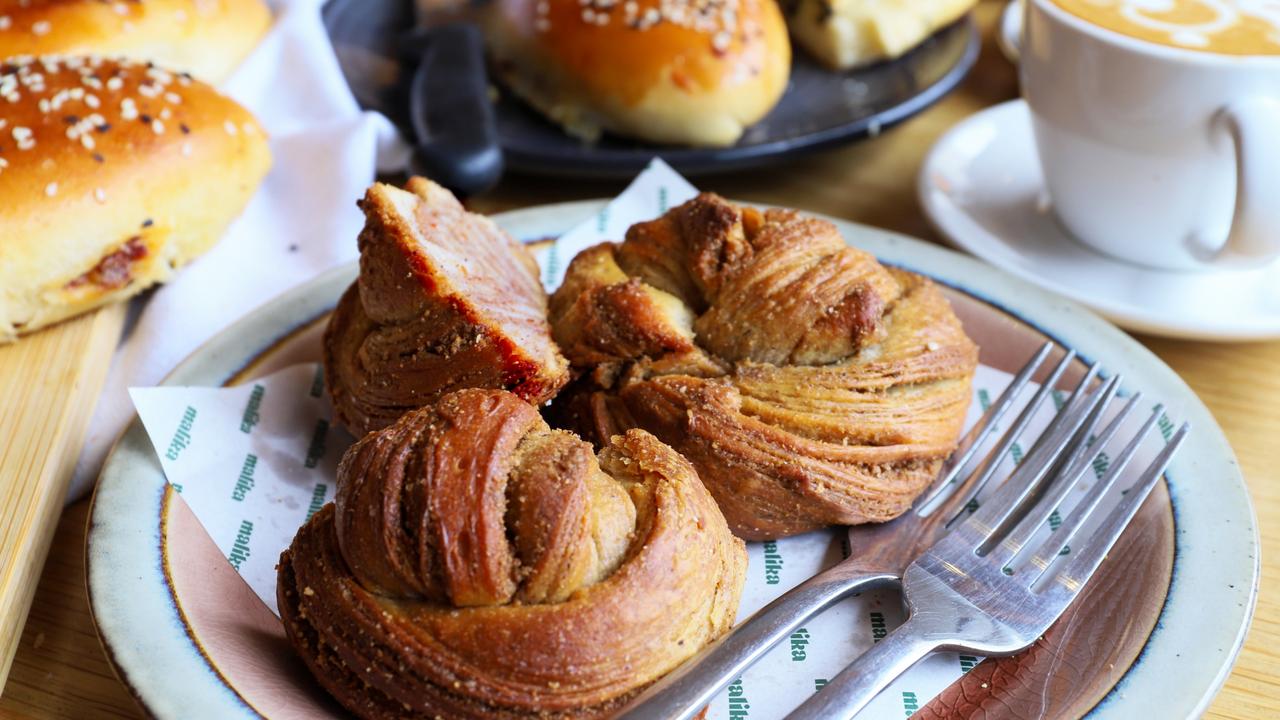 Malika Bakehouse's pastries and coffee. Picture: Jenifer Jagielski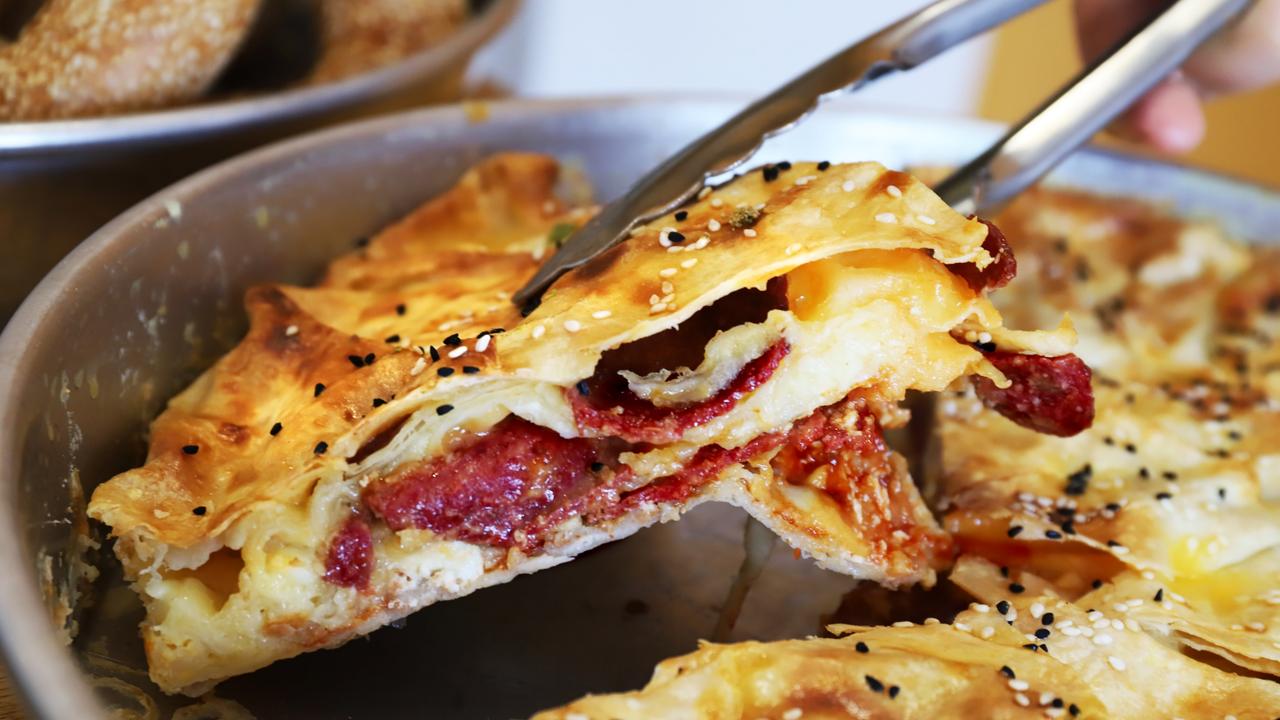 One of the savoury pastries. Picture: Jenifer Jagielski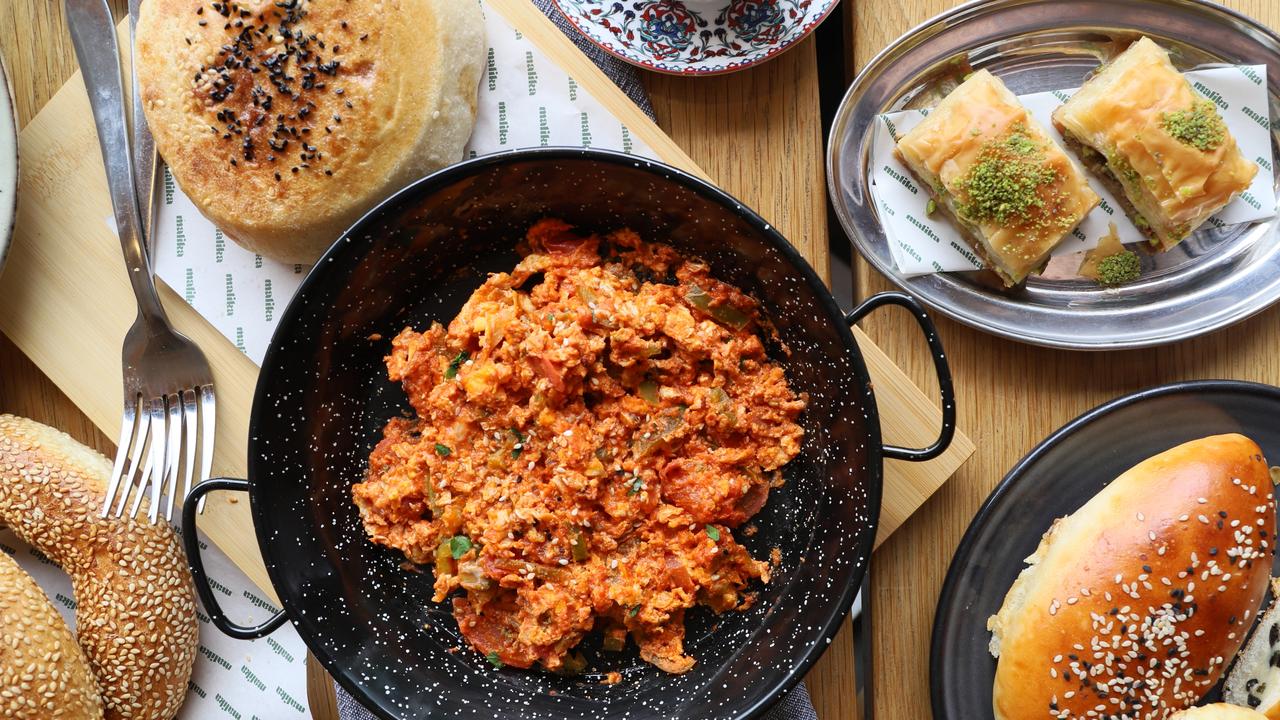 Pastries with Turkish eggs. Picture: Jenifer Jagielski
Once occupied by Deluca's coffee roastery before it moved to a larger premise and passed the keys over to Efe and Ozgur, the cafe has been given a snazzy makeover with ochre orange walls and dark green accents.
In the cases, you'll find a tantalising array of savoury and sweet pastries, including a range of borek – flaky filo pastry with a variety of savoury fillings, baklava – a sweet treat of filo pastry, filled with chopped pistachios, and honey, and acma, the Turkish version of a bagel.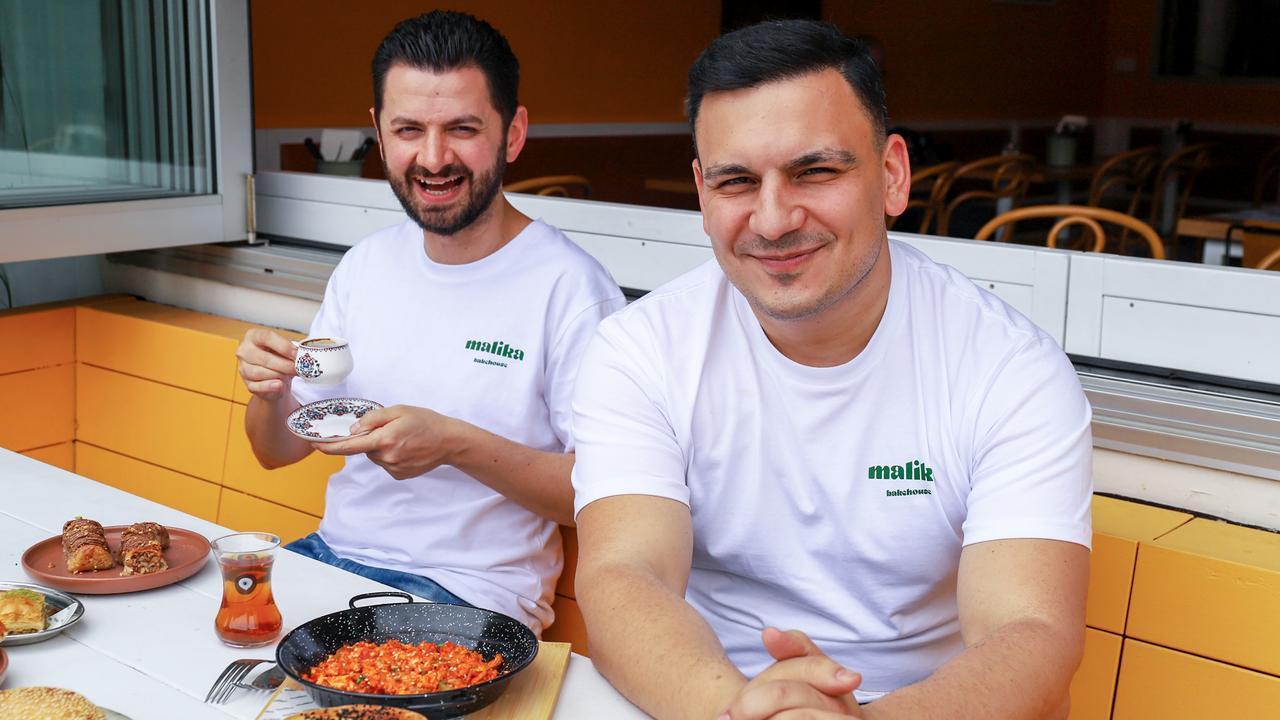 Malika Bakehouse co-owners Efe Topuzlu and Ozgur Sefkatli. Picture: Jenifer Jagielski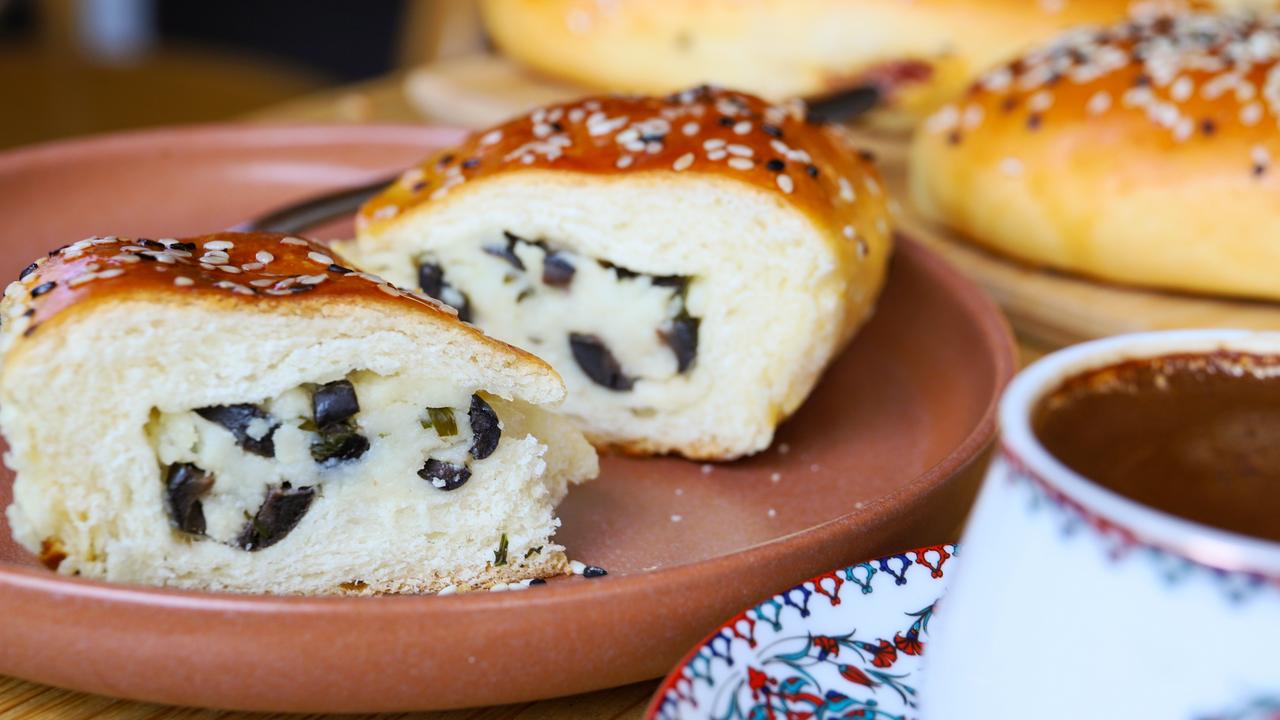 Feta and olive Pogaca. Picture: Jenifer Jagielski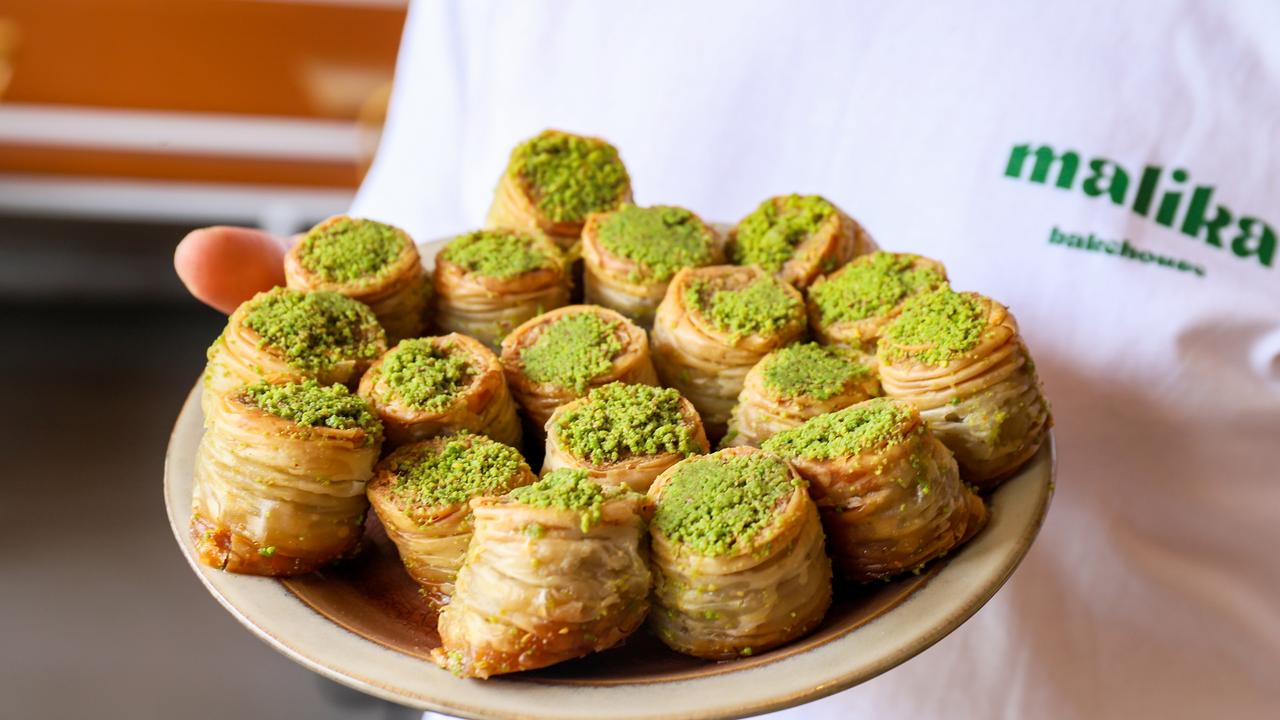 Pistachio baklava. Picture: Jenifer Jagielski
You can get it all to take away, but while you're there, you might as well grab a seat and hang out for breakfast which starts with a strong Turkish coffee or an espresso, adorned with skilful latte art (using Deluca coffee, of course) followed by such offerings as menemen – one-pan chilli-scrambled eggs, Simit Sandwiches, hand made gozleme or a Kofte Plate – Turkish style meatballs, muhammara, bulghur rice, and lavash.
All and all that should keep Efe and Ozgur busy till their next project comes along.
— 1631 Botany Rd, Botany; malikabakehouse.com.au
The Keel
It's "a bar with purpose" … to be fair, most bars have a purpose for all those in attendance, but The Keel's ethos runs a little deeper than most. For co-owner Dylan Flood it's "a way to give back to the broader community and operate with a sustainable ecological, social and economic footprint".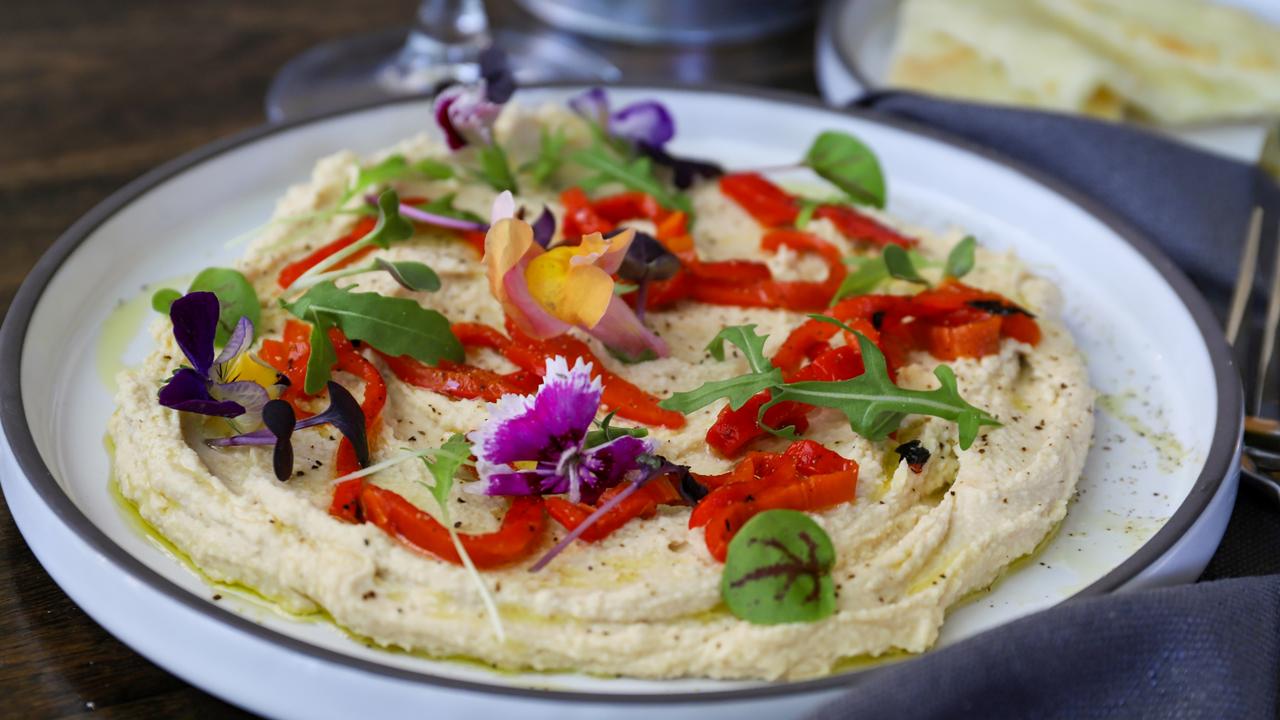 The Keel dips. Picture: Jenifer Jagielski
That means profits from the bar and event space go to local and environmental charities.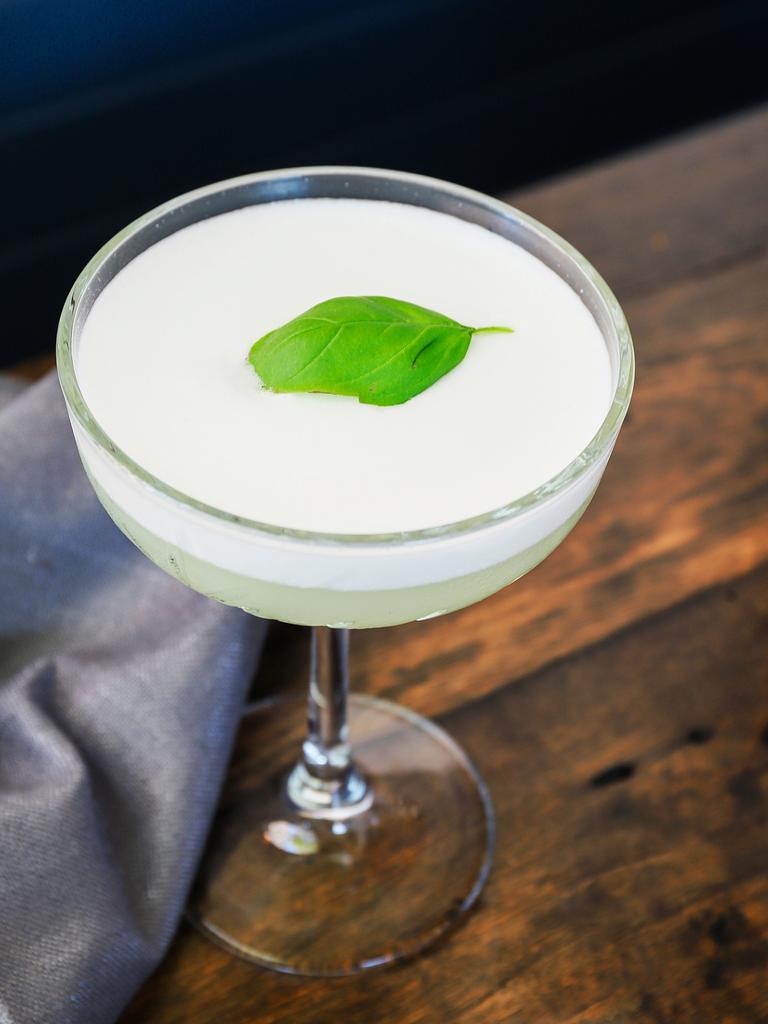 Enjoy a cocktail at The Kell. Picture: Jenifer Jagielski
Even the nautically-themed bar was made with environmental practices in mind as the team behind The Keel are also builders who happen to be quite adept at working with reclaimed timber as well as renovating in accordance with heritage codes, which is particularly important given the location dates back to the mid-1800s as a former "Sailor's Home".
Befitting the trade of the time, the bar features rum in all its glory, including cocktails such as Horace (Ginger Buck) concocted with Surry Hills-based distillery Brix's Spiced Rum, housemade ginger syrup, and lemon Juice or a vegan-friendly Rum Sour that utilises the aqua fibre from the housemade hummus as a replacement for egg whites.
Order your drinks, then find a spot out on the balcony which boasts a view of the Harbour Bridge and Circular Quay or head downstairs for the alfresco garden seating. Feel free to linger a little longer.
With 20 per cent of profits going back to the community, you can work your way down the cocktail list guilt-free with charitable causes such as 'buy one, plant one tree'.
The Keel has garnered some serious support from local and national businesses, so keep an eye out for a slew of creative initiatives … and more rum.
— 106 George St, The Rocks; thekeel.bar
Frank Mac's
Some light a candle, others compose a poem, but for Ciara Doran, co-owner of nearby hotspot, The Doss House, opening a bar and naming it after her great uncle, Frank Mac, well, that takes homage to a whole new level.
For Ciara, the bar's co-owner, it seemed rather appropriate given he was known around the Irish village he called home as quite a colourful character who was quick with a story and all things newsworthy, much of which was relayed from his designated stool at the local watering hole.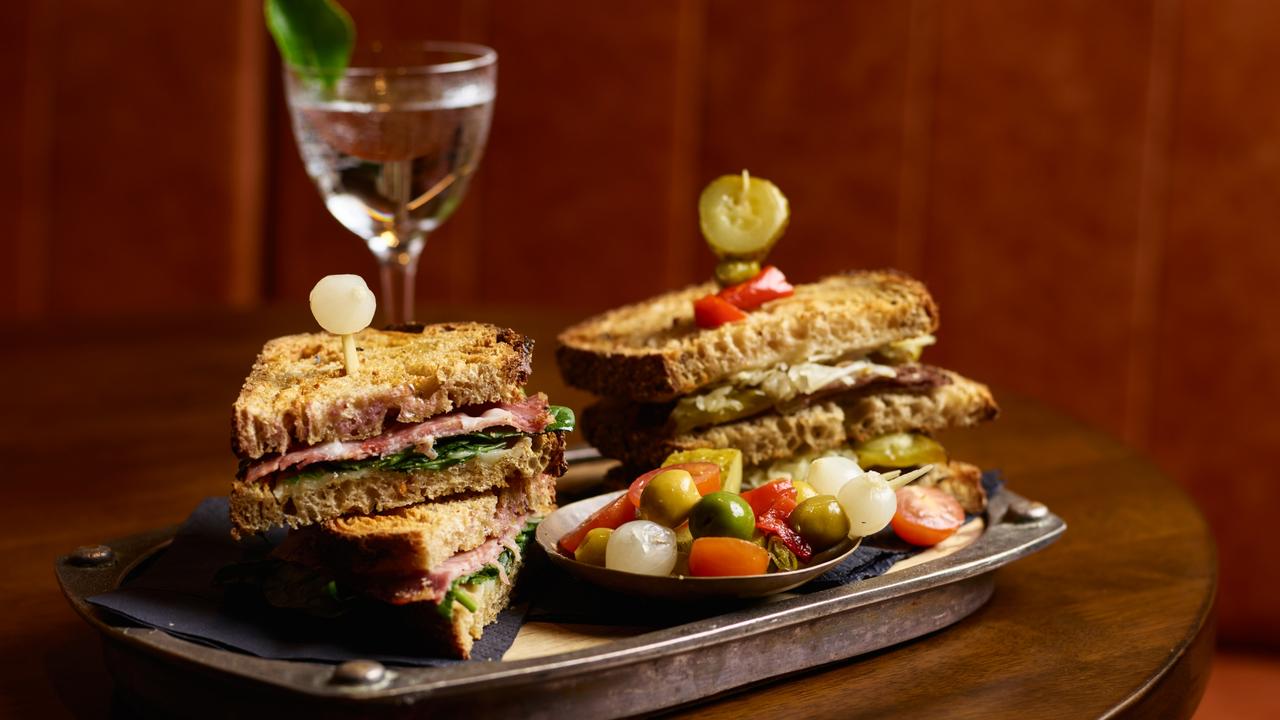 Frank Mac's toasties. Picture: Steven Woodburn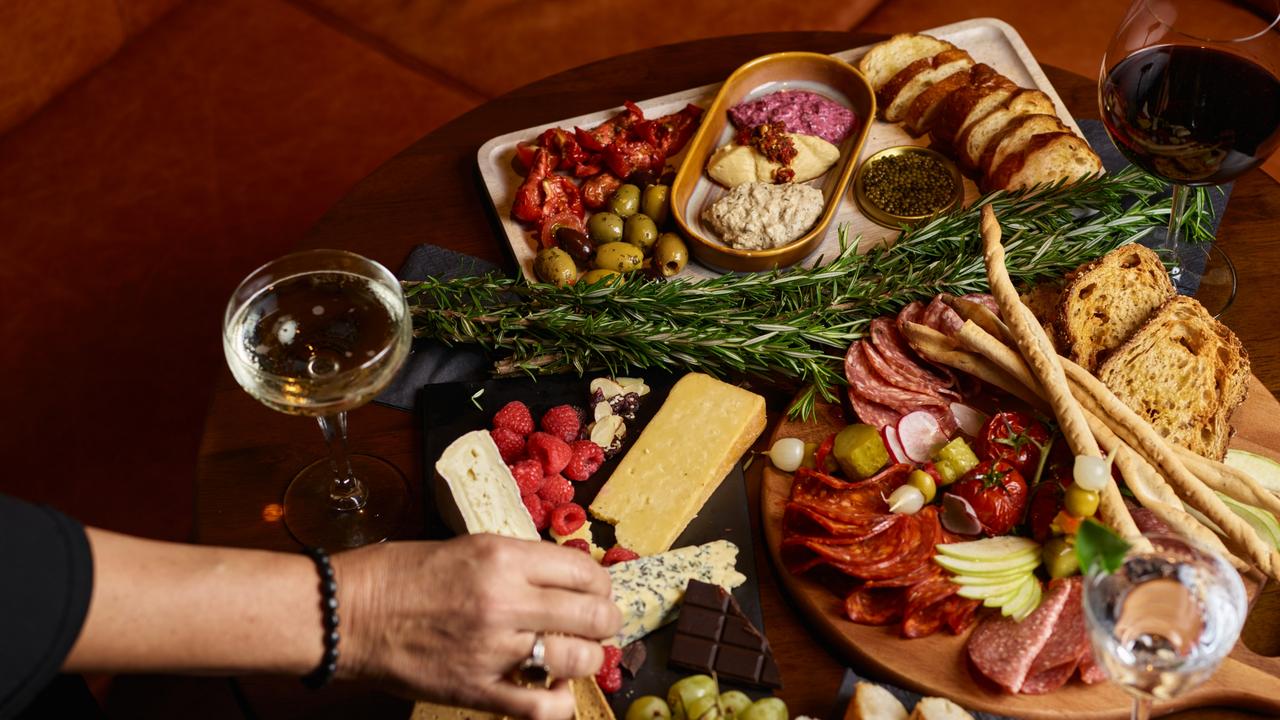 Frank Mac's offers a selection of foods. Picture: Steven Woodburn
But, as with many villages, the pub wasn't just for a pint, says Ciara, it also served as general store, post, and an overall community centre.
"We used that concept as inspiration for Frank Mac's, so it has the playful spirit of my uncle Frank and the warmth of hospitality you'd expect from somewhere you've been frequenting for years," says Ciara, noting that each area of the bar reflects the many aspects of Frank's former hangout — from the white and bright gin and cocktail bar upstairs to the deep leather lounges and dark woods you'd expect from a luxe and moody home "library, and even a number of tables and chairs in the lower garden courtyard or out along George St.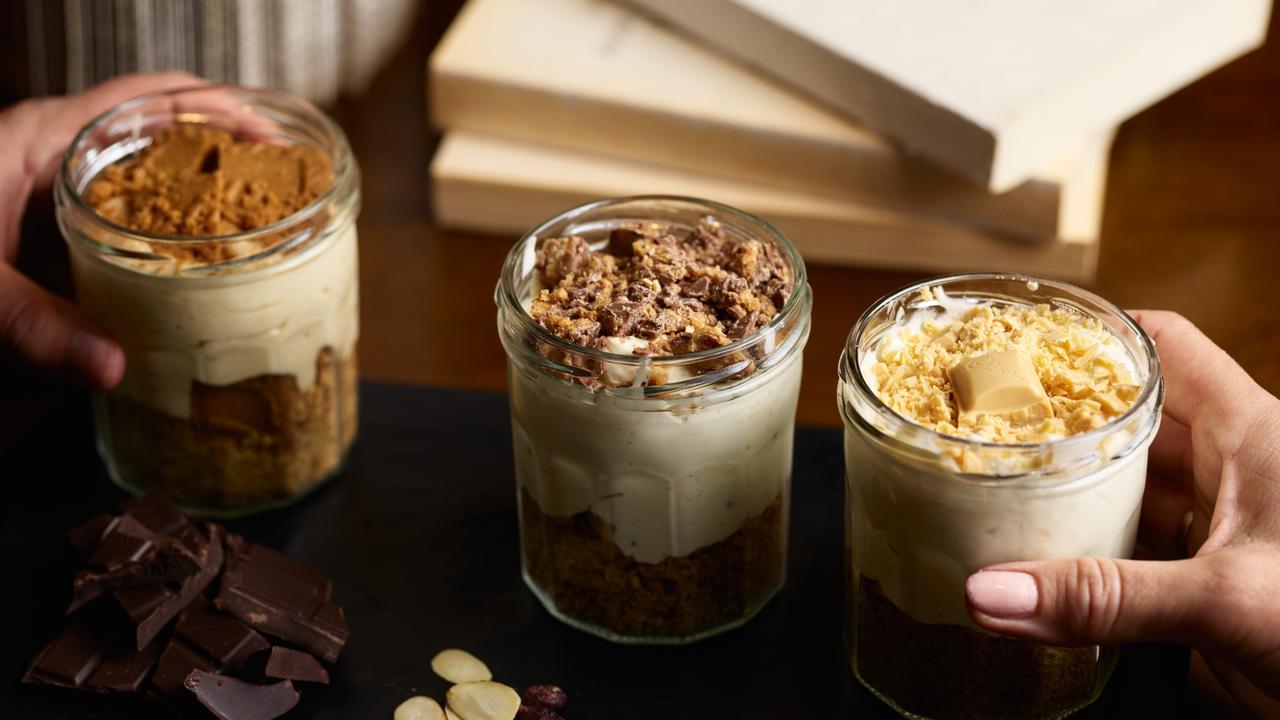 Individual cheesecakes. Picture: Steven Woodburn
With a comprehensive gin menu, upscale bar snack such as Guinness meat pies and generous charcuteries boards, as well as a decor that defines "details", you'd think that lockdown would have been a catastrophe for Frank Mac's opening, however, Ciara explains that they were quite fortunate that much of "build" was able to have been offsite.
A tick more difficult was the development of more than 100 juniper blends made with ingredients and distillers around the globe. So, if there is one good thing to come out of lockdown, it's that they were able to refine the cocktail list with housemade syrups, cordials, and bitter, even developing a clear Worcester sauce to use in the summertime version of Bloody Mary, the Mary Magdalene cocktail. Frank would be proud.
— 83 George St, The Rocks; frankmacs.com.au
Cash Only Diner
They have run a successful speak-easy-style bar in Sydney's CBD for many years but Burrow Bar owners Chau Tran and Bryce McDonough decided to branch out into the restaurant business.
After moving their award-winning cocktail and spirits bar from Clarence St to a basement on Barrack St, Sydney, earlier this year the pair were told the street level space was also available so they decided to follow their dream of opening a Vietnamese restaurant.
So the Cash Only Diner was created but its opening had to be put on hold due to lockdown.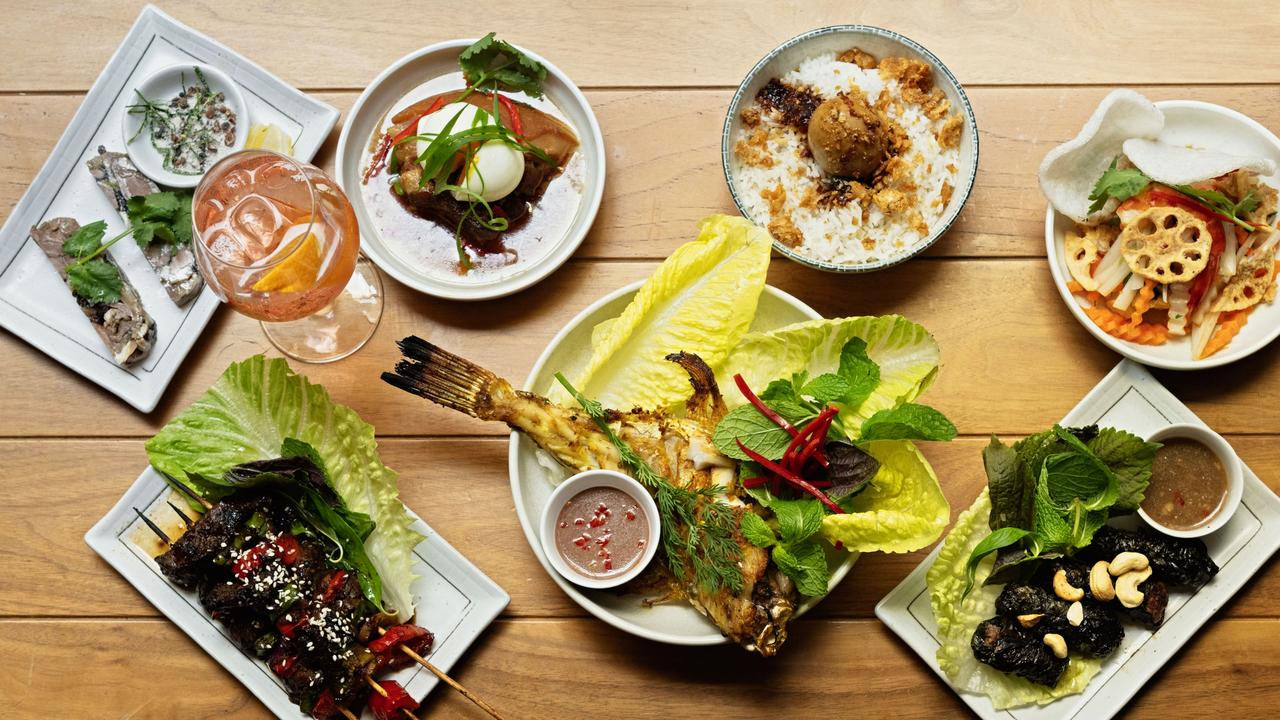 A selection of share dishes at Cash Only Diner. Picture: Supplied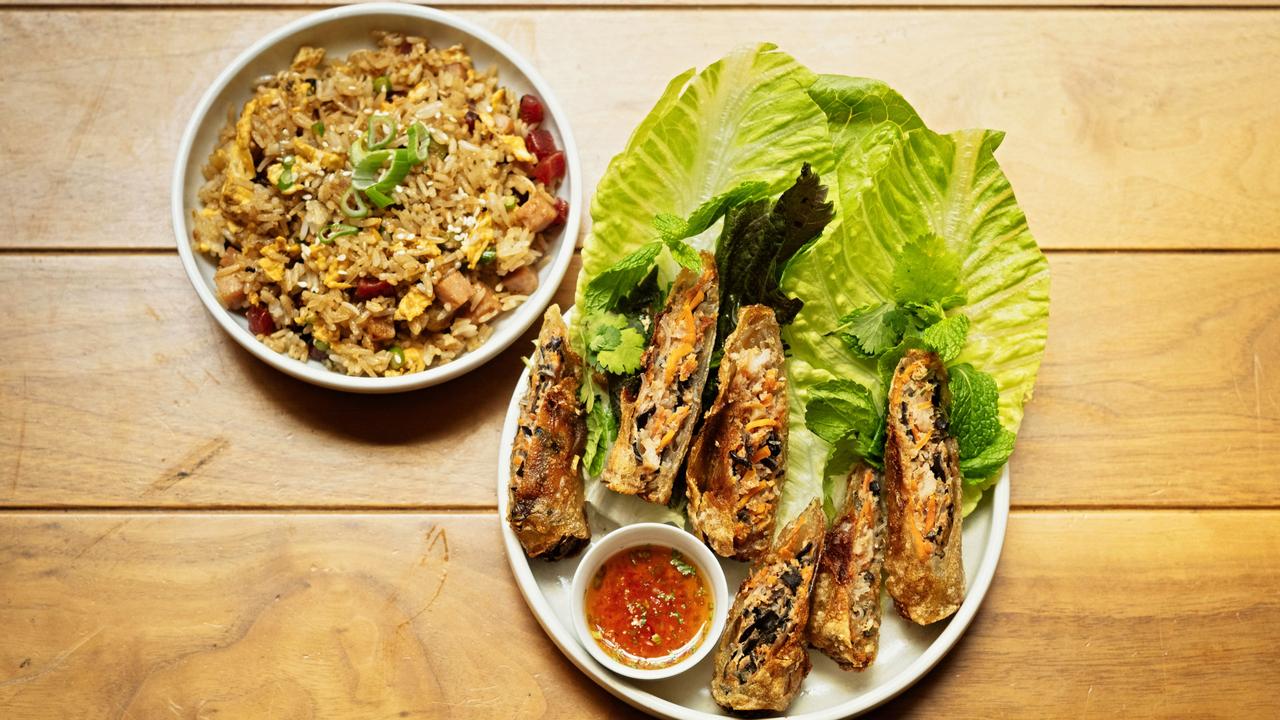 The Hue baby clam rice and spring rolls. Picture: Supplied
Chau, whose family hails from the Hue region, helped create a menu which highlights authentic regional dishes, inspired by her mum's recipes.
Now, with a team of chefs from Rockpool, Spice Temple and Quay, Cash Only offers dishes using fresh ingredients to create a blend of sweet and savoury dishes, focusing on taste and texture.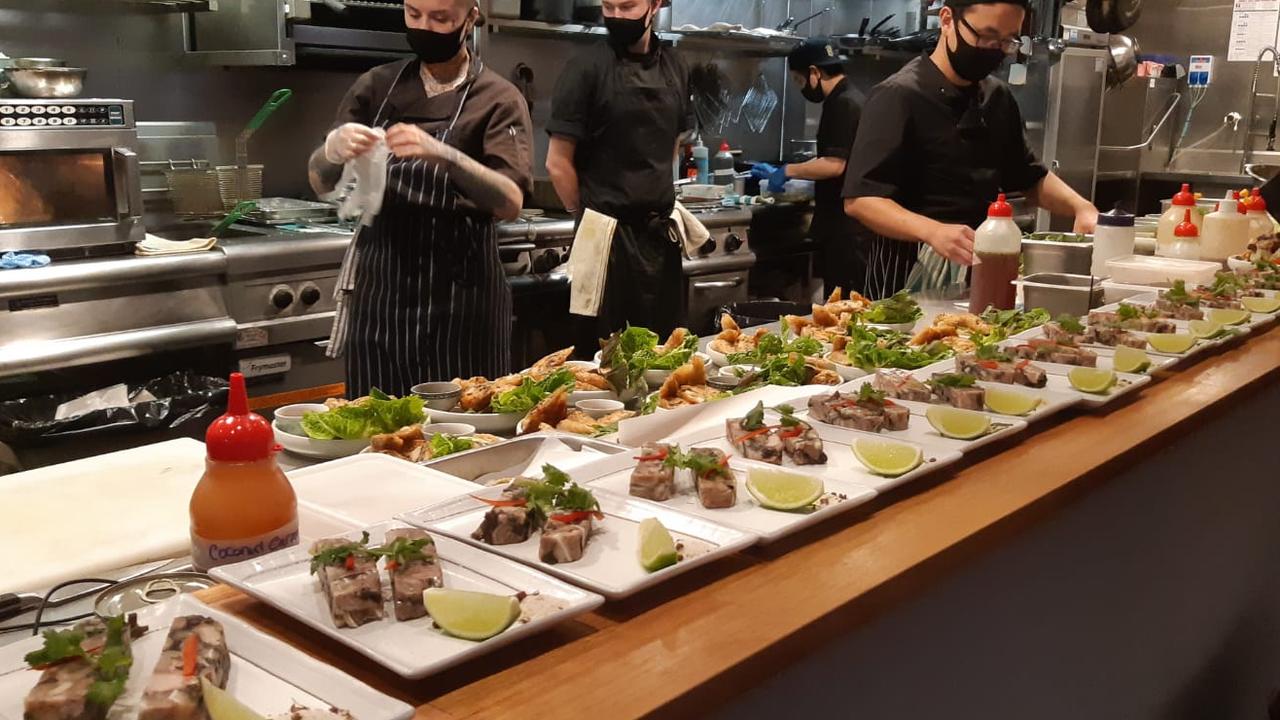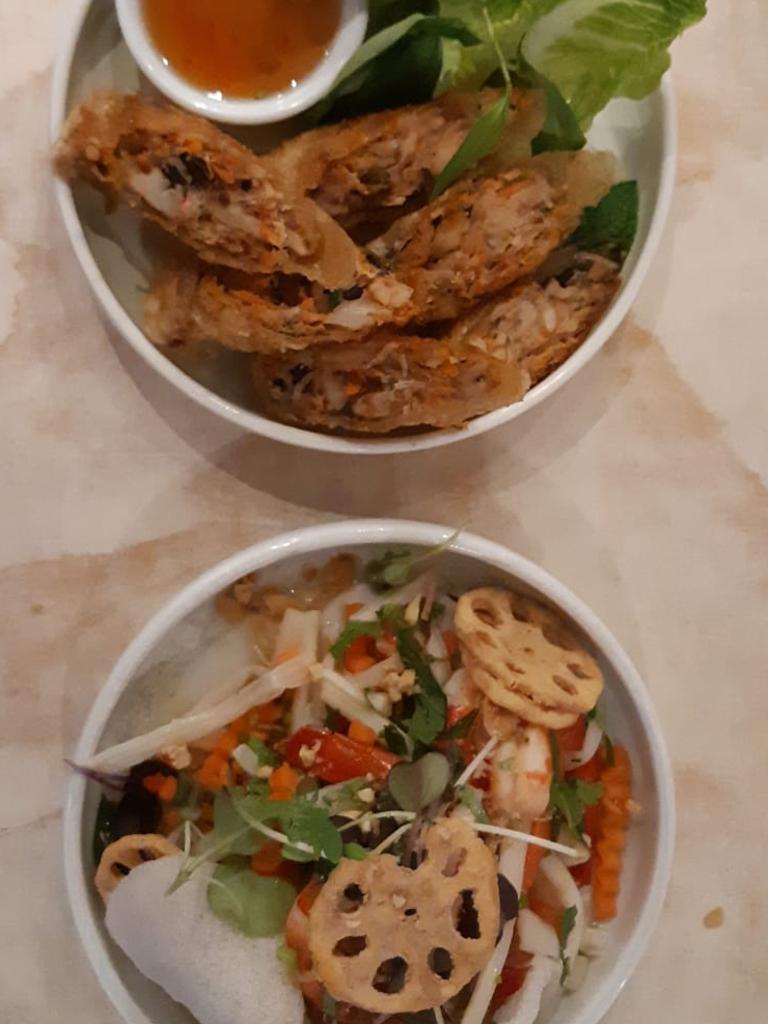 Diners can pick from a share menu with entrees — like their delicious spring rolls which include chunks of prawn and minced pork with a crunchy exterior — as well as chicken wings, pork terrine, pickled salads or the Hue baby clam rice.
Some of the mains include a fish in a clay hot pot, served in a caramelised sauce, and traditional crispy savoury pancakes, with crunchy prawns inside.
Their enterprise now incorporates the restaurant and bar, where bar patrons can order some dishes from the upstairs menu or diners can order cocktails and other alcoholic beverages to pair with their meals.
— 1 Barrack St, Sydney; instagram.com/cash.only.diner
Lady Banks Rooftop
Take your quest for outdoor drinks to the next at Lady Banks, Sydney's largest rooftop bar.
Relax amidst romantic floral installations inspired by The Lady Banks rose, so named for Lady Dorthea Banks, the wife of botanist Sir Joseph Banks.
While you take in the expansive view over the city towards the Blue Mountains, enjoy a broad selection of wines, beers, and cocktails – including ones made with their own blend of rum or with an Archie Rose gin made specifically for Lady Banks Rooftop – alongside dishes from the new Middle Eastern inspired menu.
Graze on a "Mezze Board" and a selection of share plates or tuck into a 1.3kg "Pinnacle Tomahawk Steak". Day or night, this stands to be Greater Sydney's next oasis.
— Bankstown Sports, 8 Greenfield Pde, Bankstown; bankstownsports.com.au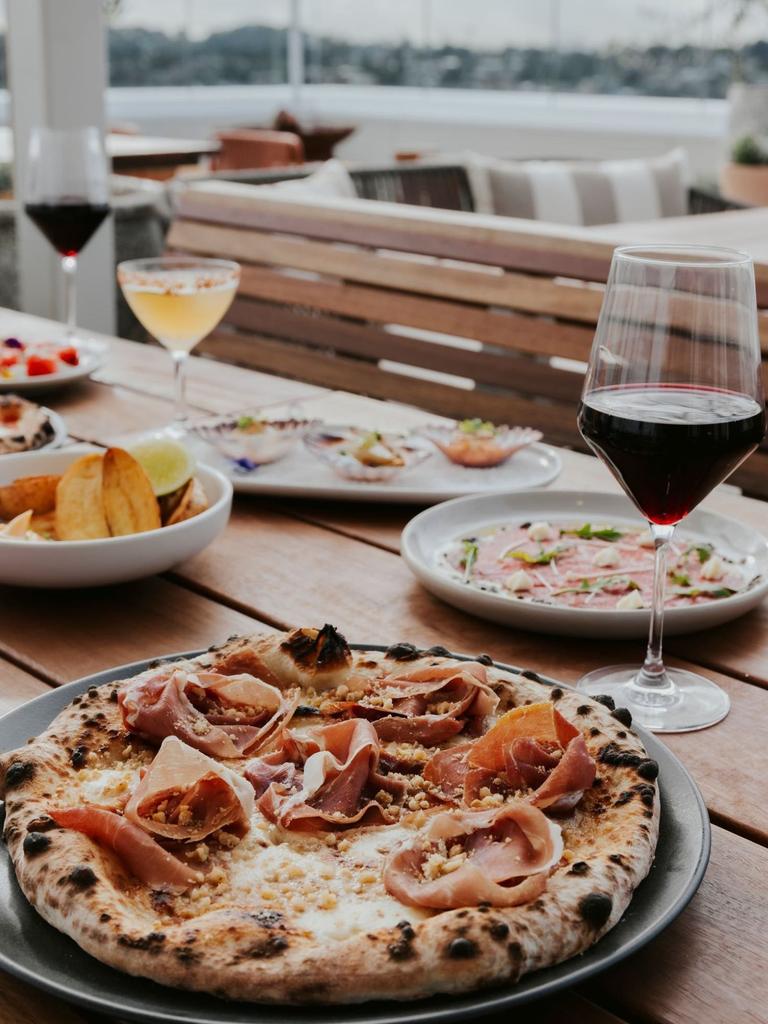 Lady Banks Rooftop meal. Picture: Facebook
Lola's lasagnette. Picture: Nikki To
Lola's Level 1
Any table with a view of Bondi Beach is always a hot ticket, few more so than Campbell
Parade's new Mediterranean bar, dining and terrace venue, Lola's.
Whether it's an afternoon drink and oysters; dinner with the family, or a long lunch with friends, guests are sure to enjoy a menu filled with a wide range of share plates – from smaller sized portions with dishes such as burrata with citrus and basil, or Catabric anchovies with piquillo peppers and larger plates of steak with chimichurri sauce; and lamb skewers.
There's a strong cocktail focus as well as 20 wines by the glass. And all just in time for a Bondi summer.
— Level 1, 180-186 Campbell Parade, Bondi; lolaslevel1.com.au
Tiny's
Good things come in small packages, but really good things come in tiny bottles. Judging by
the proliferation of pre-mixed drinks during lockdown many a cocktail-lover will concur.
Rather than revert back to old-school ways, Tiny's has embraced what started off as a practicality and run with the single-serve solution – a fun, funky and high-style bar stocked
with Tiny's own "tiny cocktail bottles" including the classic Manhattan, Espresso Martini and
Old Fashioned and revamped versions of a Rum Negroni and G & Tea plus their signature concoction vodka-based Molotov Cocktail.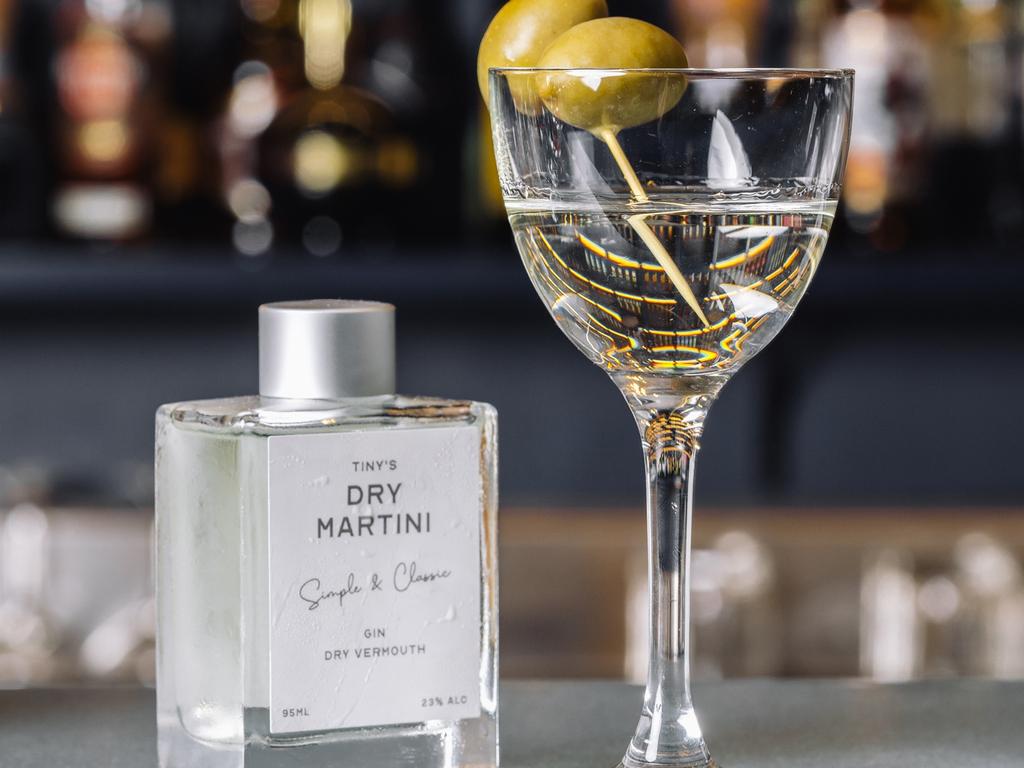 Tiny's Dry Martin. Picture: ifandwhen.co
By day it's breakfast and lunch with Single O coffees and premium sandwiches, but when the sun goes down, the party starts, first with one of the Tiny bottles and garnished glass brought to your table and later share plates of tuna sashimi, steak tartare, kingfish Crudo, charcuterie and cheese boards.
Beer and wine are available, but where's the fun in that?
— 1/55 Clarence Street, Sydney; tinyssandwichbar.com.au
Casa Merida and Santa Catarina
After four long months, the team behind Mexican eateries across Sydney (Calita, Carbon,
Taqiza and Sonora) can finally introduce two new endeavours.
Casa Mérida
With a nod to Mayan history, specifically around the city of Merida, this 70-seat venue hones
the look of imposing stone with opulent gold so often associated with the ancient culture.
True to the region, the menu is also a reflection of Mayan cuisine with dishes such as market
fish ceviche, a range of tacos including Mayan octopus, chicken, and jackfruit, and Cochinita
Pibil (signature pork cochinita cooked al pib with frijol colado and fermented onions).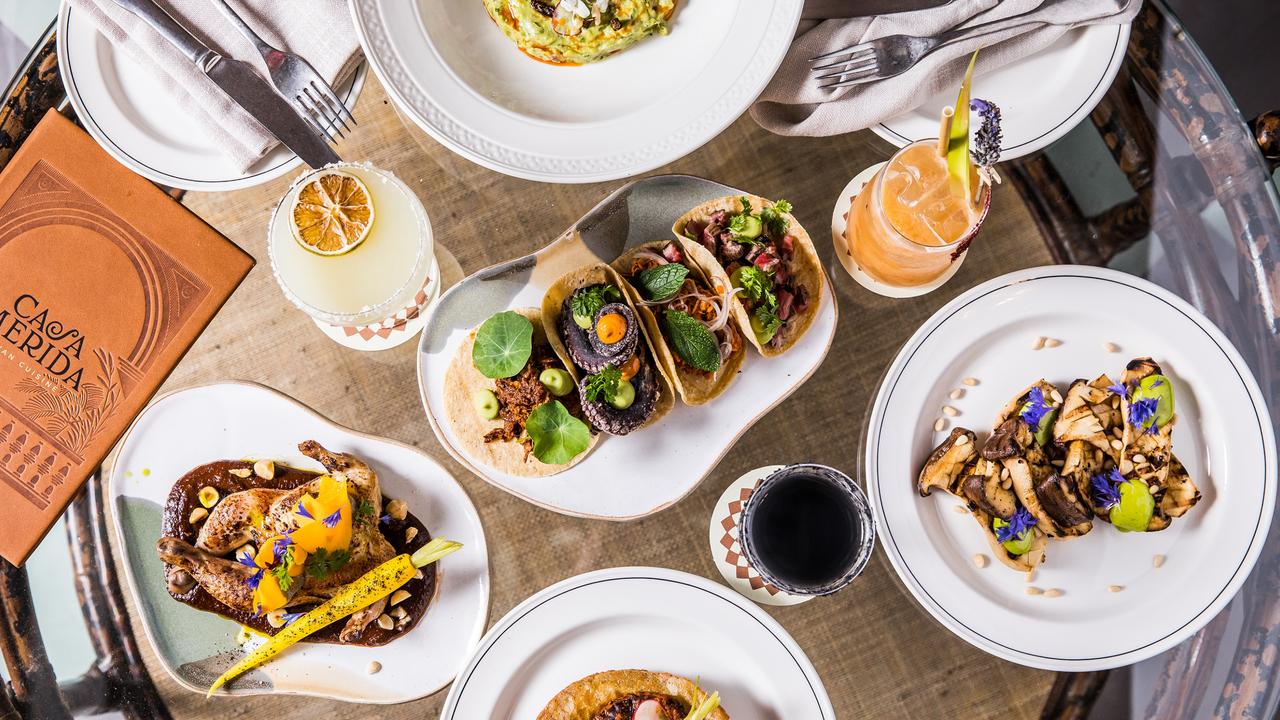 Enjoy some Mexican food at Casa Merida. Picture: Trent van der Jagt
Rare Mezcals and tequilas will be highlights of the drinks list, including a literal "top-shelf" bottle that goes for $300-$400 a shot while cocktails draw heavily on the tropical products found in the Merida Region.
And in line with The Milpa Collective's other venues, there is also an extensive list of Margaritas, Latin American classic cocktails, and Australian wines.
— 5 Kellett St, Potts Point; casamerida.com.au
Santa Catarina
You have to be pretty committed to put authentic Mexican Mole Madre on your menu, considering it requires over 50 ingredients and a comprehensive understanding of Oaxacan
cooking techniques, but that very dish is one of the highlights of this 100-seat mezcal bar's
share-menu selection along with charred octopus on a fresh guacamole bed with queso fresco; Memelitas De Chapulin (Gold crickets on a thin, dry roasted masa bed, with queso salado and pork rind spread); and Tlayuda Con Tasajo (Handmade 30cm crispy toasted tortilla with pork rind spread, Oaxaca cheese, beans puree and wagyu flank steak).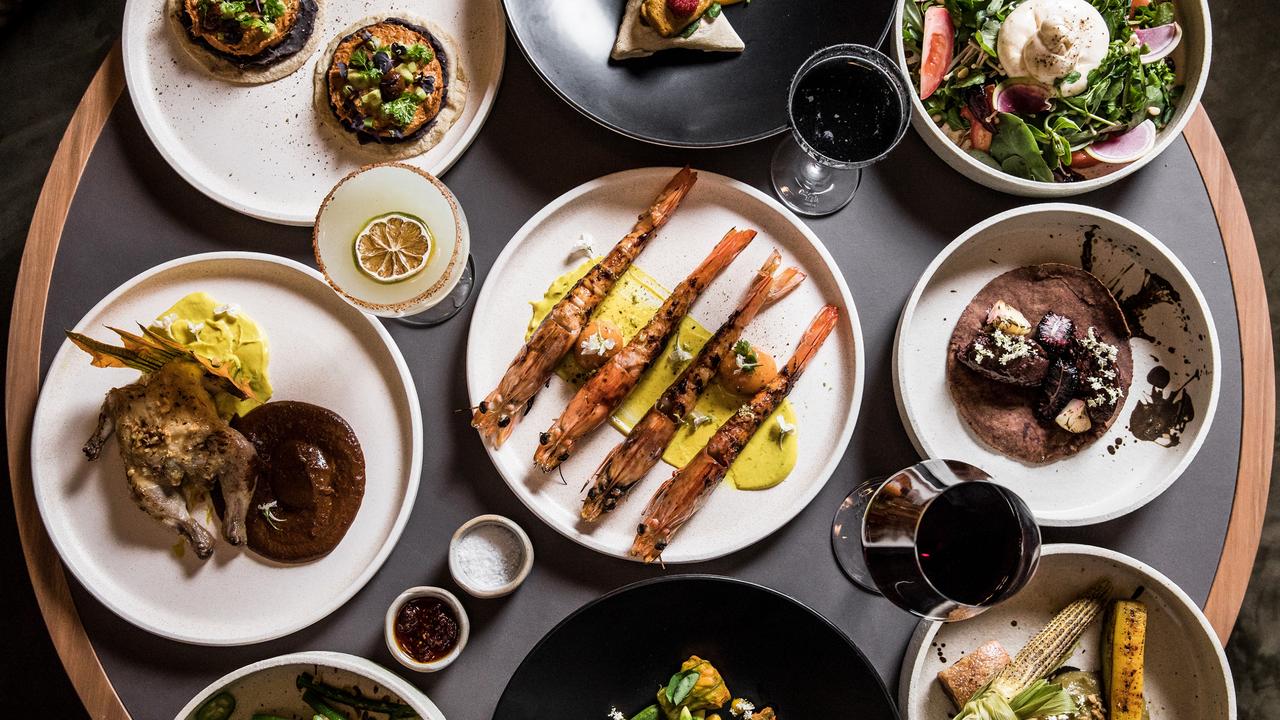 What's on the menu at Santa Catarina. Picture: Trent van der Jagt
And seeing as Oaxaca provides the majority of the world's Mezcal, you'll find a lengthy list of popular, rare and exclusive varieties … as well as heaps of margaritas.
— Shop 1/152-156 Clarence St, Sydney; santacatarina.com.au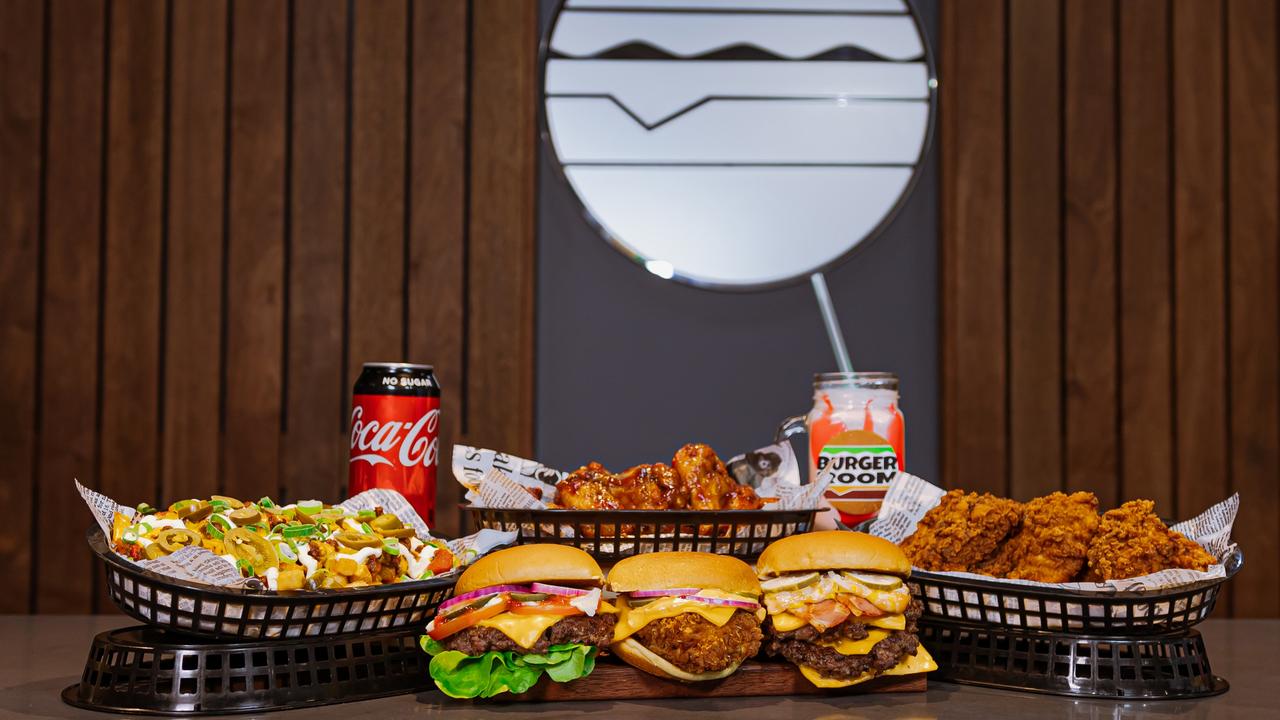 Burger Room's menu includes burgers and friend chicken. Picture: Supplied
Burger Room
Remember a time when we could actually travel beyond Australian borders? If so, then that
gives you an indication of how long this American-style burger joint has been in the works, as it was a trip to New York City with all its food trucks and diners that the idea for Burger Room was born.
Finally, nearly two years on, Western Sydney gets a taste of The Big Apple with quality hamburgers, fried chicken, French Fries, and milkshakes.
— Shop 2/32 Flushcombe Rd, Blacktown; burgerroom.com.au