Nick Holloway ex-Melbourne chef  Nu Nu of Palm Cove, 30 minutes north of Cairns, has been turning out his distinctive fare, often with a hint of Asia in keeping with the tropical environment for the past 2 decades.
Related QLD: The top cafes to open in Brisbane in 2021
Related Food: Price of a cup of coffee set to rise
from courier mail 25.11.21
Just beyond a grove of palm trees, a few metres from the tables, a gentle Coral Sea swell is massaging the sand as I'm tucking into a bowl of gorgeous kimchi butter-poached reef fish.
I'm at Nu Nu, at one end of the tourist hamlet of Palm Cove, 30 minutes north of Cairns, where ex-Melbourne chef Nick Holloway has for almost two decades been turning out his distinctive fare, often with a hint of Asia in keeping with the tropical environment, and forged from Far North Queensland produce.
He's become the face of the region's food scene, with appearances on MasterChef and events such as next Monday night's almost instantly sold out "takeover" of Fortitude Valley restaurant Agnes, where he pledges to "bring some jungle funk to the big smoke" and cook up a storm alongside executive chef Ben Williamson.
Nu Nu occupies absolute beachfront and it's an appealing but low-key space, with exposed trusses and wooden floors indoors but on a fine evening the uncovered outdoor wooden deck is the premium real estate.
Out there, it's rustic rather than slick, with bare wooden tables, couples sipping cocktails on the lawn and a special fairy-lit table for two under the palms.
But in the same way the structure is at one with its chilled-out environment, so is the menu.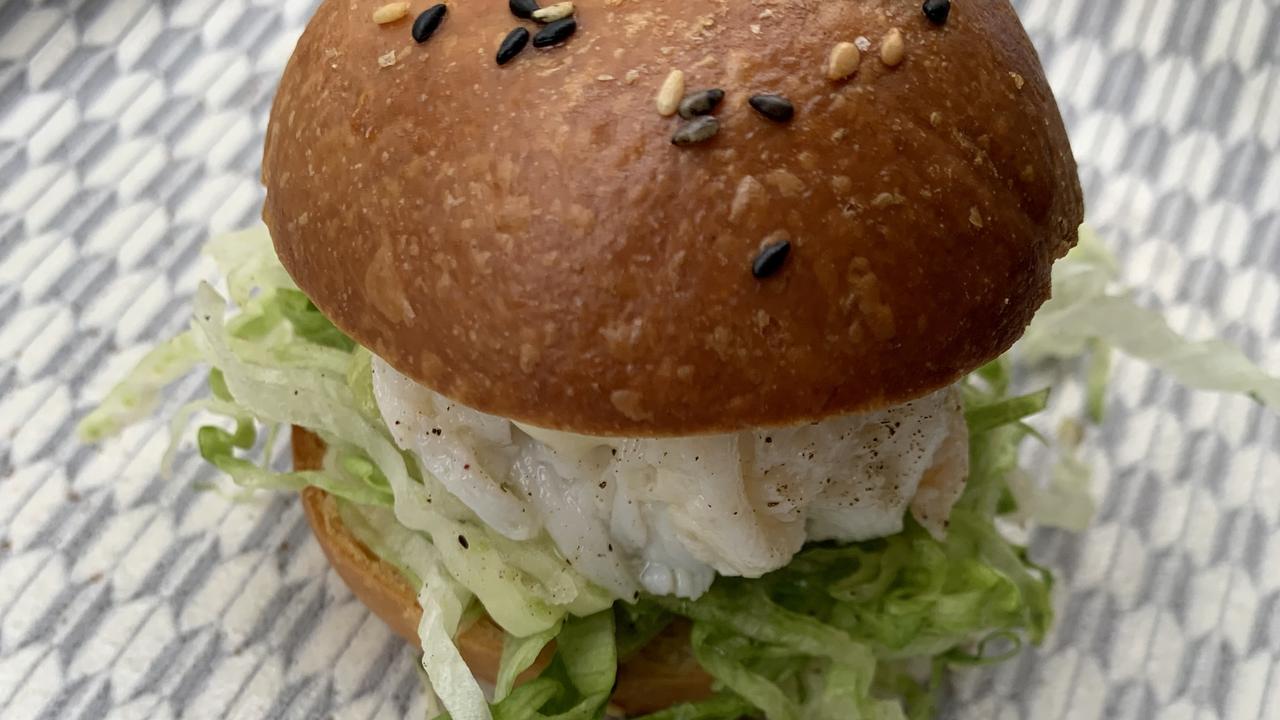 The bug roll at Nu Nu.
Melaleuca-smoked fish with peanut and papaya relish on betel leaves ($7.50), a brioche bun swiped with lime butter and sandwiching spanner crab and avocado ($14), and coconut and turmeric roast quail with sweet tamarind, aromatic leaves and hot sauce ($28), all offer a distinctive taste of the north.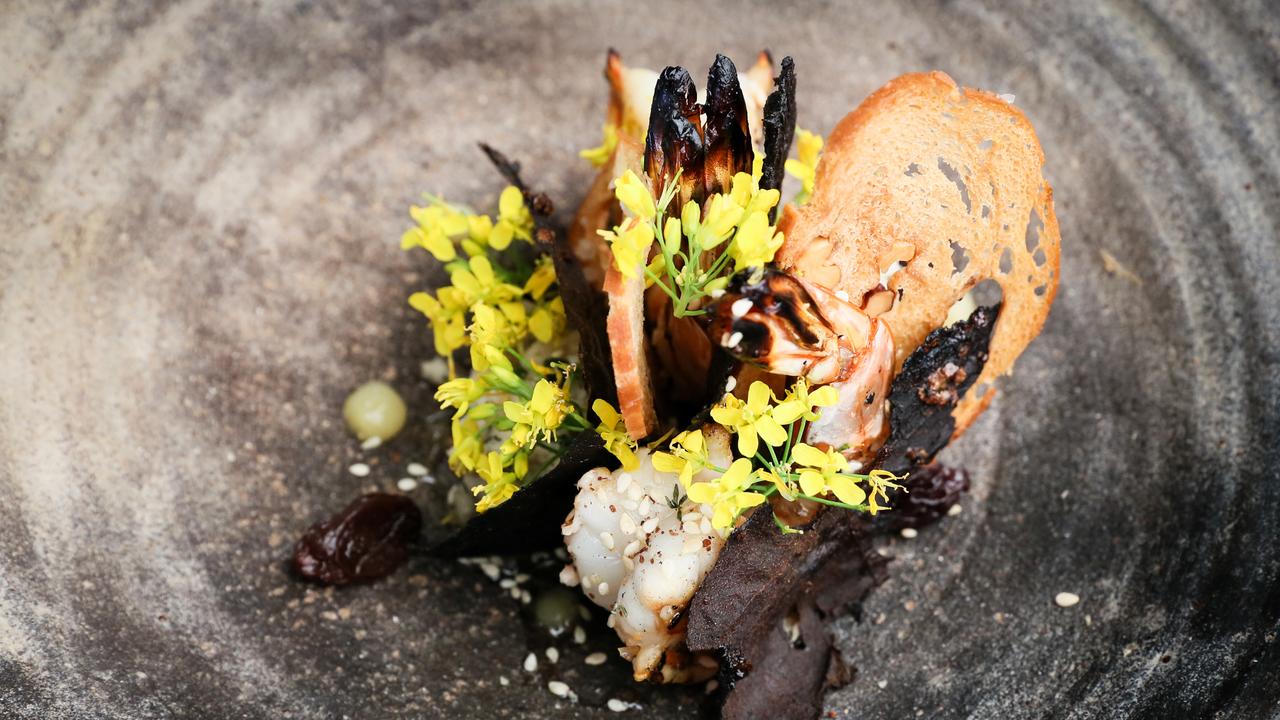 BBQ prawns at Nu Nu.
Chilli salt pork ribs ($26) or fried rice with tiger prawns, snake beans, egg and bottarga ($36) are mid-sized dishes while larger options include the kimchi butter-poached reef fish ($47), which arrives with billowing spinnakers of crisp fried fish skin on top, a bed of squid ink noodles and a corn and seaweed broth.
It's not a tricked-up composition, just a beautiful piece of fish, a thoughtful mix of ingredients, all carefully cooked and booming with flavour.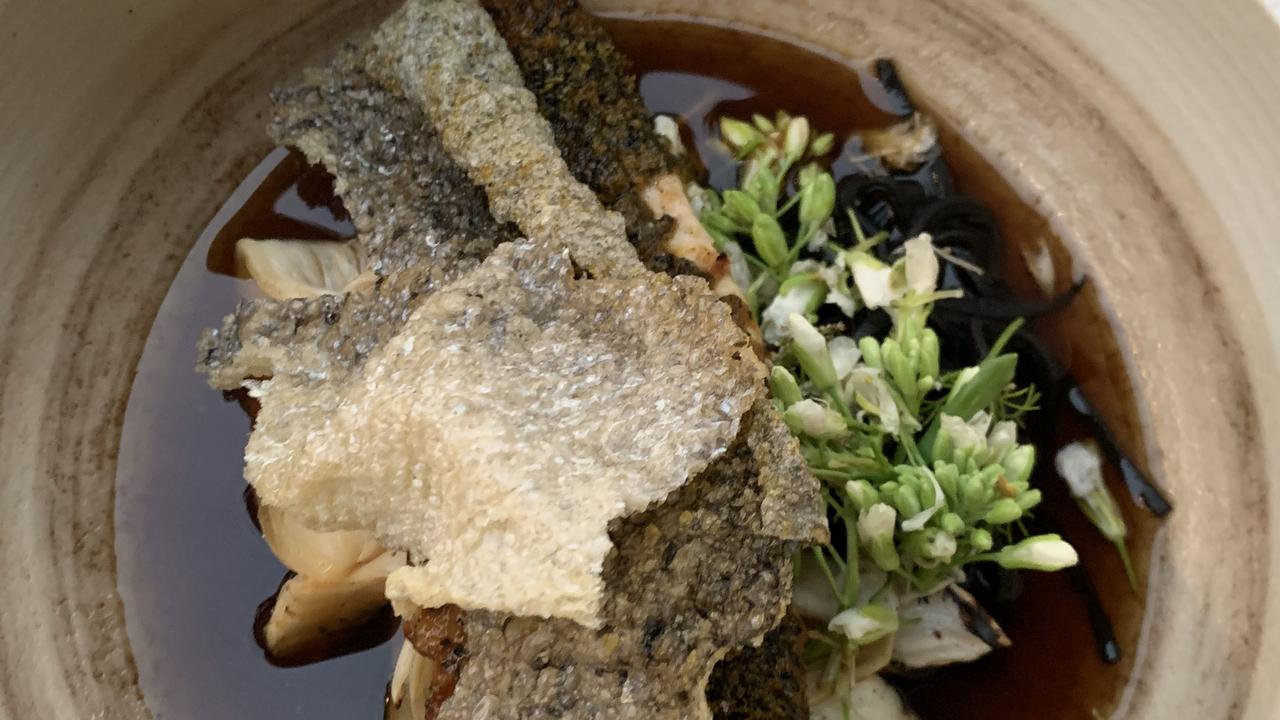 Fish with squid ink noodles at Nu Nu at Palm Cove.
Others might opt for sugarcane-smoked duck with barbecued radicchio and rhubarb ($44), or beef rump cap from Tolga on the Tablelands, with burnt onion, cabbage and the Provencal anchovy sauce ($45).
Or you could push the boat out with wok-fried North Queensland mud crab with chilli jam, sweet pork and all the trimmings ($129).
Sides include greens from Rusty's Markets in Cairns served with citrus and soy, Sichuan eggplant with yellow bean relish and seeds, or hand-cut chips.
The tropical vibe continues with the drinks list: cocktails such as a passionfruit and chilli margarita, or a spritz from house-made limoncello, elderflower, cucumber, Vietnamese mint and Thai basil, beers including the Cairns craft beer Two Turtles Pale Ale and a page-long, mainly Australian wine list.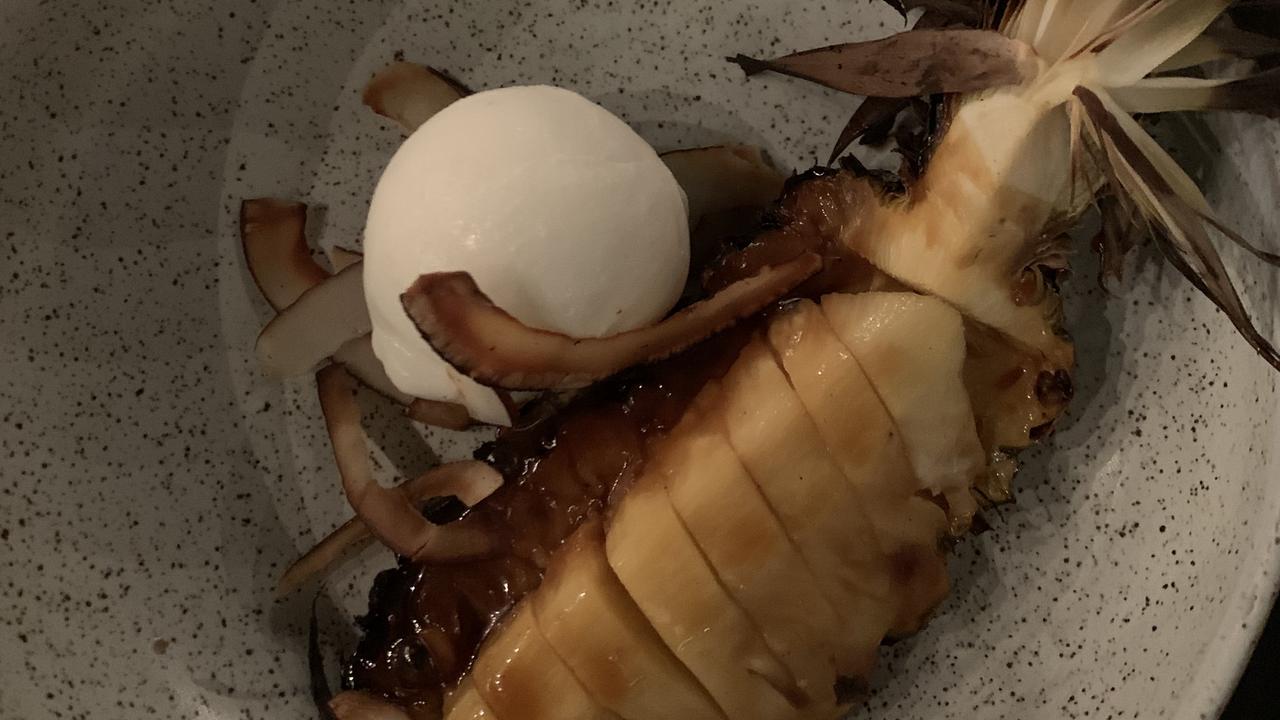 dessert at nu nu at palm cove
Desserts stay on theme with the simple but stunning roast pineapple in black pepper caramel served dramatically in a hollowed-out pineapple with the leaves attached and house-made coconut sorbet on the side ($17).
Service is vigilant, with staff ranging from the experienced, charming and thorough to the new and earnest.
Despite clocking up the years, Nu Nu remains free-spirited and seemingly committed to continue to tell the story of the north on a plate with both passion and panache.