In a sign of the hospitality industry's pandemic recovery, Brisbane City Council granted 852 new food licences for restaurants, cafes, takeaways, bakeries and delis since January 1 this year – up 20 per cent on last year.
"These figures demonstrate that people are investing in new food businesses which means there's growing confidence in Brisbane and that's fantastic," Lord Mayor Adrian Schrinner said.
"They show that on average three new cafes and restaurants are opening in Brisbane every day which is great for jobs and excellent for our residents and visitors."
Despite more people working from home, the CBD continues to lead the way in the number of food licences being granted, with 73 issued in 2021 for everything from casual coffee houses to up-market steak and seafood restaurants.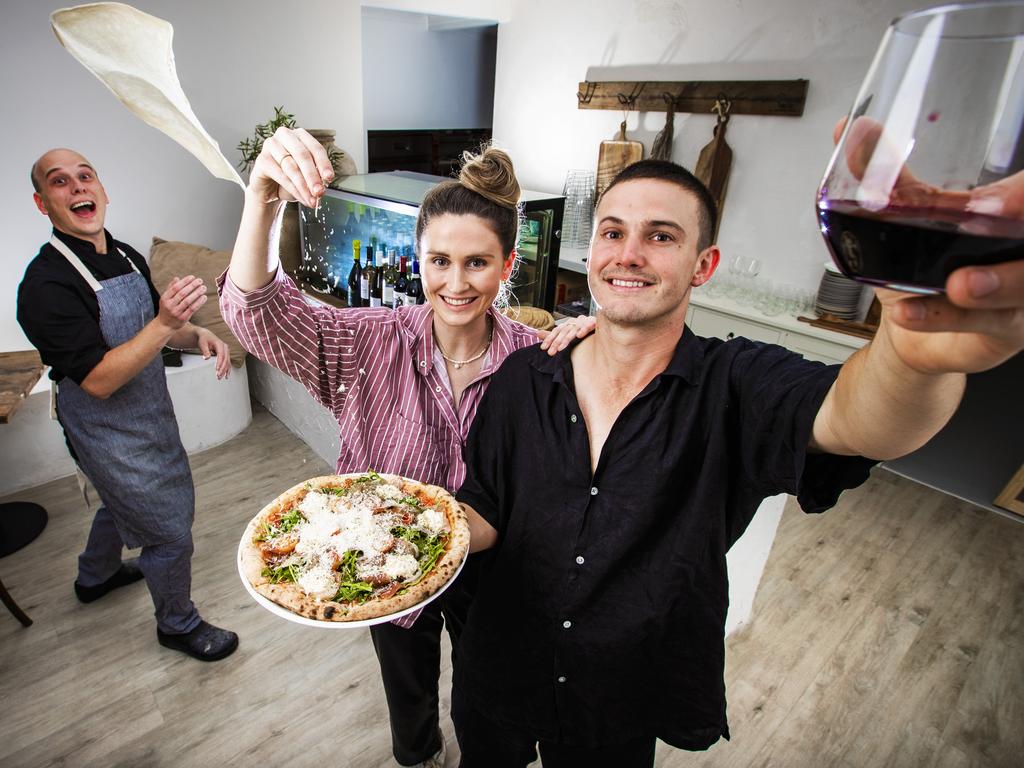 Zoe Johnstone and Tom McKay with chef Sergi flipping pizza at new pizzeria Spread in Camp Hill. Picture: Nigel Hallett
But experiencing the bulk of the boom have been Brisbane's suburbs, with 80 per cent of the new businesses outside the traditional areas of the City, Fortitude Valley, West End and South Brisbane.
"As Brisbane's food scene has grown and demand to be able to do things like grab a coffee or eat out locally has increased, more cafes and restaurants have opened in our suburbs," Cr Schrinner said.
After her catering business Say Cheese boomed during the pandemic last year, hospitality enthusiast Zoe Johnstone decided to open her first restaurant last week in Camp Hill in Brisbane's south – pizzeria Spread.
"We live local to the Camp Hill area so we saw the demand (and) it works well being in the suburbs because everyone is still working from home," she said.
But Cr Schrinner said many food businesses were still doing it tough with the constant threat of lockdowns and restrictions on dining numbers and more needed to be done to support the industry.
"What they need is a plan that details when restrictions will be lifted and when the Queensland border will reopen so they can welcome back customers from interstate," he said.