Boho by the Beach, the new popular cafe in Tasmania.
Boho's style is earthy and organic with items that just beg to be touched. There's also an inspiring range of cookbooks and interior books.
from the mercury 4.12.21
33 Beach Rd, Kingston
Opening hours: Monday-Wednesday 9am-3pm, Thursday-Sunday 9am-4pm
On the menu
Coconut and rhubarb cake, $7.80; gluten-free jam doughnut, $6.50; the Reuben toasted sandwich, $16.50; caramelised onion and goat cheese tart with salad, $17.50; lamb pastie with salad, $12; and Tasmanian breakfast tea, $4.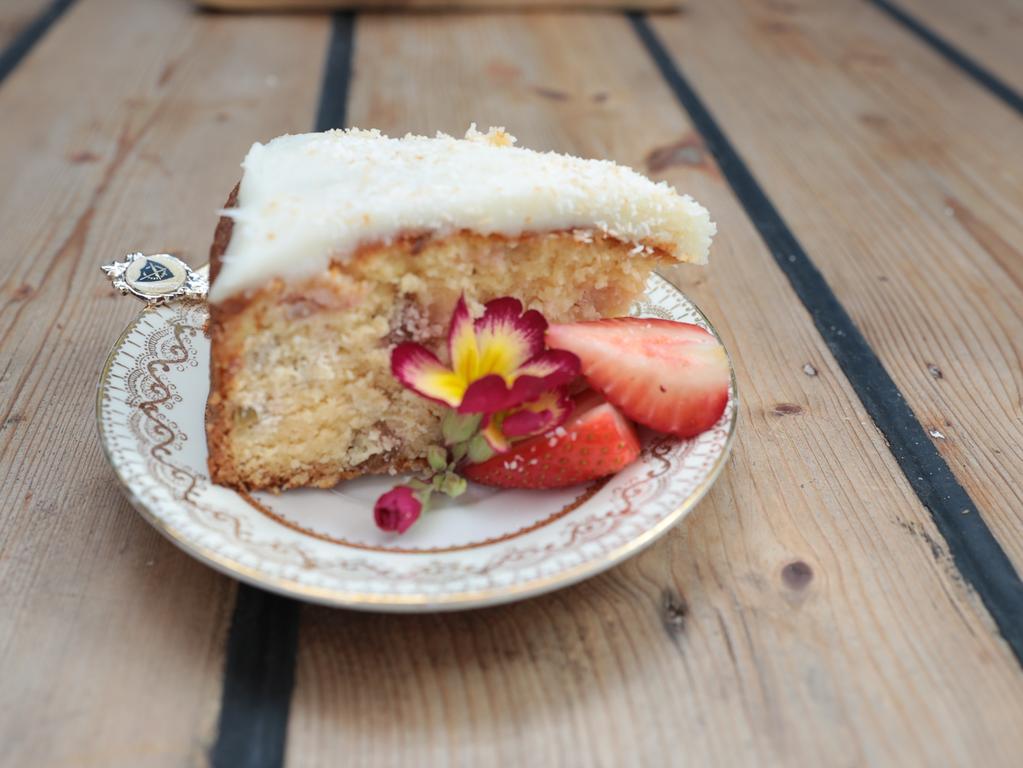 The dense and moist coconut and rhubarb cake at Boho by the Beach. Picture: Mireille Merlet
It's an uncharacteristically steamy morning when I wander up from Kingston Beach and into Boho and, as I take a seat in the lush gardens out the back, complete with hanging rattan pendant lights, it feels, for a moment, more Hamilton Island than Hobart. The holiday feeling is enhanced by the selection of linen dresses and shirts, gourmet delicacies and dreamy homewares that are on offer inside.
However, while I'm feeling tropical, Boho is rooted in Tasmania, with many of its homewares coming from local makers including sensual organic ceramics by Emma Targett, aromatic candles by Ginki and chic crocheted facecloths by Get Knotted.
I order at the counter where there's plenty of both sweet and savoury options ranging from small bites to go with a coffee to larger meals for brunch or lunch.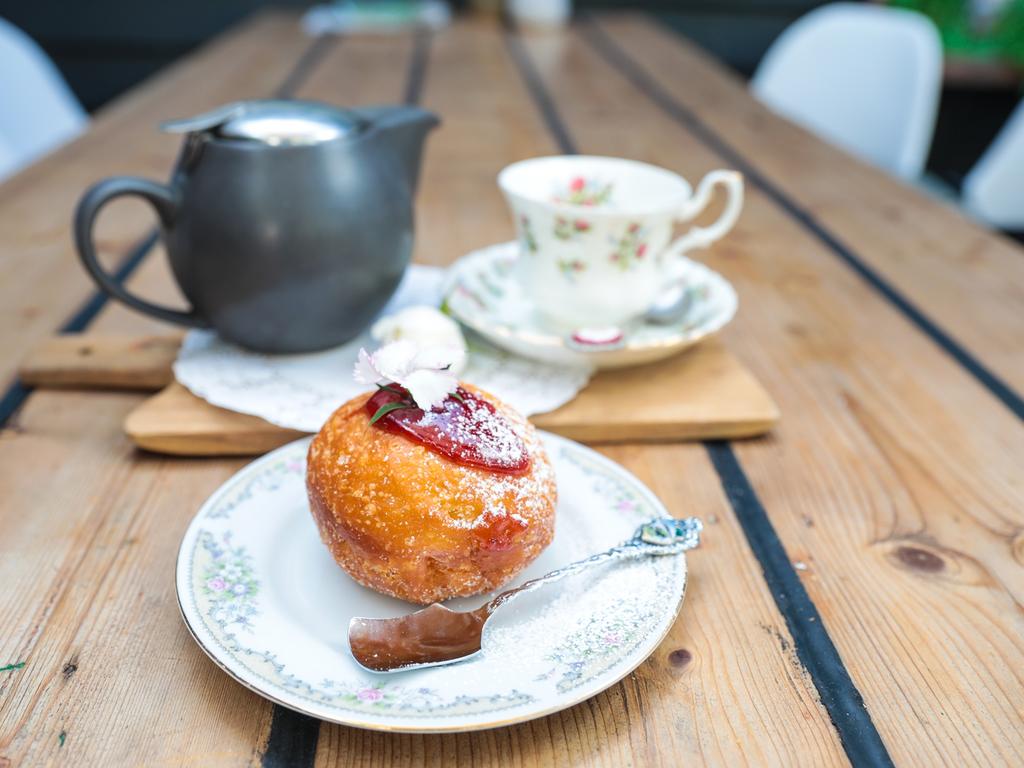 Gluten-free jam doughnut with tea. Picture: Mireille Merlet
I opt for a slice of cake, a jam doughnut and a toasted Reuben sandwich. While there are pairs of cosy armchairs inside, I decide to head to the outdoor dining area, which is a mix of small tables, a shared high table, secluded nooks and a dreamy glasshouse. There's also a vegie patch full of herbs and leafy greens, hanging plants and a basket of blankets for cooler days. It's mostly undercover so can be enjoyed in all weather – but come winter, Boho's owner Jo Vollmer reconfigures to make best use of the open fireplace inside.
Inspired by a visit to a store in Bangalow, NSW, Boho was originally a homewares store when Vollmer opened six years ago, but she had always dreamed of incorporating a cafe space as well – a development that happened just before Covid hit. "The community support has been mind-blowing," she says with a smile.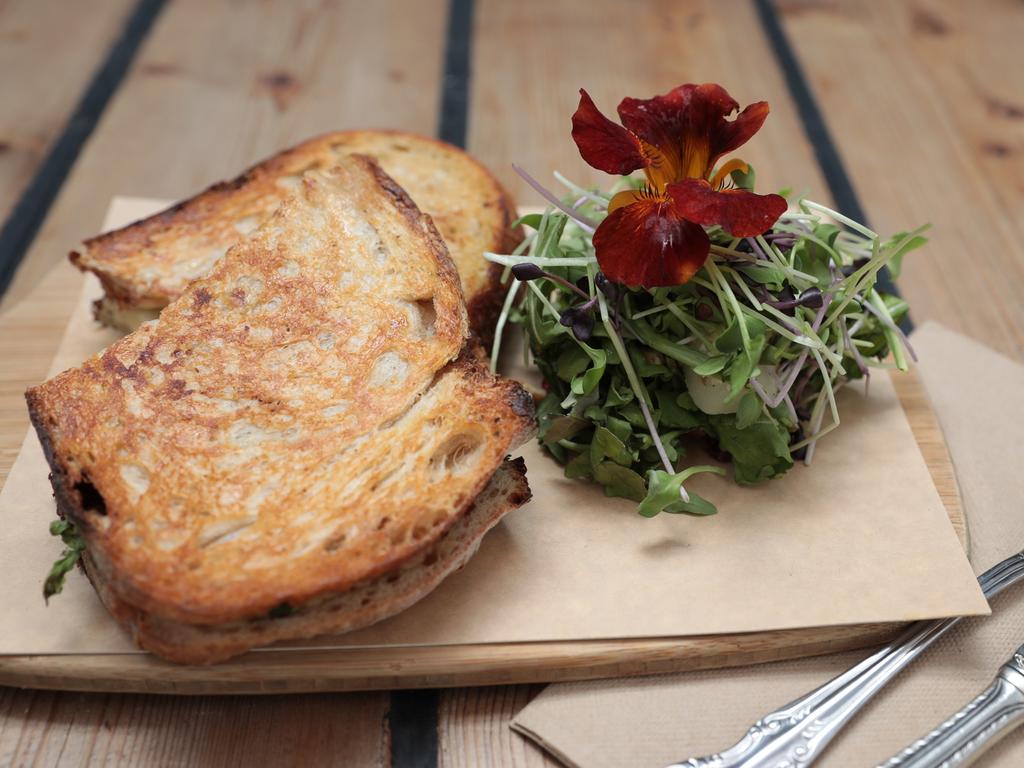 The Reuben toasted sandwich at Boho by the Beach. Picture: Mireille Merlet
During the 2020 lockdown they were operating a coffee window and deliveries as well as hosting a mini food bank for locals in need. "Support for us actually increased and really, this is all about the locals and the community."
Vollmer was a beauty therapist for many years before teaching business and then branching into interiors and project management. Boho's style is earthy and organic with items that just beg to be touched. There's also an inspiring range of cookbooks and interiors books.
My generous slice of rhubarb and coconut cake ($7.80) is from Huonville's Artisan Bakery and is dense and moist, studded with gemlike pieces of rhubarb and topped with a thick layer of creamy icing. The classic jam doughnut ($6.50) is by BAKED Gluten Free and comes in Nutella and custard varieties as well. It's soft and doughy with a satisfyingly jammy centre and dusted with a subtle crunch of caster sugar.
Tasmanian breakfast tea ($4) is served in a two-cup pot and a vintage teacup and saucer.
An aromatic candle by Ginki, one of Boho by the Beach's homewears. Picture: Mireille Merlet
This little oasis, hidden from the street, is like a secret world full of greenery, good food and comfortable seating.
There's a selection of sandwiches at the counter including chicken with cranberry and brie, mushroom and halloumi – made with bread from Pigeon Whole Bakers – and a classic ham and cheese croissant.
Pies and pasties from Jackman & McRoss are also tempting with lamb, chicken and vegetarian options. If you're a quiche lover there's a gluten-free vegetarian option, as well as caramelised onion and goat cheese tart.
Vollmer tells me that her husband – a builder by day – is in charge of the soups on offer. If you're after something small and sweet, take your pick from old-school melting moments and monte carlos. For a more substantial treat try a vegan carrot cake, apple and rhubarb crumble or a classic lemon tart.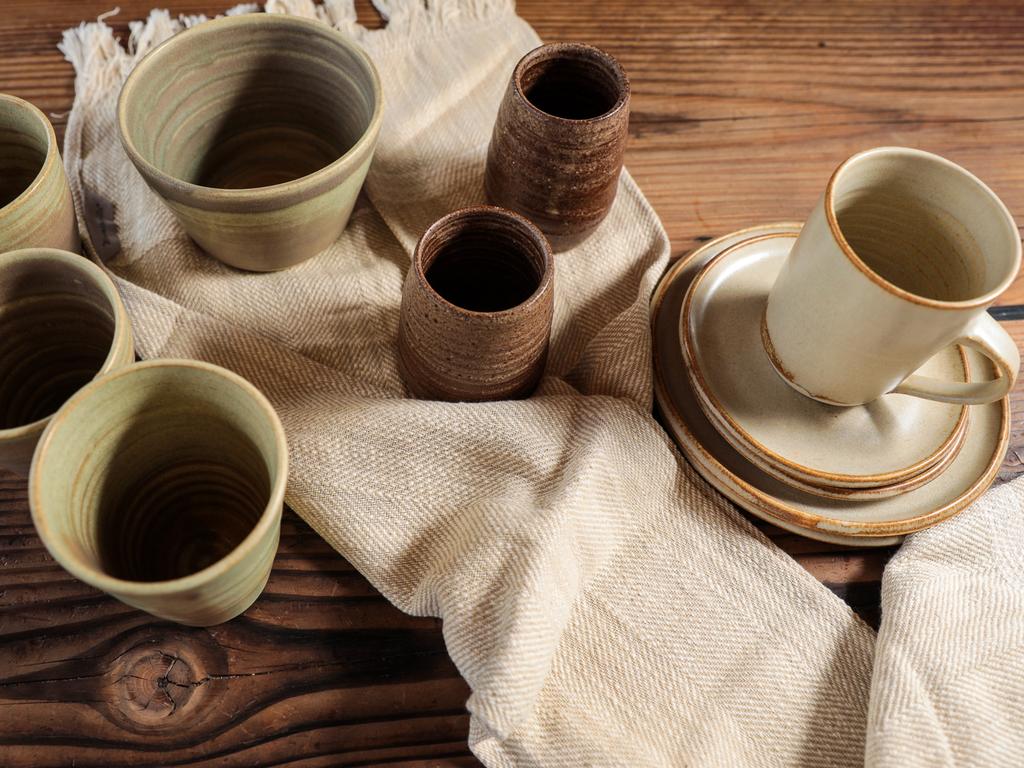 Some of the Emma Targett Ceramics available at Boho by the Beach. Picture: Mireille Merlet
Honestly, it was hard to limit myself to just the two items.
My Reuben ($16.50) arrives with a side salad of rocket, parmesan and poached pear dotted with craisins and walnuts. The sandwich itself is a triumph – slices of Pigeon Whole Bakers's sourdough encase shredded corned beef, sauerkraut that's not too mouth-puckering and a generous amount of Swiss cheese that's been melted to perfection (no warm, flabby cheese here!). The outside is buttered, crisp and golden, with a few crunchy bits where the cheese has hit the grill. I eat half and the staff kindly give me a box to take the rest home in – this afternoon's snack is sorted.
I depart with a full stomach and some ideas for interior updates at home – well satisfied by this secret garden by the beach.