Tasmania's west coast will host the biennial Unconformity festival this year, despite the risks faced by the pandemic the events organisers are excited for the new opportunities the festival holds in the current situation.
from the mercury 11.09.2021
Ploughing on with a festival during a global pandemic is risky. But, as the organisers of The Unconformity have discovered, it also presents a raft of new opportunities, not only for festival organisers and local musicians and artists, but also for Tasmanians who are wanting to get out and explore more of their home state.
Tasmania's West Coast will come alive with a string of music and art events over three days in October, as The Unconformity festival makes its return after a three-year hiatus.
The biennial festival, which is inspired by the rare geological unconformity and remarkable cultural paradoxes of Tasmania's West Coast mining communities, was supposed to take place last year, but – like many other events – it was cancelled due to the coronavirus pandemic.
Artistic director Travis Tiddy admits it was risky to forge ahead with the festival this year when there was so much uncertainty.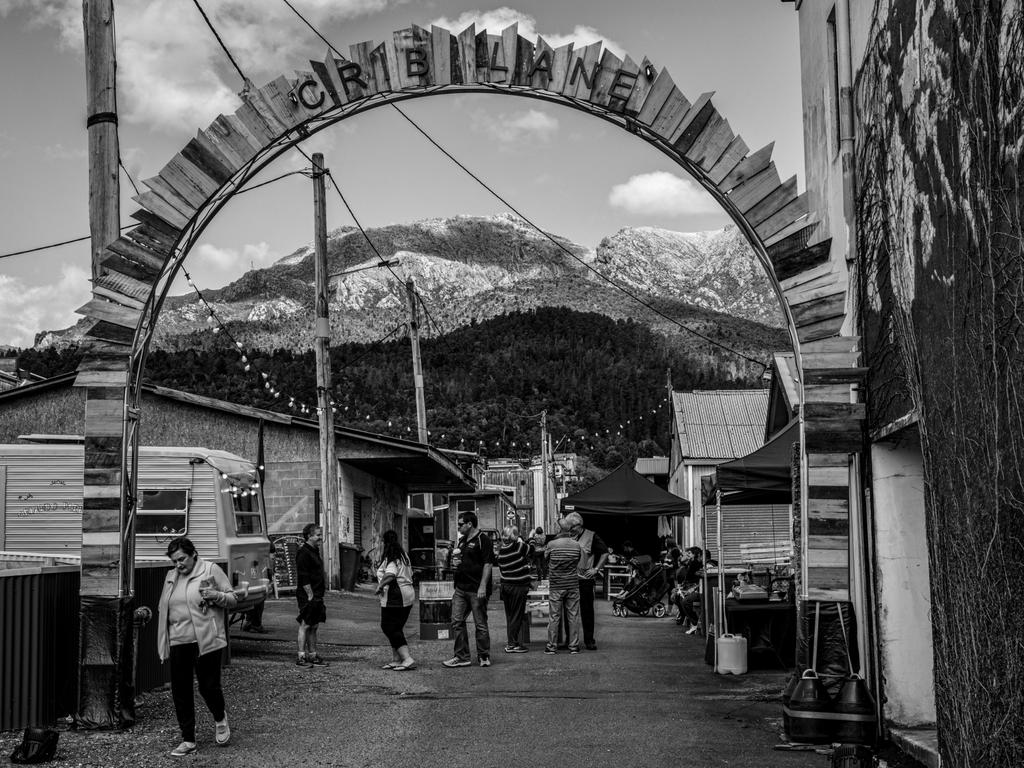 Crib Lane, in the heart of Queenstown, which will again be transformed into The Unconformity festival's food, entertainment and music hub. Picture: SHANE VIPER
But he says Tasmania's arts and tourism sectors have been hard hit by the pandemic and The Unconformity was a great opportunity to support those struggling sectors.
And with less interstate visitors coming to Tasmania due to lockdowns interstate, it provides a great opportunity for Tasmanians who have been wanting to attend the festival but have previously missed out on tickets, to snap some up.
"We are holding The Unconformity this year in potentially the highest risk scenario we could be facing," Tiddy says.
"We are really mindful that festivals around the country are pulling up their shutters and we feel fortunate in Tasmania we're able to go ahead with this event.
"Across the board we needed to risk mitigate our approach to holding this festival, not only for the safety of our audience and our artists but also for the safety of our local community."
And he says a big part of that has involved removing dependency on mainland visitation and also replacing guest artists who would usually travel from interstate and overseas with a strong field of local artists.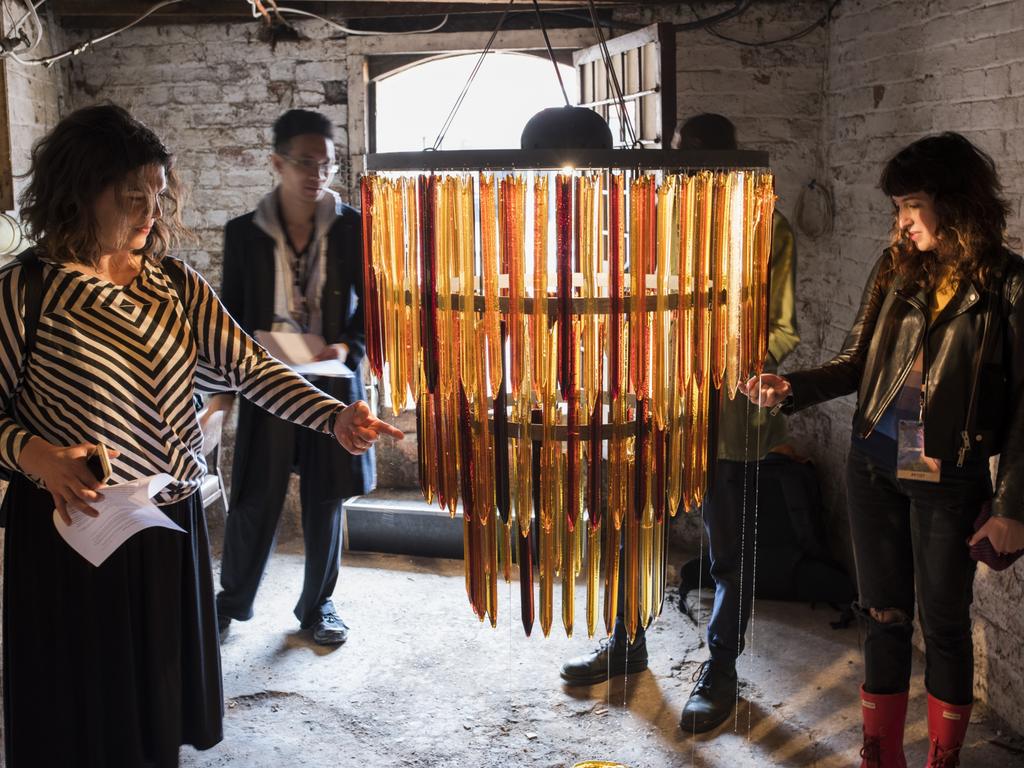 Variations on an Energetic Field, by artist Lucy Bleach, at the 2018 Unconformity festival. Picture: JACK ROBERT-TISSOT
"The Unconformity festival model is actually quite robust with this type of scenario because we run programs across the whole Queenstown valley, generally with smaller-scale audiences … so we're not as impacted by things like Covid capacity," Tiddy says.
"Which leaves us very confident that we can deliver this year's festival and have it feel very close to what our previous festivals have been."
The festival has attracted a strong following interstate since it began more than a decade ago and has also attracted plenty of attention globally.
Last year, prior to the pandemic, international publication Time Out magazine listed The Unconformity festival in its list of "the 40 most exciting things to do in the world in 2020".
Tiddy says it's disappointing that people from overseas and other parts of Australia may not be able to attend the festival this year but the pandemic has presented an opportunity for Tasmanians who haven't previously visited the event to finally check it out.
Figures from previous years show that interstate visitors who attend The Unconformity festival typically stay in Tasmania an average of eight days, with festival patrons injecting $600,000 into the West Coast economy, bolstering business for accommodation providers, cafes, restaurants and other tourist hot spots.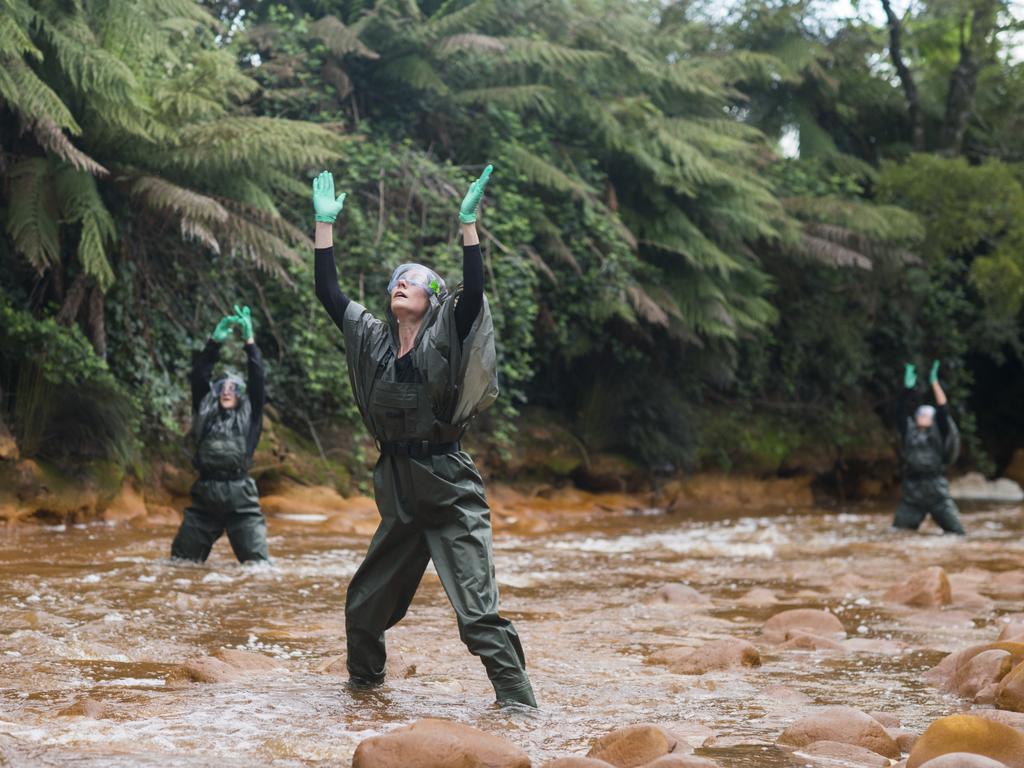 Dancers from Tasdance perform in Queenstown's mining-impacted Queen River at a previous event. Picture: JACK ROBERT-TISSOT
About 60 per cent of Tasmanian festivalgoers typically hail from Hobart.
Tiddy hopes that about 25 per cent of the festival audience will be from mainland Australia this year, but the vast majority of patrons will be Tasmanians.
And he's also "very confident" that if the 25 per cent of mainlanders can't attend, due to increased border restrictions, Tasmanians will quickly fill those places.
More than 70 per cent of The Unconformity program is free to access, although some events are ticketed or require online reservations.
This year's festival features more than 150 diverse artists and musicians.
There will be visual art, literature, performance, dance and various sculptural works and installations across multiple indoor and outdoor venues in Queenstown, including the premiere of a new dance work from Tasdance called Collision, featuring a 3.6m tall sculpture created by Tasmanian blacksmith Pete Mattila.
About 50 local artists will feature across 24 venues as part of The Unconformity Art Trail, giving audiences the chance to visit artists in their studios and galleries.
Blacksmith Pete Mattila who has created a 3.6m tall sculpture to be used in this year's Tasdance Unconformity performance called Collision. Picture: RICHARD JUPE
The West Coast Wilderness railway carriages will be transformed into a reading hub for people to sit and enjoy a quiet retreat or a conversation with storytellers.
Meanwhile SEED is an industrial installation created using cars and machinery abandoned along the West Coast.
Queenstown's community choir – The Queenie Quoir – will be one of the many musical acts performing, while the Paragon Theatre will host two nights of music from some of Tasmania's best musicians. The heart of Queenstown will be transformed into Crib Road – a meeting hub bringing together food, music and community. There will also be a smoking ceremony conducted by Aboriginal Tasmanians from the West Coast, and The Unconformity Cup will be played on the town's gravel football oval.
Tiddy was born and raised in Queenstown and has been involved with the festival since the very beginning, having gone from part-time volunteer to full-time artistic director.
Queenstown's local tourism association surveyed residents, asking them about their hopes for the region's future. Overwhelmingly, locals revealed they wanted a fun and lively festival that would bring residents together and showcase the uniqueness of the area to the rest of the state.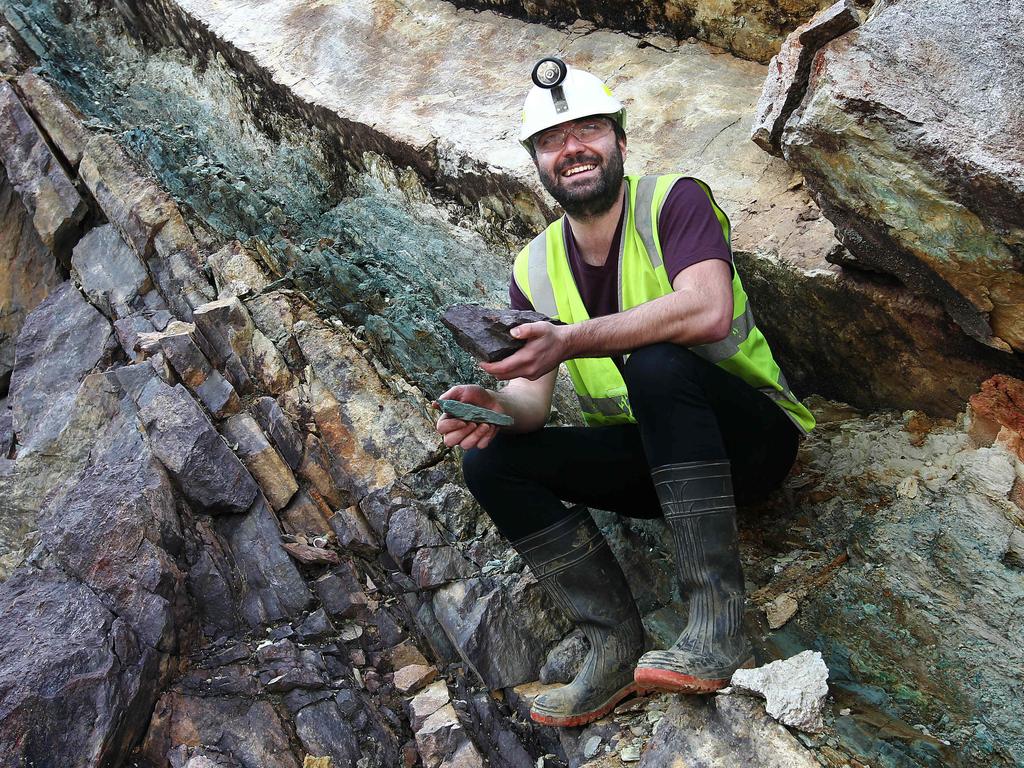 Unconformity festival's artistic director Travis Tiddy.
The result was the Queenstown Heritage and Arts Festival, which kicked off in 2010 under the direction of Tiddy, who was then also working as a graphic designer.
The festival was a success but after its third year organisers decided it had potential to be bigger and better and opted for a fresh approach and new branding in 2016 when it became The Unconformity, attracting a younger, culturally attuned audience.
Tiddy says accommodation is already fully booked in Queenstown, but visitors are being encouraged to explore other towns in the region. Shuttle buses will run between Strahan and Queenstown to allow visitors to explore more of the West Coast.
He says the "energy was incredible" at the recent launch of the 2021 festival, with locals excited to have the town buzzing.
"Since our very early festivals we knew when Queenstown and surrounding towns hit capacity in accommodation, it translated to half a million dollars in spending in the community. That's valuable to the community this year," he says.
"People know the festival should have been held 12 months ago. It's a difficult time to be producing an event, so we're really grateful to all community partners, our sponsors and our government support.
"The festival landscape has just been decimated [by Covid] – a lot of other festivals are simply putting up the shutters for 2021 and they don't know what the future holds.
"So we are excited to be going ahead."