The South West Rocks Country Club has had to put its plans on developing a 4 star hotel in New South Wales Mid-North Coast on hold as the water level is a lot higher than expected, not allowing the excavation of the hotel underground carpark.
The Country Club chief executive David Cunningham said "By no means is the project dead in the water", news plans are expected to be submitted.
Related New South Wales: Seaplane Operator Sues Maintenance Provider
Related Attractions: Swim With The Croc's
The proponents behind a plan to build a four-star hotel on the Mid-North Coast have been forced to withdraw their application after making a 'bad decision' to include underground parking as part of the development.
The South West Rocks Country Club submitted a development application (DA) earlier this year for a 60-room resort next to the club with a rooftop bar, three small retail premises and a day spa.
The luxury hotel, a first of its kind for the region, included plans for 67 underground parking spaces to fit more floors for guests and keep the building to its specified height limit.
Plans have been lodged for a four-star hotel at South West Rocks. Pic Buck and Simple
But while in theory the plans appear sound, in practice – Country Club chief executive David Cunningham said – they won't be able to be fulfilled.
He said a preliminary analysis of the depth of the water table beneath the site revealed it's to shallow to excavate, meaning the car parks will not be able to be built.
It means in its current form, the project will not be able to proceed and the club has been forced to withdraw the DA with a view to submitting fresh plans down the track.
"We were excavating the bottom level of that building just to drop the height a bit," Mr Cunningham said.
"That's proven to be a bad decision … the water table is much higher than what we first thought, and what we thought was going to be a good solution talking to two QS's (Quantity Surveyors) and builders it's probably not feasible to excavate.
"My information from our architect now is that you can no longer pause a DA. It's gotta be in, or it's not in … we've just withdrawn the DA while we sort out the carparking.
The project will not proceed in its current form due to issues with underground parking. Pic Buck and Simple
"The DA will be resubmitted, the project isn't dead in the water, we've just got to sort out those bottom levels because it looks like we're not going to be able to excavate. It's going to be a lot more expensive than we originally thought."
Plans for the hotel were first exhibited to the public by Kempsey Shire Council in May, receiving more than 100 responses from the community.
These responses were due to be made public when the project went before Council, but it's now unsure as to when that will be.
Mr Cunningham said at this stage there's no clear alternative around how the parking issue will be resolved, but it wouldn't be too long before a solution is sought.
"That's the thing, we don't know … we're going to have to go back and take another look." he said.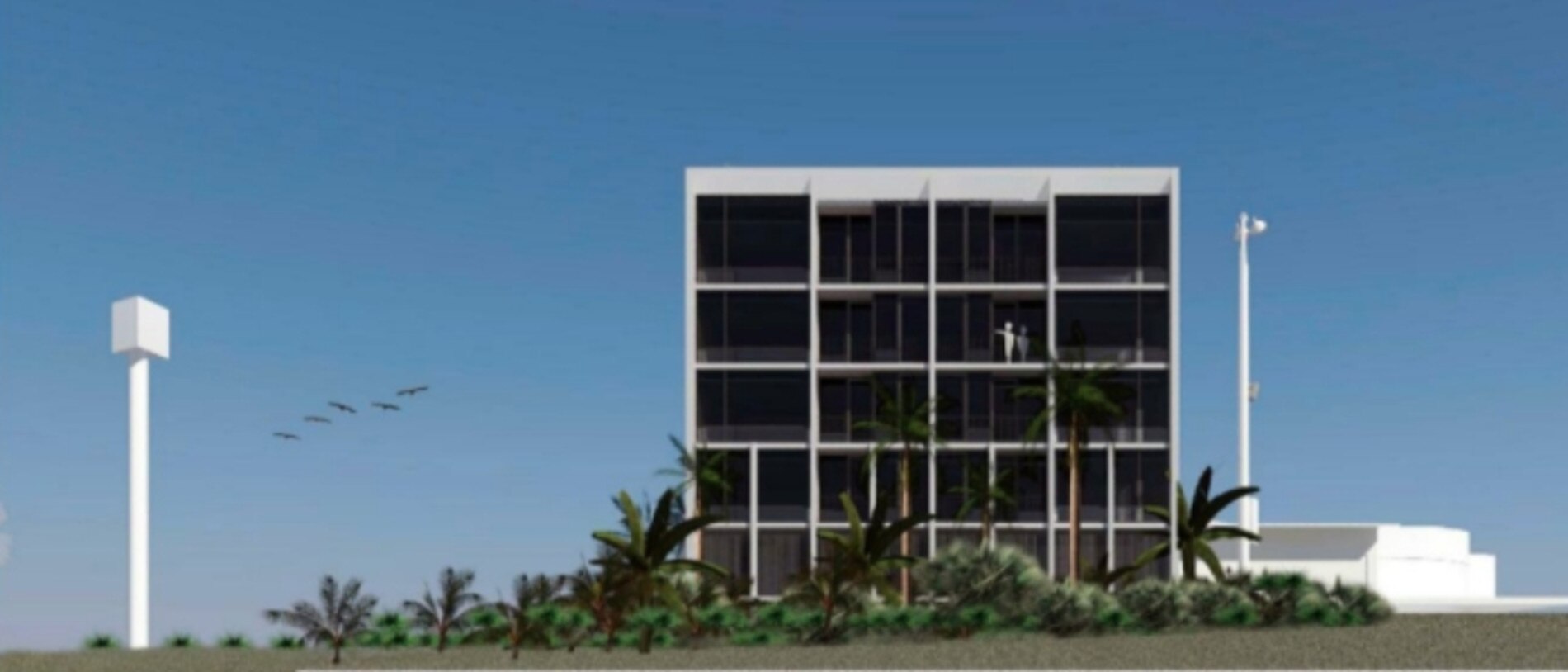 It is expected that new plans will be submitted in a little over a month. Pic Buck and Simple
"We've got several things that we can do, we've just got to work out which is the best option.
"The original civil engineer didn't think we'd have too many problems excavating, but it's turned in to a bit of a night mare where we want to dig.
"They're building the stadium [high performance centre] next door to us and they hit the water table … I don't think they even went down two metres."
"Long story short … we've withdrawn the DA, we'll look at what we can do, and we'll go again.
"By no means is the project dead in the water. We'll try and work with council to get an outcome that suits us and that council are comfortable with.
Mr Cunningham said he expects fresh plans for the project will be resubmitted within the next five or six weeks.