The Tasmanian government will require health care professionals to be vaccinated, However the list of professionals is has come as a surprise to many. The list include:
Art therapist
Audiologist
Chiropractor
Counsellor holding a Master of Counselling, or equivalent, from a tertiary institution
Dietitian
Exercise physiologist
Genetic counsellor
Music therapist
Occupational therapist
Optometrist
Orthotist
Osteopath
Perfusionist
Pharmacist
Physiotherapist
Podiatrist
Prosthetist
Psychologist
Rehabilitation counsellor
Radiologists/radiographers
Social worker
Sonographer
Speech pathologist
From the mercury 12.09.2021
THOUSANDS more Tasmanian healthcare workers caught up in the government's wide net of mandatory vaccinations will have to get the jab to keep their jobs, and some of the professions included are quite unexpected.
Tasmanian health authorities have released a list of workers covered by the new rules mandating Covid-19 vaccinations, and a union says some will be surprised to find out they are now required to be jabbed.
Practitioners in public and private health settings such as hospitals, along with general practitioners and aged care workers, will now be required to be vaccinated against the virus, in what came as no shock to those workers.
But the mandate also includes a list of 23 allied health professional fields, including audiologists, chiropractors, dietitians, music therapists, occupational therapists, podiatrists, social workers and speech pathologists. (See below for the full list)
It means anyone captured under the new rules must have either received a first dose of a Covid-19 vaccine or provide evidence of a booking or vaccine exemption form by October 31.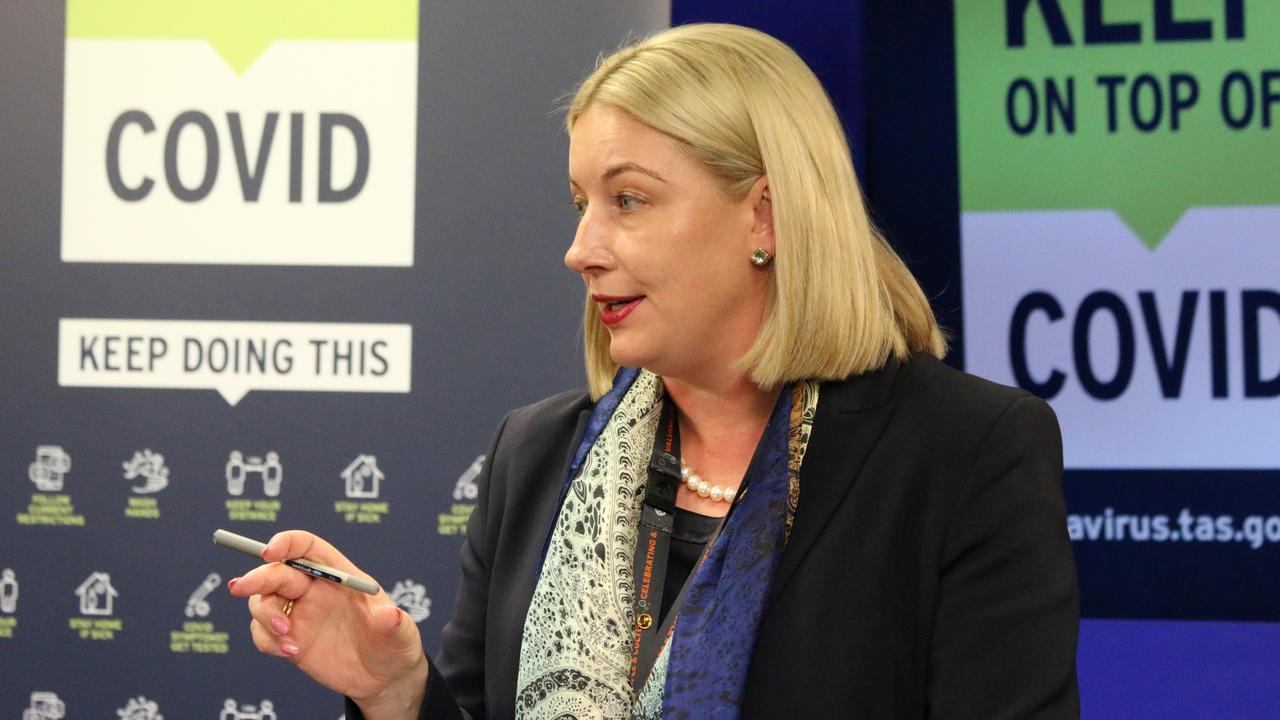 State health commander Kathrine Morgan-Wicks said the rules were developed in consultation with unions.
State health commander Kathrine Morgan-Wicks said the new public health direction issued on Friday would help protect the state's most vulnerable from a potential Covid-19 outbreak.
"All Tasmanian Department of Health employees and contractors will also be required to be vaccinated," she said.
"This is a critical step to ensuring the protection of our entire health workforce and to protect vulnerable Tasmanians in their care."
Ms Morgan-Wicks said the rules were developed in consultation with unions including the Health and Community Services Union, Australian Nursing and Midwifery Federation, Community and Public Sector Union, as well as the Australian Medical Association, Primary Health Tasmania and the Pharmacy Guild and Pharmacy Society.
CPSU Tasmanian secretary Thirza White said it could come as a shock to some allied health professionals, especially those who work outside a healthcare setting.
"There will definitely be some who will be surprised to find out that they are now required to be vaccinated, particularly those who work outside a healthcare setting and weren't given priority access in the vaccination roll out," she said.
"What's missing from [Friday's] announcement is detail on the arrangements for the small number of employees in the state service who are unable or unwilling to get vaccinated."
Allied healthcare workers across Tasmania are facing mandatory Covid-19 vaccinations. Picture: AFP
Occupational Therapy Australia's Tasmanian chair Fiona O'Keeffe said she felt strongly that health professionals should be vaccinated.
"There's outliers in every profession and that's why it needs to be mandated," she said.
Mrs O'Keeffe said there were 365 occupational therapists registered in Tasmania who worked in community health and mental health settings, private practice, and in the area of disability.
"Occupational therapists work across all the lifespan, from children and babies … right through to people at end of life in hospice care. So we're seeing people at all times of their life and it's nearly always people that have risk factors," she said.
"It's absolutely essential we make sure we are not the vector that brings illness to them, but it's also to protect ourselves."
Ms Morgan-Wicks said exemptions to the requirement would apply, including for those unable to be vaccinated due to medical conditions.
FULL LIST OF OCCUPATIONS REQUIRING VACCINATIONS:
– Art therapist
– Audiologist
– Chiropractor
– Counsellor holding a Master of Counselling, or equivalent, from a tertiary institution
– Dietitian
– Exercise physiologist
– Genetic counsellor
– Music therapist
– Occupational therapist
– Optometrist
– Orthotist
– Osteopath
– Perfusionist
– Pharmacist
– Physiotherapist
– Podiatrist
– Prosthetist
– Psychologist
– Rehabilitation counsellor
– Radiologists/radiographers
– Social worker
– Sonographer
– Speech pathologist
Tassie nurses demand clarity over 'vague' vax mandate
The nurses union say their phone lines are running hot from bewildered healthcare workers seeking clarity over the vague new mandatory vaccination rules.
However, Australian Nursing and Midwifery Federation Tasmanian secretary Emily Shepherd said no clarity was forthcoming from the government, which remains light on the finer details.
The health department says it will be explaining the details, such as who classifies as a healthcare worker, at a later date.
In the meantime, Ms Shepherd said they were left with nothing but a shot in the dark.
"The ANMF has sought urgent information on this decision so that we can reliably inform
members. We have also requested an urgent meeting with the Department of Health to
better understand what this will mean for members," Ms Shepherd said.
"We were only advised minutes before this was announced and we
were not consulted on this decision."
Healthscope general manager Kathryn Berry said they supported the Tasmanian Government's announcement and would work to get all their staff vaccinated.