Sake Sisters is set to offer Surfers paradise with its unique Japanese cuisine.  Sake Sisters is based out of the recently launched $10m Surfers Paradise lifestyle and entertainment precinct.
Related Food: Price of a cup of coffee set to rise
Related QLD: The top cafes to open in Brisbane in 2021
from courier mail 30.11.21
It has fast become the hottest new destination on the Gold Coast, attracting some of Australia's best DJs, along with movie stars, TV presenters, radio personalities, models, influencers, entrepreneurs and sporting heroes.
Now Cali Beach Club is set to unveil its signature restaurant.
Sake Sisters will open this Friday at the recently launched $10m Surfers Paradise lifestyle and entertainment precinct, ­delivering a unique take on Japanese cuisine, alongside stunning ocean views.
Leading the kitchen will be revered chef Marcelino Papio Jr, who has finessed his skills in Japanese cookery in the Philippines, Dubai, and more locally at Sydney's acclaimed Nobu and Toko restaurants.
Chef Marcelino Papio Jr at Cali Beach Club's new restaurant Sake Sisters in Surfers Paradise.
"I've been in the industry and have opened multiple restaurants in lots of countries, but this is different because it already has a big name," the chef affectionately known as Jojo said.
"It's overwhelming, but it's interesting and it gives me more confidence of elevating what I've been doing."
As for what that means for the menu, well expect classic share-style Japanese fare given a modern twist and heated up with an element of spice. Think kingfish uzusukuri with honey soy, yuzu pearls and jalapeno; spicy avocado and seaweed sushi rolls, and wagyu beef skewers with yuzu pepper.
Of course, there will plenty for the chilli-averse, including wagyu and cheese gyoza, sashimi, Moreton Bay bug tempura, chicken yakitori and a generous grill section featuring the likes of a pork cutlet with smoked miso bearnaise, and kingfish collar with grilled pineapple soaked in sake and teriyaki sauce.
"We want to be different," Papio Jr said.
"We are a Japanese restaurant but we enhance the flavour and elevate the elements in Japanese cuisine."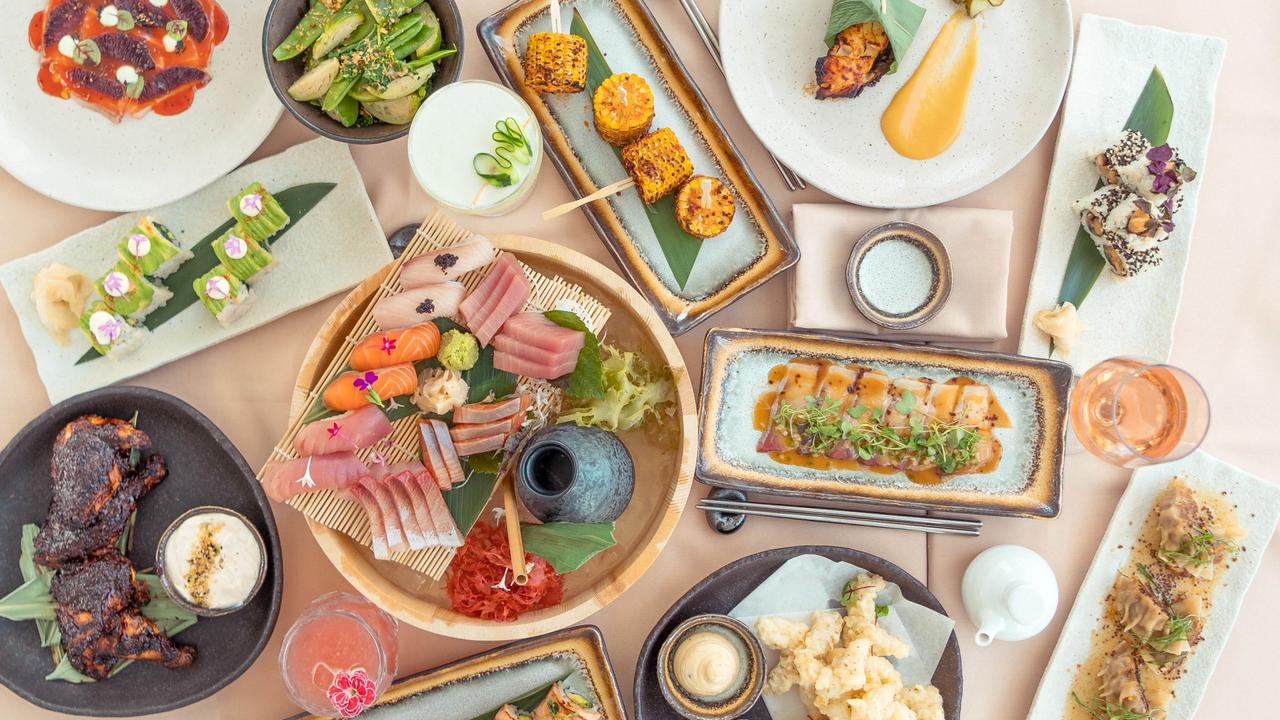 A spread of the food that will be available at Sake Sisters.
The chef also plans to build on the menu regularly with daily and weekly specials, as well as offer special omakase menus, which will be paired with unique drinks packages incorporating the restaurant's broad selection of booze.
Unsurprisingly given the open-air, 120-seat venue's name, some of the alcohol will include a fabulous sake selection, with bottles being sourced from Japan, along with a raft of Japanese-inspired cocktails, whiskies and wine from across the world.
If the concept goes well, Cali Beach Club owners, Artesian Hospitality, also plan to roll out a number of the all-day clubs and Sake Sisters restaurants across the country.