Organisers from the Taste of Summer festival have reached out to offer assistance to Festivale organisers, as uncertainty around covid and covid safe plans around the event. The Festivale event organisers are determined though to make the event happen.
Related Community: Concerns our parks will be turned into cash cows
Related Domestic Tourism: Public and private innovate in package deals
from the mercury 30.09.21
THE TEAM behind the new Taste of Summer festival say they have reached out to Festivale organisers to offer assistance in any way they can.
What's in store for the Launceston summer staple in 2022 is unclear at this stage after the event's Covid safety plan was rejected.
Festivale organisers had been hoping to allow 10,000 people to attend, but under current public health guidelines that would be reduced to 5000.
Pinpoint Group's Jarrod Nation said Tasmania desperately needed events like Festivale and the Taste to help bring the community together.
"These events are also a huge boost to Tasmanian businesses, producers, entertainers and many others who have been doing it tough this year."
"We have reached out to Festivale to offer whatever support and assistance we can provide."
The inaugural Taste of Summer event will be held between Christmas and new year and aims to revive what was the Taste of Tasmania festival.
Mr Nation said Taste of Summer was "definitely going ahead this year" and the team was currently working with Public Health.
Festivale is usually held over three days in February at City Park.
A smaller version of the festival, Indulge, took place at UTAS Stadium earlier this year and that is an option being considered by organisers for 2022.
They are also considering scrapping the event for this coming February.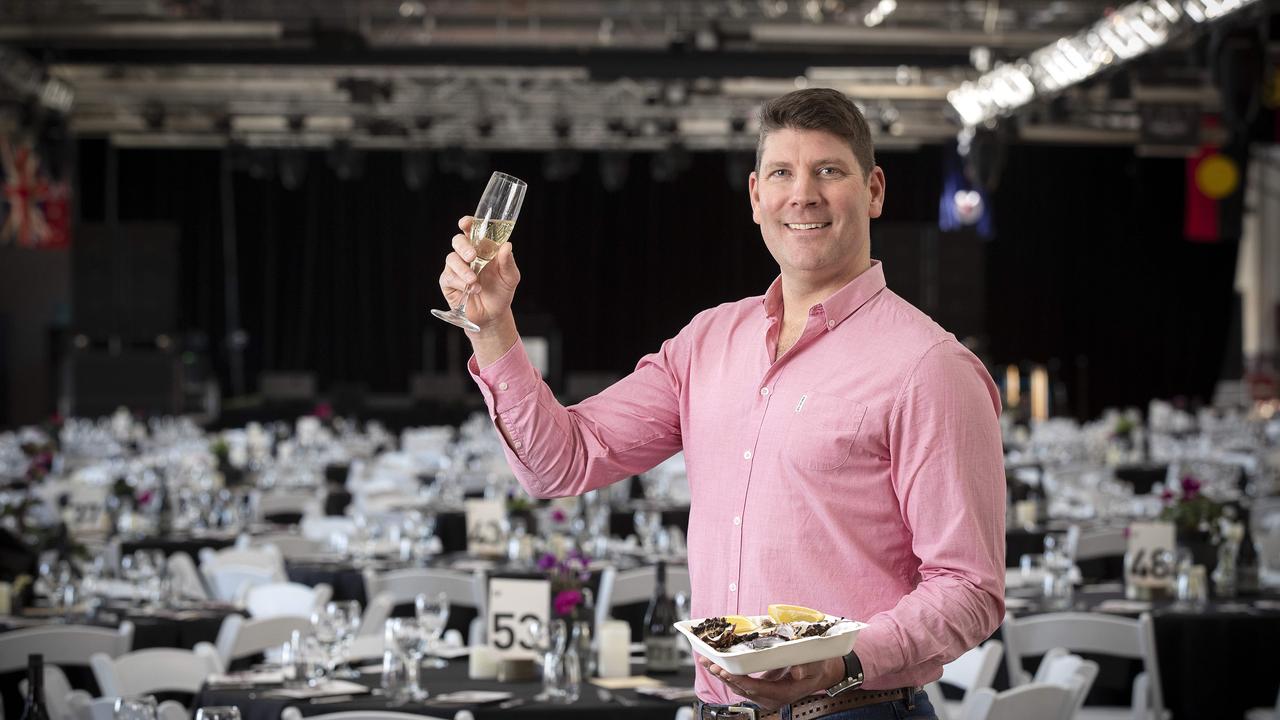 Little Devil Donuts owner Ann Lifshen was a stallholder at the Festivale in 2020, but missed out on a spot at Indulge.
"We have been given a place at this year's event, but that's really subject to possible changes in numbers and if numbers get capped at 5000 we could lose it."
Ms Lifshen said major events such as Festivale were crucial not only for revenue, but also exposure to the wider Tasmanian market.
"I don't trade at a regular market. I had the business four years and pre-Covid was going to sell, but that's obviously hit the market and we've just been heading out to larger events."
I'm in the fortunate position where the business was hobby and I have alternative work and aren't reliant on the business, but there are a lot of people who are husband and wife teams and for them it's their sole source of income."
The launch of Festivale was planned for this week and tickets were also set to go on sale, but that has been pushed back with a decision on the future of the event expected next week.
Ms Lifshen said extra AFL games at UTAS Stadium this year had provided additional revenue for her business, but expected uncertainty around events to continue into summer.
"I really commend those who are continuing to put on events and not quitting on the arts because there is so much risk around that at the moment."
Two options weighed up for Festivale's future
Festivale's chair has indicated there are two options on the table for the future of the event, which has seen a major delay in launching amid Covid restrictions.
Organisers of the beloved three-day festival have held off announcing the program and releasing tickets after finding out from Public Health their Covid safety plan.
Festivale organisers said in a Facebook post the committee was seeking a 10,000 person limit, but existing guidelines mean no more than 5000 people would be able to attend, and only 250 can be standing at a given time.
"Based on these parameters, Festivale is not financially viable," the post reads.
Committee chair David Dunn told the Mercury the only options were to either not hold a 2022 event, or to hold a smaller scale event with a new name similar to their 2021 iteration, which was called Indulge, at another venue.
"The City Park is synonymous with Festivale – if we go down another road of another festival, it'll be at another venue," he said.
Mr Dunn said a smaller festival would mean less stallholders and entertainers, and the committee was in the process of keeping stallholders in the loop about potential changes.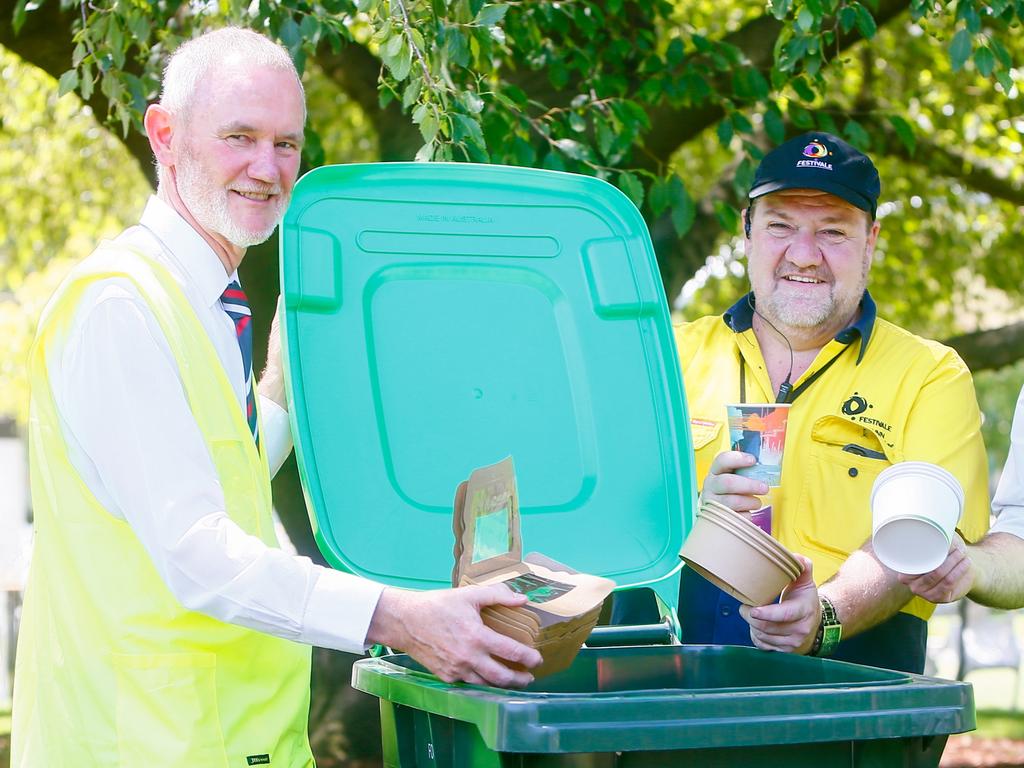 Launceston Mayor Albert van Zetten and Festivale chairman David Dunn. Picture: PATRICK GEE
He said the committee would make a decision about the future of the festival at their meeting on Monday, and remained hopeful a festival of some kind could go ahead.
"We'll go hell for leather to put an event on and put announcements out within the next few weeks," he said.
Launceston City Council Mayor Albert van Zetten said the festival was "very important" for the economy and brought in interstate tourists.
"We'd love to see it go ahead but obviously we understand the restrictions," he said.
Mr van Zetten hoped the festival committee could find a solution.
'Not financially viable': Food and wine festival launch postponed
Organisers of a beloved three-day festival have held off announcing the program and releasing tickets as Covid restrictions have halved their target capacity.
Known for its flowing wine, eclectic food, bustling crowds and stellar live entertainment, anticipation has been growing for Festivale to bring some oomph to Launceston City Park this coming February.
But the anticipation will have to continue as organisers have revealed in a Facebook post on Tuesday morning Covid-19 has cast a shadow of uncertainty over the festival.
Committee chair David Dunn said the launch was scheduled for Wednesday with sponsors, government and media expected to attend, and tickets were to be released on Friday.
"Unfortunately, the Festivale Launch and the ticket sales planned for later this week (have) been deferred on the basis that the event's Covid plan has not yet been approved," Mr Dunn said.
"As a committee, we are committed to bringing to Launceston the very best event we can but are entirely focused on navigating the appropriate health outcomes and financial risks that are faced."
Festivale committee chair David Dunn. Picture: PATRICK GEE
The Facebook post states the committee were seeking a 10,000 person limit, but existing Public Health guidelines mean no more than 5000 people will be able to attend, and only 250 can be standing at a given time.
The committee said it was understood Public Health informed them last Thursday their Covid plan had not been approved.
"Based on these parameters, Festivale is not financially viable," the post reads.
"The Festivale committee are continuing to work with government to find a solution."
Tourism, Hospitality and Events Minister Sarah Courtney said Festivale was one of six events to receive support under the government's iconic events fund.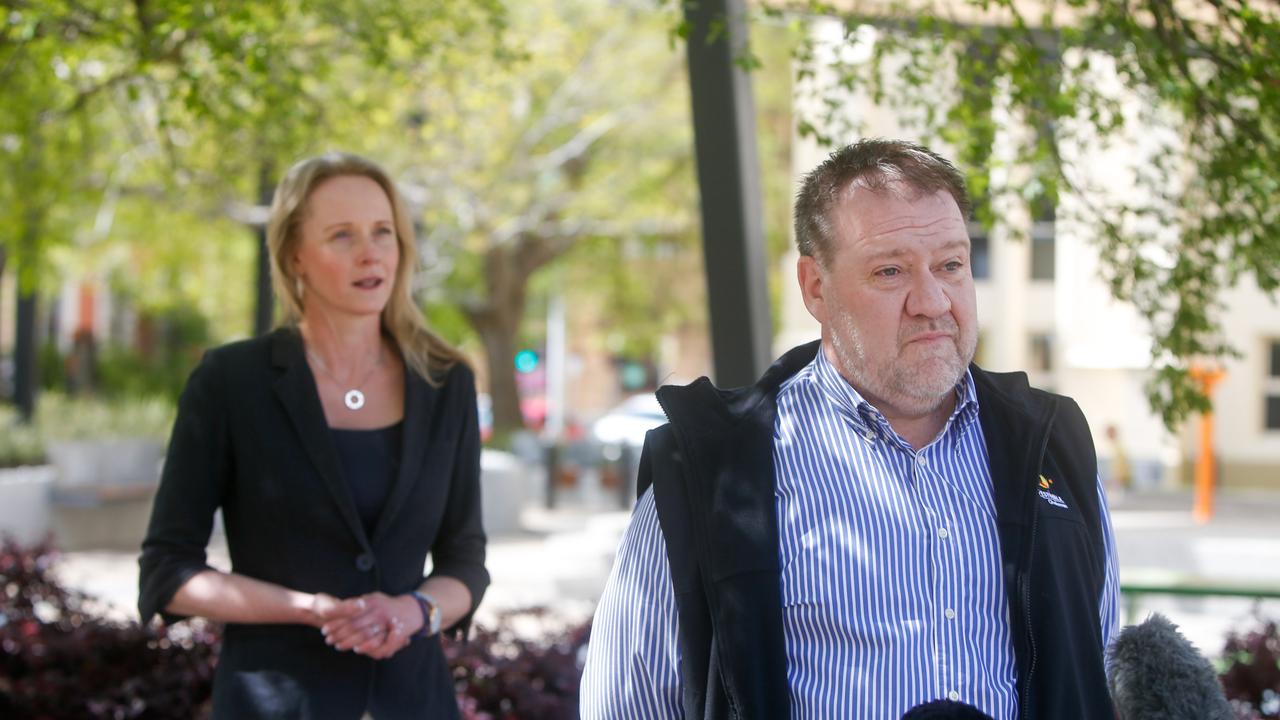 Festivale chairman David Dunn and Sarah Courtney speak about the government's Covid-19 Safe Events and Activities framework in October 2020. Picture: PATRICK GEE
"Like thousands of Tasmanians who look forward to attending this iconic event each year, I am disappointed that Festivale 2022 is unable to proceed in its traditional format," Ms Courtney said.
"Our Government is committed to supporting our important events sector as it continues to face ongoing gathering restrictions associated with Covid-19 and I know that this has been (a) difficult decision for event organisers."
Festivale said they would provide an update in coming days.