Sydney businesses are elated to open their doors again as October 11 was announced as the day that the state will start to reopen, with the first rounds of restrictions easing as the state reaches its vaccine milestone.
Business owners Samantha Jakubiak, her partner Ben Kelly and brother Alek Jakubiak of Franks Deli admit that they had their fingers crossed that they would make it through lockdown, saying they were expecting a small turn out, possibly 30 sandwiches a day, however, this fast turned into hundreds of sandwiches a day.
The owners of Franks Deli are joined by business owners across the city, who are now looking forward to welcoming old patrons and visitors from outside the 5k zone.
Related Harmonisation: Qantas promotion doing what government can't
Related Business Resources: SpaceX Big Step For Space Tourism
From SMH 28.09.21
Almost 11 weeks into Sydney's lockdown, Samantha Jakubiak, her partner Ben Kelly and brother Alek Jakubiak knew they were taking a risk when they opened Frank's Deli in the city's east.
But with a concept of "predominantly takeaway", they crossed their fingers they would survive, despite being held up by the temporary hurdle of restrictions on the construction industry.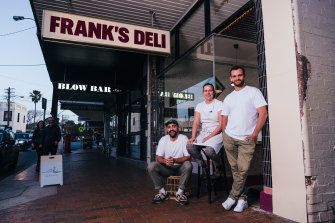 The business on Bronte Road, Waverley, has thrived and they have been pulling up to 18-hour shifts to serve the long queues.
"It's been going absolutely gangbusters for us," Ms Jakubiak said.
Such has been their success, they are searching for another preparation space to meet the demand.
"We thought, humble little us, we'll do like 30 sandwiches a day, great coffee … it's just turned into this machine of hundreds of sandwiches a day."
Their original plan was to "always have seating" but given the overwhelming response, they are "a bit reluctant".
"We dream about one day opening up the front of the shop," Ms Jakubiak said. "Our queues are so long that we can't really fit the seating anyway."
Ms Jakubiak said she cannot wait to dine at other new restaurants that have opened along the strip.
Sydney cafes, restaurants and hairdressers waiting on lockdown to lift have been given a concrete date of October 11 after Premier Gladys Berejiklian said "quite confidently" the road map to reopening would begin on that Monday.
Businesses have two weeks to prepare for an influx of customers, wanting to break free from their five-kilometre radius, have that long overdue trim, or join family and friends for celebrations that have for months been put on ice.
Chef Neil Perry was due to open his new restaurant Margaret, named after his "loving, caring" mother, in Double Bay on June 25, the night before stay-at-home restrictions were reinstated.
RELATED ARTICLE
He has welcomed the new date and will take reservations from the following Wednesday, but does not consider it "freedom day", rather "the way we very gently restart the economy and reopen".
"Freedom day is when we all get to mingle together as Australians and travel … we've been incredibly withdrawn from our socialisation."
Perry was able to keep staff on with an offering of takeaway burgers and sandwiches but noted they are hospitality workers, and want to look after customers rather than pack boxes and portion food.
"It was sort of pivot or perish really; we had to do something," he said. "Four months later, we're going to get to swing the doors open and cook beautiful food and bring people joy."
RELATED ARTICLE
Hairdresser Danielle Philp, of Willow Hairdressing in Lilyfield, found out when the Australian Hairdressing Council posted the news on Facebook, and the text messages from customers began.
"I've worked since I was 15, 16. I've never not been able to earn money," she said. "To just be completely cut off has been really stressful."
She and business owner Linda Crown are excited to return but Ms Philp is also a bit anxious, noting her draft schedule for the salon's reopening is a "mentally and physically draining" 70-hour week.
"It's pretty hectic trying to schedule all of these people in," Ms Philp said. "We were stressed because we couldn't pay for things … we're also stressed because we know what we're coming back to."
None of the eager customers have raised any problems about the requirement to be fully vaccinated.
"No one has messaged back to say they're not willing to comply or provide that information," she said.
"I'm assuming when everyone comes in for their appointments, that it won't be a problem to verify that, but I guess time will tell."