New Lauderdale hospitality establishment Angie Sue has opened and is offering an unforgettable experience.
Related Food: Where to eat and drink in Sydney
Related Tasmania: Dark Mofo 2022
from the Mercury 23.10.21
534 South Arm Rd, Lauderdale
Opening hours: Tues – Fri 7am – 3pm, Sat-Sun 8am – 3pm
ON THE MENU
Brisket waffle, $20.50; miso corn fritters, $19; roast pumpkin and pesto arancini, $14; halloumi fries, $8; karaage chicken, $15.
There's an early-spring chill and a hint of drizzle in the air when we tumble through the front door of Angie Sue on a recent Saturday morning. We're met by an instant feeling of warmth – thanks to both the wood heater in the main dining area and the air of easy hospitality every staff member exudes. Breakfast eaters are on their way out and brunch lovers are just settling in and there's a cacophony of weekend chatter fuelled by good coffee and more-ish eats.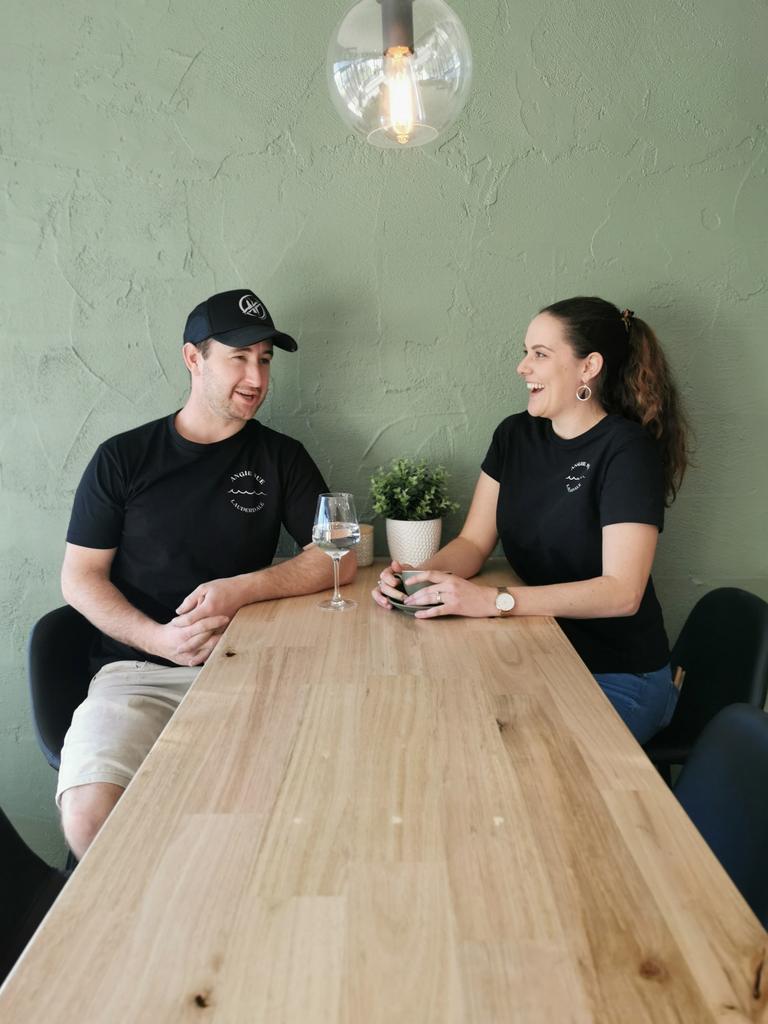 Angie Sue owners Chris and Ange Fidden. Picture: Supplied
We don't have a booking but are quickly led to a table in the main dining area, where it's a little quieter and we're close to the fire. Water is poured, coffee ordered and we're left with a menu that offers so many delicious options I'd wish we brought some friends with us so I could justify ordering more.
Angie Sue's miso corn fritters. Picture: Supplied
My husband decides to fuel up for a golf game with the miso corn fritters ($19) while I opt for the slow-cooked beef brisket served on a Belgian waffle ($20.50).
While we wait, there's (just enough) time to admire the view out over the water towards Taroona and the remnants of mist that's tangled in the branches of the trees on the escarpment. Tables are occupied by groups of friends, couples and families – with a colony of high chairs in the corner attesting to Angie Sue's family-friendly credentials.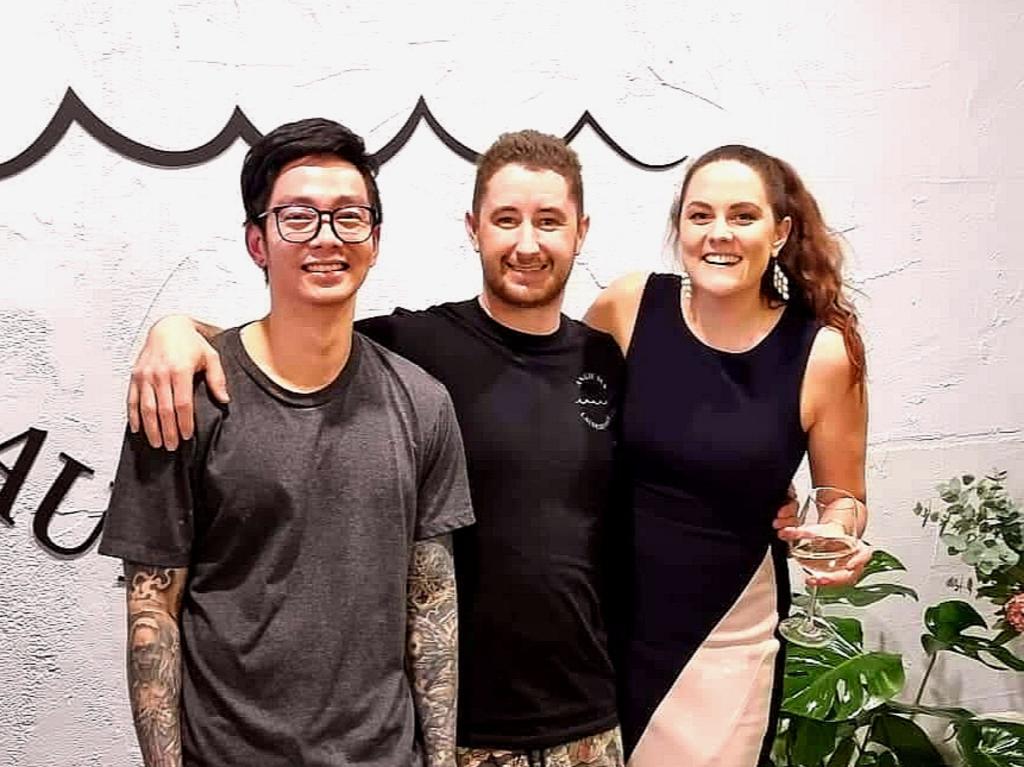 Angie Sue's head chef Yiam Soong and owners Chris and Ange Fidden. Picture: Supplied
Angie Sue's owners Chris and Ange Fidden (yes, she's the restaurant's namesake) are Hobart hospitality stalwarts – this is their fifth venture and with the help of "our pretty amazing" head chef Yiam Soong, they're setting the bar high. "We're not fine dining," says Chris, "we're just focusing on really good food with friendly service."
Currently serving all-day brunch, the crew plans to open for dinner in a few weeks and work is currently underway on a pizza oven and getting the backyard ready for summer. "We've been flat out since we opened," he says with a laugh, "it wasn't the soft opening we thought it would be."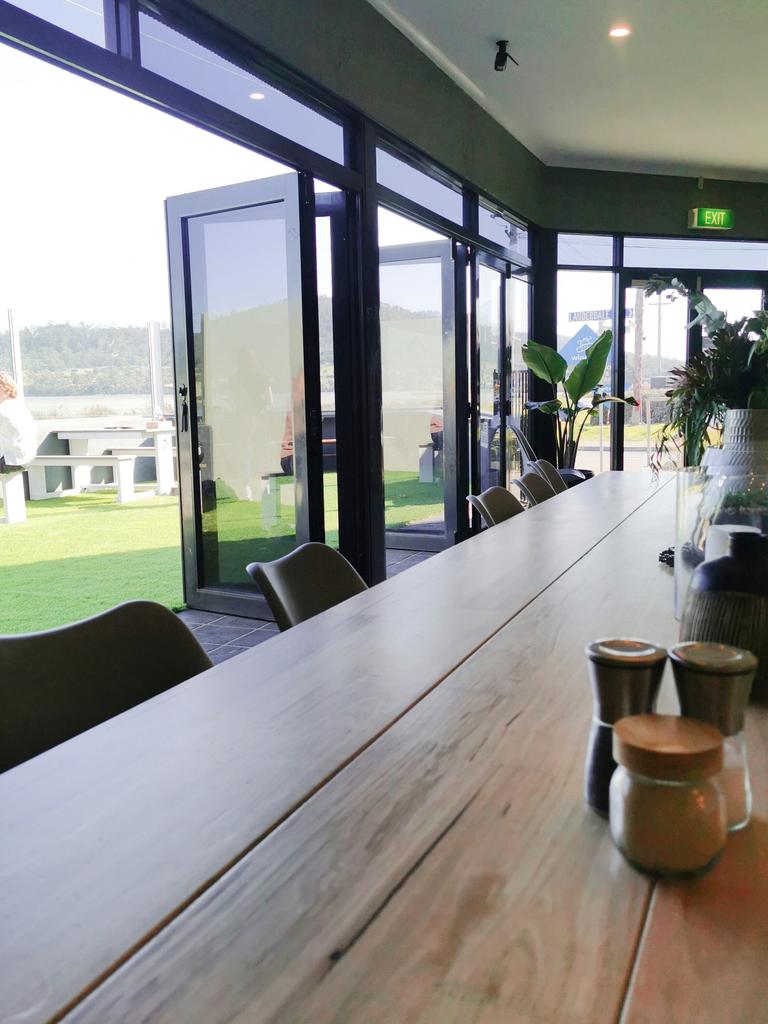 Angie Sue's breezy interior which looks out onto Ralphs Bay is a great spot for a relaxing brekky, brunch or dinner. Picture: Supplied
The front deck, which overlooks the water, is dog-friendly and the alfresco area out back will also be welcoming four-legged friends.
Our meals arrive promptly and, despite the corn-studded stack of deliciousness that's been placed in front of him, my husband has a bad case of food envy when he sees my brisket waffle. Thick slices of tangy slow-cooked beef are piled high on a freshly cooked Belgian waffle (they have deeper pockets than regular waffles, making them ideal for collecting pools of sauce or bits of meltingly tender beef) and dressed with a Sriracha-spiked hollandaise sauce. That's all topped with shards of crispy sweet potato that provide a textural point of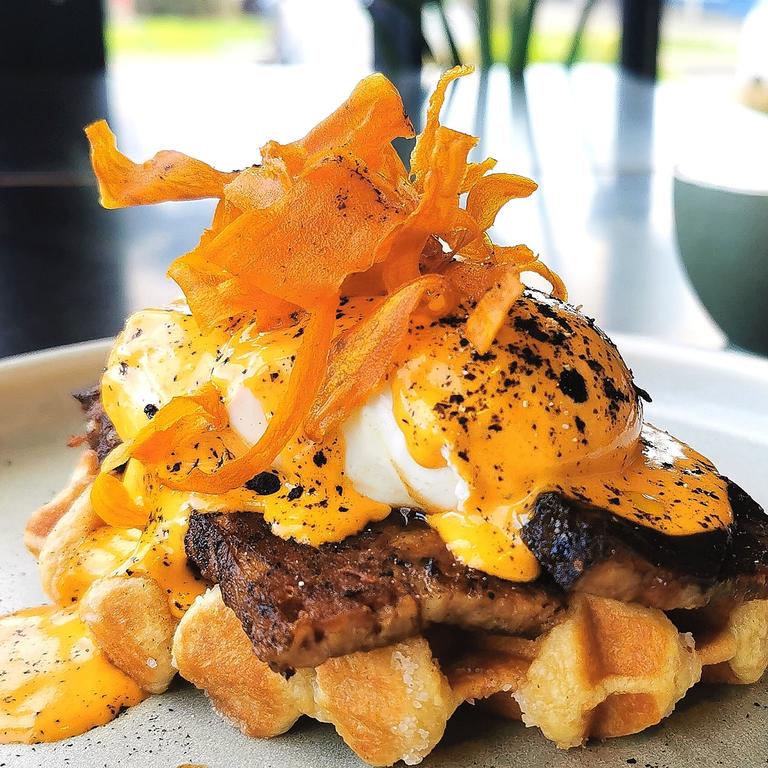 Angie Sue's slow-cooked beef brisket served on a Belgian waffle. Picture: Supplied
difference. I'm not a fan of poached eggs as advertised on the menu, so I swapped them for a scoop of smashed avo instead (no overdraft required). The creamy avocado is the perfect foil for the spicy Sriracha and there's a hint of sweetness in the waffle that plays nicely with the beef. It's a great example of how sweet and salty together can be a winning combination.
The miso corn fritters do not disappoint and my husband soon forgets about my waffles (thank goodness) as he tucks in. The fritters are light, packed with fresh corn and come with two poached eggs, smashed avo and we added a side of bacon. They're filling without requiring a post-brunch snooze.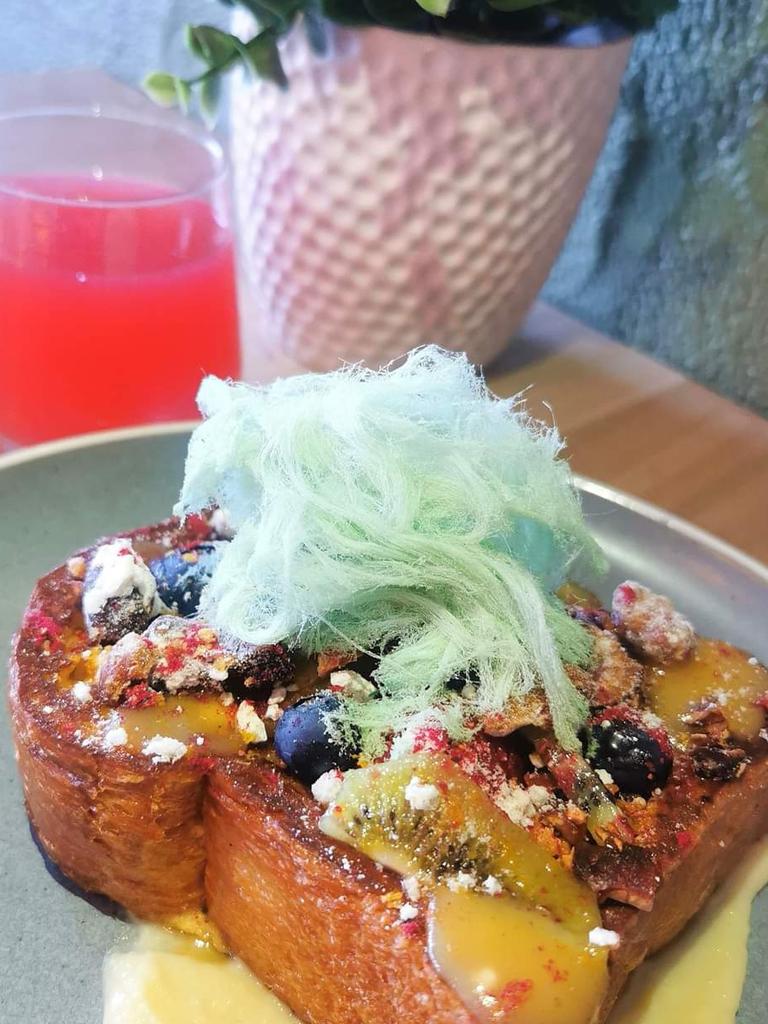 Angie Sue's French toast brioche, lemongrass custard, lychee curd, smoked maple, candied nuts and seasonal fruits.
In addition to the brunch menu, there are small plates on offer throughout the day and Angie Sue is licensed. For lunch I'd look forward to sharing roast pumpkin and pesto arancini ($14), housemade falafels with beetroot hummus ($12) and a plate of halloumi fries ($8) with smoked maple, dukkah and lime. My husband votes for the karaage chicken ($15) and the seasoned fries ($8) with confit garlic mayo. There are also daily specials on offer.
Angie Sue is the kind of place every good neighbourhood deserves – great atmosphere, friendly service, fabulous food and the feeling you're welcome whether you're ordering coffee and cake or a table of small plates and a bottle of wine.
Come long summer evenings I'm looking forward to returning for a pizza in the backyard.