Far North Queensland's top 45 tourism figures have been announced by the cairns post.
Related Queensland: Mackays' new $24 million arena
Related Business Resources: Open! businesses in Sydney thrilled as restrictions ease
from cairns post 30.09.21
RESTAURANTS and bars championing the region's produce and world class tourism experiences showcasing natural beauty make the Far North a one of a kind tourism destination.
Famous for pristine coral reef, world heritage listed rainforest and ancient geological formations the Far North is home to some of the nation's best memory making experiences.
The Cairns Post has shone a light on the people behind the experiences who currently wield huge influence in the tourism and hospitality sphere.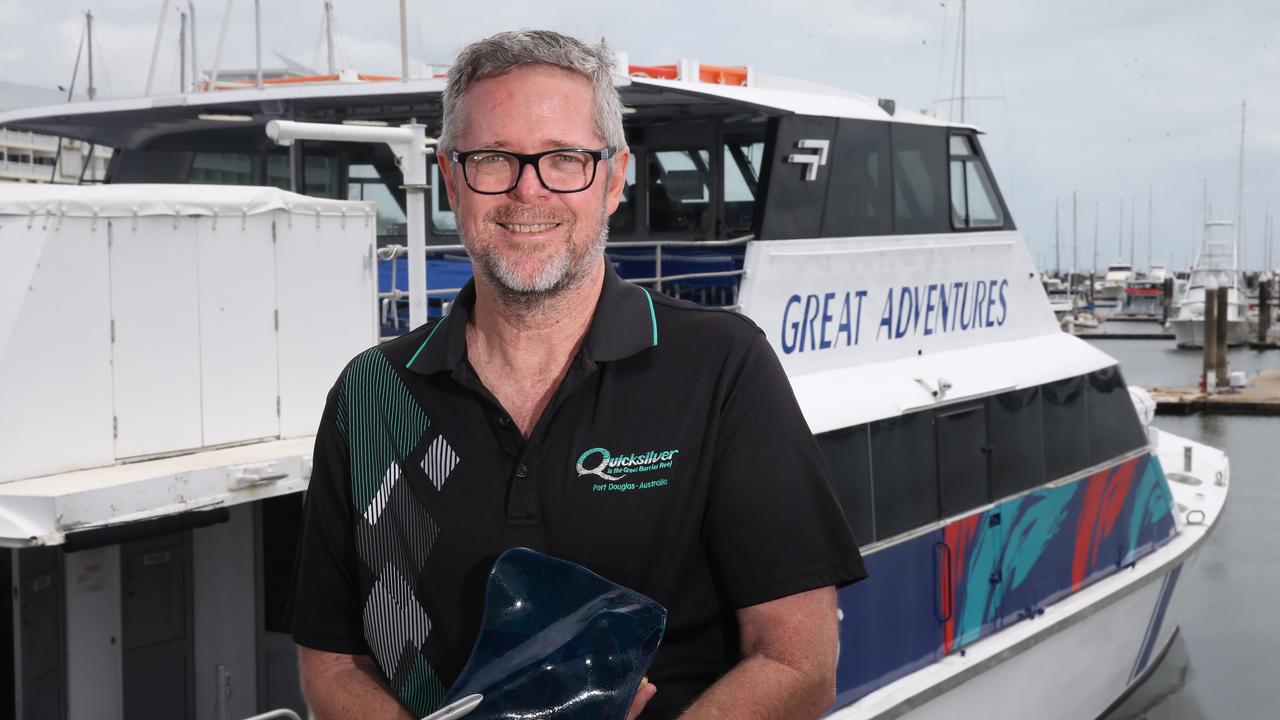 Quicksilver Managing Director Tony Baker with his outstanding contribution tourism award. PICTURE: ANNA ROGERS
TONY BAKER
Managing director of the Quicksilver Group Tony Baker moved to Cairns in 2003 after a 15-year career at Sea World on the Gold Coast to take up a role with Skyrail.
After working with Skyrail for a year Quicksilver Group purchased Green Island Resort and Great Adventures in 2005 and Mr Baker joined the company.
Former Tourism and Events Queensland board member, chairman of Tourism Port Douglas Daintree, member of the Great Barrier Reef Marine Park Authority's Tourism Recreation Advisory Committee Mr Baker at the head of one of the Far North's biggest Reef operator companies and is the current chairman of the Australian Marine Park Tourism Operators.
A dramatic shrinking of staff since Covid hit the biggest Reef operator in the Far North employs 320 staff across the group.
"Which is a lot less than what we used to," he said.
"We consider Quicksilver Group to be the biggest (Reef operator), we are the biggest."
Manager of the Superyacht Group Great Barrier Reef Joanne Drake at the Cairns Marlin Marina. PICTURE: BRENDAN RADKE
JOANNE DRAKE
Before the pandemic hit Super Yacht Group Great Barrier Reef manager Joanne Drake flew between Cairns, the Caribbean and the Mediterranean to spruik the wonders of the Great Barrier Reef.
Taking out the Superyacht Industry Service Provider of the Year in 2019 Super Yacht Group Great Barrier Reef connects yacht owners and with maintenance services and ship providers in the Cairns region and the natural wonder of the world's largest living organism.
The Great Barrier Reef and Wet Tropics ambassador worked her way up from chief stewardess on-board MY Ophelia, MY Arriva and MY Casuarina before taking on a role as head purser and training co-ordinator on board the Coral Princess in 2001.
Ms Drake is a member of International Association of Marine and Shipping Professionals and committee member of International Superyacht Society Education and Marketing Groups.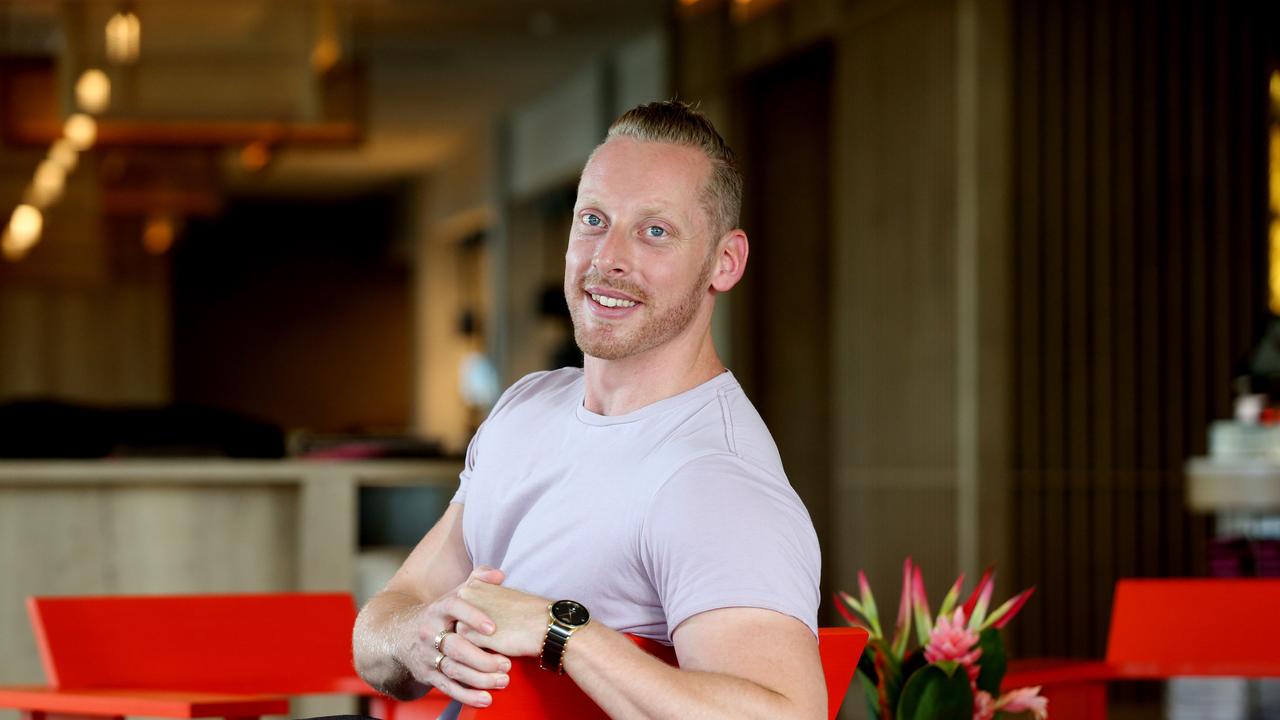 Crystalbrook Collection's Area General Manager Joel Gordon PICTURE: STEWART MCLEAN
JOEL GORDON
Crystalbrook Collection's Area General Manager Joel Gordon came on-board with the booming hospitality firm in 2018 ahead of the completed construction of the firm's Cairns CBD hotels.
From humble beginnings as a food and beverage attendant and concierge at the Gold Coast's Palazzo Versace Mr Gordon has come through the ranks via the Sofitel Brisbane Central, Rydges Oasis Resort Caloundra and the Atura Blacktown to now manage Far Northern portfolio of 877 rooms, nine restaurants and bars, 15 event spaces and two day spas.
A keen advocate for driving increased visitation to the Far North oversaw the opening of the three five star hotels to manage an army of staff and a $600m investment.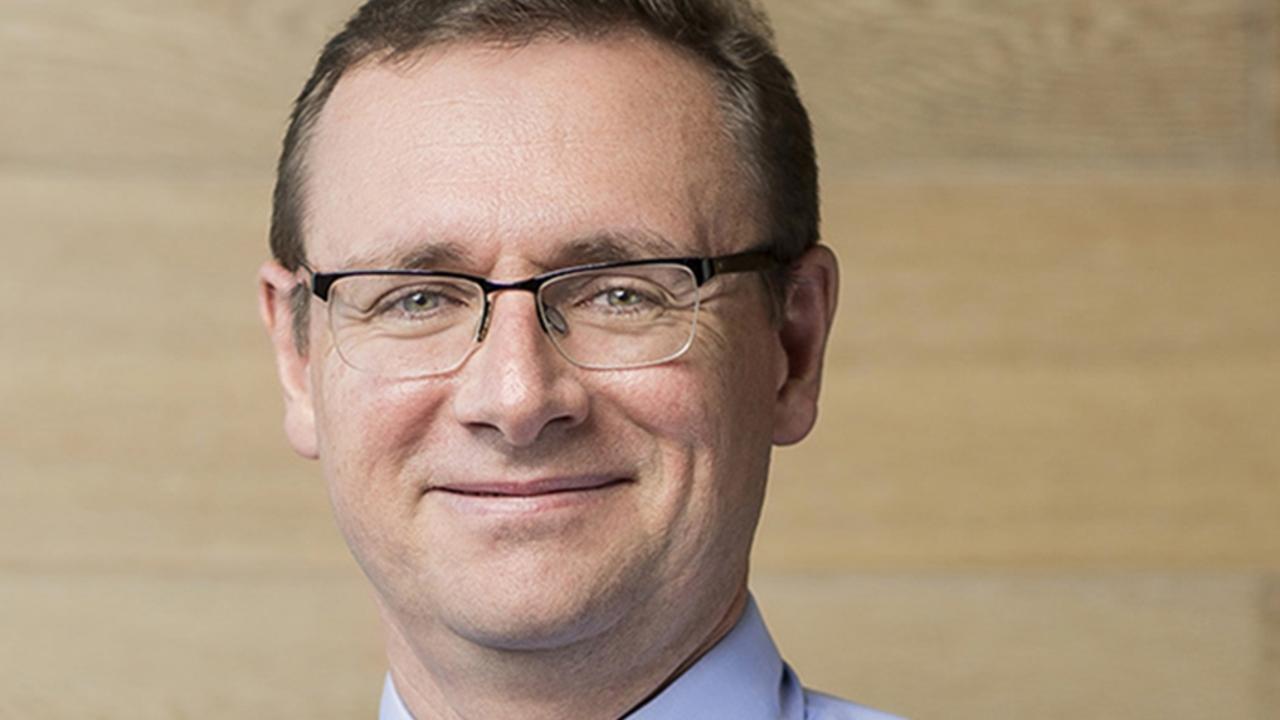 John O'Sullivan, CEO, Experience Co (and former managing director Tourism Australia) source: supplied
JOHN O'SULLIVAN
Coming from a sports background Experience Co chief executive officer John O'Sullivan has more than 20 years' experience in travel and tourism before taking on the top job with the Far North's leading adventure tourism company in July 2019.
Former chief at Events Queensland, managing director of Tourism Australia and commissioner of Tourism Western Australia Mr O'Sullivan is a current director of Tourism Tropical North Queensland.
In 2018 the company launched Dreamtime Dive and Snorkel after acquiring Tropical Journeys and Big Cat Green Island Reef Cruises in 2017.
In 2019 the company divested Cairns Canyoning and GBR Helicopters.
Skydive Mission Beach and Skydive Cairns, Big Cat Green Island, Reef Magic Cruises, Dreamtime Dive and Snorkel, Marine World Pontoon, Fitzroy Island Adventures, Calypso Reef Cruises and Daintree Tours and GBR Biology all form part of the businesses Far Northern operations.
Later this year Experience Co will launch Cairns' largest outer Reef pontoon.
"It will be the newest investment on the Reef water pontoons in the last 10 years," Mr O'Sullivan said.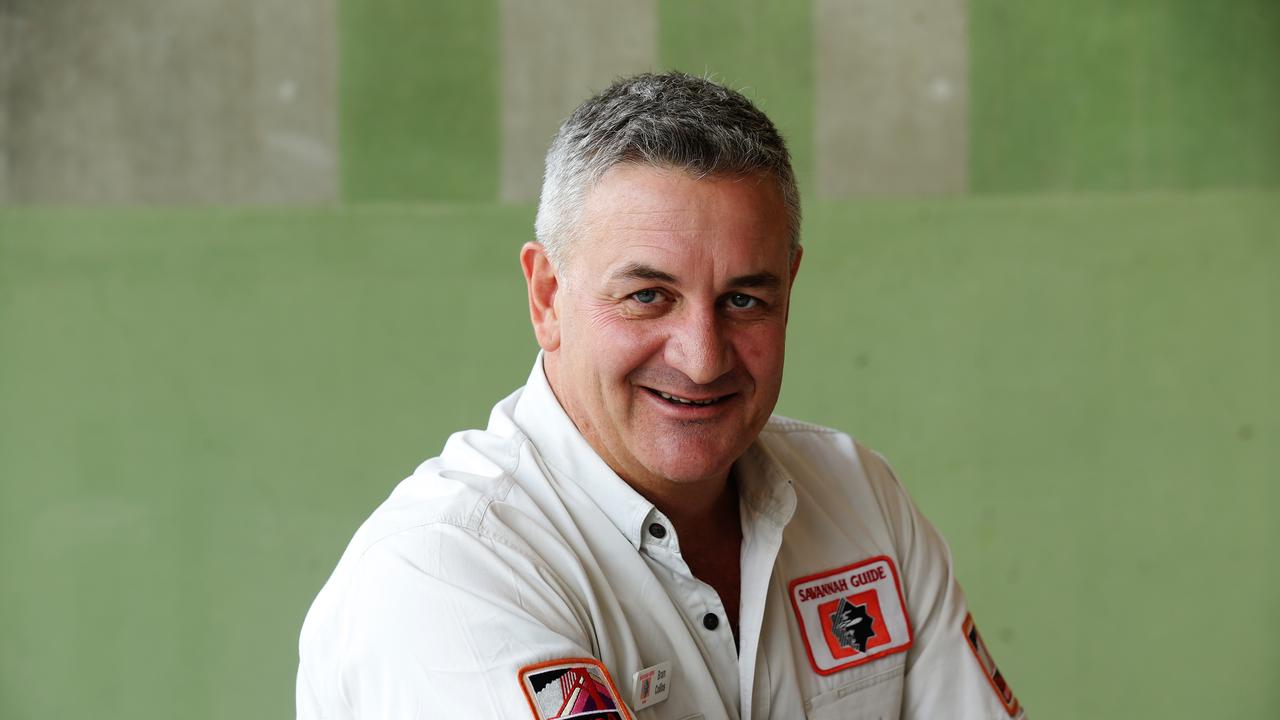 Bram Collins from Undara Experience. Pic Mark Calleja
BRAM COLLINS
Managing director of the Undara Experience Bram Collins started out in the outback tourism industry as a director of Savannah Guides before taking on the role with the peak western Queensland attraction in 2006.
Mr Collins has been a director of the Tropical Tablelands Tourism board for the past 13 years.
Earlier this year Undara Experience unveiled a $3.2m makeover of the Mount Surprise lava tube attraction which included including telecommunications upgrades, internal roads, refurbished toilet ­facilities, a new tour departure area and new "homestead-style" accommodation at the campground.
The Undara Experience has been named as the winner of the Australian Tourism Awards, Queensland Tourism Awards, North Queensland Tourism Awards, Tropical North Queensland Tourism Awards, Gulf and Savannah Tourism and Business Awards.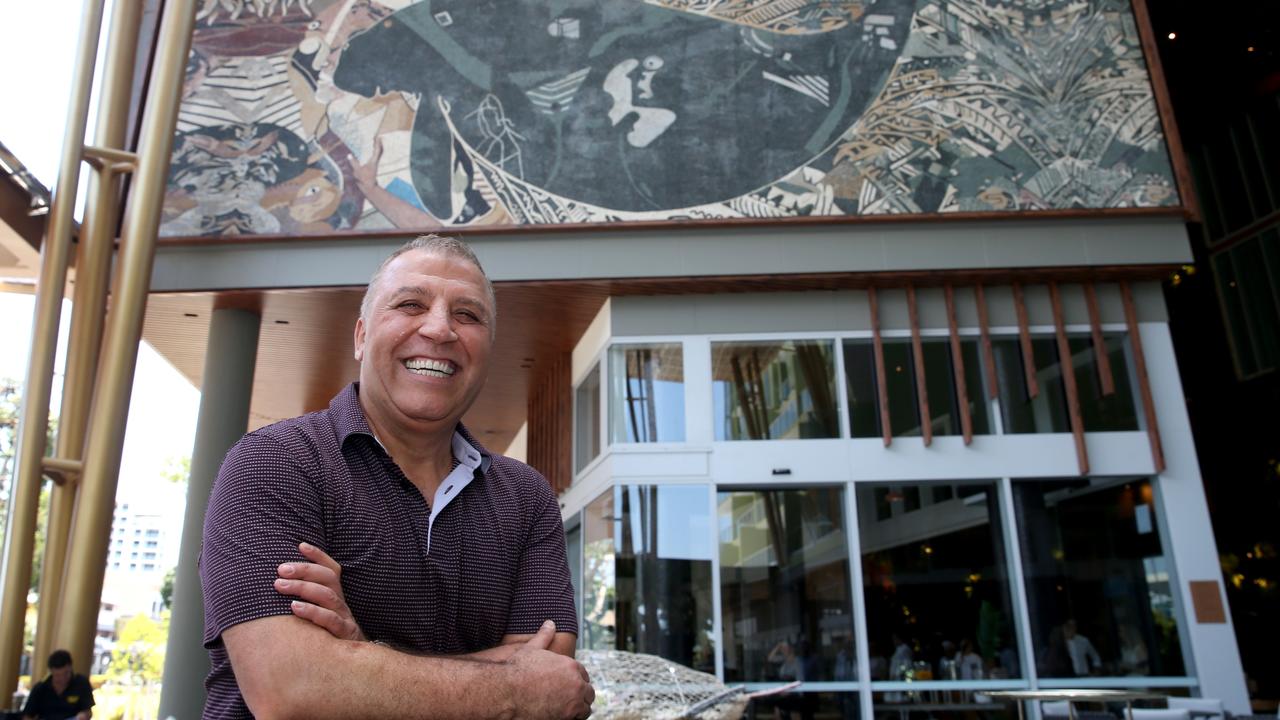 Crystalbrook Collection owner Ghassan Aboud in front of the dugong mural at the Bailey Hotel in Cairns PICTURE: ANNA ROGERS
GHASSAN ABOUD
Crystalbrook Collection owner and Syrian businessman Ghassan Aboud has had a significant impact in the Far North's tourism and hospitality sector.
Investing $500m in three luxury hotels, the billionaire's vision for the Cairns CBD led to the creation of hundreds of jobs while employing about 2200 staff during the life of the project.
In 2018, he was named Leading International Hospitality Investor for his investments into Crystalbrook Collection, Australia.
Also in 2018 Mr Aboud was named in the list of Top 50 Most Influential Expats in the UAE by Forbes Middle East.
And in 2019 the hospitality giant purchased the Byron @ Byron Resort from Gerry Harvey for approximately $42m.
And in July this year Crystalbrook Vincent in the Brisbane CBD opened.
Cairns chef Brian Down.
BRIAN DOWN
Former Australian Culinary Federation North Queensland president of 20 years Brian Down has recently stepped down from the position.
Trained at London's White House Mr Down worked at the five star Hilton Rotterdam, the Marriott Castle Harbour Hotel in Bermuda and in the Philippines before coming to Cairns in 1981 to become a senior teacher at the Cairns Tafe Queensland campus.
"I have worked with some great chefs in Cairns who have gone onto work overseas and some have come back to the area," he said.
Mr Down has stepped down from his role at Tafe Queensland but remains as a national judge of the Australian Culinary Federation.
"And I have stayed on the committee as a mentor for young chefs, which is something I enjoy doing," he said.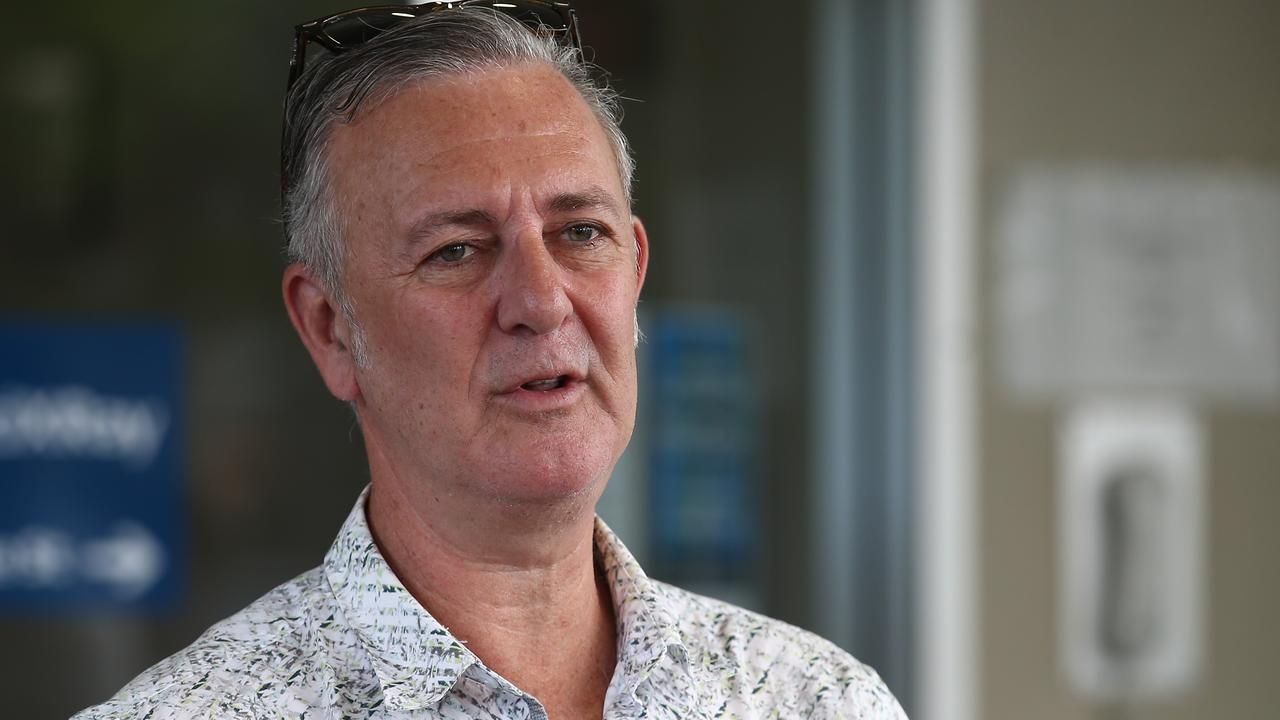 Owner of Ochre restaurant Craig Squire. PICTURE: BRENDAN RADKE
CRAIG SQUIRE
When chef Craig Squire moved to Far North Queensland in the '90s he opened Ochre with a vision to make the most of the region's produce.
Since opening in 1994 the man at the helm of one of the city's most successful restaurants has been dedicated to creating the ultimate modern Australia food experience.
Mr Squire was the first chair of Australian Tropical Foods that morphed into Taste Paradise.
And has been a Far Northern food tourism ambassador for Tourism Australia.
"Niche marketing and agricultural food tourism have always been really important to me," he said.
But since the pandemic the Ochre founder and owner of Tropic Spirit Catering has taken on an advocacy role for businesses impacted by lockdowns and border restrictions.
"I have organised a letter to the Premier this year that was signed by 50 tourism business," he said.
"All the politicians were all excited in 2020 but this year they have lost interest and have blown all the money with excessive JobKeeper payments and they have hung us out to dry."
Mr Squire has worked in some of the world's best restaurants including London's The Orangery Restaurant and the Michelin-starred restaurant of Austria's famous Sporthotel Reisch.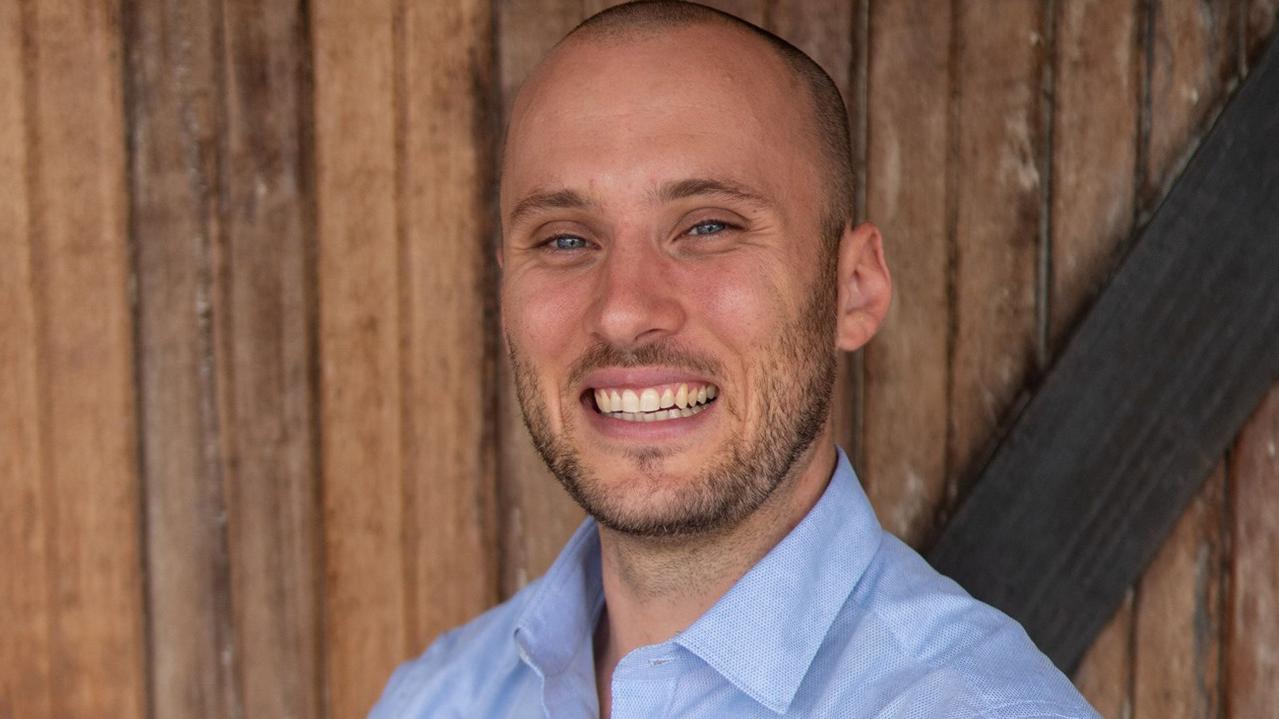 NOA restaurant owner Samuel Byrd. PICTURE: SUPPLIED
SAMUEL BYRD
Far Northern restaurateur Samuel Byrd opened Edge Hill's Ozmosis cafe in 2014 before starting NOA in Edge Hill a year later and Hopscotch Italian kitchen in 2018.
With business partner Davy O'Rourke (Mama Coco) the leading business owner opened a modern Mexican eatery and wine bar called Guerrilla in April this year.
Training with Starwood Hotels and Resorts Worldwide in Spain Mr Byrd took on a role with the Ritz-Carlton Hotel Company in the Virgin Islands before heading to Melbourne as a bar manager for Gordon Ramsey Holdings.
Arriving in Cairns in 2011 to work at the Pacific International Hotel Mr Byrd took a job as a food and beverage manager at Novotel Palm Cove Resort.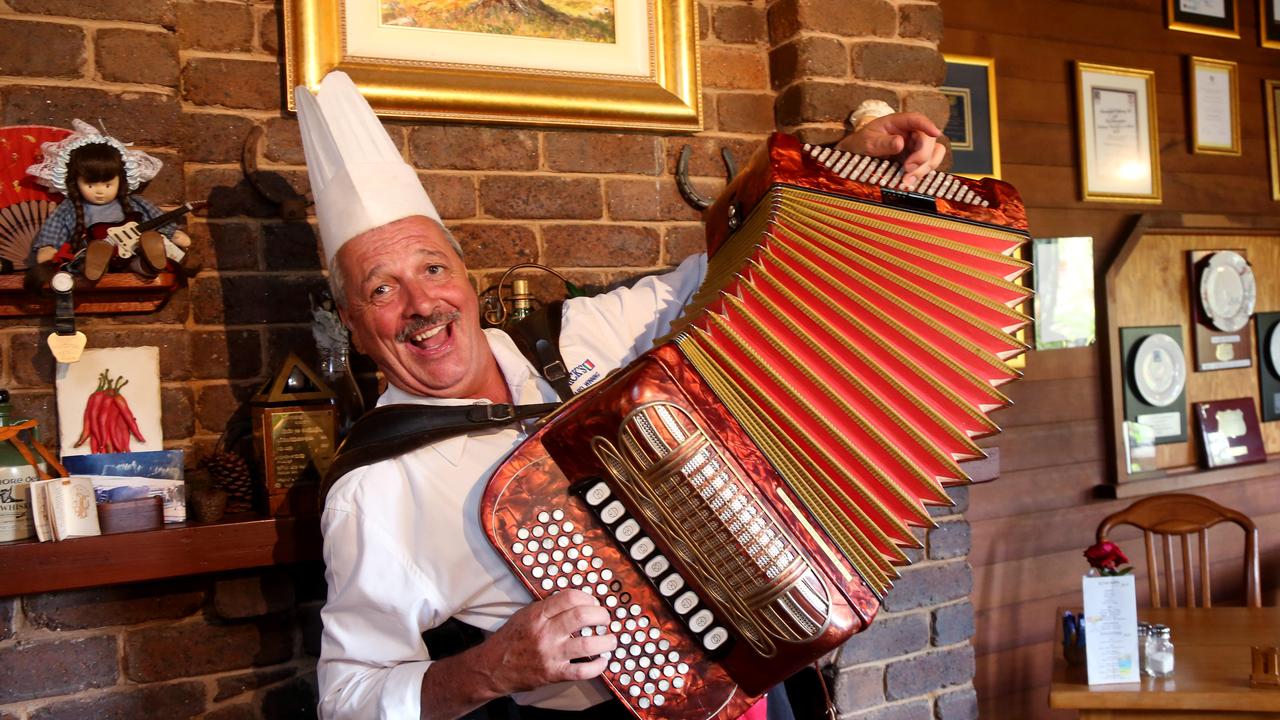 Nick Crameri from Nick's Swiss-Italian Restaurant in Yungaburra. PICTURE: STEWART MCLEAN
NICK CRAMERI
In 1986 Nick Crameri created Nick's Swiss Italian Restaurant.
Since then the Yungabuura-based eatery has become an Atherton Tablelands icon.
Mr Crameri arrived in Australia 35 years ago but not speaking English was not a barrier to landing a job at of Sydney's swankiest hotels, the Regent.
The Swiss expat worked at Perisher Ski Resort at Lizard Island Resort before moving to the Tablelands to transform an existing tea house into an alpine chalet.
But the Covid pandemic has not been kind to the landmark Far North business.
"I've been through the pilots' strike and four cyclones, but this was the toughest," Mr Crameri said recently.
Thinking about ways to innovate and limit physical contact between customers and staff Mr Crameri proposed a drone pizza delivery service.
In 2018 the restaurant was placed on the market but is yet to attract a buyer.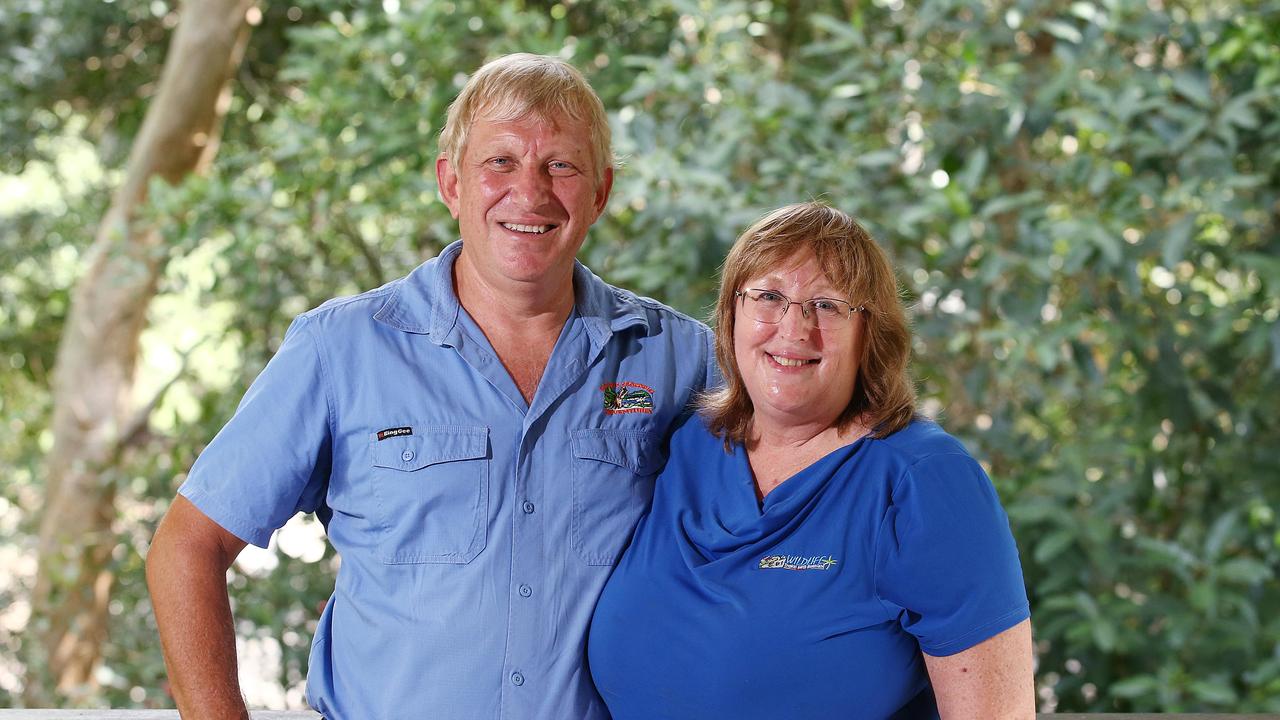 Hartley's Crocodile Adventures owners Peter and Angela Freeman. Picture: Brendan Radke
ANGELA FREEMAN
In 1980 the Freeman family founded Cairns Tropical Zoo on the Captain Cook Highway which was sold to a property developer in 2015.
In 2002 Hartley's Crocodile Adventures owners Angela and Peter Freeman constructed a purpose built wildlife park at Wangetti, north of Cairns.
Ms Freeman has been the director of marketing and the face of the major tourism drawcard ever since.
The Freemans have been operating in Kuranda since 2002 and own Birdworld and Kuranda Kola Gardens.
In 2008 the family set up the North Queensland Wildlife trust which Ms Freeman have been the director of for the past 13 years.
A pioneer of the North Queensland tourism industry since the pandemic hit Ms Freeman has advocated on behalf of Kuranda business suffering under border restrictions.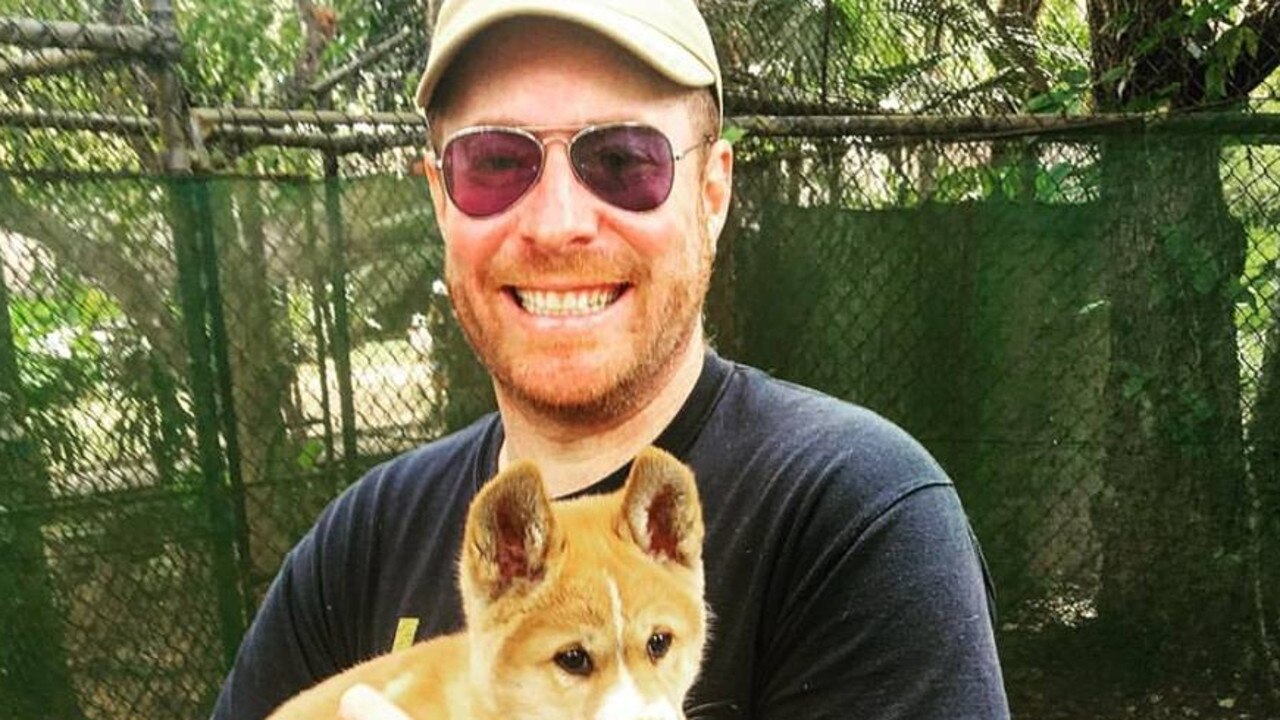 Director of sales and marketing at CaPTA Group Ben Woodward.
BEN WOODWARD
Born and bred in Cairns director of sales and marketing at CaPTA Group Ben Woodward is continuing a family legacy that started with pioneering tourism leaders Charles and Pip Woodward who began their experience Empire with Rainforestation Nature Park in 1976.
Former president of the Cairns branch of Skål International, Mr Woodward is a current director of the Australian Tourism Export Council and Tourism Port Douglas and Daintree and previously has been the organisation's chairman.
He is also the vice president of Gay and Lesbian Tourism Australia.
At the head of the largest family run operations CaPTA Group operates Rainforestation Nature Park, Australian Butterfly Sanctuary, Wildlife Habitat Port Douglas, Cairns ZOOM and Wildlife Dome and Jungle Tours and Trekking.
And last week the company opened the Swim with Salties attraction in Port Douglas.
"In terms of number of employees we are the largest independently owned and family owned (business) in the region," he said.
In the post Covid-era CaPTA Group employees 180 staff.
Tourism Tropical North Queensland CEO Mark Olsen. Picture: Brendan Radke
MARK OLSEN
Possibly the busiest man involved in the Far Northern tourism industry Mark Olsen took the reins of Tourism Tropical North Queensland as chief executive officer in September 2019, just six months before the Covid pandemic threw the local tourism industry into a tailspin.
Former regional director and destination developer with Tourism and Events Queensland Mr Olsen became an adjunct professor of the University of Queensland's business school before serving close to 14 years with world leading sustainable tourism advisory group EarthCheck.
Leading the region through a forever changed post pandemic landscape Mr Olsen has been at the forefront of a movement pushing for business stimulus, new Cairns airline arrivals, drive marketing campaigns and a better deal from state and federal governments for a Far North tourism industry deeply impacted by coronavirus.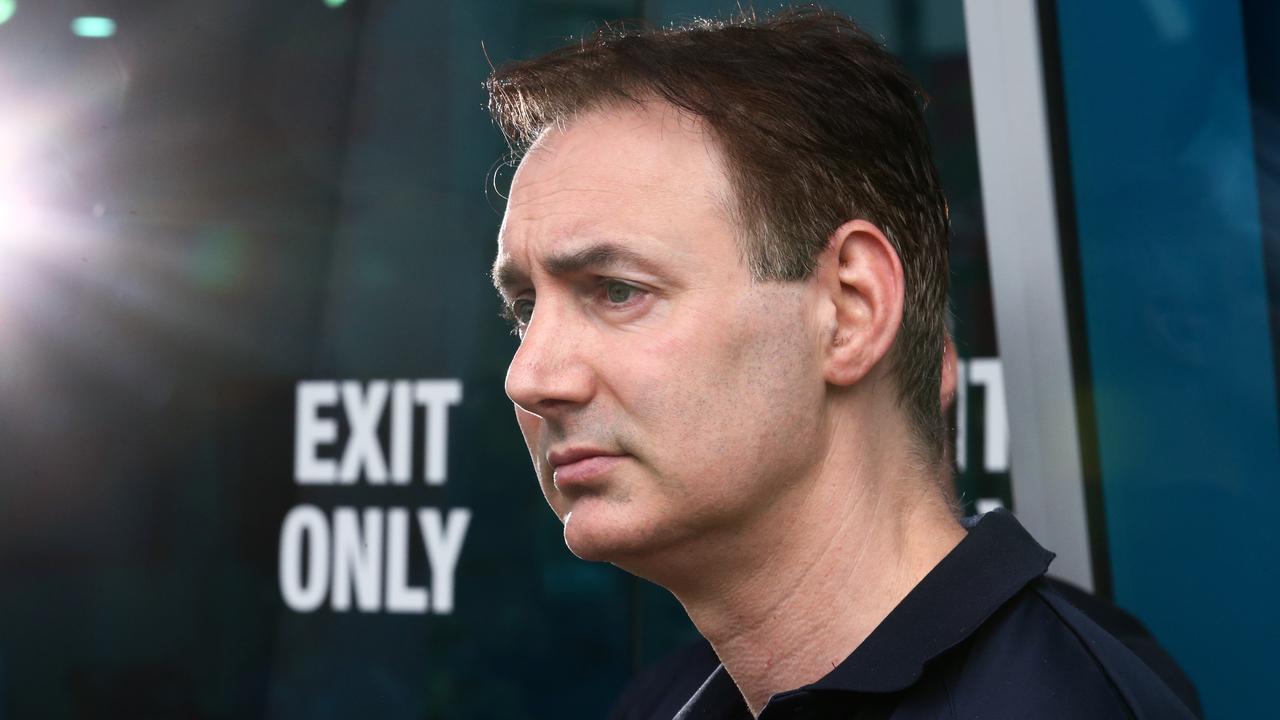 Cairns Aquarium CEO Daniel Leipnik. Picture: Brendan Radke
DANIEL LEIPNIK
In 2011 former Melbournian Daniel Leipnik moved to the tropics and co-founded a 1.6 million-litre oceanarium complete with sharks and other larger predators with Andrew Preston.
The mantra of the Cairns Aquarium is to inspire people all over the world to respect, protect and conserve the Great Barrier Reef and the Queensland's tropical rainforest.
The major land-based tourism drawcard has cemented a position as a must-visit Far North attraction.
The former textiles expert sunk $50m into the attraction after a eureka moment on the Great Barrier Reef in 2011.
Facing a major downturn when the pandemic halted all international travel in 2020 the Cairns Aquarium chief executive officer was grateful for a state government bailout package in June last year that saved the business, visited by thousands each year, from permanent closure.
Named as a Champion of Tourism the Cairns Aquarium has earned the highest level of Tourism Tropical North Queensland membership.
The business employees about 50 people and pre-Covid welcomed more than 300,000 through the door annually.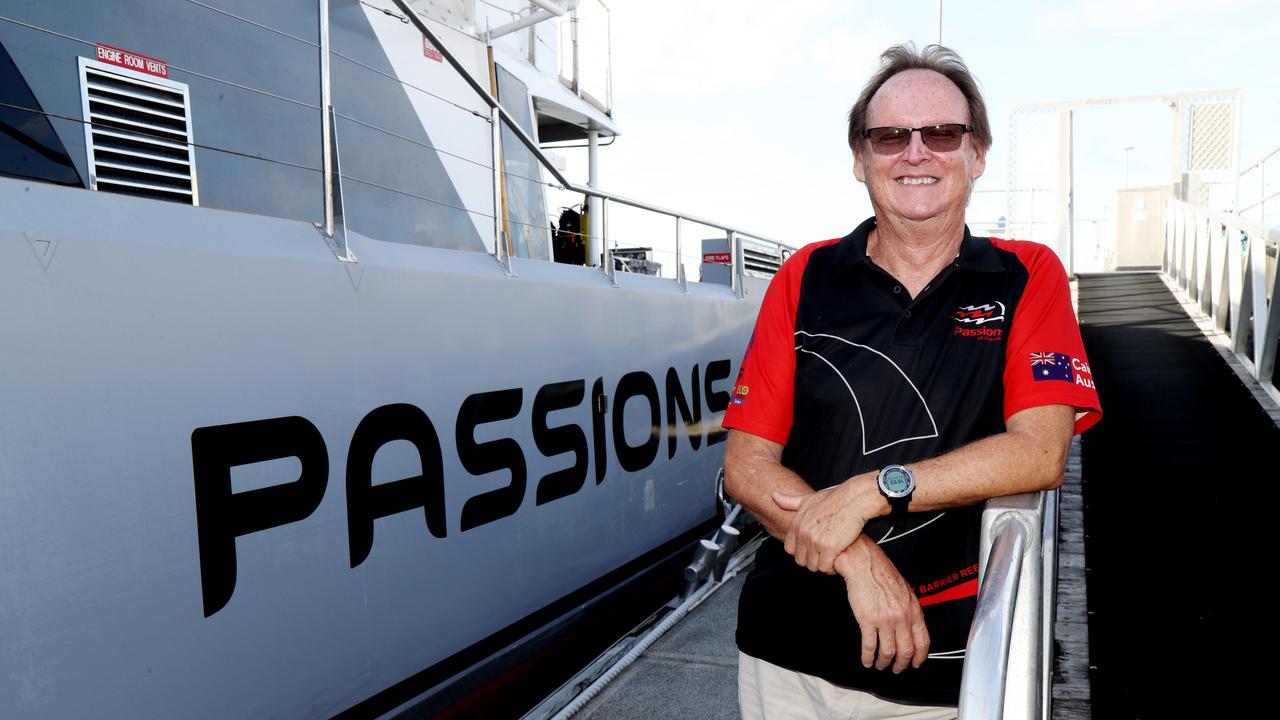 Passions of Paradise reef boat owner Alan Wallish in Cairns. Picture: Stewart McLean
ALAN WALLISH
Passions of Paradise managing director and founder Alan Wallish built a steel catamaran in 1987 with the simple aim of providing a fun trip to the Reef.
In 2003 Passions II was built to revolutionise Reef day trips by offering a sailing alternative to motor cruisers.
In 2017, Passions III was born and pre-Covid with a second vessel Coral Sea Dreaming the company took 30,000 tourists to the Reef annually.
The recent acquisition of Allure, a 47 foot Riviera game boat the company remains as one of the few large true local Great Barrier Reef operators.
Mr Wallish also operates a commercial underwater photography business.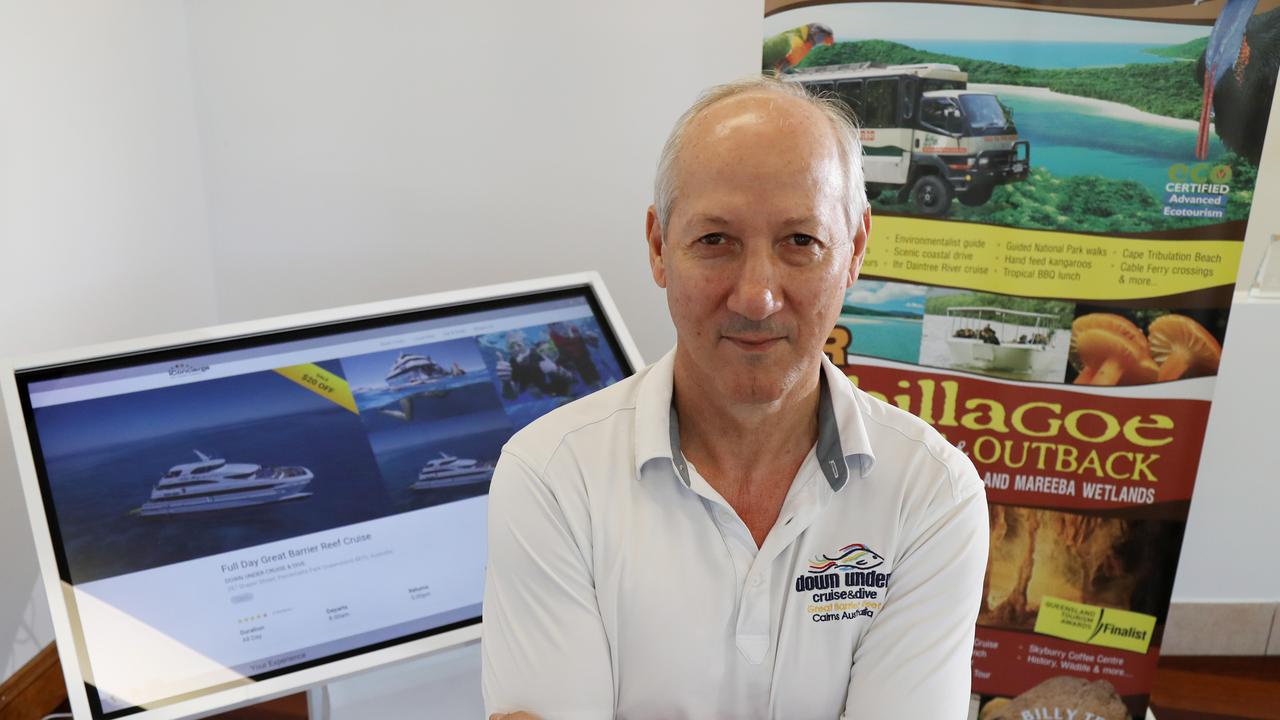 Down Under Cruise and Dive Managing Director Peppi Iovannella. PICTURE: STEWART McLEAN
PEPPI IOVANNELLA
Managing director of the Iovannella Group Peppi Iovannella sits at the helm of Australia Wide Touring, Starline Rentals, Down Under Cruise and Dive, The Adventure Company, Australian Visitor Centre and Bill Tea Safaris.
In 2015 Mr Iovannella's flagship business Down Under Cruise and Dive launched ultra-modern, high speed tour boat called Evolution after founding the company 27 years ago to offer world class state diver training facilities using exclusive outer Great Barrier Reef moorings.
In 2007 Mr Iovannella became the managing director of the Adventure Company which operates daily tours from Cairns to the Cape Tribulation and the Daintree rainforest.
Billy Tea Safaris was added to his business portfolio in 2017.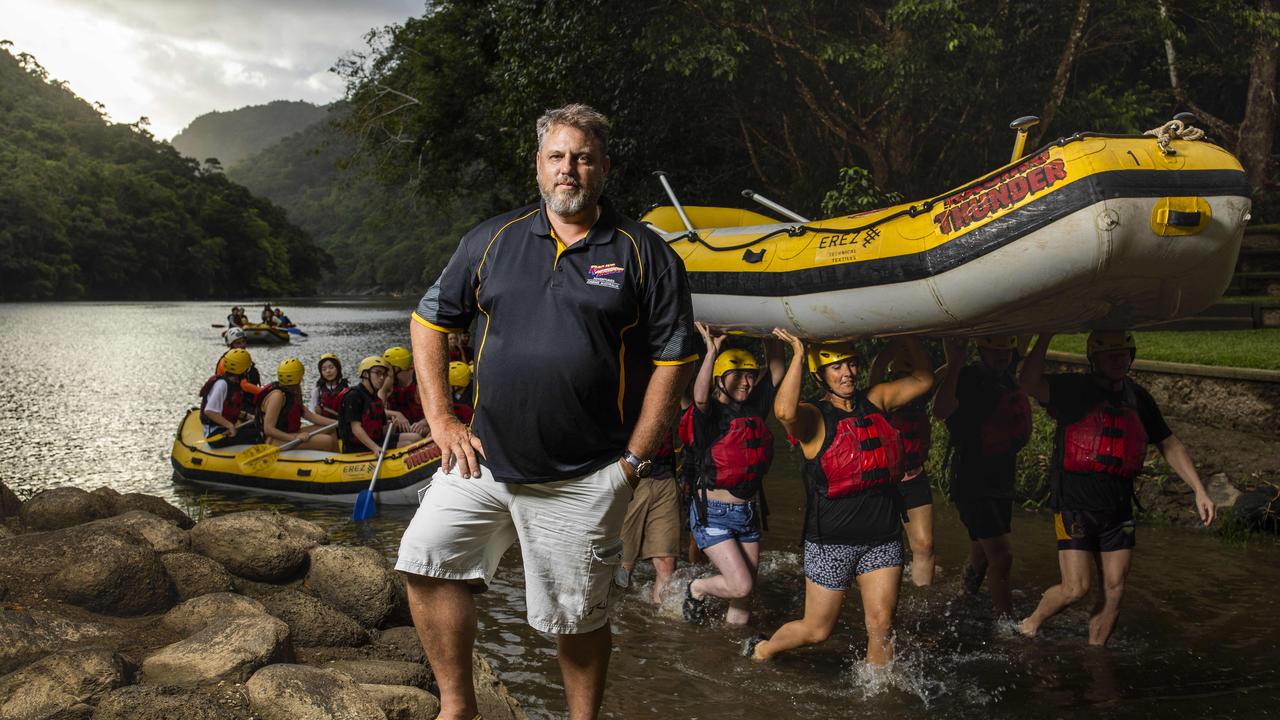 Roderic Rees, CEO of Foaming Fury in Cairns, Far North Queensland. Picture by Sean Davey.
RODERIC REES
Roderic Rees is the sole Director of Cairns Adventure Group including Foaming Fury white water rafting, the Waterfall Wanderers tropical Tablelands day tour, the Active Tropics Explorer tours to Cape Tribulation and Aussie Drifterz, Cairns' original half day rainforest tubing tour.
And Cairns Adventure Group acquired landmark Far North business Raging Thunder Tully White Water Rafting from Experience Co in early 2020.
Growing up for a time in Mackay Mr Rees studied aquatic resource management at CQUniversity before becoming Cairns Adventure Group director in 2007.
Recently Mr Rees has been on the front foot when advocating for federal and state support of an embattled Far Northern tourism industry following the end to the JobKeeper wage subsidy in March this year.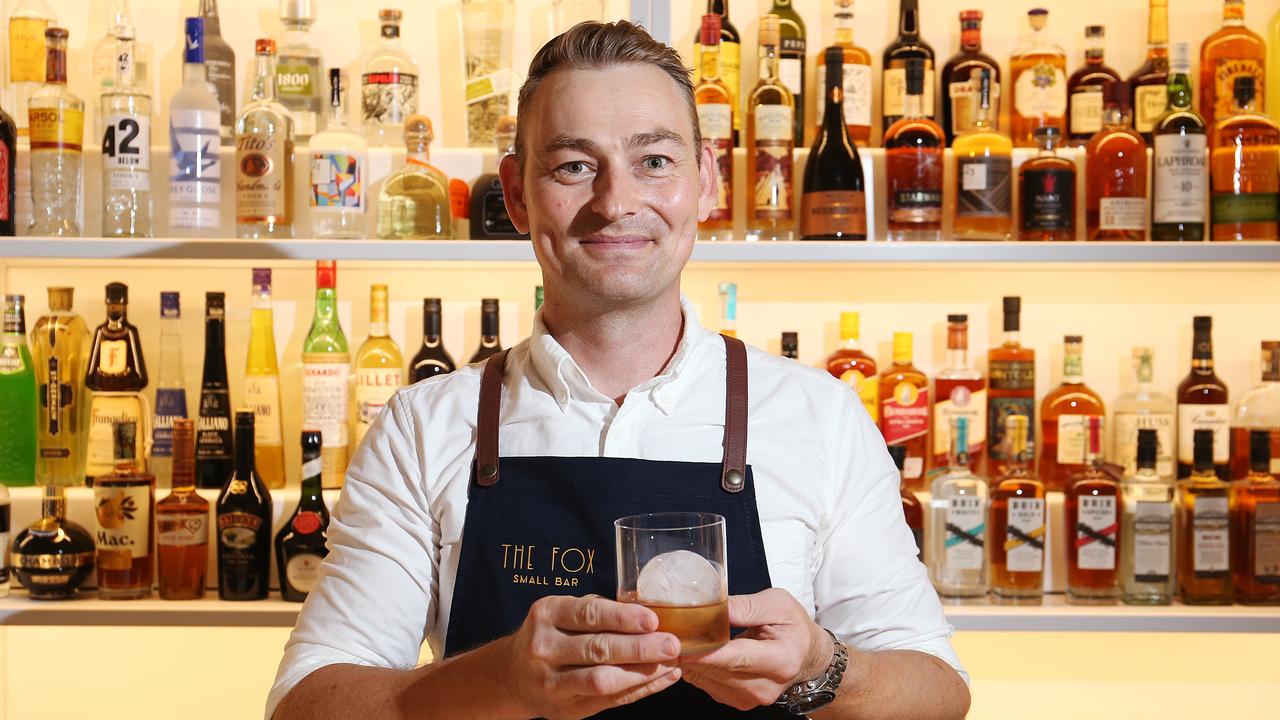 Founders of the Hospo Group co-founder Darren Barber at the Fox Small Bar in Stratford. Picture: Brendan Radke
DARREN BARBER & SAM KENNIS
Founders of the Hospo Group Darren Barber and Sam Kennis are renown in hospitality circles across the city for bringing Three Wolves, Wolf Lane Distillery, Flamingos Tiki Bar and most recently the Fox Small Bar to Cairns.
Running a micro gin distillery from an Abbott St laneway the pair's award-winning products and chic branding have brought big city "cool" to the tropics.
The pursuit of excellence and a bold entrepreneurial spirit drives their company onward to excellence.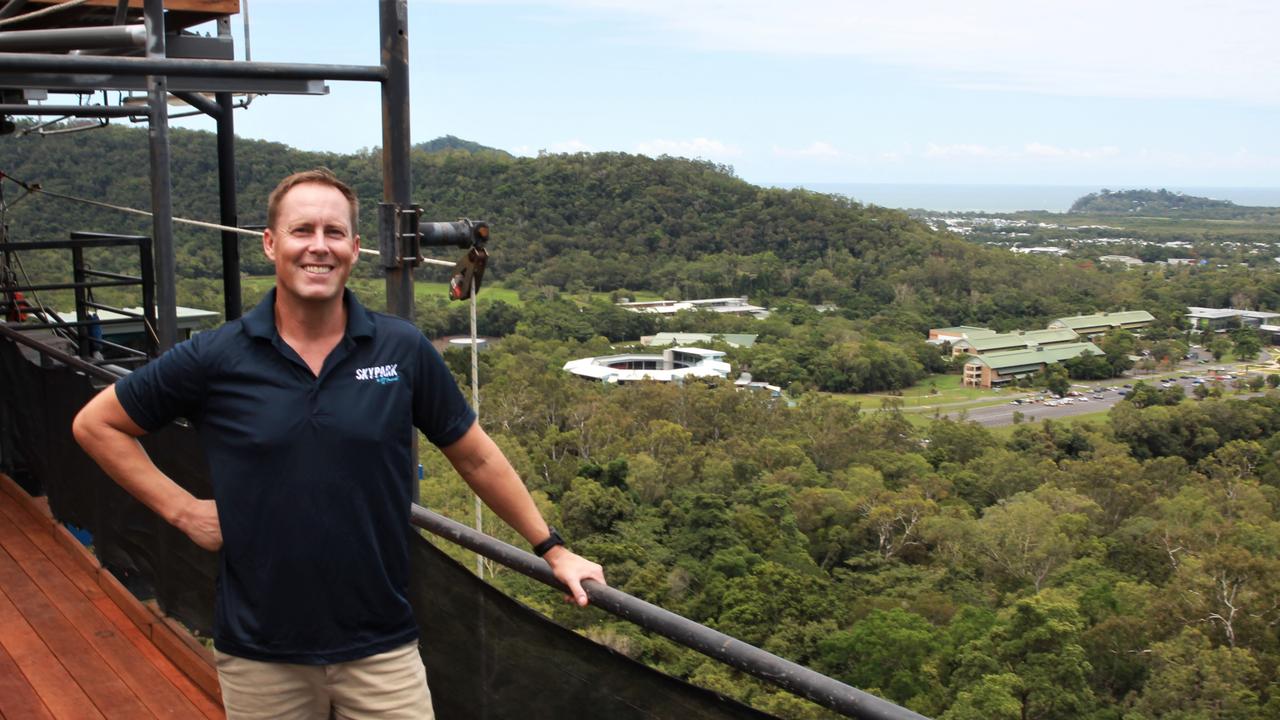 AJ Hackett International chief executive officer Danny Hughes. Picture: Peter Carruthers
DANIEL HUGHES
Daniel Hughes was a former Australian and United Arab Emirates navy man before making the move to Cairns in 2017 to take up a role with Experience Co as the Queensland chief executive officer.
In 2019 Mr Hughes became the Cairns Skypark by AJ Hackett general manager and in January this year he became the AJ Hackett International chief executive officer.
In 2020 Mr Hughes led a global rebrand of AJ Hackett to Skypark which has been throwing adrenaline junkies from a massive tower at Smithfield for more than 30 years.
Mr Hughes has experience in business, management consulting and work growing community focused clubs.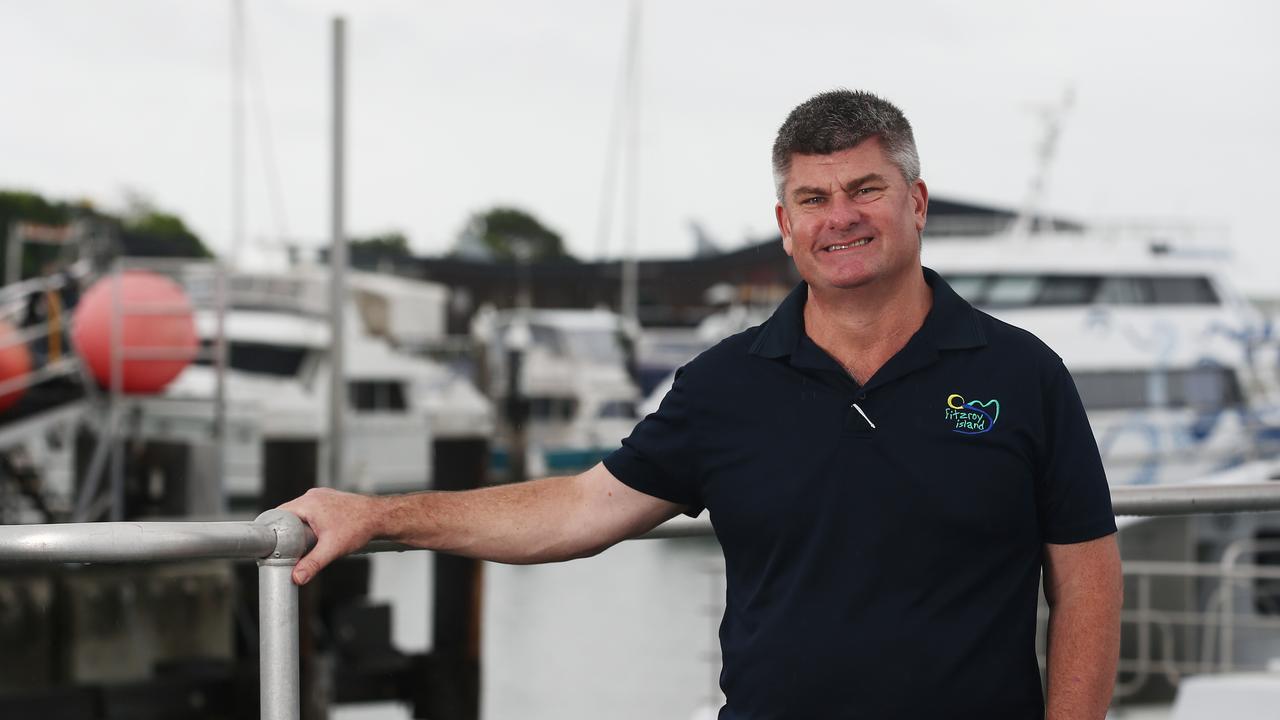 Fitzroy Island CEO Glen Macdonald. PICTURE: BRENDAN RADKE
GLEN MACDONALD
Tourism stalwart Glen Macdonald has been the Fitzroy Island chief executive officer since 2018 after previously being the Fitzroy Island Resort general manager for more than six years.
Beginning his tourism career in the Northern Territory with Colonial Catering in 1997 Mr MacDonald managed a Darwin resort and the Andergrove Tavern in Mackay before taking a role with the Sheraton Grand Mirage Resort in 2010.
Mr MacDonald has been instrumental in ensuring maximum operational capacity of the resort which lures thousands of visitors to the Cairns region each year.
The island has undergone a $2.5m refurbishment of the resort's accommodation under the leadership of Mr Macdonald and in 2018 a 50 per cent share of the Cairns Dive Centre was acquired.
The island is a 45-minute boat ride from Cairns and is home to Nudey Beach which was voted Australia's best beach in 2018.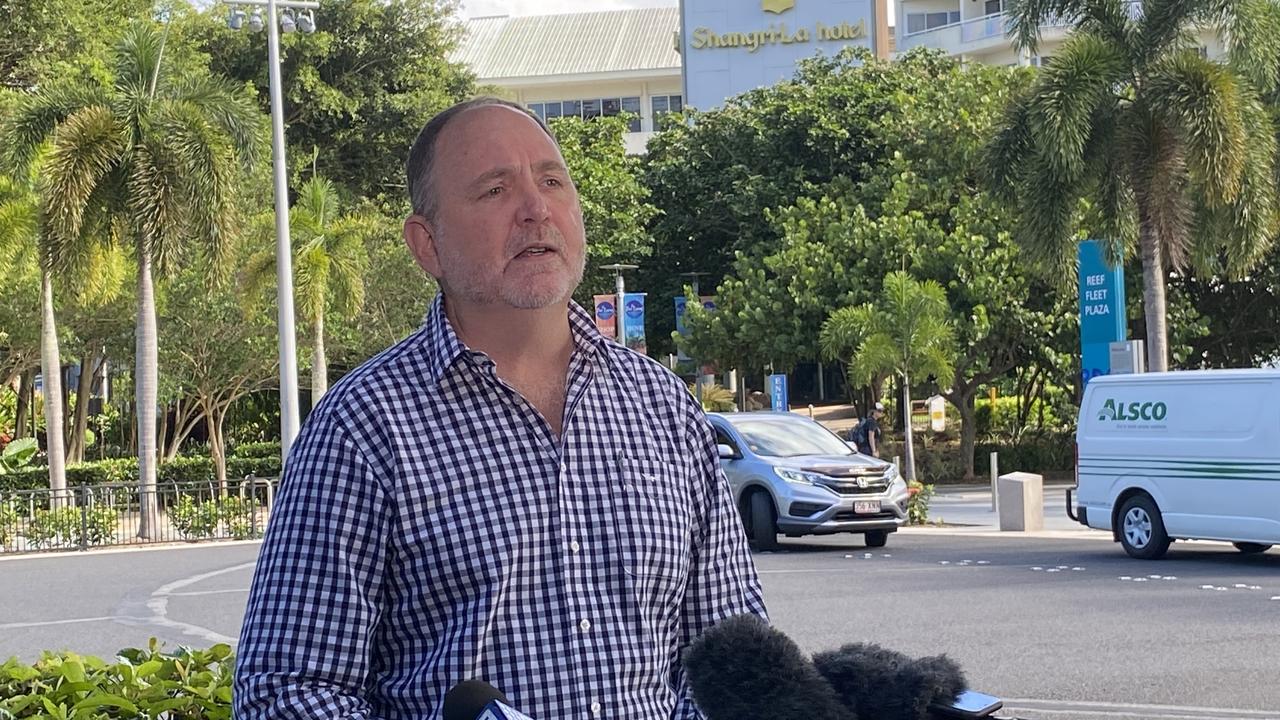 Tourism Tropical North Queensland chairman Ken Chapman. Picture: Bronwyn Farr.
KEN CHAPMAN
Dr Ken Chapman heads one of the iconic man-made experiences in the Far North, the Skyrail Rainforest Cableway and is a director of the family Chapman Group, which has interests in Greyhound Australia and co-developed the luxurious Cairns Harbour Lights waterfront hotel and apartment complex.
He has been chairman of Skyrail for 33 years since the attraction's inception in 1988.
In 2020 Dr Chapman became chair of Tourism Tropical North Queensland and for the past 24 years has been chair of the Far North Queensland Hospital Foundation.
The tourism boss is also chair of the Australian Barramundi Farmers' Association, a member of the Queensland Government Business Advisory Council and is a non-executive director of entertainment and hotel group Event Hospitality and Entertainment.
Skyrail Rainforest Cableway has 45 employees.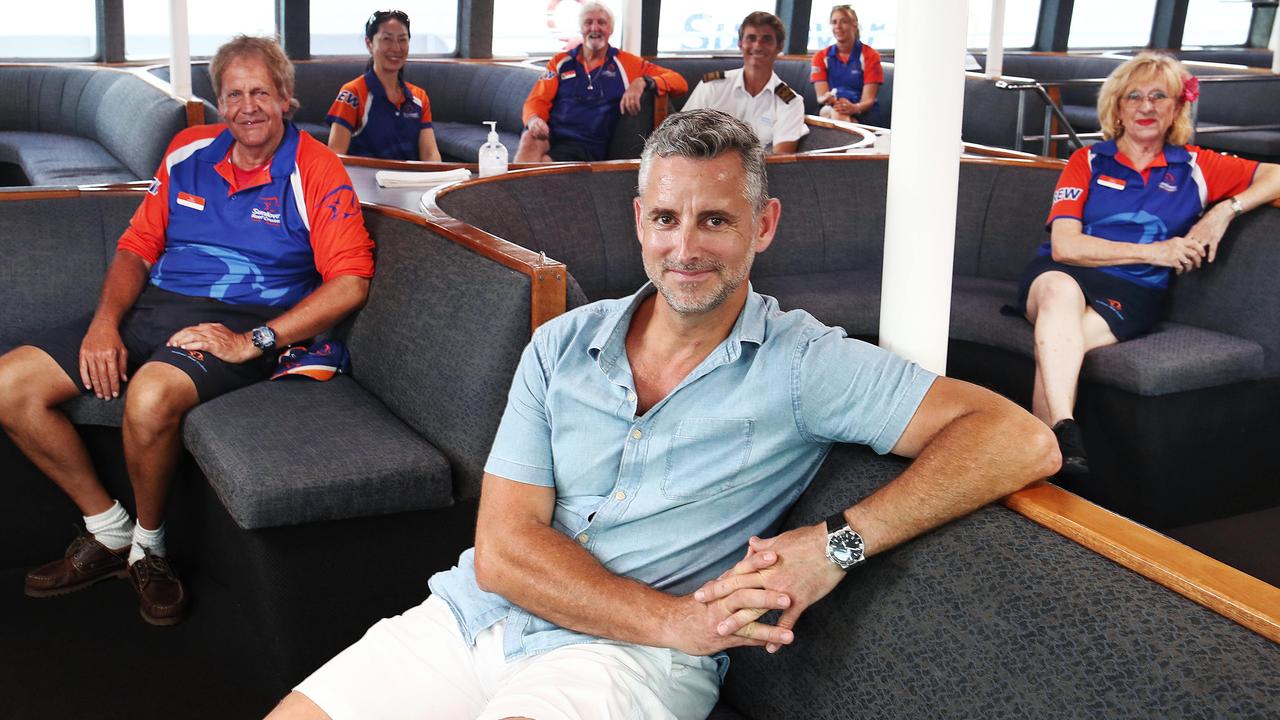 Sunlover Reef Cruises general manager Greg Erwin. Picture: Brendan Radke
GREG ERWIN
Greg Erwin is an experienced tourism manager currently at the helm of Sunlover Reef Cruises as group general manager.
Kicking off his tourism career in Coffs Harbour as the Novotel Pacific Bay Resort before making the move north to take on the GM role at Novotel Cairns in 2007 which he left to work for the Mossman Gorge Centre in 2011.
In 2015 Mr Erwin became chief executive officer at Indigenous tourism experience Tjapukai and later worked for Indigenous Tourism Projects ahead of moving into his current role with Sunlover Reef Cruises.
The company is a major player in the Reef tourism industry and operates a pontoon at Moore Reef, a high speed catamaran and a glass bottom Reef boat.
Hemingway's Brewery owners Tony Fyfe and Craig Parsell. PICTURE: JUSTIN BRIERTY
TONY FYFE AND CRAIG PARSELL
From two Far North locations founders of Hemingway's Brewery Tony Fyfe and Craig Parsell started out with a dream to open a brewery that reflected their love of the area.
Since opening the first Hemingway's Brewery at Port Douglas in 2016 locals and visitors have embraced award-wining and bespoke craft beers made on the premises along with a paddock to plate inspired menu.
In 2018 a second brewery on the Cairns waterfront in an iconic heritage-listed opened.
Proud to promote the region Hemingway's Brewery have been strong advocates of the Far North and unwavering in support of local business.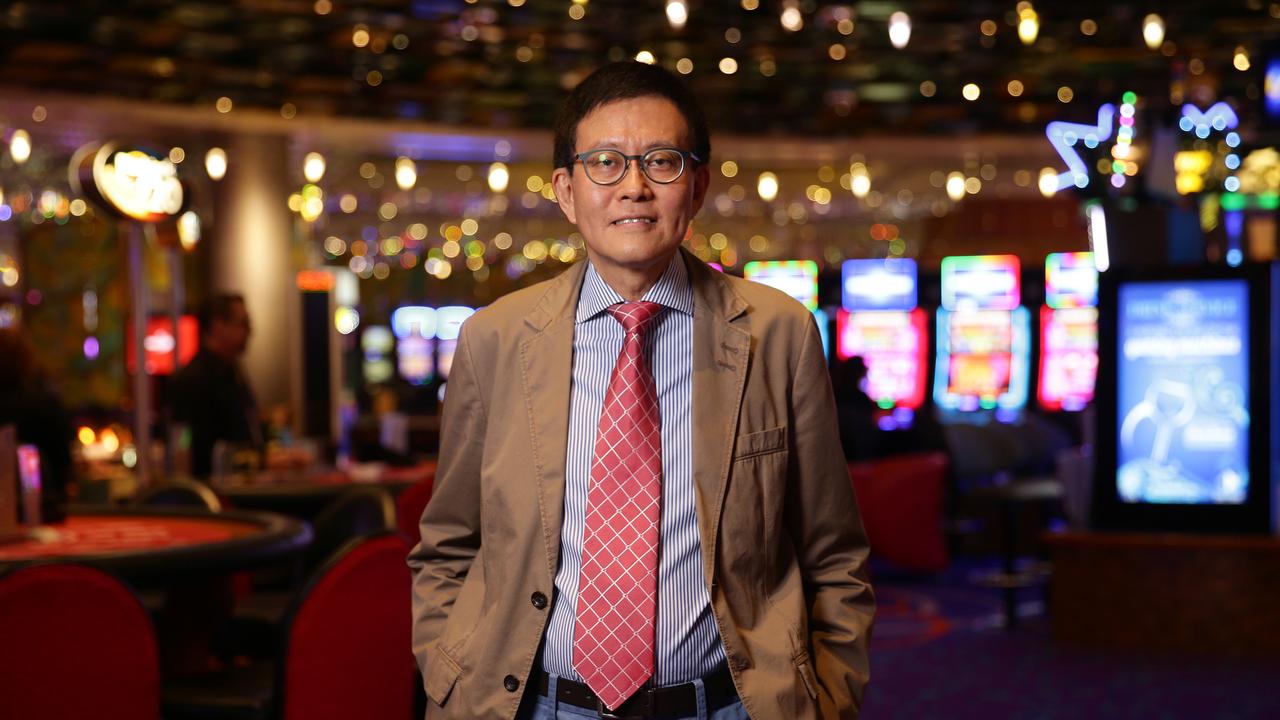 Reef Casino Trust executive director Allan Tan. Picture: Marc McCormack
ALLAN TAN
With a long history of tourism influence Reef Casino Trust executive director Allan Tan has been at the help of Cairns' only casino since 1996.
The former Tourism Tropical North Queensland director is also CEO of The Reef Hotel Casino and executive director of Casinos Austria International – Australia, Asia Pacific.
Having a commerce background Mr Tan has steered the Reef Casino through a period of great uncertainty when the pandemic shut-out international visitors in March 2020.
The hotel-casino currently has 265 full-time employees despite having to make 12 redundant, last year when Covid struck.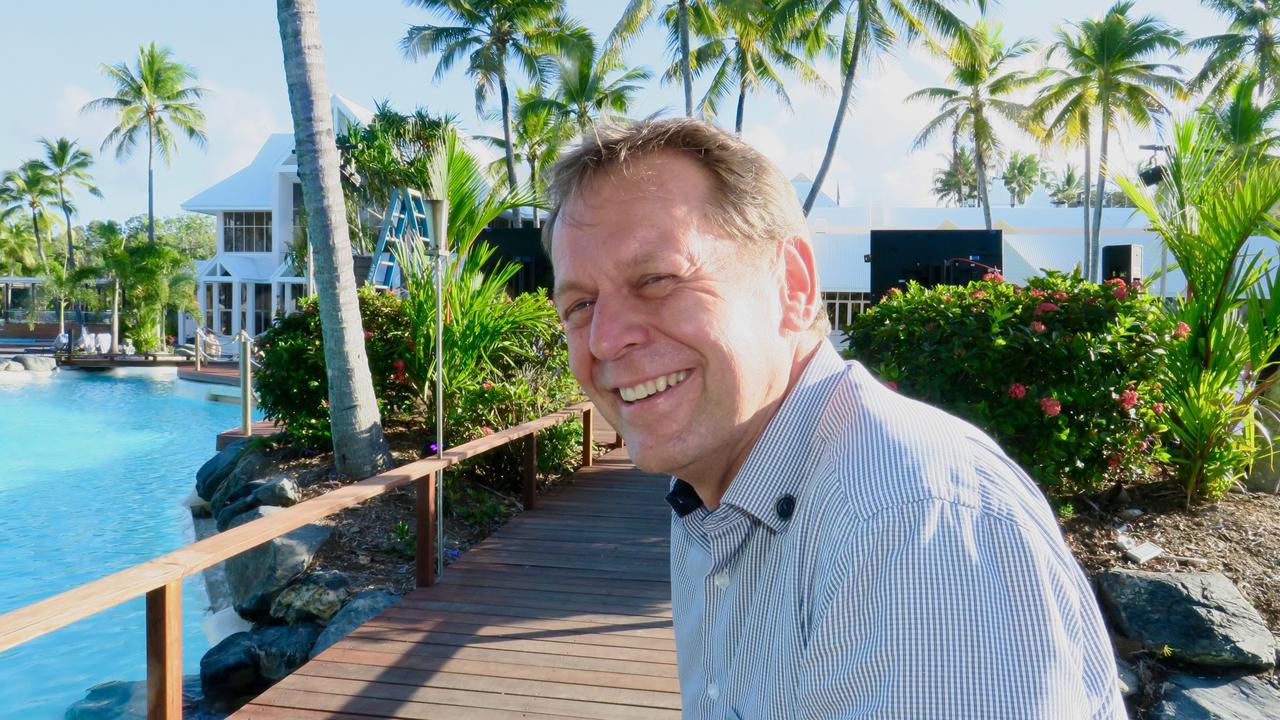 Steve Molnar, general manager of the Sheraton Mirage Grand at Port Douglas. Pic by Shane nichols
STEVE MOLNAR
The longstanding general manager of the world-famous Sheraton Grand Mirage Resort in Port Douglas has considerable pull in the tourism game in the small tourism village, north of Cairns.
Mr Molnar has been involved with the global Starwood Hotels and Resorts for more than 20 years and has overseen a $100m redevelopment of the Christopher Skase – built resort.
The plush five-star beachside mecca sits among the best of the Sheraton groups hotel in Australia, with Mr Molnar regularly playing host to the rich and famous from here and abroad.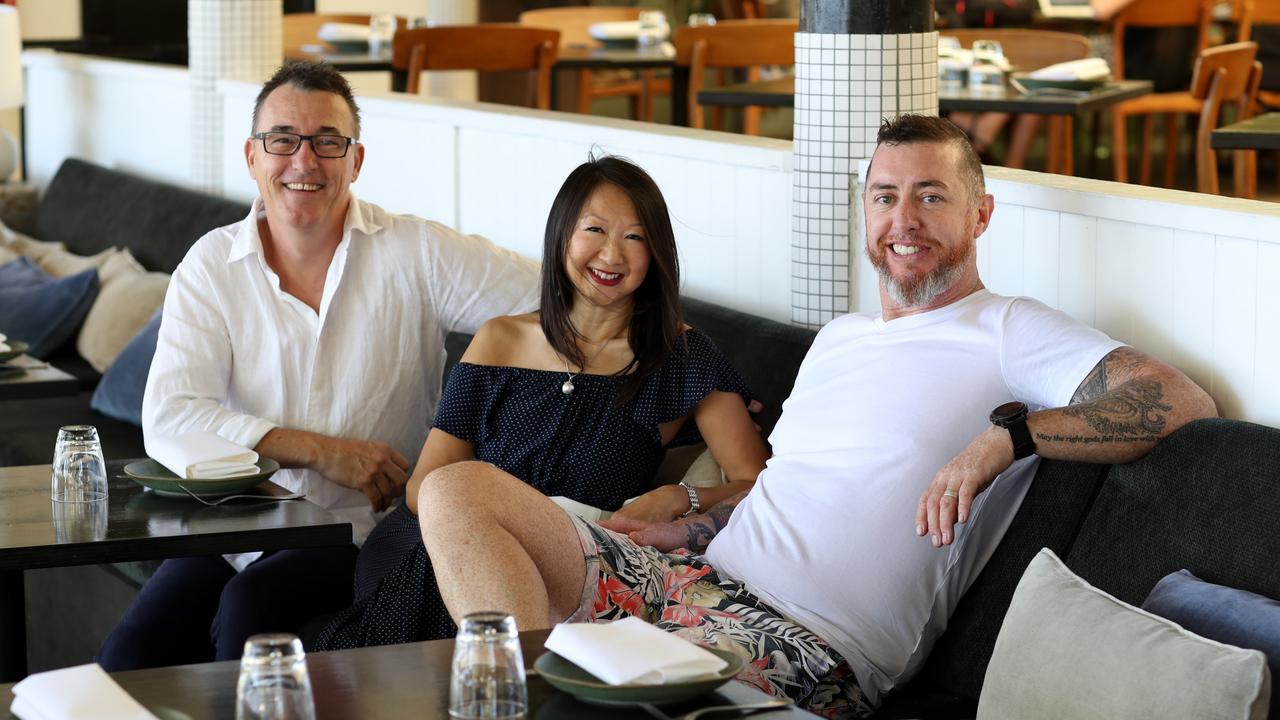 Nunu restaurant Co-owners Jason and Mo Rowbottom, Nick Holloway (R). Picture: Marc McCormack
JASON AND MO ROWBOTTOM AND NICK HOLLOWAY
Nunu co-owners Jason and Mo Rowbottom and Nick Holloway boast one the best beachside restaurants anywhere in Queensland and are leading lights of the Cairns restaurant scene.
The Palm Cove dining experience has one of the best reputations in the state, with Mr Holloway recently appearing on hit Channel 10 program Masterchef as an expert chef.
The business is no strangers to the delicious. 100 list, which recognised the top eateries in Queensland each year, and is universally recognised as industry leaders in the tropical north.
Employing more than 38 staff, Nu Nu has managed to forge through the pandemic despite the border closures that have crippled many Far North restaurants.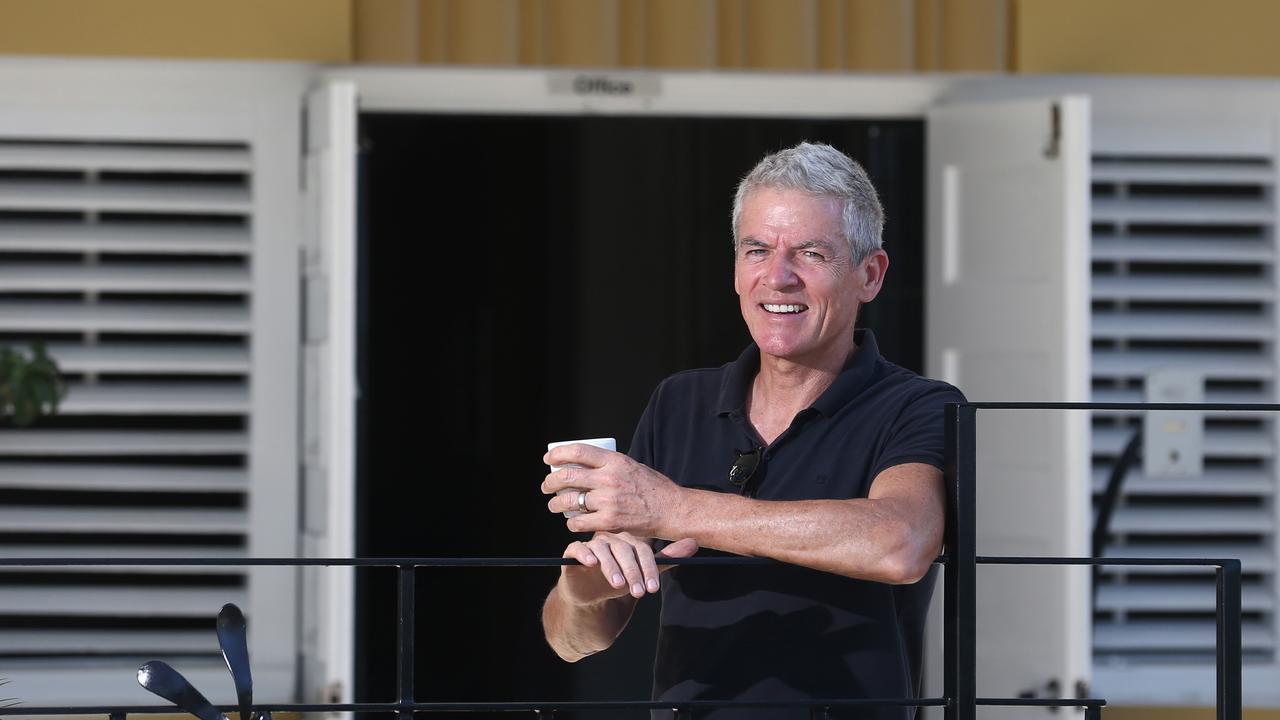 Salthouse owner Fintan Rafferty. PICTURE: BRENDAN RADKE
FINTAN RAFFERTY
Cairns businessman Fintan Rafferty, 58, is one of the major hospitality players in the Far North with a stake in a number of successful businesses.
He opened his now flagship operation the Salthouse 13 years ago and it continues to be a mecca for both residents and tourists.
The renowned waterfront venue boats numerous bars and some of the best fine dining in Cairns.
Mr Rafferty arrived in the Far North from Ireland 31 years ago.
"Cairns has been very kind to me," he said.
He also owns La Pizza Trattoria, Floriana Guest House, Mooz Gelato and Professional House Offices.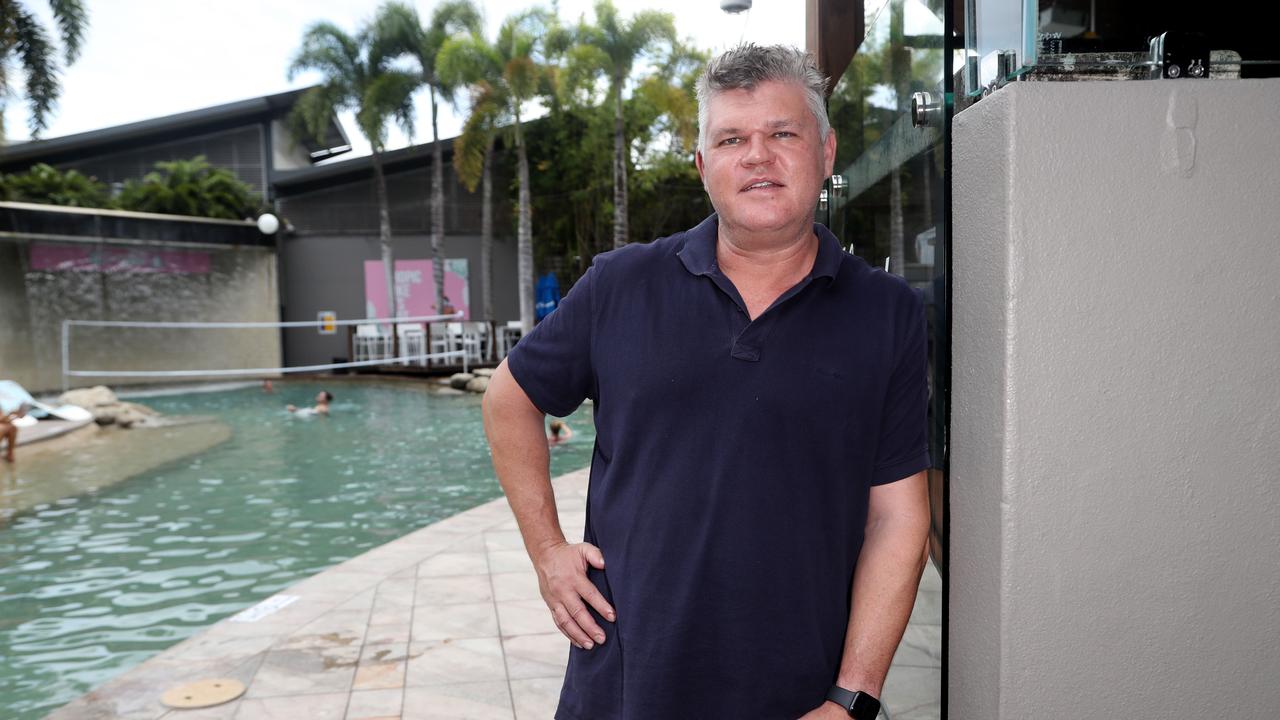 Gilligans Backpackers Hotel and Resort general manager Anthony Brooks. PICTURE: STEWART McLEAN
ANTHONY BROOKS
Cairns tourism mogul Anthony Brooks is the general manager of Gilligans Backpackers and Resort, one of the biggest operations in Cairns.
The tourism icon is renowned as one of the best party hotels in Australia, boasting numerous bars, nightclubs and hotel accommodation.
It opened in 2003 and quickly established itself as the undisputed superclub of the Far North.
With dorm and hotel accommodation, a resort swimming pool, three bars, indoor beer-hall, nightclub, restaurant, gaming lounge and private function spaces, Gilligans is one the biggest venues in the country, requiring one of the best GMs.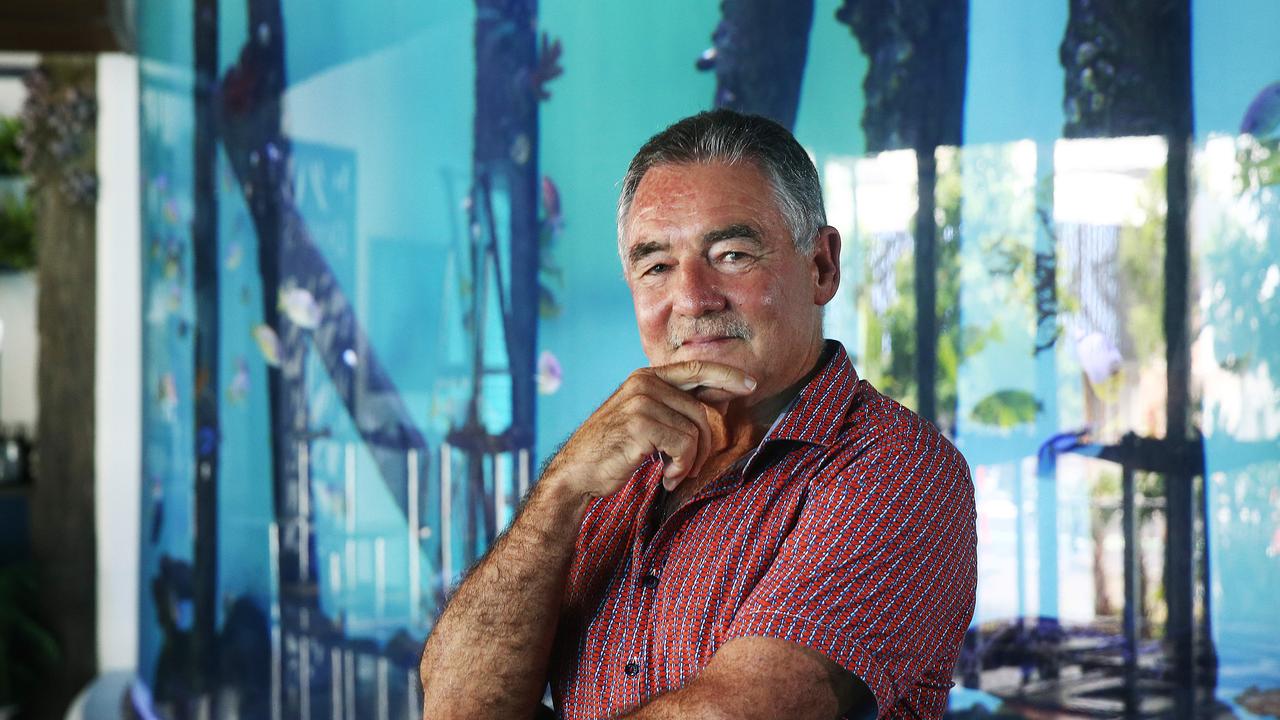 Dundee's at the Cairns Aquarium co owner Gary Low. PICTURE: BRENDAN RADKE
GARY LOW
Dundees on the Waterfront is one of the most iconic and successful restaurants in Cairns.
And it's due largely to the foresight and talent of its proprietor, Gary Low.
Mr Low has been in the game for almost 35 years, riding the peaks and troughs of the tourism market and even expanding his franchise to the multimillion Cairns Aquarium.
He oversees a team of more than 80 staff where the delicious food, energy and amazing esplanade location has punters coming back time-and-time again.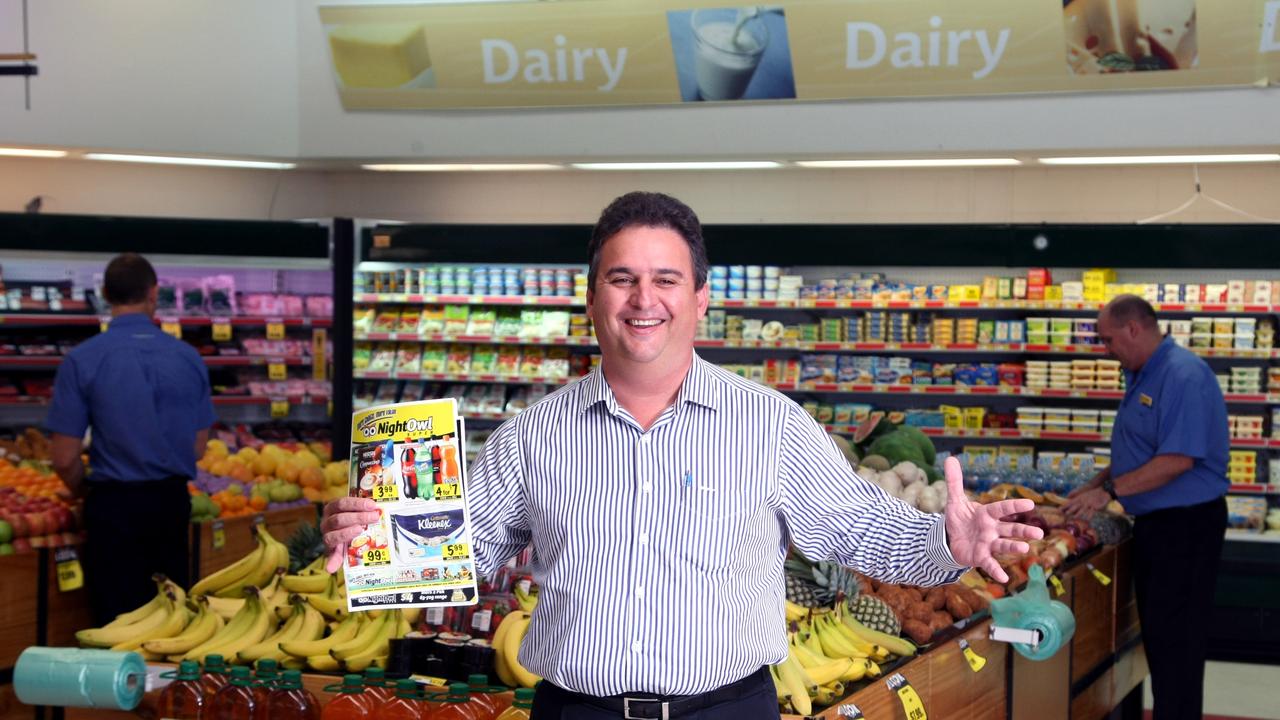 The Benson Hotel owner Adam Adams.
ADAM ADAMS
Adam Adams has been recently making a splash on the hotel scene following the purchase of the The Benson Hotel.
Mr Adams bought the former Rydges Plaza on Grafton Street last year for $11m and has transformed into a sophisticated new boutique resort inspired by the Great Gatsby.
The Night Owl convenience store mogul and property developer is also the co-owner of the Oaks Cairns Hotel in the heart of the city and was the former owner of Adams Motors before it's closure.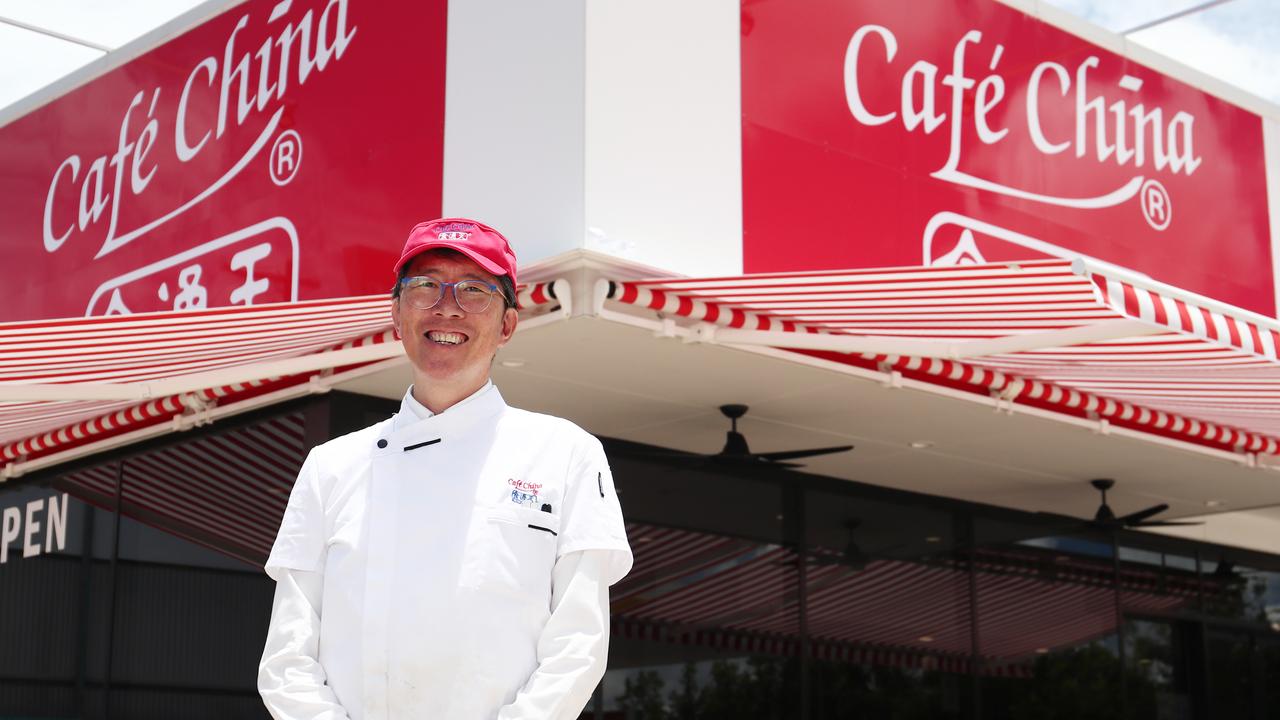 Cafe China Group owner and head chef Harry Sou. Picture: Brendan Radke
HARRY SOU
Harry Sou is the founder and managing director of the Cafe China Group, building a Chinese restaurant empire across the city until Covid struck.
Mr Sou started his group in 1995 opening five restaurants with his home base at the Cairns Casino. The pandemic has forced him to downsize for now but a return of international tourism next year should see the talented entrepreneur rebound strongly.
He also sits on the Eastern/Greater China Strategic Panel for Tourism Tropical North Queensland. He was also the former chief operations officer for KUR-World – a $640 planned resort proposed for Kuranda.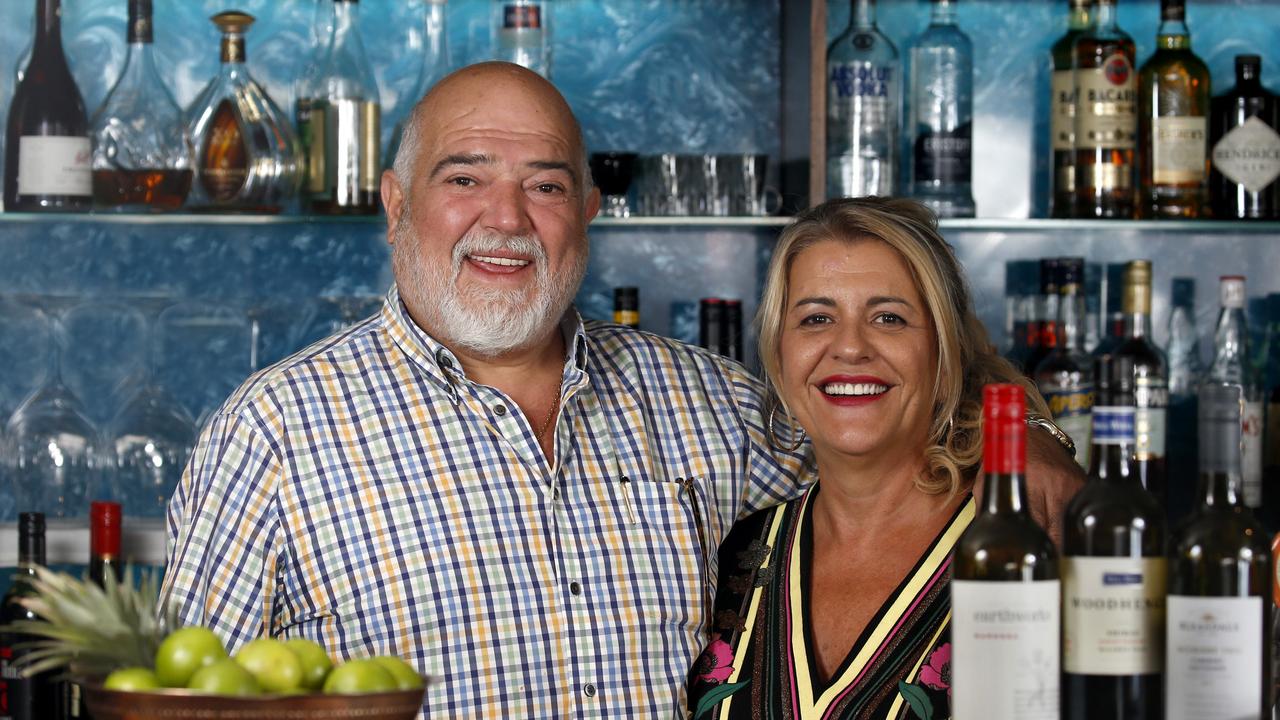 Villa Romana's owners George and Helen Papagelou celebrate the restaurant's 20th birthday PICTURE: ANNA ROGERS

GEORGE AND HELEN PAPAGELOU
George and Helen Papagelou moved to Cairns from Melbourne in 1991 and have gone on to become a powerful restaurant partnership.
They originally opening a bustling Greek restaurant – George's Greek Taverna at the corner of Aplin and Grafton St – they would turn the enviable corner location on the esplanade into the Villa Romana Trattoria.
It remains one of the busiest venues in Cairns to this day.
The couple also own Greek-themed Yaya's Hellenic Kitchen and Bar and Barnacle Bill's.
Property developer and hotelier Tom Hedley. PICTURE: BRENDAN RADKE
TOM HEDLEY
FAR North property developer and hotelier Tom Hedley continues to invest in pubs.
His portfolio includes the recently purchased Tolga Hotel near Atherton, Parkview Hotel and Great Northern Hotel at Gordonvale, Red Beret Hotel at Redlynch and Ye Olde Gordonvale Hotel, which has just undergone a significant renovation.
He is also behind the substantial residential real estate developments Panoramic Views, which has 250 lots, at Tolga and Lakeside View at Yungaburra.
The high-flying pub baron landed a $20 million windfall from the Queensland Government in 2018 to fill his quarry with mud from the Cairns Shipping Development dredging project.
Pub owner Jaz Mooney, left, at one of his pubs in Brisbane.
JAZ MOONEY
Oxford Hotels managing director Jaz Mooney – a pub baron in his own right who made his fortune in Ireland before selling up and moving to Australia in 2006 – recently sold the iconic Grand Hotel complex for a cool $13m.
The pub and neighbouring properties, with 14-storey development potential, was snapped up last month for almost $5m more than when it previously sold in 2019.
Mr Mooney has retained his strong interest in Cairns through a 10-year lease agreement he hopes will ensure the pubs success.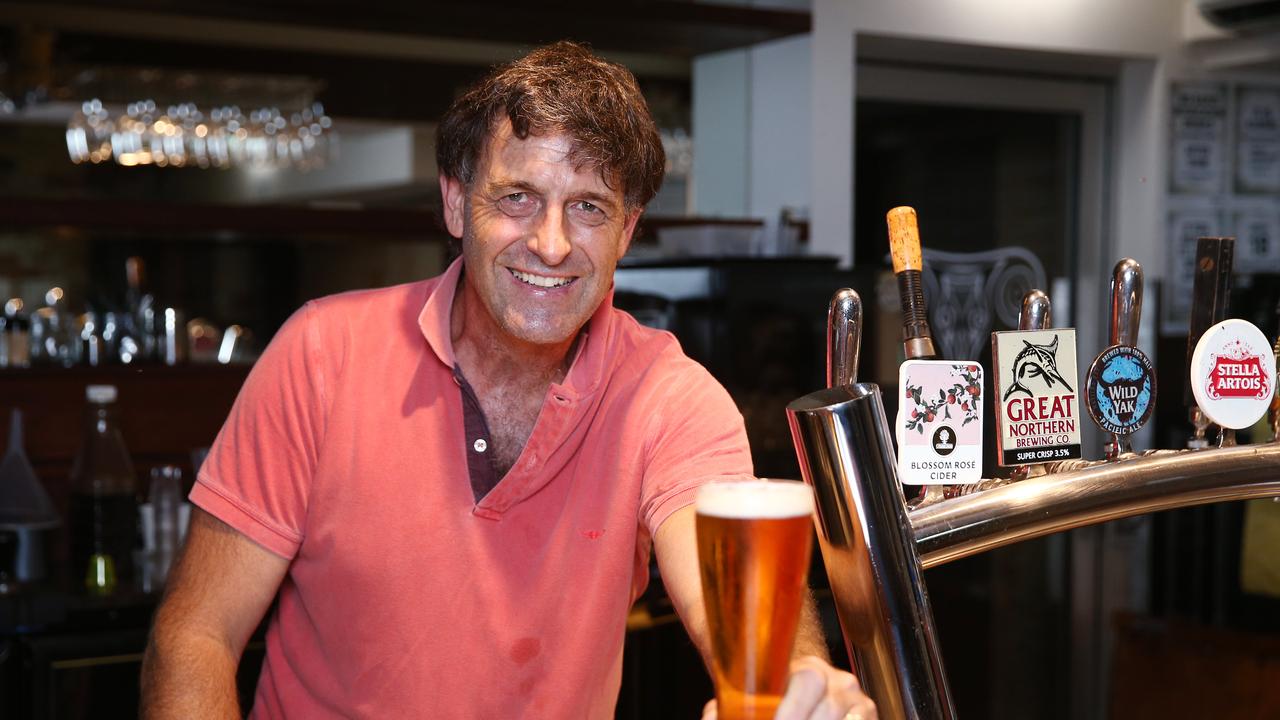 Owner of the Woolshed Dominic Davies. PICTURE: BRENDAN RADKE
DOMINIC DAVIES
You might not remember going in, or coming out, but it's hard to find a bona fide Cairns resident who hasn't spent some time dancing atop The Woolshed's tables.
More than just a nightclub, owners Dominic and Debrah Davies have built an institution in the city that's become synonymous with backpacker partying.
Now 27 years old, the Woolshed has expanded to include The Cotton Club restaurant and bar downstairs.
Mr Davies moved to Cairns in 1989, originally only for the summer, and quickly met his wife.
The rest is history.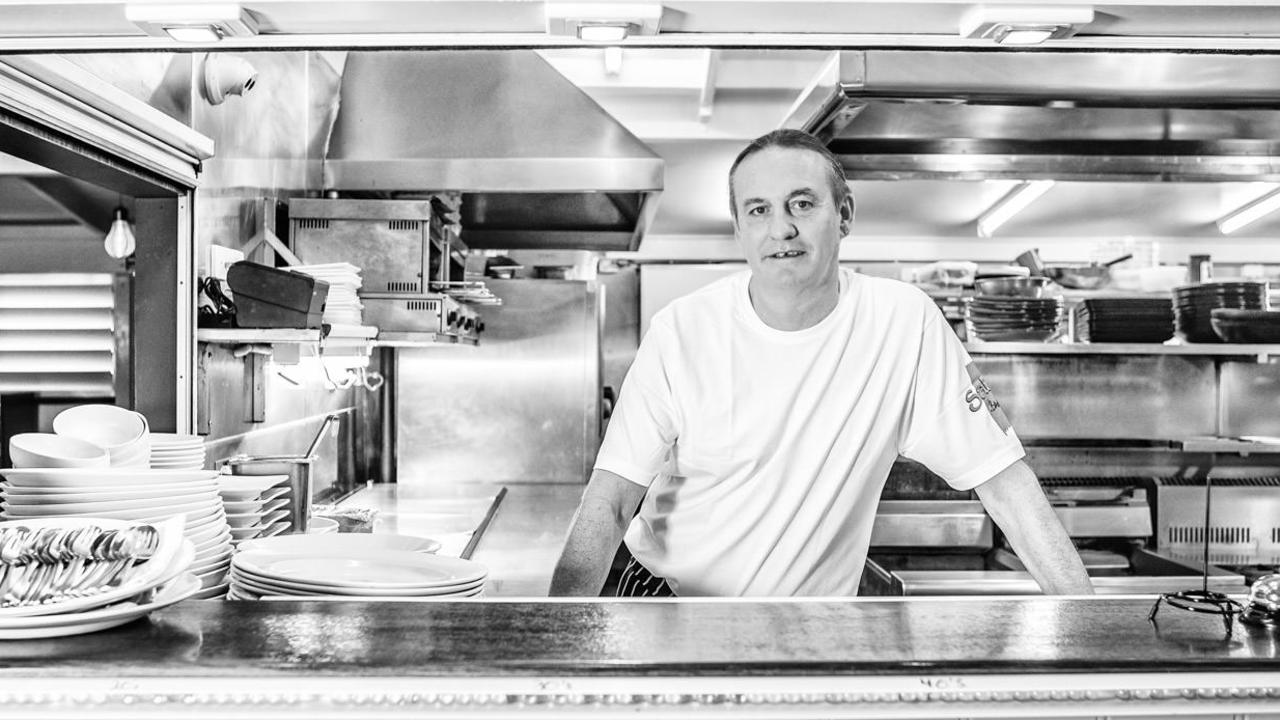 Salsa Bar and Grill founder Bill Conway.
BILL CONWAY
Salsa Bar and Grill founder Bill Conway has been welcoming diners to his iconic Port Douglas restaurant for the last 25 years, and his guest list is elite.
The multi-award winning Wharf Street eatery has become the bucket list dining option for anyone holidaying in the seaside village, which has included former US president Bill Clinton, Hollywood heart throb Matthew McConaughey, Melbourne Cup winning owner Lloyd Williams and English singer-songwriter Ed Sheeran.
Mr Conway continues to be one of the head chefs and the face of the venue and is respected as a strong advocate for business and tourism in the small Far North town.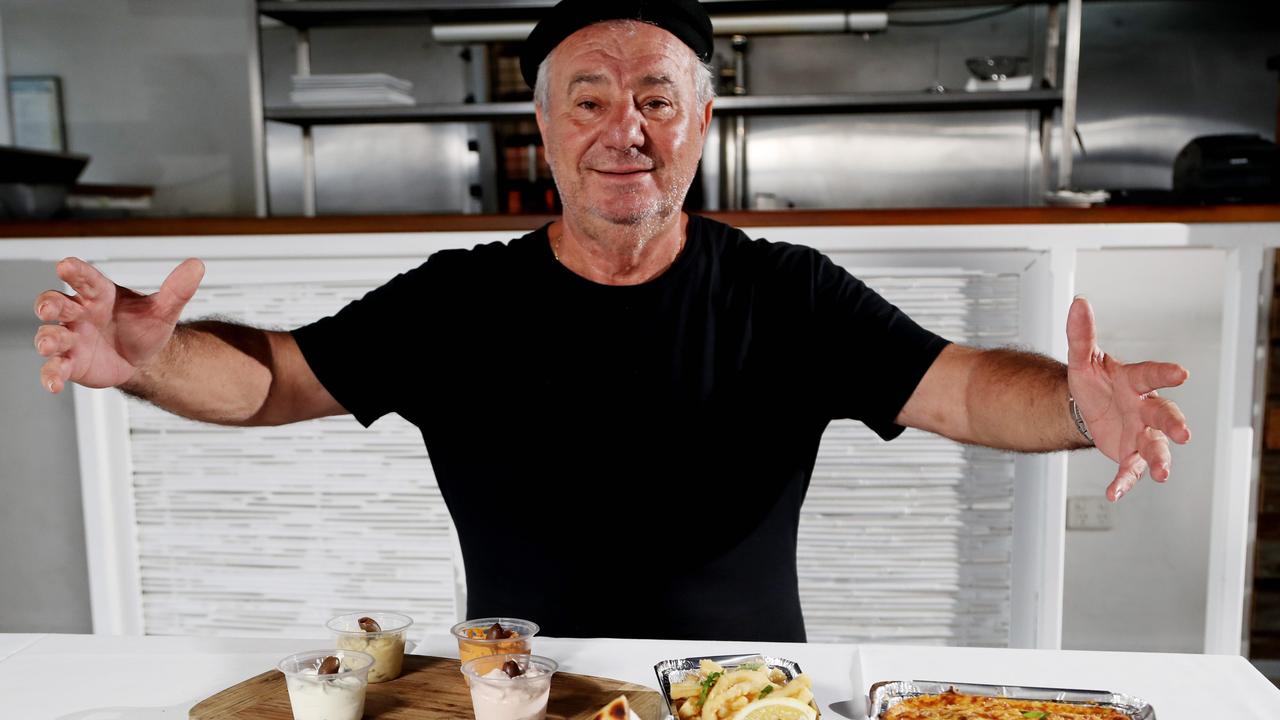 Fetta's Greek Taverna owner George Karagiannis. PICTURE: STEWART McLEAN
GEORGE KARAGIANNIS
Legendary Cairns restaurant owner George Karagiannis has been dishing up wonderful Greek food at Fettas Greek Taverna for 25 years.
Mr Karagiannis moved to Cairns in 1997 after running successful restaurants and nightclubs in Melbourne and Perth.
His CBD eatery is renowned for its authentic Greek dishes and has become a Cairns institution.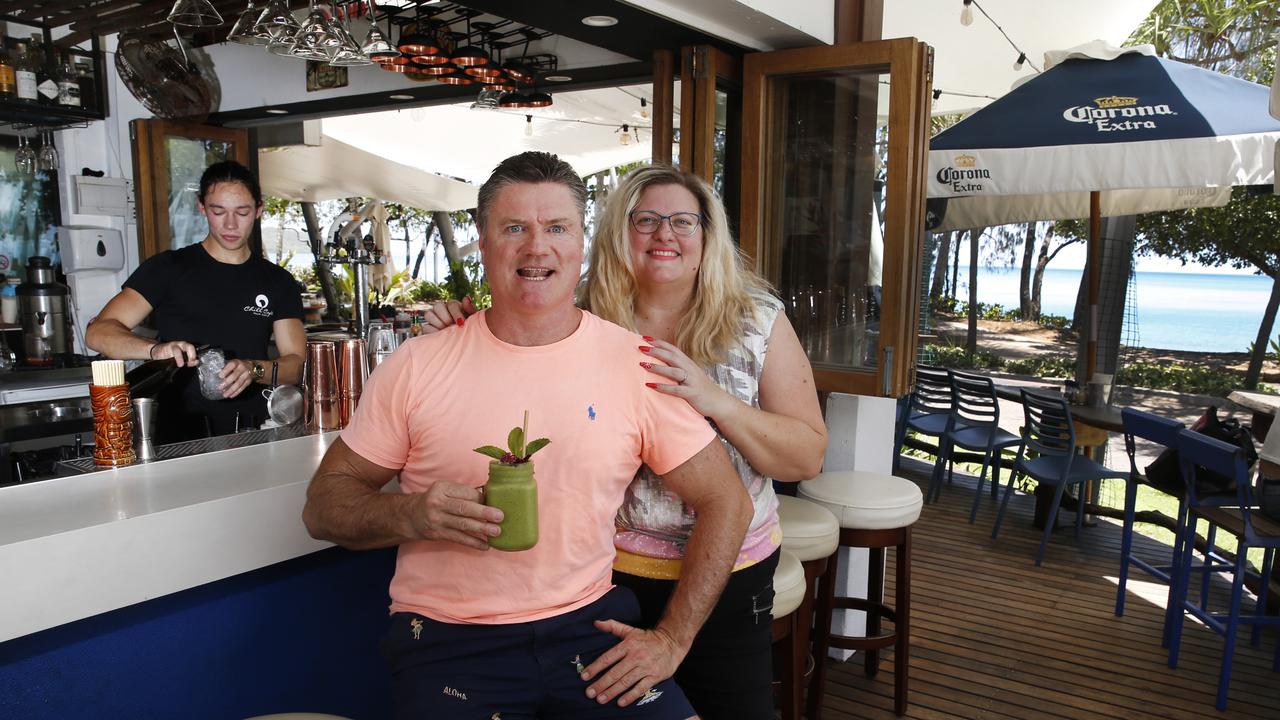 Chill Cafe co-owners Tony and Manuela Moore. PICTURE: ANNA ROGERS
TONY MOORE
Palm Cove business owner Tony Moore could argue his venues boast some of the best views in the Far North.
They're also two of the most popular.
Mr Moore has recently merged the Chill Cafe and Portofino restaurants on the Palm Cove esplanade into one mega venue – Chill Cafe and Portofino.
The former Sydneysider's tropical dining mecca has been one of the hospitality businesses to thrive early on in the global pandemic with an aggressive business approach and reimagined takeaway options. Alongside his wife, Manuela, they left the frantic pace of city life for the laid-back Far North in 2006. Three years later they ventured into the world of hospitality and Chill Cafe was born.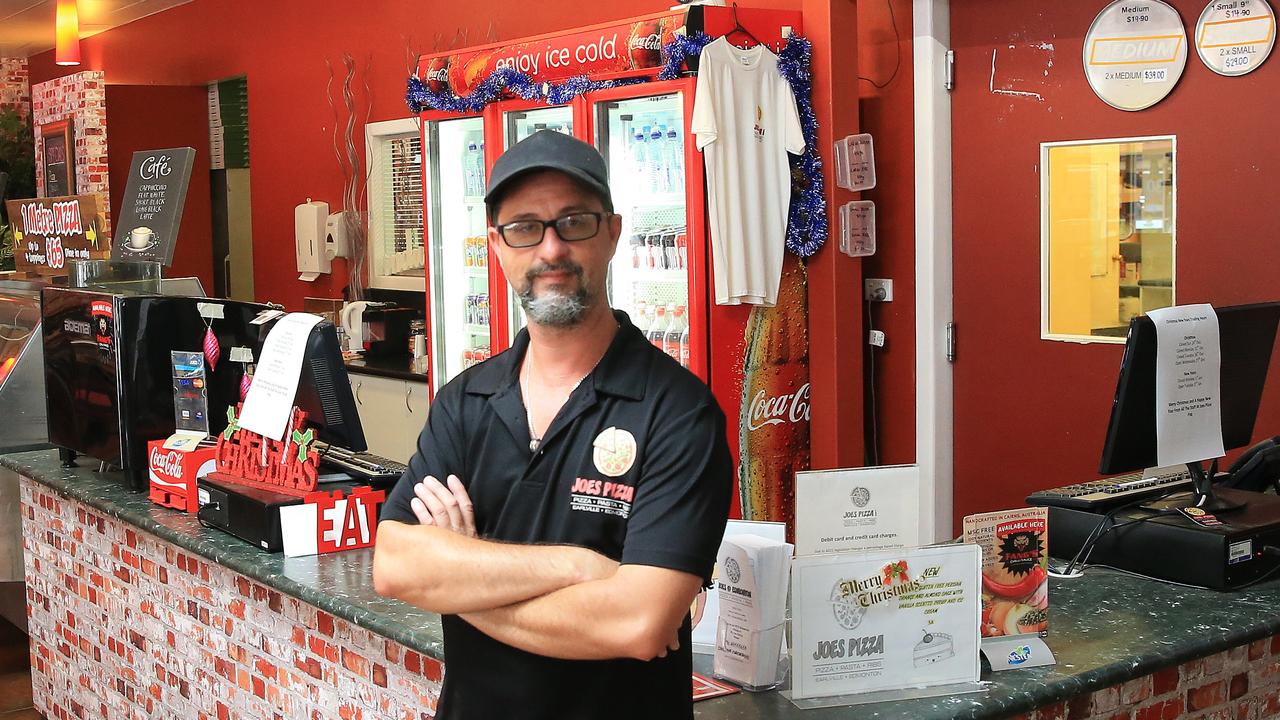 Owners of Joe's Pizza Shayne Gilmore. PICTURE: JUSTIN BRIERTY
SHAYNE AND KATY GILMORE
The Joe's Pizza owners have been a staple on the Cairns hospitality scene.
The family-run couple employ around 40 staff at their Edmonton and Earlville stores which are regularly credited with producing the city's best pizza.
They have twice been voted the best pizza shop in the Far North by the Cairns Post, including earlier this year.
Mr Gilmore said there was no secret to their success, just hard work backed by a strong team.