Authorities in South Australia are looking at the legality of vaccination passports, as business leaders are calling for clarity over the issue.
South Australian Premier Steve Marshal has supported the idea of having the vaccination passport on the SA Gov App, however, no plans have been made.
Related South Australia: Adelaides Proposed 160m Skyscrapper
Related Community: Sunshine Box: Sunshine Coasts New Promotion
from Adelaide Now 27.09.21
Vaccine passports that restrict freedoms to those without a Covid-19 jab are lawful, legal experts say as business leaders call for clarity on how such a measure will be policed.
Authorities are investigating what legal directions can ease when the state reaches 80 per cent vaccination targets.
But while experts say vaccination passports – which give priority to the full vaccinated – are legal, business chiefs say clarity is needed on how they will be enforced.
Business SA will poll members about the merits.
Almost half of SA adults are fully vaccinated and two thirds have a single dose.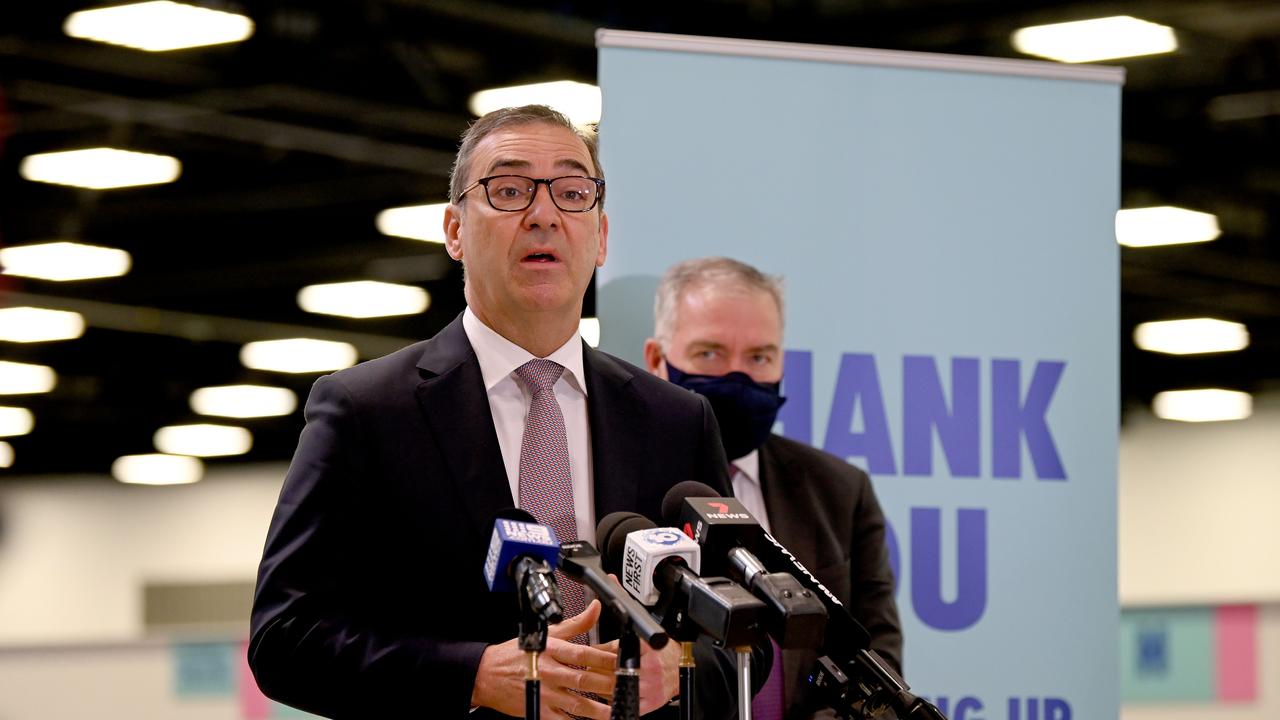 South Australian premier Steven Marshall and health minister Stephen Wade. Picture: Naomi Jellicoe
Premier Steven Marshall has repeatedly spelled out an intention for vaccination passports to be included in the mySA GOV app but the state government has no plans to introduce a formal scheme for entering shops.
Officials say rules for double vaccination may be a travel condition of entry from some areas into SA when borders likely ease in mid-November.
Law Society president Rebecca Sandford there were no such laws in SA at present.
She said if federal or state governments consider imposing blanket, or industry-wide mandatory vaccination laws, they must consider who is liable for legal breaches and who bears regulatory costs.
"Businesses would generally be within their rights to refuse to serve people on the grounds of vaccination status (if it) … is a reasonable measure to keep their workplace safe," she said.
"There are of course also legitimate civil liberties and privacy issues with the concept of government-imposed vaccine passports."
SA Council for Civil Liberties secretary, Claire O'Connor SC, said government regulations were needed rather than "ad hoc" private rules.
"Civil liberties is about protecting everyone," she said.
Business SA chief executive Martin Haese said there were "signs of support" in entertainment and hospitality industries as a "short-term solution to heavy restrictions".
"But a discussion needs to be had about what that means for them in the short term," he said.
Australian Hotels Association SA boss Ian Horne warned of logistic hurdles.
"Is it up to the consumer or does a venue have to police it at each entrance," he said.
SA Health will today expand its Highgate Pfizer vaccination clinic at Fullarton to anyone older than