Britain is currently facing a major heatwave which has seen parts of Britain reach their highest temperatures on record.  Temperatures are set to pass the 40C mark for the first time and makes the UK one of the hottest places on the planet.
The heatwave has brought on a number of fires across the UK, resulting in the London fire brigade declaring a major incident. Drowning deaths have begun to increase as unprepared Brits attempt to escape the heat.
How the winter solstice is celebrated around the globe
NT Government $5m renewable hydrogen investment
from daily telegraph 
London Fire Brigade declared a "major incident" as fires raged across the UK's capital during a record heatwave that has left at least five dead from drowning.
The country is bracing for 'yellow' thunderstorm warnings after the mercury reached a new record high of 40.3C degrees at Heathrow Airport.
Breaching the 40C mark for the first time makes the UK hotter than 99 per cent of the planet at this time of the year, according to US meteorologist Ben Noll.
Britain's previous record of 38.7C was set in Cambridge in eastern England in 2019. Almost 30 sites across England broke the previous record, while Scotland also recorded its hottest day with 34.8C – shattering its previous record of 32.9C.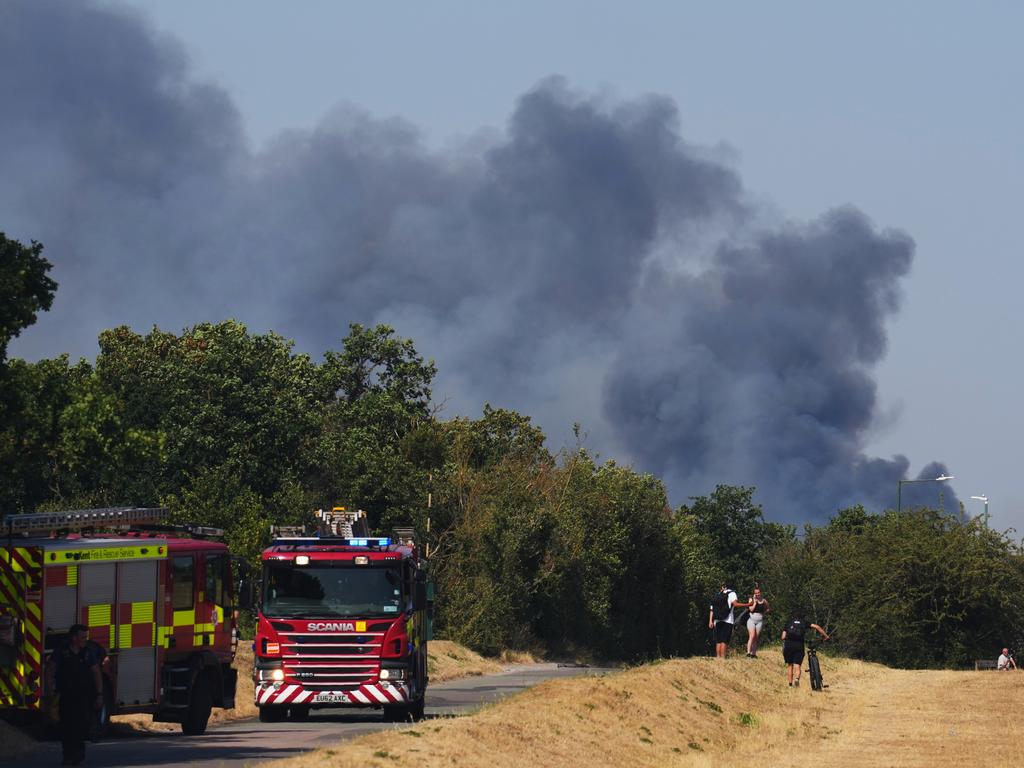 Emergency services fight fire in Dartford, England. Picture: Getty Images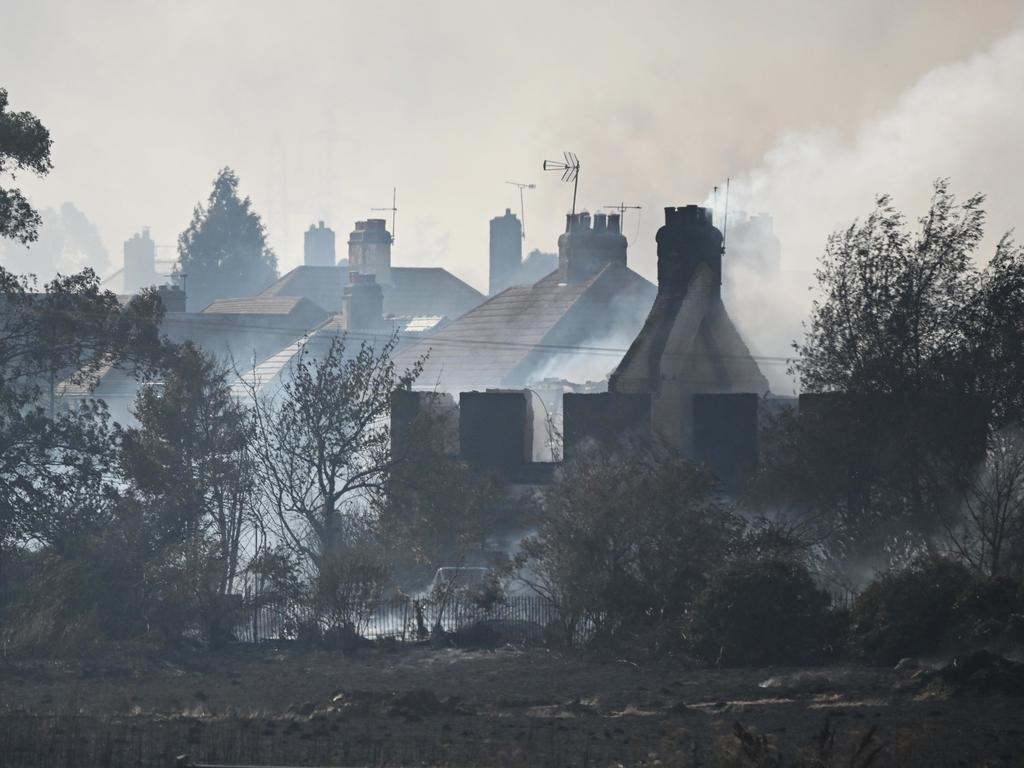 Smoke from fires being fought in Wennington, England. Picture: Getty Images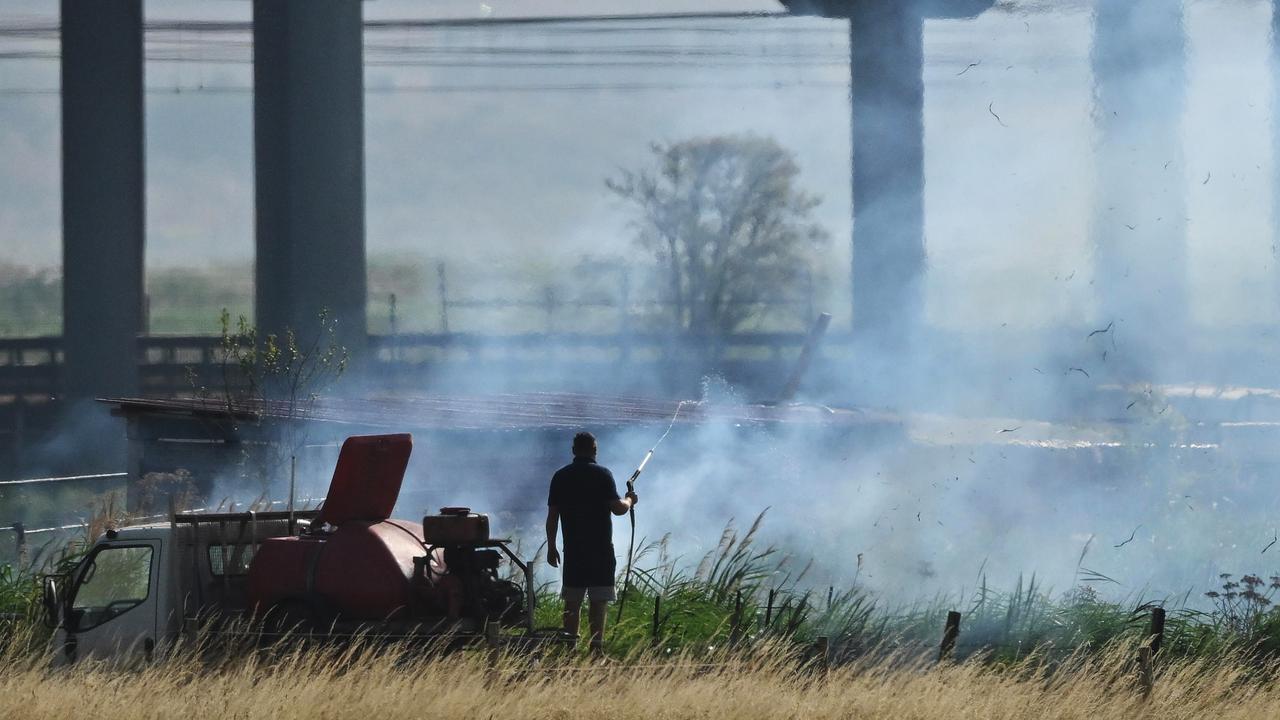 A person tries to douse grass fires that had broken out in the hot weather in Wennington, England. Picture: Getty Images
The high forecast triggered the country's first-ever "red warning" across much of England, with rail lines closed and schools shuttered in the worst-affected areas.
Hundreds of firefighters were battling at least 10 blazes across London which destroyed several homes on the city's outskirts and threatened more.
Leicestershire fire and rescue service has also declared a major incident in its count.
One firefighter told Sky conditions were "absolute hell".
As sweltering Brits unprepared for high temperatures on the island attempted to escape the heat, drowning deaths began to increase.
The body of a 14-year-old boy seen entering the River Thames in Richmond on Monday was recovered on Tuesday local time. A man in his 20s died at the Cotswold Water Park in Ashton Keynes, while a man in his 70s died on Isle of Wight beach.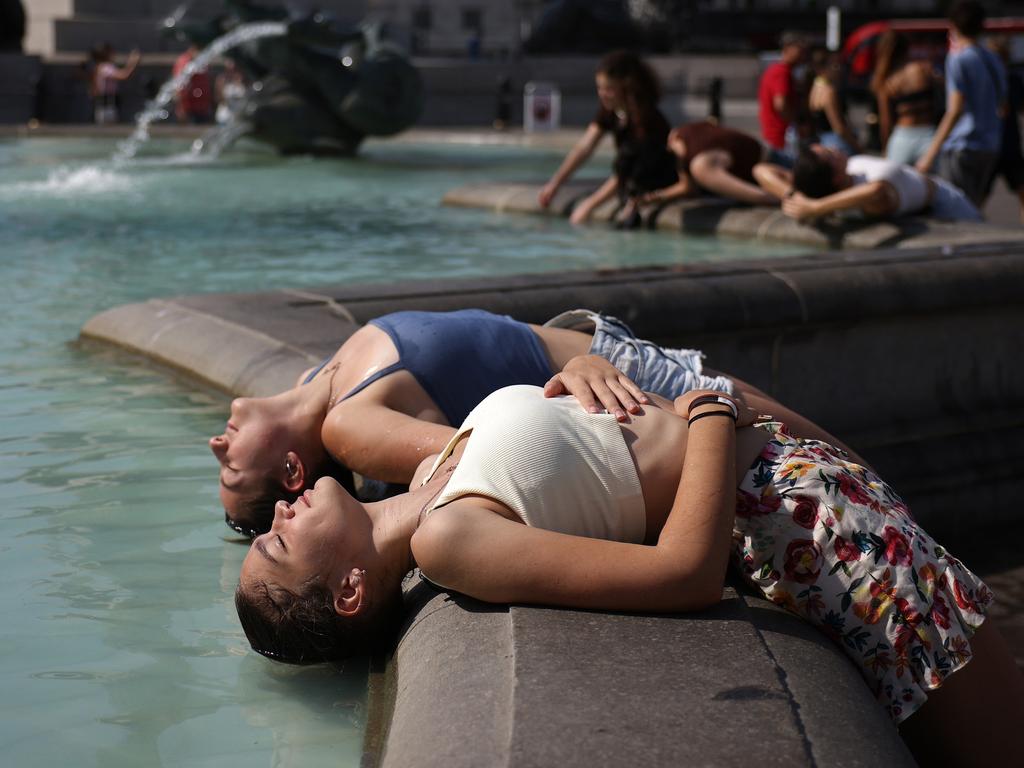 Two women dip their heads into the fountain to cool off in Trafalgar Square. Picture: Getty Images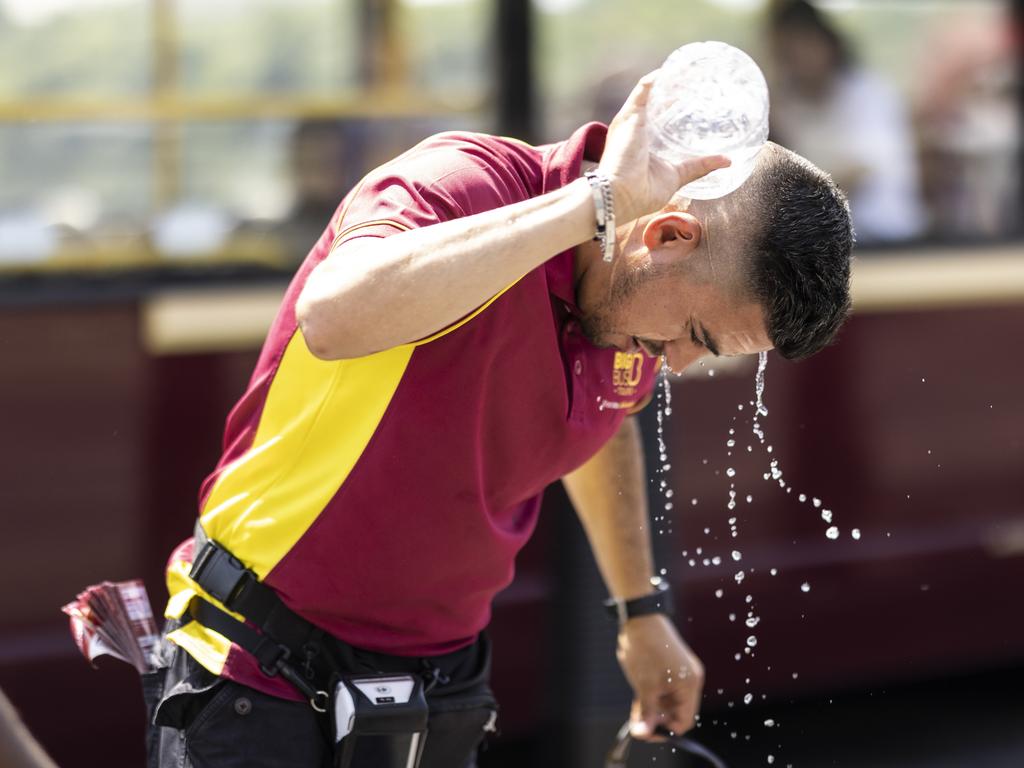 A man pours water over himself on Westminster Bridge in London. Picture: Getty Images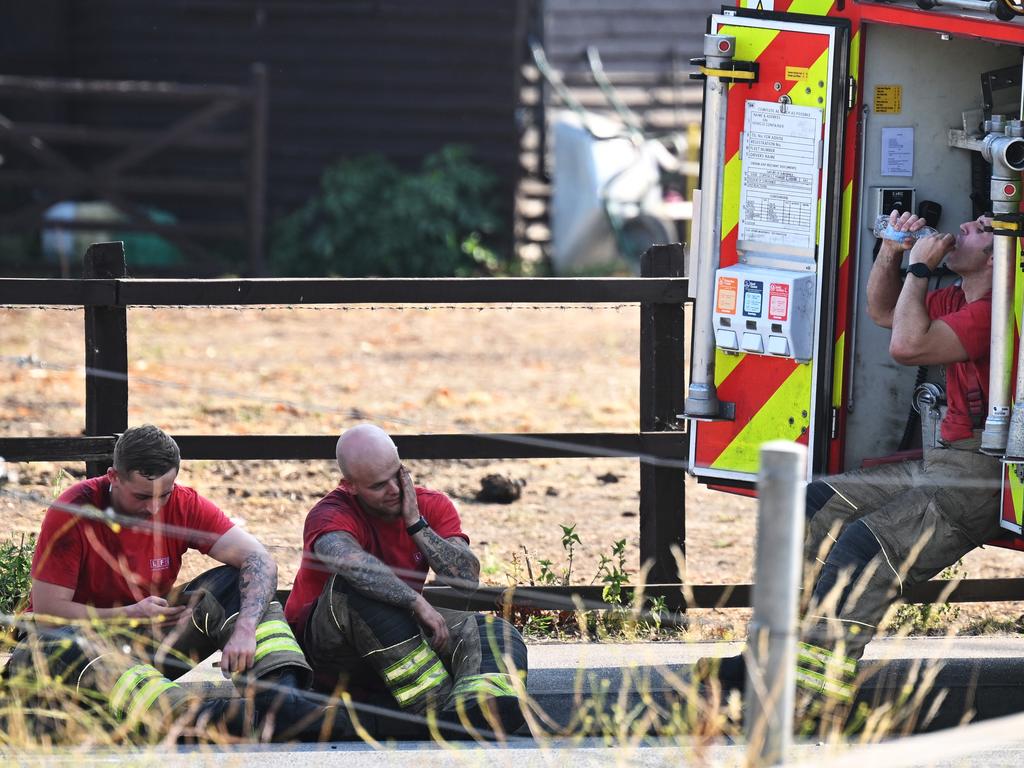 Firefighters rest after battling fires in Wennington, England. Picture: Getty Images
At least five people have died in open water since Saturday, according to authorities.
Two boys, aged 12 and 14, were pulled from the sea near Central pier late Monday evening and are recovering in hospital.
London Ambulance received 400 calls an hour, placing the service under its highest "extreme pressure" level four rating on its available resources.
The Met Office warned that thunderstorms across North East England and Scotland could trigger wild fires.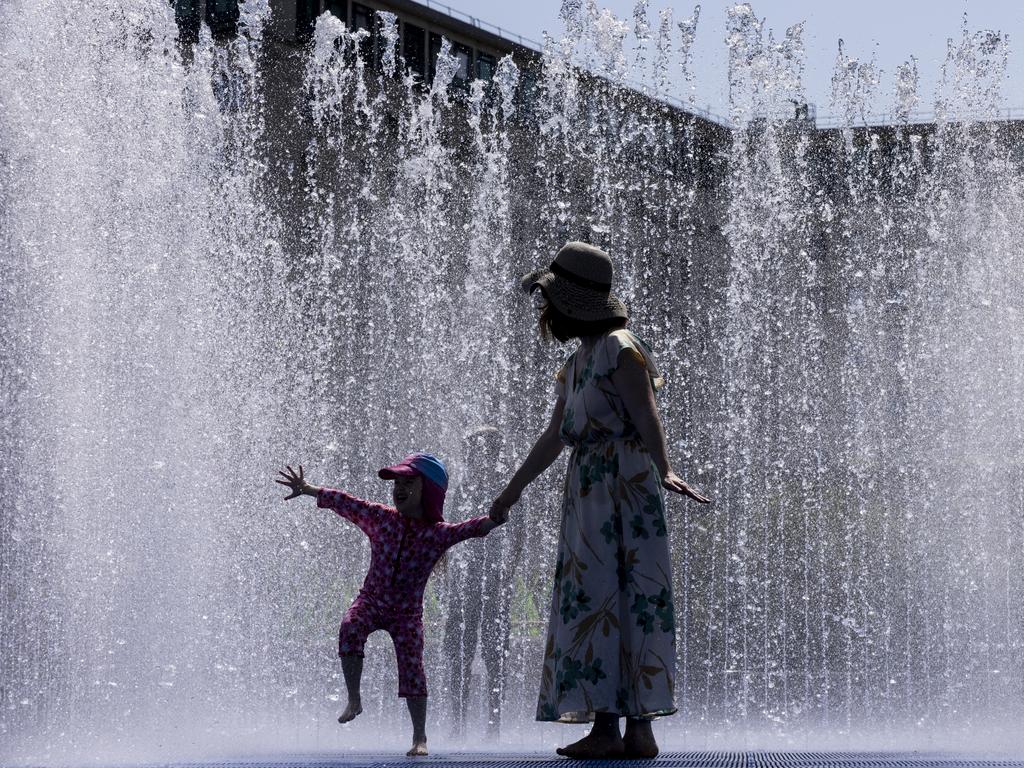 Kids cool themselves in a fountain outside the Queen Elizabeth Hall on the Southbank. Picture: Getty Images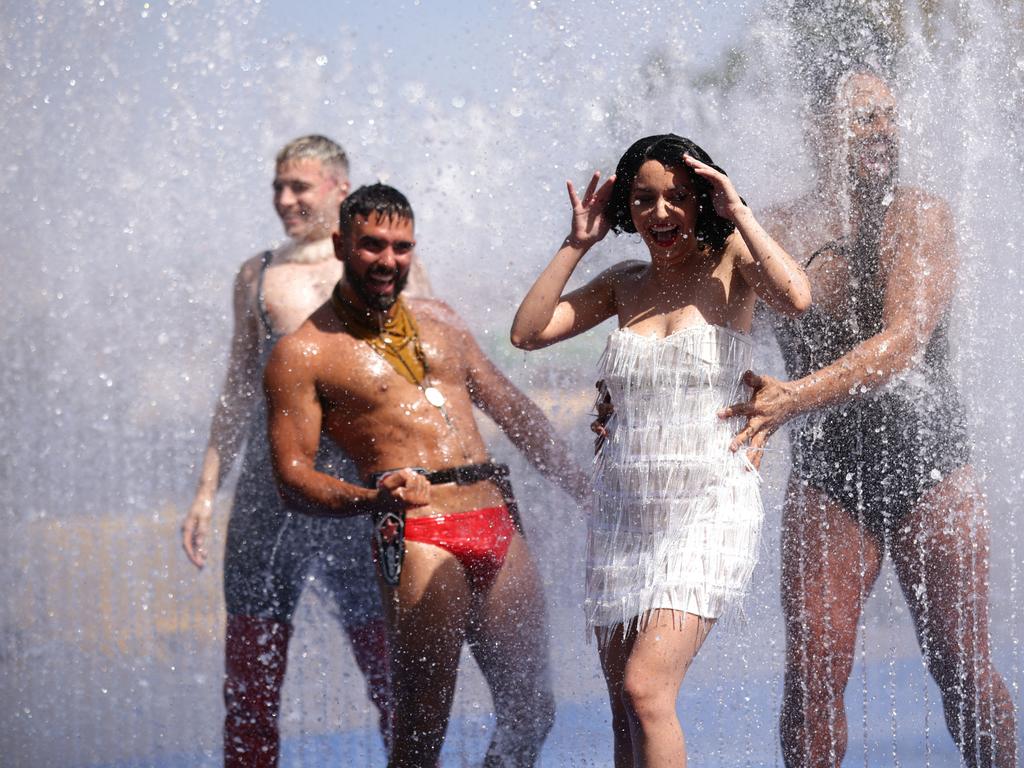 Australian cabaret and circus troupe Briefs take to the water to attempt to cool themselves during a photocall for "Bites" outside the Queen Elizabeth Hall. Picture: Getty Images
"Thunderstorms could bring disruption this afternoon from lightning strikes and strong, gusty winds," they said.
"There is a small chance that lightning strikes could trigger wildfires which could cause damage to infrastructure and property."
London's Fire Commissioner called for an urgent ban on disposable barbecues in parks and public spaces, responsible for many grass fires ravaging the city.
"With no end to the hot weather in sight, I am deeply concerned that the unprecedented scale of these fires is set to continue, putting lives at risk as well as devastating green spaces around the capital," Fire Commissioner Andy Roe said.
AIRPORT RUNWAY MELTS AS 'HEAT APOCALYPSE' BLASTS UK
Holidaymakers have been hit with travel chaos after a runway melted at Luton Airport as an unprecedented "heat apocalypse" blasts the UK.
Luton Airport was forced to suspend flights due to a "surface defect" caused by the scorching sizzling weather.
The airport said: "Following today's high temperatures, a surface defect was identified on the runway.
Workers at Luton Airport examine the runway after it melted due to the scorching weather.
"Engineers were called immediately to site and repair works are currently in progress to resume operations as soon as possible.
"We would like to apologise for the inconvenience caused.
The mercury hit 37.5C on Monday in Kew Gardens, West London.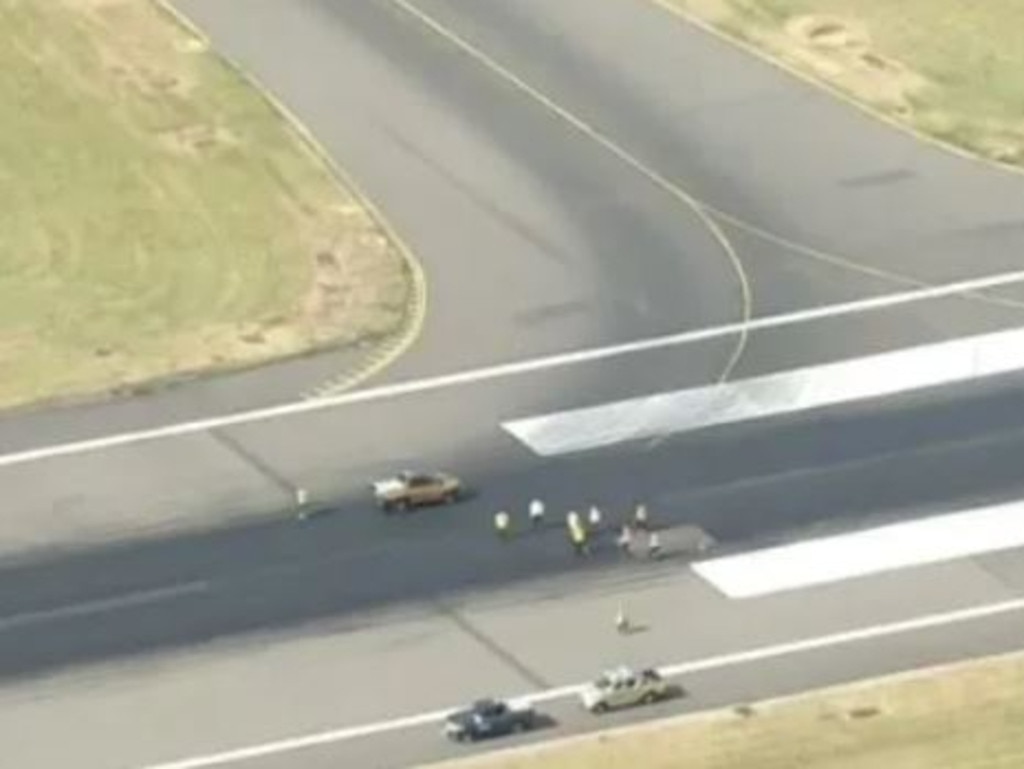 The UK's London Luton Airport was forced to briefly close after a runway buckled in the extreme heat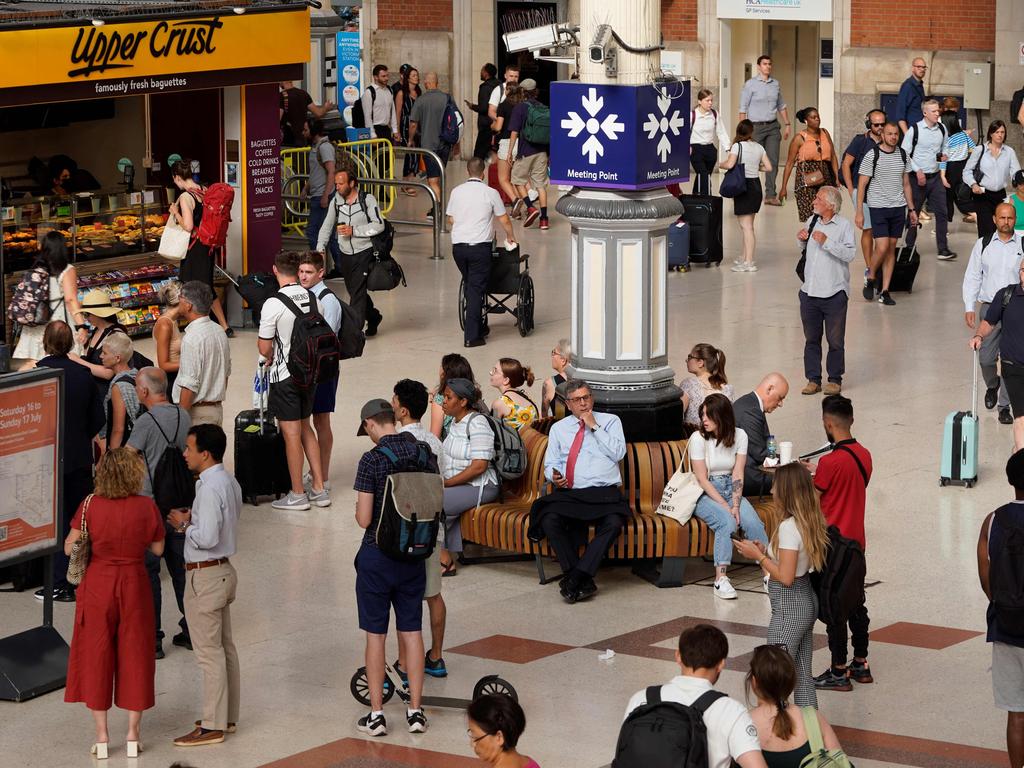 Commuters wait for their trains at Victoria Station in London. Picture: AFP
Popular attractions including Chester Zoo in Cheshire, Maldon Promenade Zoo in Essex and York Maze in North Yorkshire have all shut due to the heat.
The sweltering temperatures closed schools across the country and caused widespread travel delays.
Rail passengers pass an electronic sign warning of 'Extremely hot weather' at Kings Cross station in London. Picture: AFP
Wales has already recorded its hottest day on record, with the temperature reaching 37.1C in Flintshire.
There are warnings that "thousands of excess deaths" could occur across the UK in the coming days.
Swimmers enjoy an early morning swim in the cool water of Jesus Green lido in Cambridge, England. Picture: Getty Images
Budget supermarket Aldi has rationed popular heatwave items as bottled water and ice cream to cope with the demand.
Britain's previous record temperature was 38.7C, which was reached at Cambridge Botanic Garden in eastern England on July 25, 2019.
"It is a bit frightening, I think, definitely … what it's going to do to us, to the world," Karina Lawford told AFP, as she took a midmorning stroll by the sea in Tankerton on the north Kent coast.
Lawford, 56, grew up in the area before moving to Australia 18 years ago, and was making a return visit.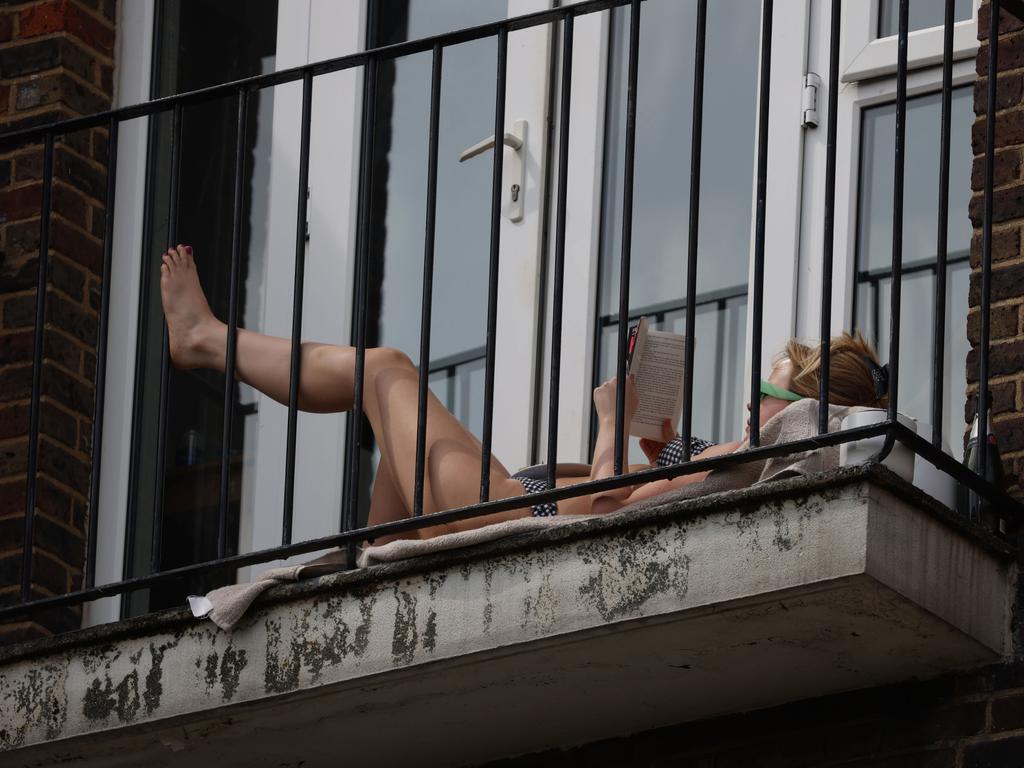 A woman sunbathes on a balcony in Hackney in London. Picture: Getty Images
But she said the weather, which has seen water levels plummet in reservoirs in some parts of the country, reminded her of life down under with the extreme temperatures.
The Kent coastline southeast of the UK capital is several degrees cooler and with its onshore breeze was attracting plenty of people eager for some respite.
"We enjoy it, we're just apprehensive of the effects that it will have, so we try to be sensible and drink lots and stay covered," said Ceri Sherlock, as she celebrated her daughter's fourth birthday with a beach trip.
"I think it is a sign of what's to come, that's of huge concern for the future, for these guys," she added, gesturing at her daughter.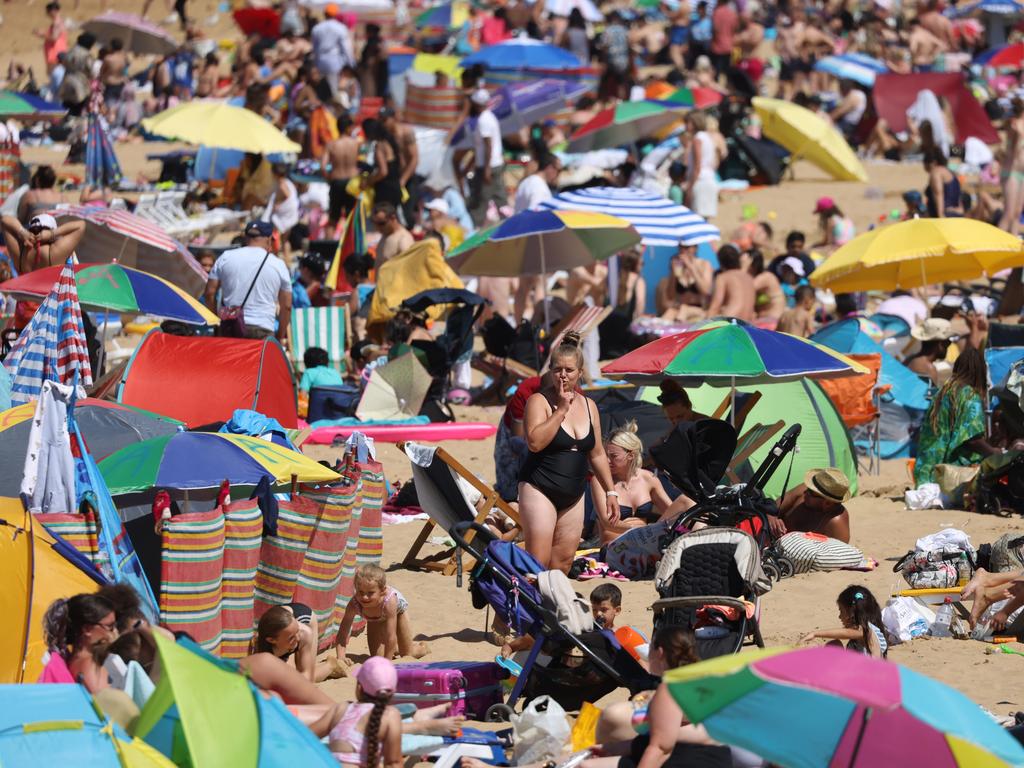 People flock to Margate beach in Margate, United Kingdom. Britain is experiencing a heatwave this week as temperatures reach 40 degrees, a record. Picture: Getty Images
Nigel Arnell, professor of climate system science at the University of Reading, said modelling and projections suggested heatwaves would get worse and more frequent.
As such, infrastructure needed to be adapted.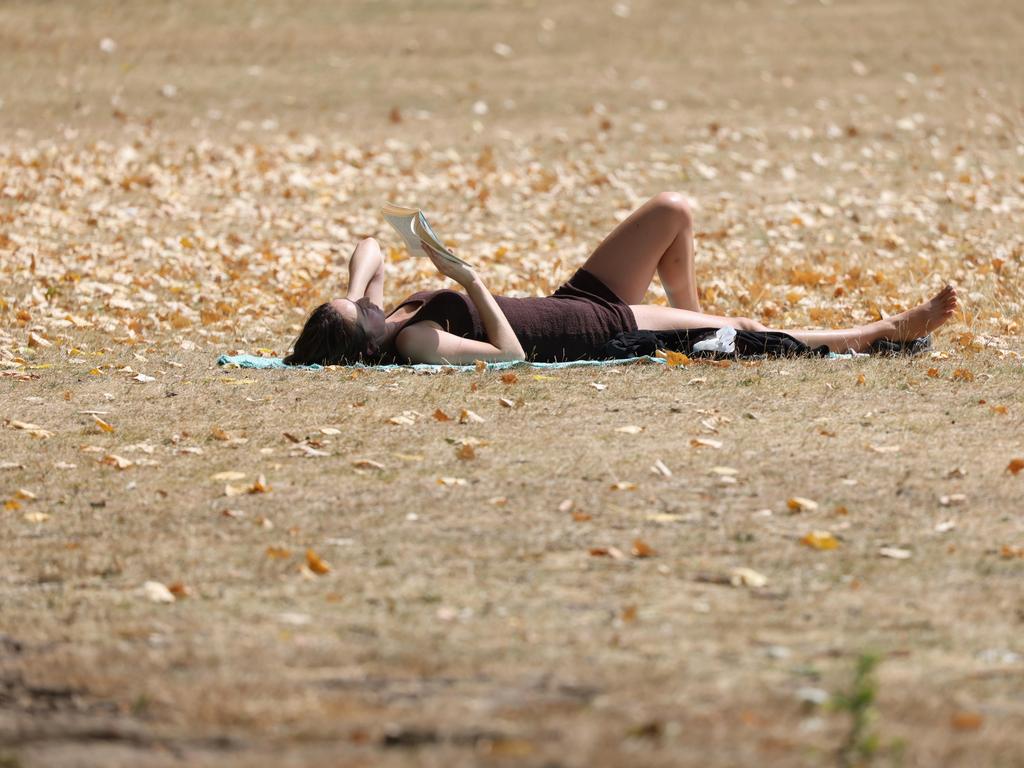 A woman sunbathes in Victoria Park in London, England. Picture: Getty Images
"We really need to up the game in terms of adaptation and resilience in the UK and in other countries," he told reporters.
The Met Office last week issued its first ever red extreme heat warning for large swathes of England, coming into effect on Monday.
An amber warning — the next level down — has been in place for much of the nation and neighbouring Wales since Sunday and was extended to parts of southern Scotland.
Some schools have closed while train passengers were asked not to travel on Monday and Tuesday, with speed restrictions in place on some lines.
Network Rail, which is responsible for rail infrastructure, said the main east coast route out of London King's Cross to York and Leeds would be shut between 1100 GMT and 1900 GMT on Tuesday.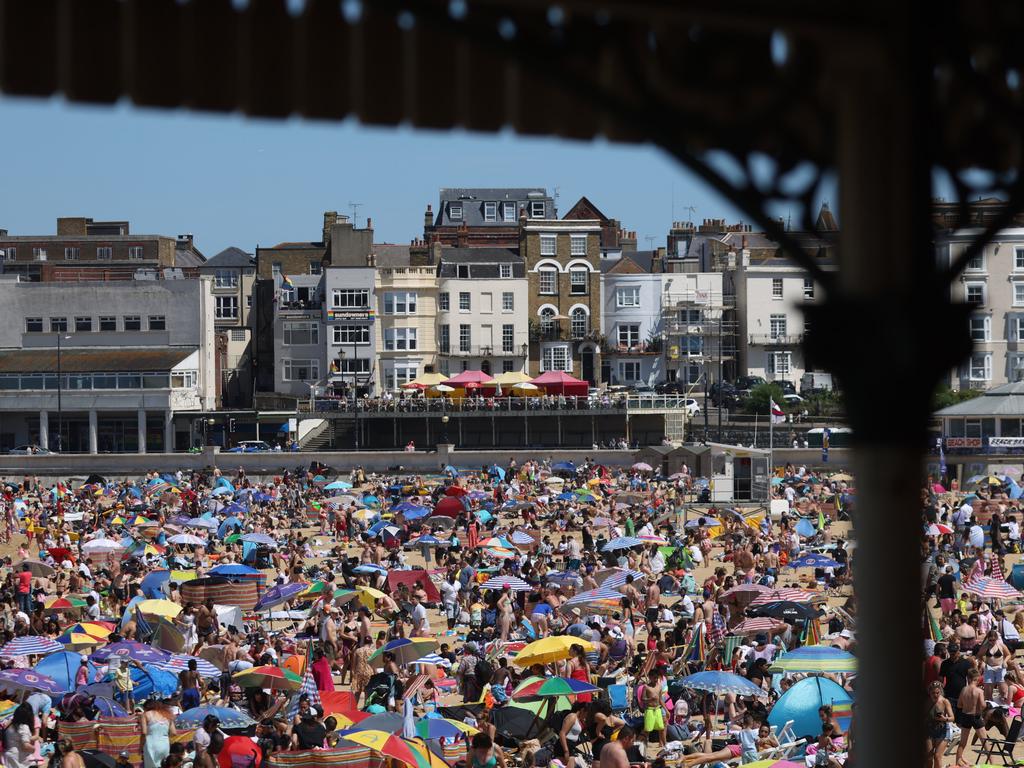 A level 3 heat health alert has been issued for the south and eastern parts of England, rising to level 4 by Monday. Picture: Getty Images
Operations director Sam MacDougall said closure was the last resort but was necessary given the extreme heat.
"The forecast temperatures are well above those which our infrastructure is designed for, and safety must come first," he added.
The government's emergency contingencies committee met Sunday, as hospitals said services would be stretched to the limit in the coming days.
The government urged people to be sensible but back in Tankerton, some were taking it in their stride.
"Just get on with it, be sensible," said plumber Dave Williams, 64, unimpressed with the wall-to-wall coverage of the heatwave.
"If it ain't Brexit, if it ain't the weather, we don't know what else to talk about," he told AFP.