Blue Rose restaurant in Adelaide is offering a refreshing vibe, with lazy susans helping to share an amazing menu with your party, with the owners deciding to incorporate Chinese influences at Blue Rose which offers more than the south east Asian standards.
From Adelaide Now 16.10.21
Lazy Susan! What a disparaging name for an invention that should be the centrepiece of a diner-led revolution.
Forget being forced to shuffle plates with the strategic acumen of a Rubik's cube champion. The spinning tray at the centre of the table makes passing around food a breeze.
Why, then, do the cool-kid eateries, where sharing is next-to-obligatory, continue to ignore this ingenious device with the unfortunate reputation?
Blue Rose at Henley Beach is an exception to the rule. This spanking new two-level restaurant from the people behind CBD hotspot Gondola Gondola is very much on-trend with its Sans-Arc design and smart branding. But downstairs, right beside the front window, is a tall, round table with a lazy Susan in matching dark timber. It doesn't look dumb or daggy and makes manipulating dinner for our family group so much easier.
Blue Rose stands out in other ways as well. Husband-and-wife owners Tuoi and Annie Tran saw the crowds drawn to this popular seaside precinct and realised it had few other Asian options.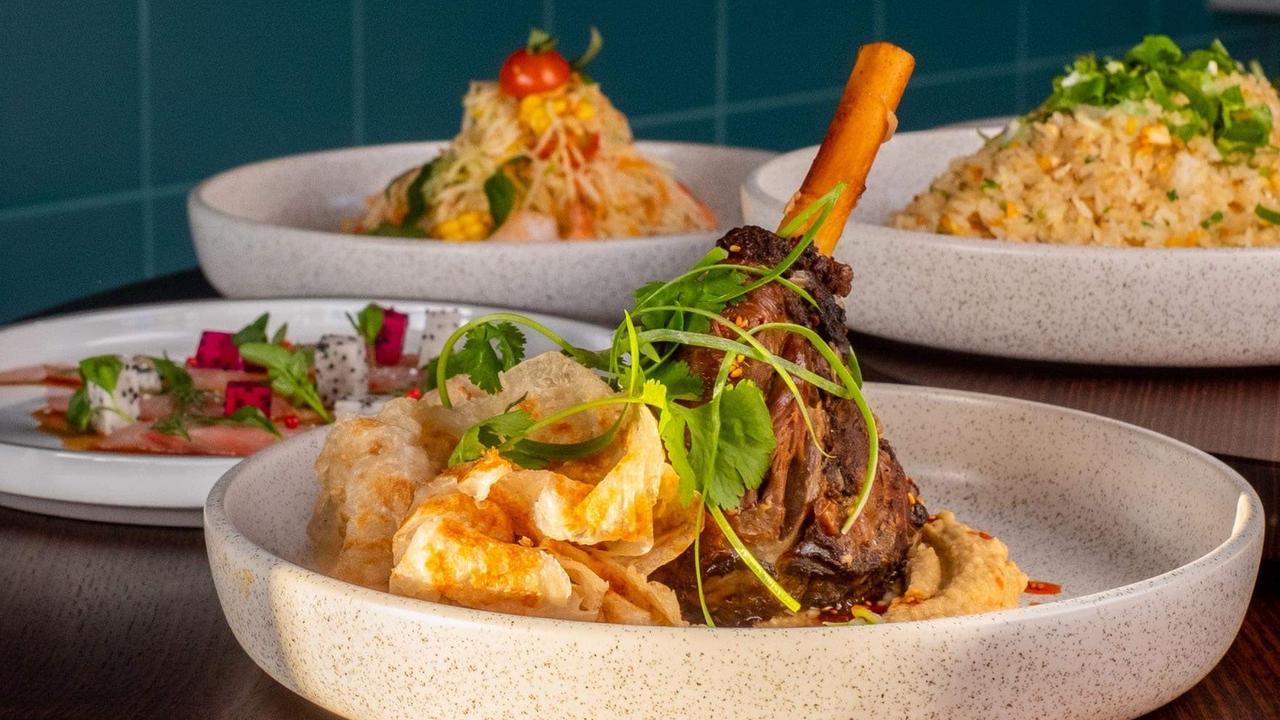 Chinese spiced lamb shank and other dishes at Blue Rose, Henley Beach
Then they happened to drive past the empty premises across from Henley Square previously occupied by ill-fated dessert bar chain 50sixone. Like Gondola Gondola, the site was on a corner and had a facade of glass, so felt the right move.
More than six months was spent on renovations that include a totally new open kitchen and central bar on the ground floor.
A mix of high and low timber tables are matched to lipstick-red metal chairs with strap seats and backs that are only marginally more comfortable than they look.
Upstairs, the mezzanine level has a similar look but the chairs are blue.
Rather than duplicate the Vietnamese/Thai/street food themes of Gondola, the Trans decided to incorporate Chinese influences at Blue Rose, a reflection of Annie's heritage.
Fish sauce and lime are joined by a variety of soys and vinegars. Fresh chilli is either replaced or amplified by dried chilli and peppers.
The result is a collection of dishes that are a refreshing change from the Southeast Asian standards. At times this is just a subtle note in a sauce or a lingering aftertaste. Other combinations, such as a Sichuan-ified version of a Cajun seafood boil, is definitely one of a kind.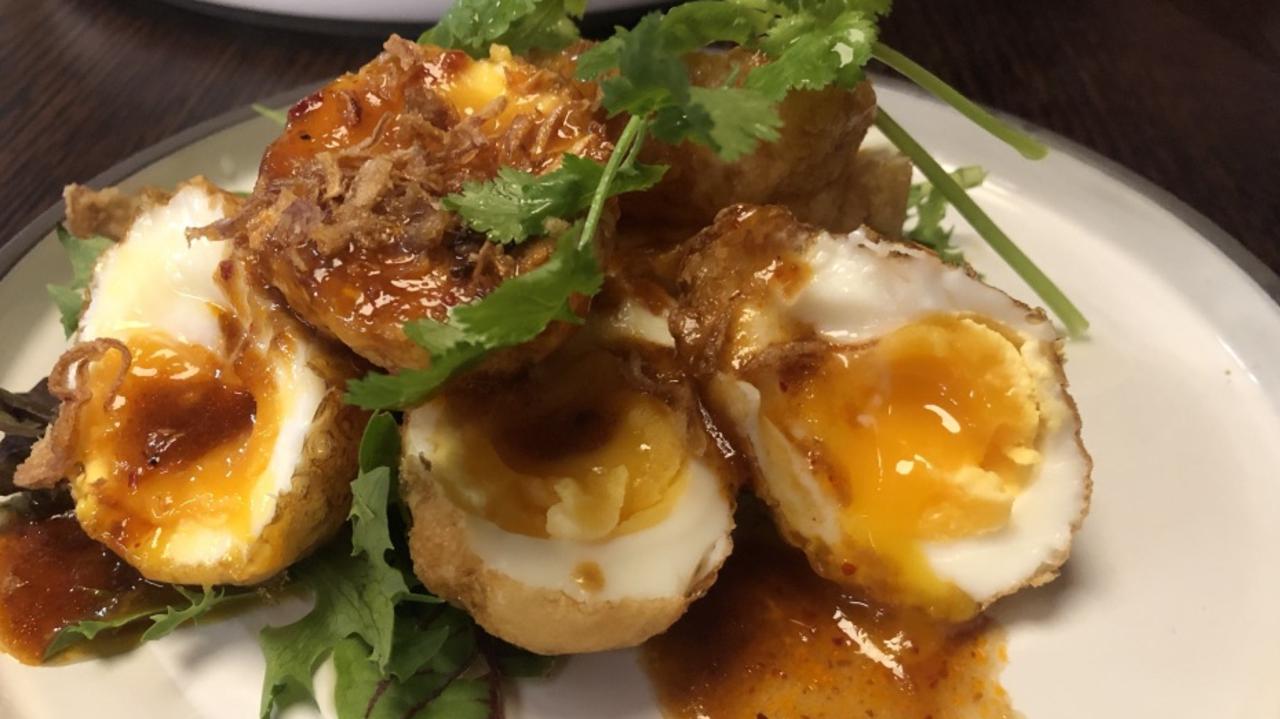 Golden eggs at Blue Rose, Henley Beach
A single-sheet menu has "Smaller" plates on one side and "Larger" on the other, though the first term can be somewhat misleading.
The salt and pepper eggplant, for instance, is a daunting serve of slices, stacked high on the plate like a winter wood pile.
The veg has clearly been lifted from the fryer only moments earlier, the golden coating almost sizzling and the molten pulp inside at dangerous temperatures.
On the other hand, beef carpaccio barely touches the sides.
Five paper-thin ribbons of fat marbled wagyu would weigh less than the absurd amount of fried garlic scattered over the top, I suspect.
The meat for once justifies using the term "melt in the mouth" and leaves behind an intriguing tingle of peppercorn oil.
Somewhere in the middle size-wise are the Thai street food favourite son-in-law eggs (Golden Eggs), the boiled and deep-fried googs halved to reveal their perfect yolks, then dropped on a sweet-sour caramel of tamarind and palm sugar.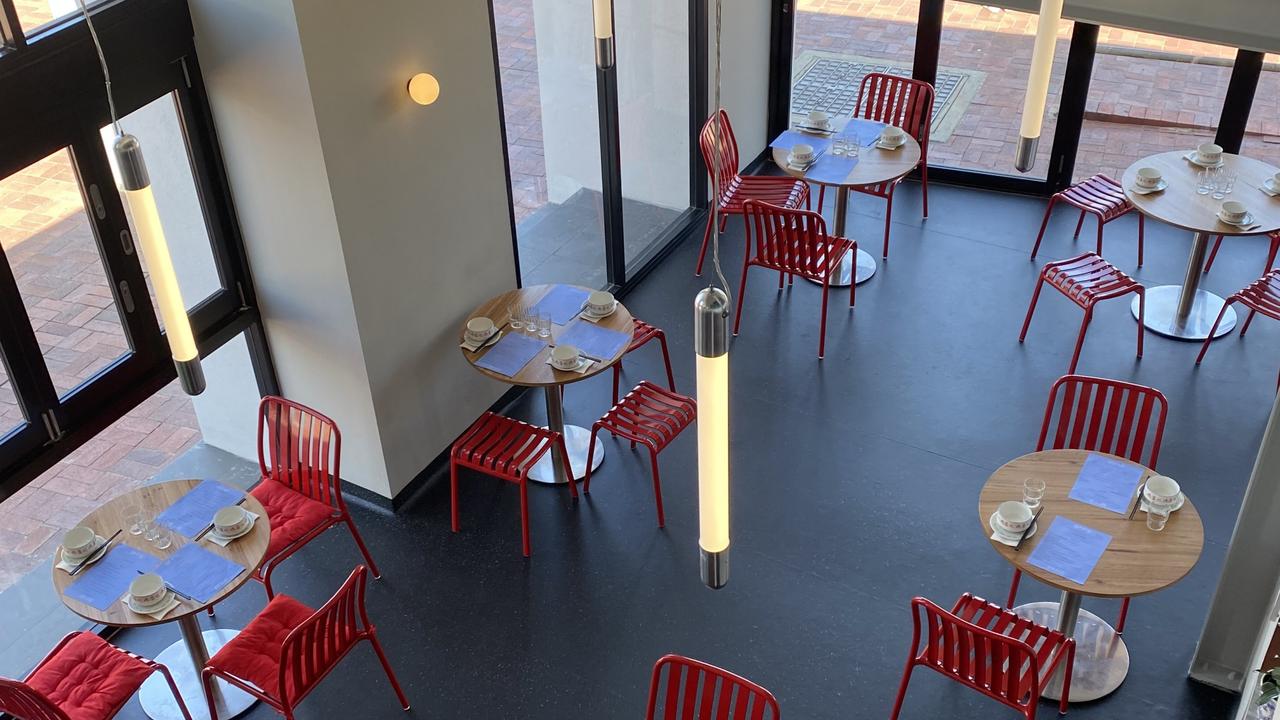 Dining room at Blue Rose, Henley Beach
Larger plates include a spectacular looking construction of mushrooms, built on a foundation of rice noodle blocks, then a mix of braised fungi and dried shiitake floss, and finally a lattice of fried enoki, propped upright and festooned with streamers of shredded nori.
All those yielding and crunchy textures and the spectrum of earthy flavours will keep you digging in but the soy broth pooled at the base is too sweet for me.
A lamb shank has clearly served its full term sitting in a slowly bubbling master stock, the meat peeling away easily from the bone.
But it's the spicing, particularly on the outer skin, that makes it memorable, combining with a drizzle of chilli oil to stoke a fire that burns gently in the background. The accompanying roti, however, needs some attention.
Chilli also plays a role in a dessert of coconut and lychee panna cotta topped with a finely shaved lemon granita.
The interplay between the fragrant, rich cream and tangy ice is wonderful, more so with a little sprinkle of feisty red powder. A cracking contemporary dessert supported by something more traditional. Which sums up Blue Rose.