In a move that could change the skyline of Adelaide, the free masons have proposed to build the tallest building in Adelaide with a height at 160m. However, there is criticism from within the organisation as the man who is trying to become the organisations new supreme leader Dr Marcin Stankiewicz see's it as excessively grandiose and not properly costed.
The proposed building will feature a hotel, student accommodation, office and hospitality spaces, and would be topped with a restaurant and viewing platform
From Adelaide Now 12.09.2021
A proposed 160m-tall skyscraper behind the Freemason's city hall is "excessively grandiose and ill-defined", says the man battling to become the order's supreme leader ahead of a crucial vote on the landmark project.
Gynaecologist Dr Marcin Stankiewicz has questioned the ­viability of an "ill defined" and "highly speculative" $120m tower that, if built, would become Adelaide's tallest building.
Artist's impression of $120m development proposal for Freemasons Hall site on North Tce. Supplied by Freemasons SA/NT
In a letter to his "brethren" announcing his challenge to Free­masons SA/NT Grand Master David Booker, Dr Stankiewicz wrote that he supported development, but it appeared members were being led towards a proposal that is "excessively grandiose … not properly costed and calls upon … technical skills that we do not possess within Freemasonry".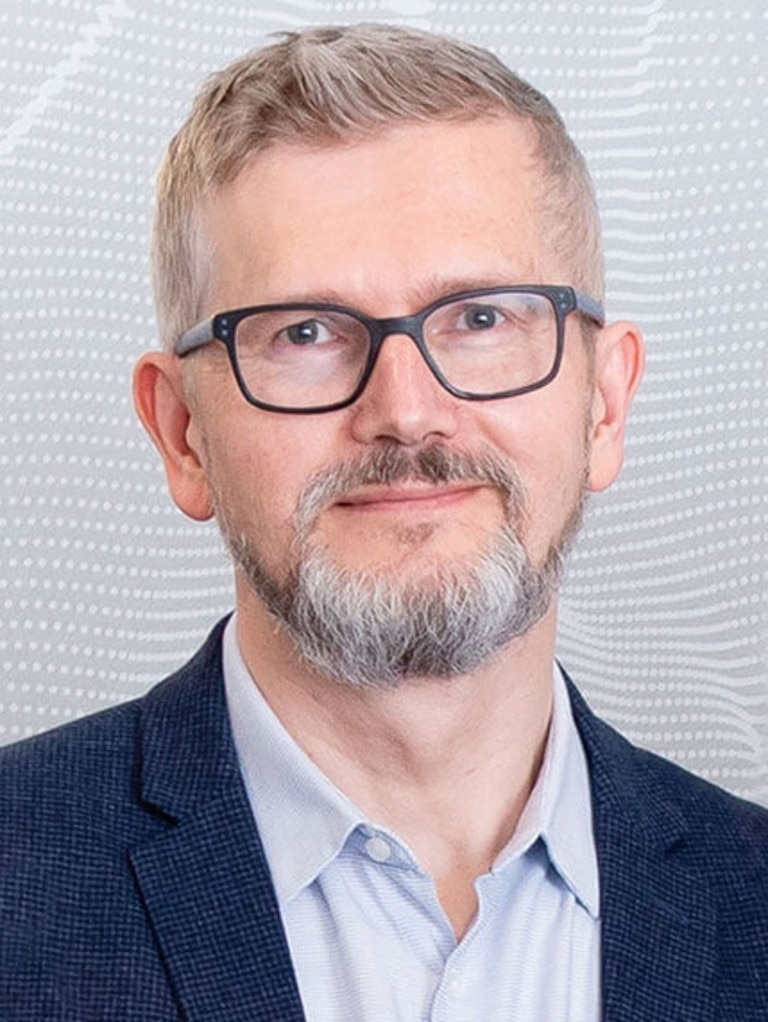 Dr Macin Stankiewicz. Picture: Facebook
He wrote that would require the order to hire "external consultants at significant added cost, with no discernible amelioration of risk."
The Advertiser revealed the Freemasons' grand vision for their state heritage-listed property in June, which would feature a hotel, student accommodation, office and hospitality spaces, and would be topped with a restaurant and viewing platform.
Dr Stankiewicz said the "next Grand Master" would be charged with "ensuring the building development is one that is actually viable, and will forward the interests of Freemasonry … not further imperil our financial ­position".
"I believe this will only happen if there is a change in leadership to a proactive Grand Master, who is prepared to personally engage in the process in order to balance a vision for the future (that many of us share) with what is fiscally prudent," he said.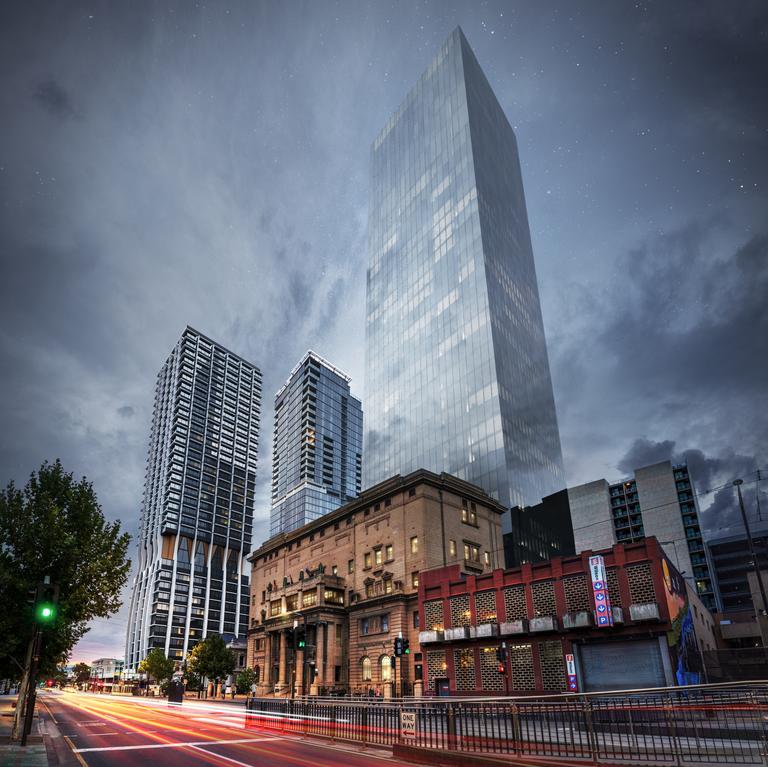 Artist's impression of $120m development proposal for Freemasons Hall site on North Tce. Supplied by Freemasons SA/NT
It was revealed in July last year that Freemasons Hall had "extensive concrete cancer", and $2.2 million was needed for urgent repairs to address public safety concerns.
A further $6.4 million was needed over the coming decade to bring the building up to modern standards and compliance requirements.
Artist's impression of $120m development proposal for Freemasons Hall site on North Tce. Supplied by Freemasons SA/NT
Mr Booker declined to respond to Mr Stankiewicz's comments.
Freemasons Hall Trust chairman Henry Davis said a final vote on the "exciting" tower development would happen this month after "extensive consultation".
"While many people are excited by the concept and the many benefits it will bring to the broader community, we accept and acknowledge that some people will have different views," he said.
"This is to be expected and it is important that all voices are heard in a respectful manner.
"We have engaged leading experts within the broader commercial development sector to scope this project and assess market interest on our behalf, and look forward to all members having their say."
Freemasons' charity chief quits in disgust
The head of the Freemasons' SA/NT philanthropic arm has quit in disgust over comments made by the order's Grand Master in relation to the $70m charity.
The shock resignation of Masonic Charities' John ­Behenna on September 6 also came just weeks after the Freemasons removed several of the charity's board members "without explanation", sparking a leadership challenge by one ousted member ahead of this month's election for Grand Master.
John Behanna resigned from Masonic Charities. Picture: Facebook
Mr Behenna stepped down taking "grave exception" to comments made by Freemasons Grand Master David Booker in an August 31 letter to members in which he had identified "current ­investments" of the charity's fund that "may not comply with an internal management plan".
"We have taken steps to resolve this compliance issue and to flag the matter with the regulator," Mr Booker wrote, in an apparent reference to the Australian Charities and Not-for-Profit Commission.
"It is vital that our charity operates efficiently and takes risks appropriate to a charity focused on income distribution."
Freemasons Grandmaster of SA & NT David Brooker.
He wrote that the charity's operating costs had escalated "significantly" by $500,000 from 2019 to 2020, and that charitable income from fundraising was "quite low compared to operating costs".
In response, Mr Behenna announced his resignation as a "result of the Grand Master's letter", adding that he had taken "grave exception" to the "discourse" relating to the charity and the letter's implications.
"I am unaware of any matters being referred to any 'body' responsible for regulating Masonic Charities' activities," he wrote to members.
"Furthermore, if such steps had in fact been taken in relation to involving a regulator, I consider this a perplexing and disappointing step in the ­absence of anyone having consulted with me first."
Mr Behenna, a former chief-of-staff to former state Liberal leader Isobel Redmond, declined to comment when contacted.
Mr Booker, who was appointed Grand Master in April, said the issue raised about Masonic Charities ­related to an internal strategic investment plan.
"This is an internal working document and, as such, ­requires periodic updating. An amended version will be lodged with the Australian Charities and Not-for-profits Commission after our review," he told The Advertiser in a statement.
"It is regrettable that this internal compliance matter was misunderstood by some within our organisation."
In his letter, Mr Booker said that, in "keeping with the approach" of the previous Grand Master, the board was asked to resign to "allow for growth and renewal".
"Unfortunately, some members chose not to resign. We had to use powers of the Corporations Act to ensure that the opportunity to support the work of Masonic Charities is shared," he wrote.
Masonic Charities was created in 2019 with a $50m fund generated from the $75m sale of the not-for-profit Masonic Homes in 2015.
Gynaecologist Marcin Stankiewicz, who was ousted from the charity's board along with Joe Ienco in July, ­announced his candidacy for Grand Master at this month's election.
Dr Stankiewicz said the "highly successful" board had grown the fund to $70m.
"The sudden, without explanation, replacement of the board of $70m (sic) company cannot but cause a reputational damage and threatens relationships established with its fund managers (an international company) its partners and stakeholders and puts future funding under threat," he wrote to members.