Sluggish wage growth may force the Reserve Bank to delay plans to start increasing official interest rates as wages for ordinary Australians are going backwards.
Wages in Australia have failed to outpace inflation for six of the last eight quarters, it is being hoped that in an election year the RBA will hold from raising interest rates.
Related Business Resources: If Russia invades Ukraine, how will it affect Australia?
Related Community: PM backs bill that excludes transgender people from sport
from SMH 23.2.22
Real wages for ordinary Australians are going backwards just months out from the federal election as sluggish wage growth may force the Reserve Bank to delay plans to start increasing official interest rates.
Keenly watched wage price data from the Australian Bureau of Statistics released on Wednesday showed a 0.7 per cent increase across all industries through the final three months of 2021.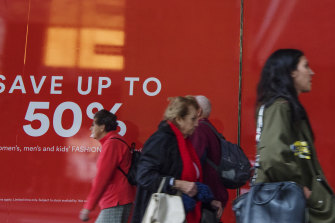 It took annual growth up to 2.3 per cent, the highest rate since mid-2019 but well short of inflation over the same period which hit 3.5 per cent.
Since the 2019 election, inflation has outpaced wage growth by 0.8 per cent – the first time this century that real wages have fallen during a parliamentary term. In the 2016-2019 federal parliamentary term, real wages grew by 1.2 per cent. They rose by 2.9 per cent between 2010 and 2013 after having jumped by 3.8 per cent under John Howard's 2004-07 term.
Wages have failed to outpace inflation for six of the last eight quarters. A record fall in inflation during the three months to June 2020 was due to free childcare, free pre-school in some states and a decline in petrol prices as households were stuck in lockdown due to COVID-19. Without these price falls, inflation would have risen 0.1 per cent.
An exclusive survey for The Sydney Morning Herald and The Age this week found 43 per cent of voters believe their incomes will stay steady in nominal terms this year but fall after taking inflation into account. The Resolve Political Monitor further found another 10 per cent expect to earn less because they will work fewer hours or have their pay cut.
The ACTU seized on the figures, saying over the past 12 months the gap between inflation and wages growth meant a person on an income of $68,000 had suffered an $832 pay cut.
ACTU secretary Sally McManus said workers were facing the largest cuts in real wages in more than two decades.
"Instead of supporting workers who have put their health at risk to carry this country through the pandemic, Prime Minister Scott Morrison is watching on while wages are going backwards," she said.
But Australian Chamber of Commerce and Industry chief executive Andrew McKellar warned any push for an "unsustainable" increase in pay rates at the upcoming national wage case would hit the viability of businesses and employment.
"It's critical that increased productivity drives wages growth in 2022. The reality is our productivity performance remains concerning. Until we improve our economic efficiency, we won't see the stable and sustainable increase to wages the community expects," he said.
Wages rose by 0.7 per cent in both the private and public sectors. Annual private wage growth remained steady at 2.4 per cent while the public sector annual rate rose to 2.1 per cent from 1.7 per cent as a series of state government wage freezes came to an end.
The fastest-growing sector for wages was in accommodation and food services, up by 3.5 per cent over the past 12 months, but this was largely due to last year's minimum wage increase that kicked in for this sector in the December quarter.
Wages in construction rose by just 0.4 per cent in the quarter, taking annual growth down to 2.4 per cent. It had been 2.6 per cent.
Across states and territories, private wages are growing at 2.5 per cent in NSW and at 2.4 per cent in Victoria. Tasmania remains the state with the strongest wage growth, up 3.2 per cent for the private sector over the past year while public wages are up by 2.6 per cent.
Australian Industry Group chief executive Innes Willox said low wages growth over the past two years had helped the recovery in the jobs market.
"As a result, we have seen more jobs created and a significant increase in household incomes for people who otherwise would not have found a job or would not have been offered more hours of work," he said.
The debate about cost of living pressures is expected by both the government and opposition to dominate the coming federal election campaign.
Shadow treasurer Jim Chalmers said the ABS figures confirmed that even as the economy recovered from the COVID-19 recession, real wages were going backward.
"Wages growth has been at or near record lows for much of the Liberals' decade in office," he said.
Financial markets, which had been pricing in more than a full percentage point increase in official interest rates ahead of the wage data, slightly wound back expectations.
KPMG senior economist Sarah Hunter said the figures would force the Reserve Bank to hold back an early lift in interest rates.
"Although the pace of growth has picked up, the RBA board is likely to flag that an annual pace of growth of 2.3 per cent is still well below the rate it wants to see before beginning to raise the cash rate – at the moment the average worker is experiencing declining real wages," she said.