Scott Morrison has backed Tasmania's bid to host the 5th Ashes test, as WA will lose their test match due to border closures.
"As for the fifth Test, I'm in the Tassie camp. I think it would be great to see Tasmania share in this Ashes series," said the PM.
Related Tasmania: Party in the Apocalypse, pushed back
Related Attractions: Sydneys best dog-friendly venues
from the courier mail 8.12.21
Prime Minister Scott Morrison has thrown his heavyweight support behind Hobart to clinch cricket's fifth Ashes Test.
Cricket Australia has put the Test out to market after it was taken off Perth due to border closures, and the NSW and Victorian Governments are set to come in with multimillion-dollar plays to secure a second Test for the summer in their marquee markets.
Tasmania had a Test taken off them at the start of the summer through no fault of their own, due to the cancellation of a match against Afghanistan due to the women's rights issues in that country.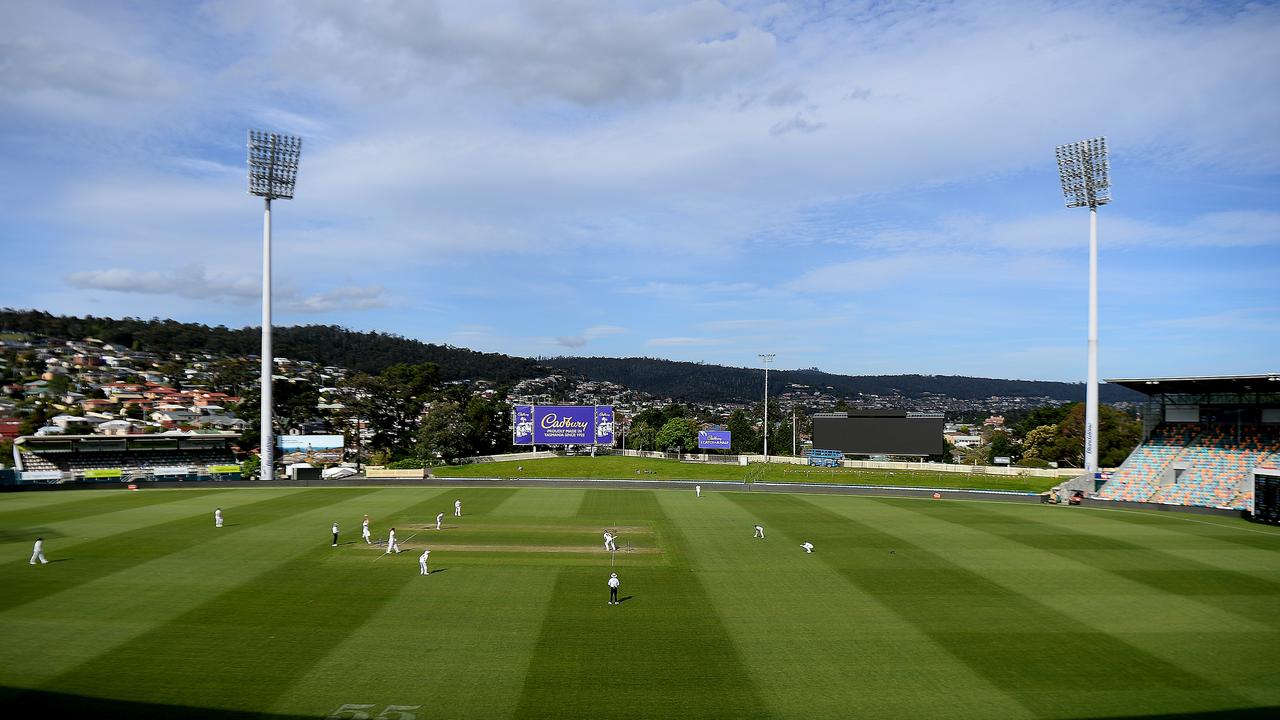 Scott Morrison has backed Hobart's bid to host the fifth at Blundstone Arena. Picture: Steve Bell/Getty Images
PM Morrison declared he is behind Tasmania's David versus Goliath bid to knock off the big markets of Sydney and Melbourne.
"As for the fifth Test, I'm in the Tassie camp. I think it would be great to see Tasmania share in this Ashes series," said the PM.
"The reasons for not going to Perth are well understood. I'm looking forward to the Sydney Test, I'm looking forward to the Adelaide Test, and of course looking forward to the Brisbane Test and the Melbourne Test … and for there to be one in Tassie i think would be great.
"Particularly as there was the Afghanistan Test which obviously didn't proceed for clear reasons. I know they'll put on a great show and it'd be great for Tasmania."
It's understood Tasmania are still favourites despite broadcasting to be easier for Fox Cricket and Channel Seven if the match were hosted at the MCG or SCG.
FIFTH TEST SHOULD GO TO 'THE BEST CITY IN AUSTRALIA'
By: Ben Horne and Peter Lalor
Sydney boy Pat Cummins has reminded Cricket Australia bosses that the bidding war for the fifth Ashes Test has to be about much more than money.
Cummins did not offer an opinion on who should host the series finale, but said the fact CA has officially declared it to be a day-night Test means the most basic ingredient of all – the pitch – must suddenly be a crucial factor in the decision.
As cashed-up heavyweights the NSW Government entered the fray in a bid to play historic back-to-back New Year's and pink ball Tests at the Sydney Cricket Ground, Cummins conceded that while his heart says SCG, he has found the venue "low and slow" and tough going as a fast bowler in recent years.
The NSW, Tasmanian, Victorian, South Australian and possibly ACT Governments are now all vying for the right to host the fifth Test – with $5 million seen as the ballpark asking price. Tasmania are still regarded as favourites.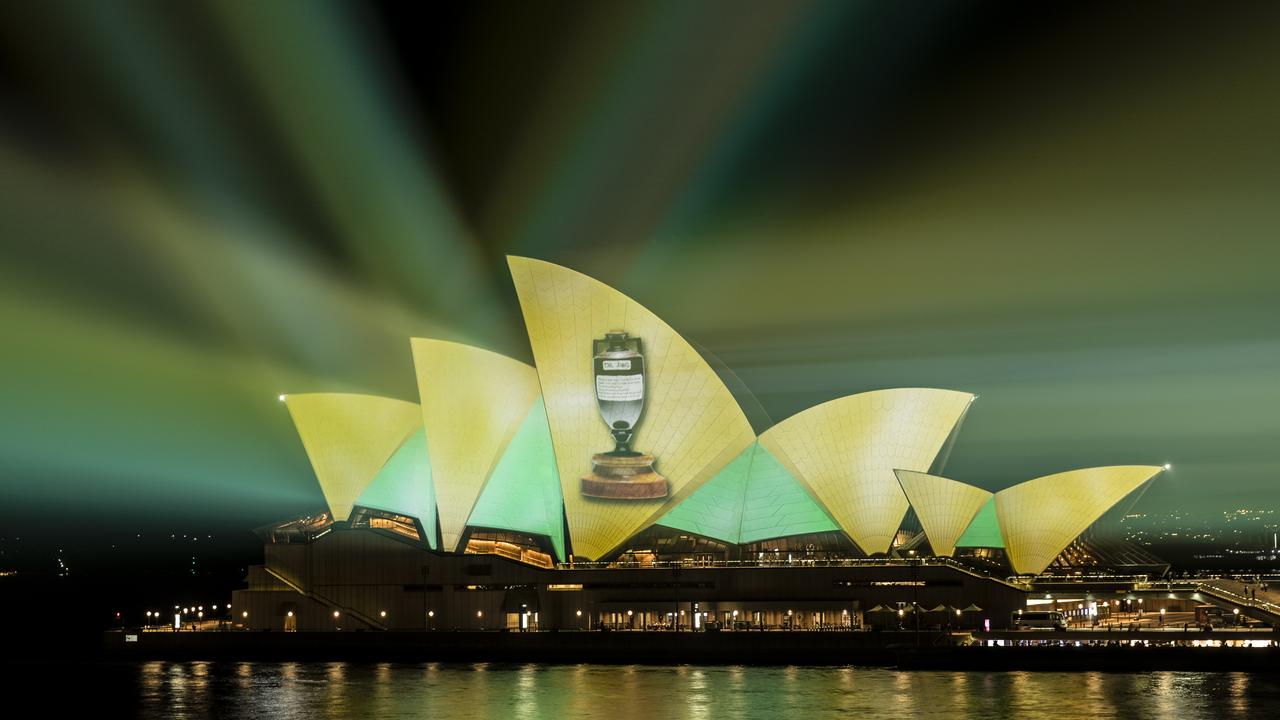 Sydney is pushing hard to host two Ashes Tests this summer. Picture: Brook Mitchell/Getty Images
Experienced SCG curator Adam Lewis is adamant Sydney can produce a pink ball pitch that sings for Cummins and his quicks just four days after a different strip would have hosted the fourth Test.
"We'd keep more grass on the pitch for the first day of a pink ball Test like they do at Adelaide and it'd be a little firmer than normal, with early bounce," said Lewis.
"The Sydney humidity will see the ball move around, especially as the sun sets and then night falls."
The bidding war is being viewed as a battle between financial heavyweights Sydney and Melbourne who can promise big crowds up against Hobart, who have not hosted an Ashes Test ever before and are desperate for a marquee event to enrich its cricket community after regularly being overlooked by Cricket Australia.
It's understood CA deep down has wanted to go to Tasmania, but in the midst of a Covid financial crisis, also need the game to be a money spinner. Broadcasters would prefer the match be in Melbourne or Sydney.
A key part of the SCG pitch being driven by NSW Premier Dominic Perrottet is that Sydney is the safest bet logistically – given the teams will already be in the Harbour City and the state government has a proven record of staying open in the pandemic.
The five prerequisites for hosting the match include being capable of hosting a day night Test and commercial considerations.
Venues NSW chair Tony Shepherd is working closely with the state government to give the SCG the chance to host back to back games.
"We are confident we can get a big crowd and that a day night match would be a brilliant event at the SCG," he said. "The broadcasters and everybody else would already be set up here so it would save a lot of expense and effort.
"I don't want to be boastful here, but Sydney is the best city in Australia so why go anywhere else?"
Victoria are also prepared to go big, wanting to create a festival to lead into the Australian Open tennis which starts on the second last day of the Test – and pushing a belief the people of Melbourne would flock to a second summer Test more than Sydneysiders.
Tasmania don't want to be bullied by the big boys.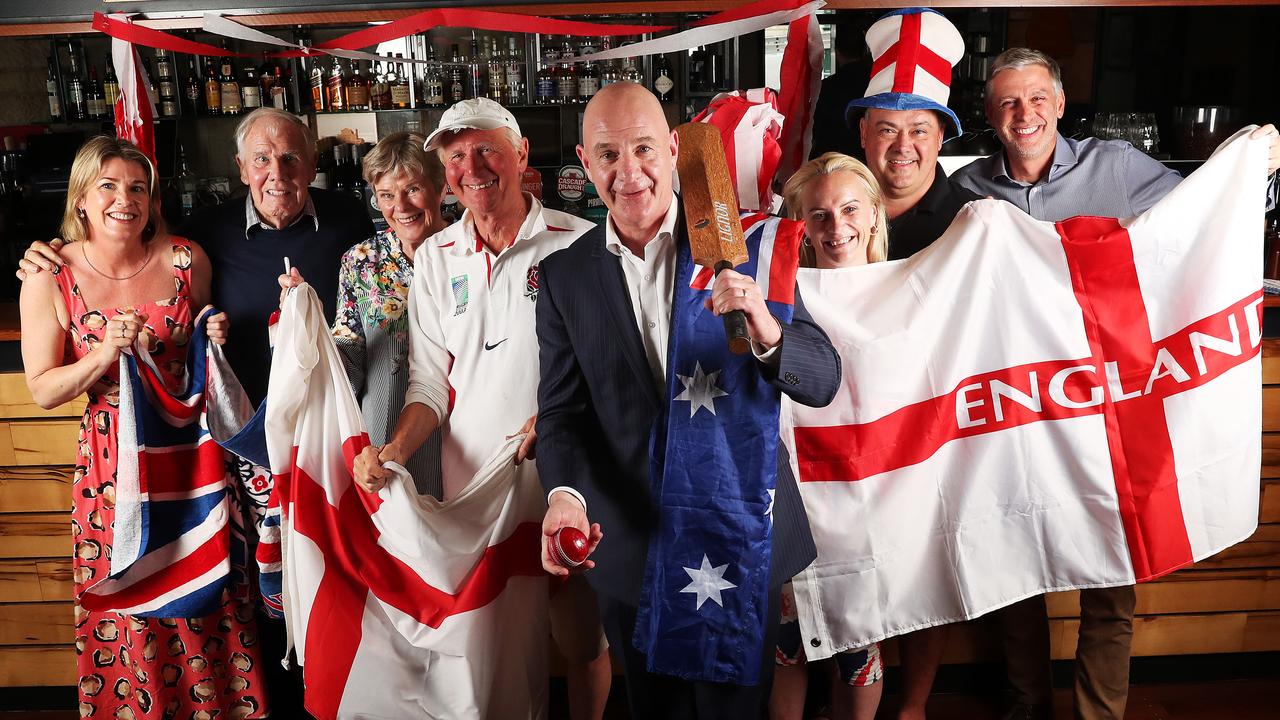 Tasmania Premier Peter Gutwein is pushing hard for the Ashes Test.
"We are now in an arm wrestle, the game's on," said Tasmanian Premier, Peter Gutwein.
"I want to say very clearly to CA … I hope you will work with us to make history and not fall for whatever's been put up by the larger states. They've had Ashes Tests played ad nauseam in those states, don't double up, and don't give Melbourne or Sydney a second Test."
Cummins reinforced that the standard and watchability of a pink ball Test relies on the quality of the pitch, a factor which could bring Adelaide into the conversation as the under lights specialist venue.
"At times in Sheffield Shield cricket, if the wicket is not quite right then you can see some long, slow pink-ball matches," Cummins told reporters in Brisbane.
"If it's a pink-ball match and they get the wicket right, no stress
from us (wherever it is played).
"Adelaide have really nailed the wicket (for day-night Tests).
" … my heart is saying yes (to Sydney) but my head (says) we've had some not so great experiences over the last couple of years, especially as a fast bowler it can get pretty low and slow. Really we don't have any preference, that's the honest answer."
$1 MILLION PITCH: BIDDING WAR IGNITES FOR ASHES TEST
Ben Horne and Brett Stubbs
Tasmania could be prepared to pay up to $1 million a day for the fifth Test as Cricket Australia sets up the prospect of a bidding war between Hobart and the MCG.
Perth was slam dunked out of the Ashes on Monday, as Cricket Australia officially stripped them of the fifth Test and South Australia issued a blunt "hands off" following an audacious 11th hour WA Government bid to steal the second Test from Adelaide instead.
Tasmanian officials believe an announcement about the new fifth Test venue could come as early as Wednesday, although Cricket Australia sources believes the process of locking in a new host city could take more than a week.
For the second summer in a row Perth won't be hosting a Test match.
Hobart are still understood to be favourites to secure a historic Ashes Test, with Melbourne (who are already hosting the Boxing Day Test) their only rival at this stage.
But sources say CA is determined to turn the late schedule change into a revenue making opportunity by taking the Test to market.
The Tasmanian Government has paid $500,000 for an AFL match in the past and it's understood they could be willing to go up to $5 million or beyond to secure the Test – although a source said what the state would offer to host a Test would be "very much subject to negotiation."
Tasmania are imploring Cricket Australia decision-makers not to be tempted by the deep pockets of the Victorian Government.
"The news that Western Australia has officially been ruled out of hosting the fifth Ashes Test now fully opens the door for Cricket Australia to award Hobart the Test," said Tasmanian Premier, Peter Gutwein.
"Hobart has only been allocated 13 Tests in the 32 years since hosting our first Test and Cricket Australia should now act in the best interests of the country, make history and award us our first Ashes Test.
" … Cricket Australia have a clear choice – they can make history in Hobart and do the right thing by the game or they can rinse and repeat in another state to the detriment of cricket lovers in Tasmania."
South Australian Premier Steven Marshall said it was his understanding Hobart would be taking the fifth Test.
"I think Cricket Australia has now determined the fifth Test will be down in Hobart and I'm sure that Premier Gutwein will be very, very happy about that," said Marshall.
Tasmania say they can host a day-night Test if that's what's required to convince broadcasters, who would prefer a prime time slot on the east coast following the cancellation of Perth.
Channel 7 and Fox Cricket would prefer the fifth Test was in Melbourne, as would the touring England team – but there is still a prevailing feeling Cricket Australia want to go to Hobart and do the right thing by their Federation model.
South Australia slammed the door shut on Perth's brazen bid on Sunday night to try and swap Tests with Adelaide in the knowledge that their fifth Test hosting rights were dead in the water.
The brazen last throw of the dice was based on the fact that the teams could get clear passage into WA from Queensland if Perth was to assume the second Test from Adelaide, taking out the strict border restrictions which have killed off the fifth Test.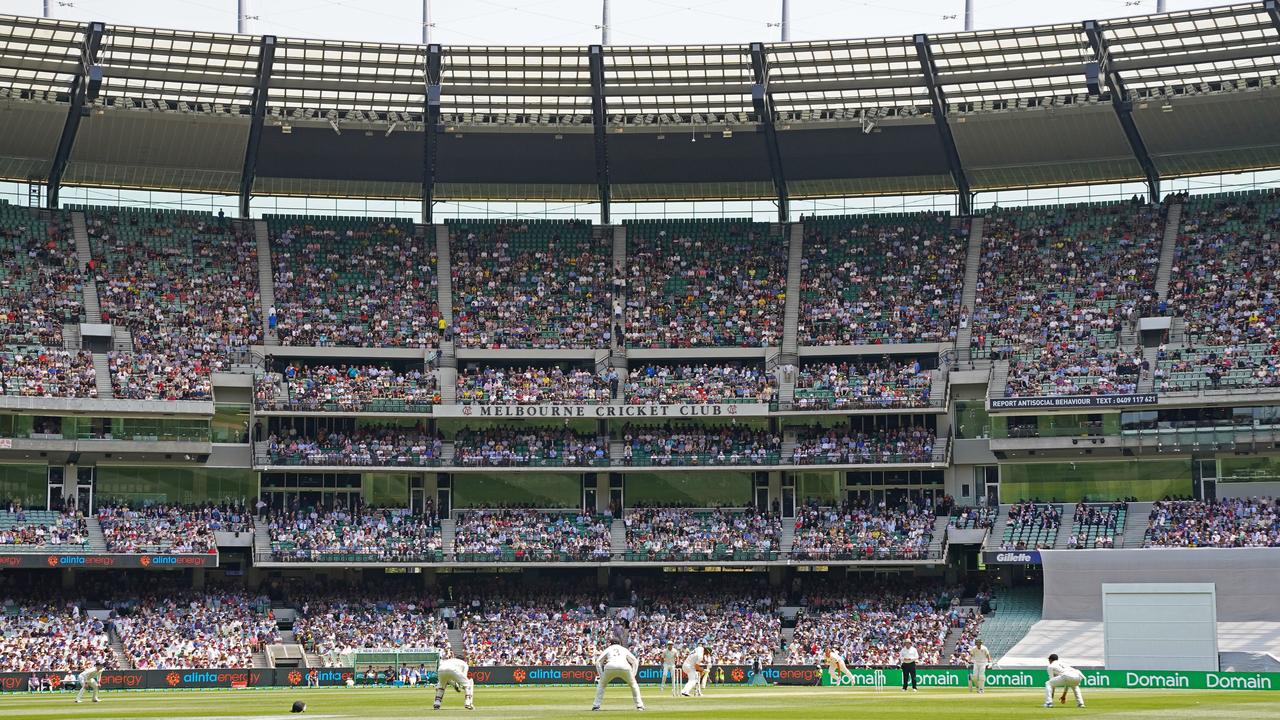 Could the MCG host two Tests this summer?
"The second Ashes Test will proceed at Adelaide Oval in ten days' time. There has been no suggestion that a schedule change for the Adelaide Test will be considered," said SACA acting chief executive, Jodie Newton.
Cricket Australia said it was with a heavy heart that Perth was canned.
"We did everything we could in partnership with the WA Government and WA Cricket to make it work under the current border and health arrangements, but unfortunately this was not possible," said CA chief, Nick Hockley.
WA officials are upset, adamant they were set up to fail in the schedule by being placed after a Test in Sydney which was always going to be the hardest for border crossing purposes.