England has confirmed that they will start the Ashes series in Brisbane with the Gabba test.
Related QLD: Industry condemns no jab, no dine, policy for QLD hospitality
Related Attractions: Family friendly transformation of Waggon and Horses
from daily telegraph 19.10.21
England has declared its commitment to starting the Ashes in Brisbane, ignoring pleas to abandon Queensland due to border restrictions.
NSW's landmark announcement last week that quarantine would be scrapped for all international arrivals from November 1 prompted former Test stars and media commentators to, almost on behalf of England, launch a campaign for the first Ashes Test on December 8 to be shifted to Sydney.
But despite months of conjecture over whether the tour would even go ahead, England has elected to start the Ashes with a gesture of goodwill by turning its back on freedom in NSW and agreeing to back Cricket Australia's schedule to save the Gabba Test.
Catch all the ICC T20 World Cup action live & exclusive to Fox Cricket, available on Kayo. New to Kayo? Start your free trial today.
All it would have taken was for England players to kick up a stink and Cricket Australia would have had almost no choice but to bow to pressure and move the Test to a city like Sydney or Canberra where players could arrive and prepare without restriction.
But in a significant act of good faith, England players have reaffirmed their willingness to submit to two weeks quarantine on the Gold Coast, turning their back on the temptation to roam free in NSW upon their arrival in early November.
An ECB spokesman told News Corp that team England's plans to quarantine in Queensland remained on track and would not be changing.
The commitment provides further certainty for the summer and silences the wave of calls for Brisbane to be punted from the calendar.
"With NSW looking like the State who now realise we have to learn to live with the virus it makes total sense to start the Ashes in Sydney," tweeted former England captain and Fox Cricket expert on his way to Australia to commentate the series, Michael Vaughan.
"Why put players/broadcasters through quarantine when NSW look like double vaccinated non positive tested people won't have to?"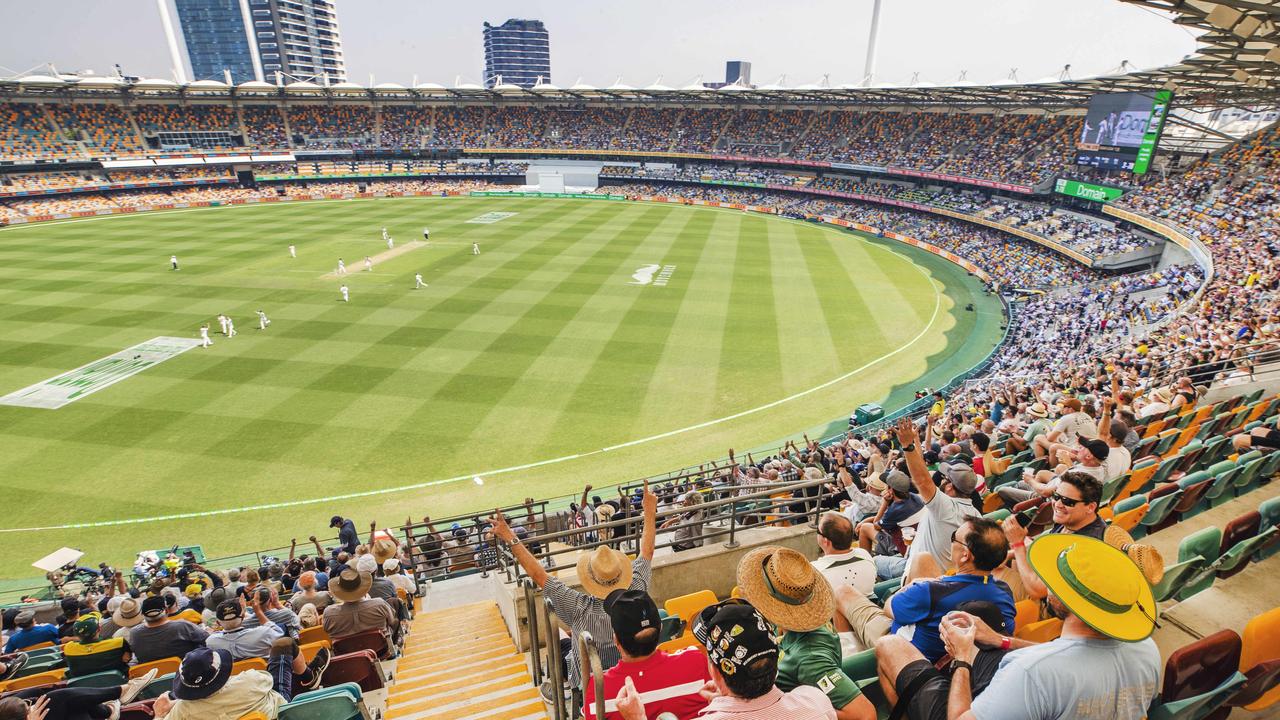 England could have forced Cricket Australia's hand and had the match moved to Sydney, but the Gabba Test will go ahead as planned. Picture: Lachie Millard
It was a concept endorsed by Australian legend and fellow Fox Cricket star Shane Warne as well as other prominent voices out of the UK.
The Queensland Government announced a road map to easing restrictions as the state approaches the 70 and 80 per cent vaccine milestones, however, at this stage these breakthroughs look like coming too late for the Ashes.
Certainly, with England due to fly on November 4 they will have to quarantine in Queensland for two weeks.
However, it's understood Joe Root's team will receive quarantine conditions as conducive as possible to preparing for a major Test series, and team officials may actually feel a forced two week camp could help them focus on the task ahead.
It's understood after a period of strict isolation, England will be permitted to train and play tour matches against a travelling Lions team during their two week quarantine stint.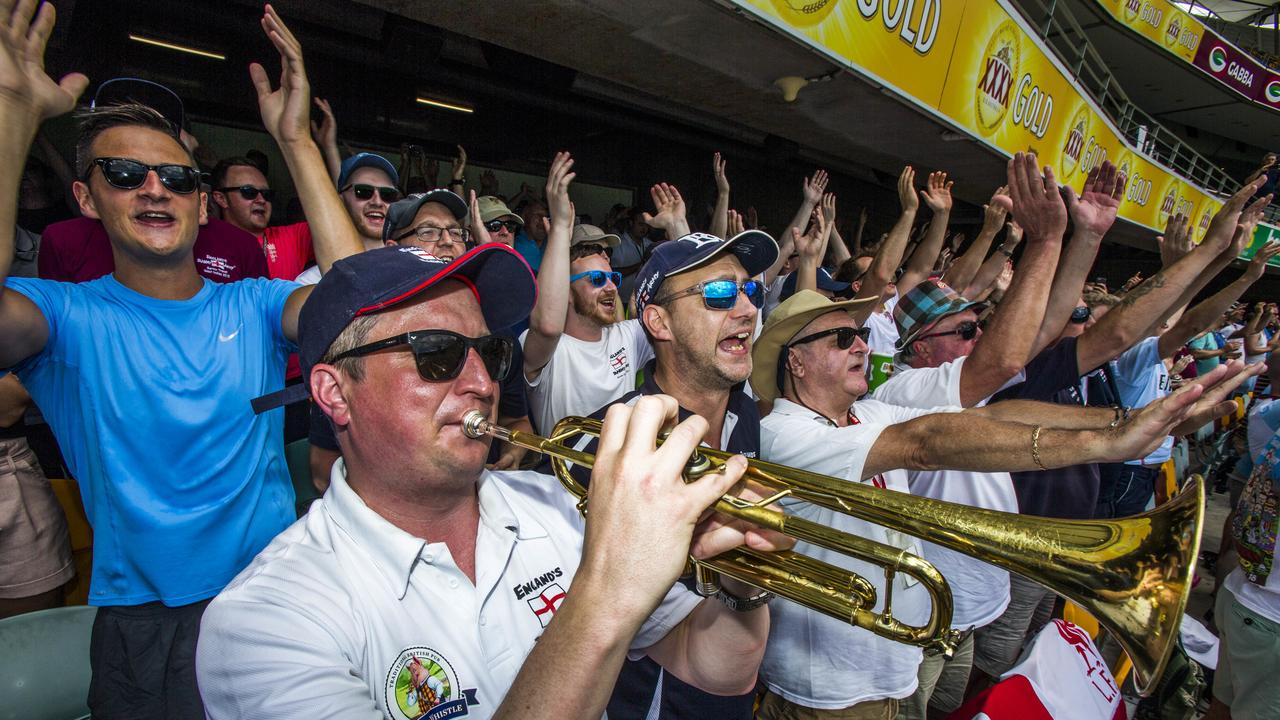 Joe Root's team are set to be forced into two weeks quarantine in Queensland, but the Gabba Test will go ahead.
There may also be certain freedoms allowed around their resort such as using gym and pool facilities.
It's been reported Root personally held discussions with Queensland officials to ease his mind that quarantine conditions wouldn't be too oppressive of players travelling with young families.
England's commitment to quarantining in Brisbane to guarantee the first Test stays in Brisbane may go a long way to allowing most of Cricket Australia's schedule can proceed as planned.
Adelaide, Sydney and Melbourne should have no obstacle based on the talk coming out of those respective state Governments, leaving the fifth Test in Perth as the Test in serious doubt of being moved.
Cricket Australia boss Nick Hockley is confident Perth will go ahead, but that might be dependant on England players again agreeing to submit themselves to a bubble at the back end of a long tour.
BARMY ARMY'S BRAZEN PLAN FOR ASHES INVASION
As if the Covid world isn't Barmy enough, England's fanatical group of cricket supporters are planning a brazen swoop on Australian shores for the Ashes.
The 'Barmy Army' is ready to mobilise its troops the moment Prime Minister Scott Morrison gives the green light for international borders to reopen to tourists, with upwards of 1500 members sweating on a last gasp opportunity to infiltrate Australian cricket grounds this summer.
Indications that Victoria will soon follow NSW into abolishing quarantine for international visitors opens up the possibility the Barmy Army could arrive in time for the Boxing Day Test in Melbourne, the New Years' Test in Sydney and potentially the fifth Test, should it be shifted from Perth to the east coast.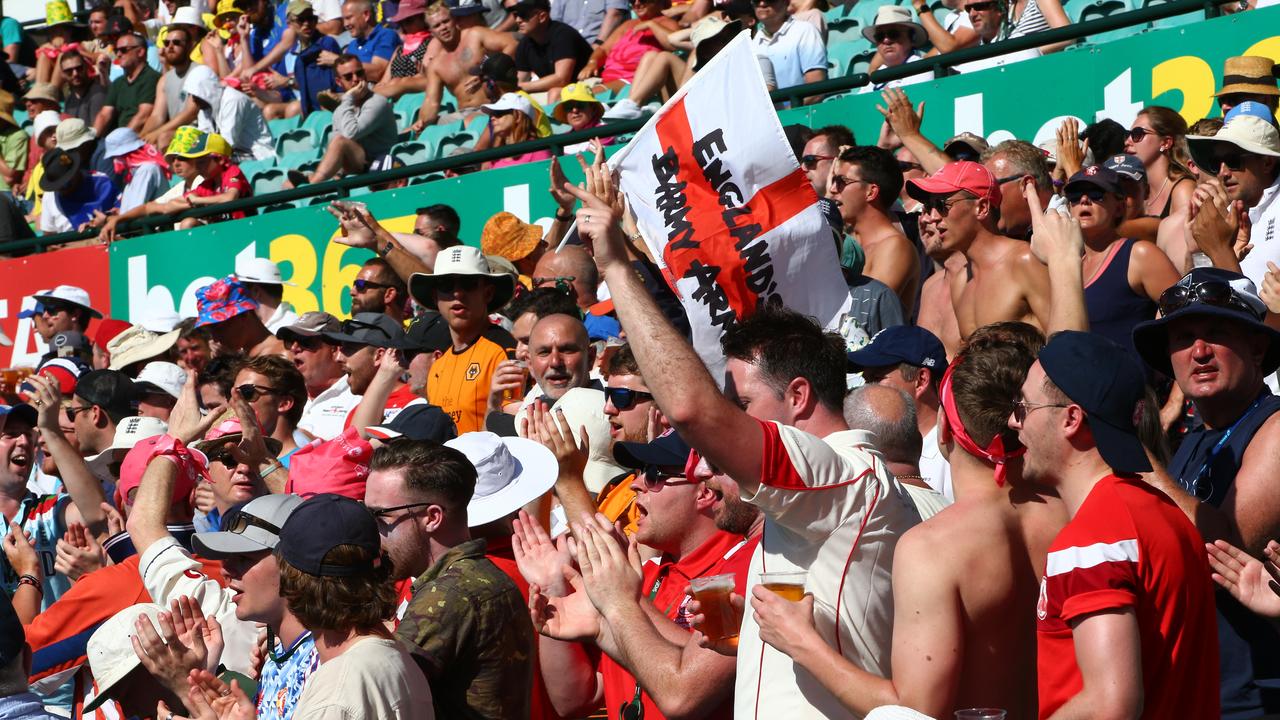 England's Barmy Army supporter group could still make their way to Australia this summer. Picture: Damian Shaw
Barmy Army co-founder Paul Burnham said the fan group already has a Plan B in place with local English fans ready to snap up tickets in each city and represent the old country.
But the real cavalry is poised for a late mission to help England through an Ashes where the odds are already stacked against them.
"There is already a lot of locals ready to proactively support the England cricket team but yes, if there is any chance for our members to get over to Australia then we will of course try," Burnham told News Corp.
"Hopefully the high speed which the Government are moving in Australia will continue and we can get over and support Joe Root and his team.
"After all the negativity with Covid that would be amazing."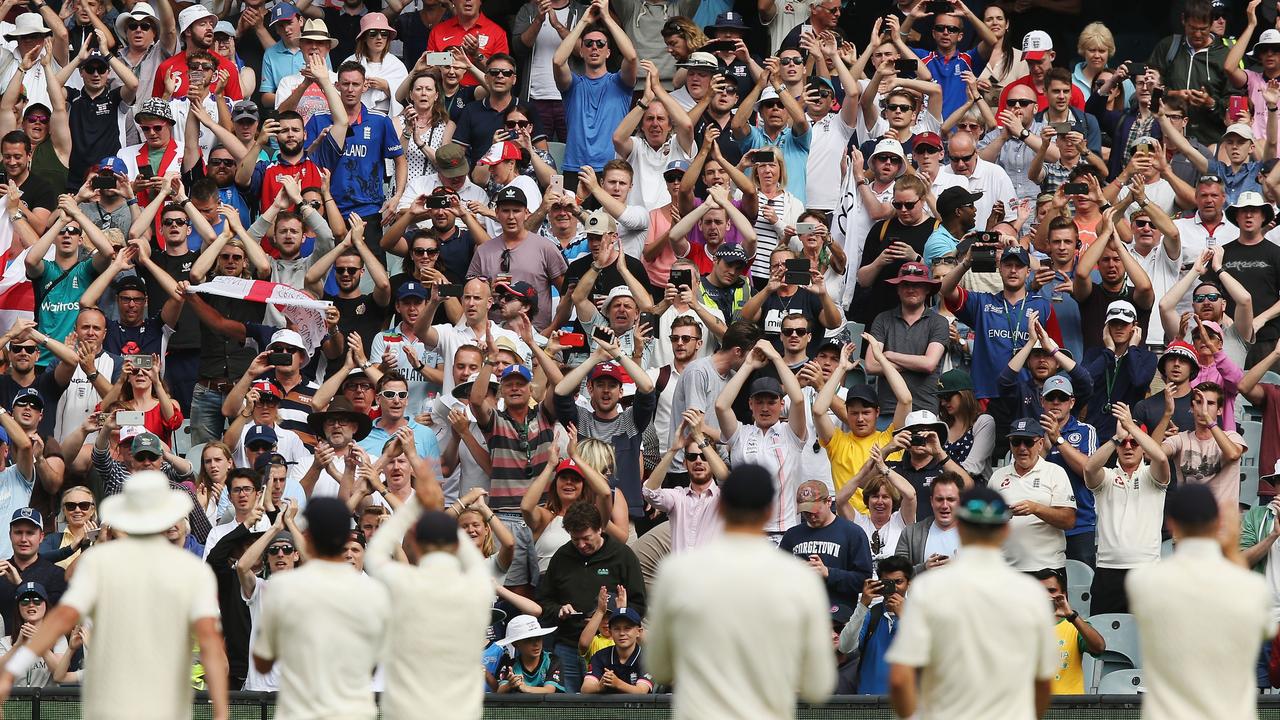 England players thank the Barmy Army for their support during the 2017/18 series. Picture: Getty
Initially NSW had tried to announce borders were open to tourists, but the Prime Minister quickly came in over the top and declared Australians wishing to return home would have right away when quarantine is stopped and flights increase from early November.
The Daily Mail UK reported that over 15,000 England supporters are on the waiting list for travel packages to Australia this summer, although Burnham said the more likely cohort would be 1000-1500 should borders open in time for the Melbourne or Sydney Tests.
After nearly two years of playing overseas with no supporters, England's Barmy Army will have a presence at this month's Twenty20 World Cup in the UAE and are desperate to get to Australia.
Already, the Barmy Army has tried to taunt Tim Paine about his career on social media, however the Australian captain returned fire, declaring that at least he'll always have more runs than the sunburnt English fans in the bleachers.
If borders are reopened Australians could be competing with the Barmy Army for available seats to get home for Christmas.
But their arrival would be keenly accepted by the England team, after Test great Geoffrey Boycott warned of how overwhelming and intimidating Australian crowds can be for touring sides.
Even if the borders don't reopen in time, it's understood the Barmy Army would anticipate upwards of 800 local England fans would front up for each day of the Ashes summer.