Ardent Leisure's negligence isn't criminal under Queensland law. The Coroner found much negligence, none of it illegal under criminal law, and only $3.6m-worth under WHS law.
Good tourism operators go to great lengths and expense to train staff and implement processes that ensure the safety of patrons. It's disturbing to hear that Dreamworld, who were serving thousands of tourists a day, have been charged with only a $3.6m fine after the deaths of four people on 25th October 2016.
In WHS training, Australian trainees are taught that one forseeable paper cut implies more culpability of management than a death that could not have been seen coming. In the case of Dreamworld, multiple outrageous training failures were brought to light with the death of four people in 2016. An emergency stop button that was not known to exist by two workers was the smallest but perhaps most crucial of the systemic safety failures.
Dreamworld got off lightly because they weren't criminally negligent under Queensland's Criminal Code Act 1899. Yes, that act was legislated in the year eighteen-ninety-nine. It says on page nine of the Queensland Coroner's Inquest into the deaths:
"The scope of the QPS investigation was twofold. Firstly, to determine whether there was any criminal negligence or criminal responsibility under the Criminal Code 1899, and also to identify, report and obtain evidence, which could assist the South Eastern Coroner in his investigation of the incident, establish a cause of death, make the requisite findings under the Coroners Act 2003 and identify any possible preventative recommendations."
So, because Dreamworld weren't criminally negligent under a law established in 1899, and the national legislation covering WHS wasn't built with scope for such obvious, large scale negligence that protects tourists (rather than workers aka 'PCBUs'), four families have been left without mothers, sisters, brothers and sons, including a young daughter of one of the women who was at the event. No-one will be held responsible for these extreme safety failures at one of Australia's best known tourism attractions.
Whilst other operators bust a hump protecting patrons under the apparently toothless-at-scale ($3.6m fine for four deaths) nationally-harmonised WHS law of 2011, Ardent Leisure (market cap in 2020 $242m) will walk away.
The Tourism News, 29th Sep 2020
Dreamworld families detail heartbreak and loss in court hearing
A $3.6 million fine and a conviction against Ardent Leisure over four deaths in a "dreadful and unspeakable" incident at its theme park Dreamworld have concluded a four-year legal process since the tragedy.
But it was made clear on Monday that, for the families of Canberra resident Kate Goodchild, her brother Luke Dorsett, his partner Roozi Araghi and Sydney woman Cindy Low, the grief will continue.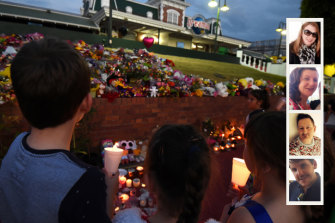 All four died in a horrific incident on the Thunder River Rapids Ride at Dreamworld on October 25, 2016, when a water pump failed, triggering a sequence of events in which their raft collided with another and overturned into the moving conveyor belt.
Coroner James McDougall handed down a scathing 300-page inquest finding earlier this year, referring Ardent Leisure back to the Queensland Office of Industrial Relations for potential prosecution.
The department laid three charges against the company, each with a potential fine of $1.5 million for a total of $4.5 million.
Ardent Leisure pleaded guilty and made a full apology to the victims' families during Monday's sentencing hearing at Southport Magistrate Court.
Southport magistrate Pamela Dowse convicted the company and issued a $3.6 million fine, saying the company had had ample opportunity to solve serious risks on the ride before the "dreadful and unspeakable incident".
The magistrate listened to harrowing victim impact statements from the victims' families, including Kim Dorsett, mother of Luke and Kate.
Ms Dorsett was joined in court by granddaughter Ebony Turner, who as a 12-year-old was on the ride with her mother, uncle Luke and his partner Roozi, when the tragedy occurred.
"Ebony had survived the accident and was hysterical, trying to tell of the events that had taken place that afternoon," Ms Dorsett told the court.
"'I couldn't find Mummy.' These words have become a recurring nightmare. Words that will be with me until I, too, take my last breath.
"Grief is a lonely village to live in. It only takes a short length of time for the phone to stop ringing, people stop visiting, and friends and family move on."
Ms Dorsett said the impact of losing three children — "two who I gave life to, one who chose us to love him" — had left her with post-traumatic stress disorder and she had regularly attended counselling and psychologists since the tragedy.
"I believe these people are the only people I know who don't constantly remind me it's time to move on, or question how long it has been now," she told the court.
Each day I am disappointed that I have woken to another day in this hell.

Kim Dorsett
Prosecutor Aaron Guilfoyle read out victim impact statements from Cindy Low's brother, mother-in-law and aunt.
Brother Michael Cook told the court his life was happy and optimistic before the incident, as he and his partner were preparing to undergo IVF treatment to become parents. His sister's death derailed his life, leaving him a "shell" of his former self.
Rusted buildings brought back memories of his sister's last "horrific" moments, he said.
"I had to pull the pin on IVF as I felt it was the wrong time to bring a little human into the world, as I was going off the rails and turning into an angry, bitter alcoholic who could barely look after himself," Mr Cook told the court.
"This understandably led to the demise of our relationship and pulled me even deeper into the hold of depression where I have stayed, no escape at this point."
Dianne Bond, mother of Cindy's husband Mathew Low, told the court of the devastation Cindy's death had on her family, and her close personal friendship with her daughter-in-law.
"To lose her at this stage was far too soon," she told the court.
"Cindy and Mathew had decided to make their lives and future together in Australia, where unfortunately they did not have any immediate family support.
"I willingly adapted my life by visiting Australia many times since the incident to support Mathew, [grandchildren] Kieran and Isla as they make adjustments to their lives.
"… This has caused an immense emotional strain on me as I endeavour to adjust my life, not knowing when I might be required to travel to help Mathew, while at the same time trying to maintain a normal life in New Zealand."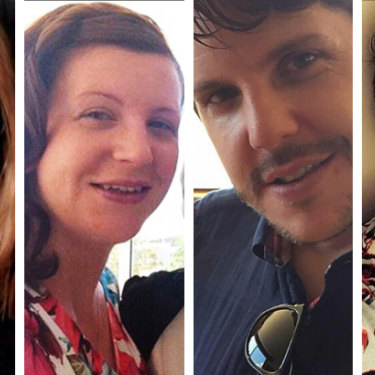 Cindy's aunt, Helen Cook, made a statement on behalf of the Cook family, saying their "emotions are as raw today as they were then".
"That Cindy died violently is unacceptable to us. Knowing her death could have been avoided is devastating and infuriating," she told the court.
"Grief is a tangible emotion we live with day in, day out. Cindy was such a gentle, happy person. We know nothing will bring her back and all we have left are precious, precious memories."
Listening to [Cindy's] voicemail messages means we can make believe she is still with us.

Helen Cook, aunt of Cindy Low
Mr Guilfoyle detailed to the court the sequence of events that took place on the day, from when the families first took their seats in raft five at the Thunder River Rapids Ride.
They were following raft six through the water ride, which had six people in it including other children, when the south water pump failed and water levels dropped suddenly.
Raft six, ahead of them, became stuck on the conveyor belt at the end of the ride leading to the unload area. Raft five came onto the conveyor belt and in just 11 seconds, collided with the raft in front.
The two rafts collided three times, and the conveyor slipped beneath raft five. As it kept moving, it pulled raft five down into the conveyor slats.
"It ripped pieces of fibreglass from the raft and shook it violently, causing Ms Goodchild and Mr Dorsett to fall from the raft," Mr Guilfoyle told the court.
"Miss Turner was held dangling in her seat by the velcro seat belt and Roozi Araghi and Cindy Low, who had been seated at the rear of the raft, were pulled into the moving components.
"At 2.05pm or shortly thereafter the conveyor began to slow down and it took eight seconds from the time it began to slow down to come to a complete stop."
The court heard that neither senior ride operator Peter Nemeth nor junior ride operator Courtney Williams knew there was a two-second emergency stop at the ride's unload area. It was not pressed.
Mr Guilfoyle told the court all four victims were dead when police arrived.
The magistrate, Ms Dowse, said the impact statements made clear the devastation the fatal incident wreaked on families and friends.
"Steps were available to lessen, minimise or remove the risk, and steps were not that complex or burdensome, and only mildly inconvenient, and really were inexpensive," she said.
Ms Dowse said in making her decision on the penalty, she considered general deterrence to be very important.
"The defendant operated the most iconic amusement park in the country," she said.
"It targeted and attracted families. Those who were at risk from its failures were guests at the park, including those who tragically lost their lives.
"Complete and blind trust was placed in the defendant by every guest that rode the Thunder River Rapids Ride, and those guests were extremely vulnerable."
In a statement after the sentencing, Mr Guilfoyle said the penalty "reflects the seriousness of the conduct of Ardent Leisure and the tragic consequences which flowed from it".
"I am conscious that no penalty can account for [the families] profound loss," he said.
"However, the penalty is significant, the largest fine in the history of WHS prosecution in the country."
Ardent Leisure chief executive for theme parks John Osborne made a statement outside court, saying the company offered an unreserved apology to the families and accepted full responsibility.
"It is impossible to comprehend how the families feel, and it was heartbreaking to hear their statements today and my thoughts and prayers are with them," he said.
Mr Osborne said Dreamworld had undergone "considerable change" over recent years, including a complete overhaul of safety processes and practices.
The construction of a memorial garden announced in February was put on hold due to COVID-19, he said, but would continue under consultation with the families.
Ardent Leisure is still facing several compensation claims over the incident.
Mr Osborne said most claims for families had been settled.
In an additional statement, Ardent Leisure said the company board "continues to press for the expeditious resolution of the remaining claims noting that, in the case of compensation for minors, the court's approval is required before compensation can be finalised".