Sydney's best dog-friendly venues have been found.
Venues include:
IIKO Mazesoba
Pier One
Elm Rooftop Bar (rooftop bar of The Taphouse)
The Erko (The Erskineville Hotel)
The Carrington (The Carro)
Dachshund Coffee
Baffi & Mo Espresso
EVH
Flour Drum
Bondi Beach Public Bar
Bopp & Tone
The Pawfect Cafe
Organica
Related NSW: Concerns over Sydney Airport takeover
Related Food: Where to eat and drink in Sydney
from daily telegraph 20.11.21
IIKO Mazesoba
Proud yet personable, the regal-looking Shiba Inu is a breed of hunting dog in Japan, and without doubt, if it was on the hunt for a special puppy Bento Box, it would lead you straight to IIKO Mazesoba in Haymarket.
Owner Michelle Widjaja, who has two dogs of her own, Azuki and Kumo, says: "Our mascot is the Shiba Inu because we love our dogs. So naturally, we don't only welcome pups, we also make sure that there is a dog menu. We also hold dog-friendly events and have supported organisations such as Pound Paws to help rehome Australian pets in pounds."
IIKO Mazesoba is a dog-friendly venue. Picture: Supplied
The special on the dog menu is IIKO Mazesoba x Naked Munch Pets: Doggie Bento Box & Beer, which is a Japanese lunch box-inspired selection of snack-sized puppy favourites such as Tebasaki (chicken wingtips), Surimi (pilchard fish balls) and fishy Saba skin (mackerel) along with the pet-friendly Pawroni beer.
It was just over two years ago, in an area brimming with bowls of ramen, Michelle opened IIKO Mazesoba in the dog-friendly Darling Square precinct and introduced Sydney to a new concept of a "dry" soup-less version of ramen, replacing clear broths with a concentrated sauce mixed from the bottom of the bowl on up.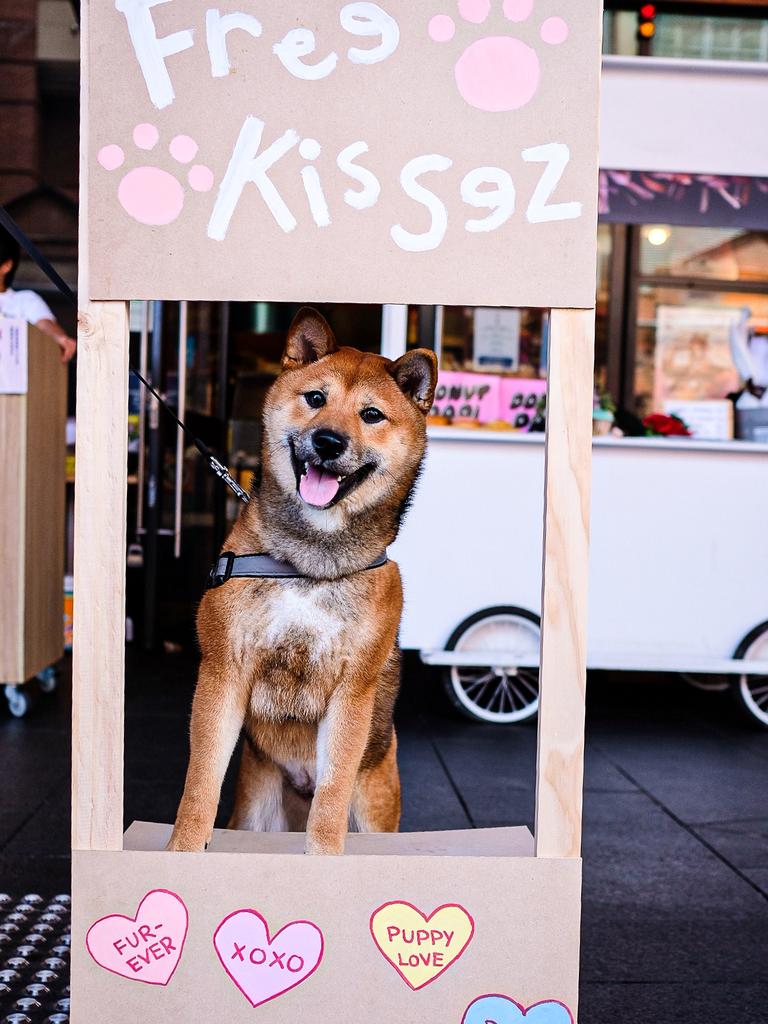 Grab some free dog kisses at IIKO Mazesoba. Picture: Supplied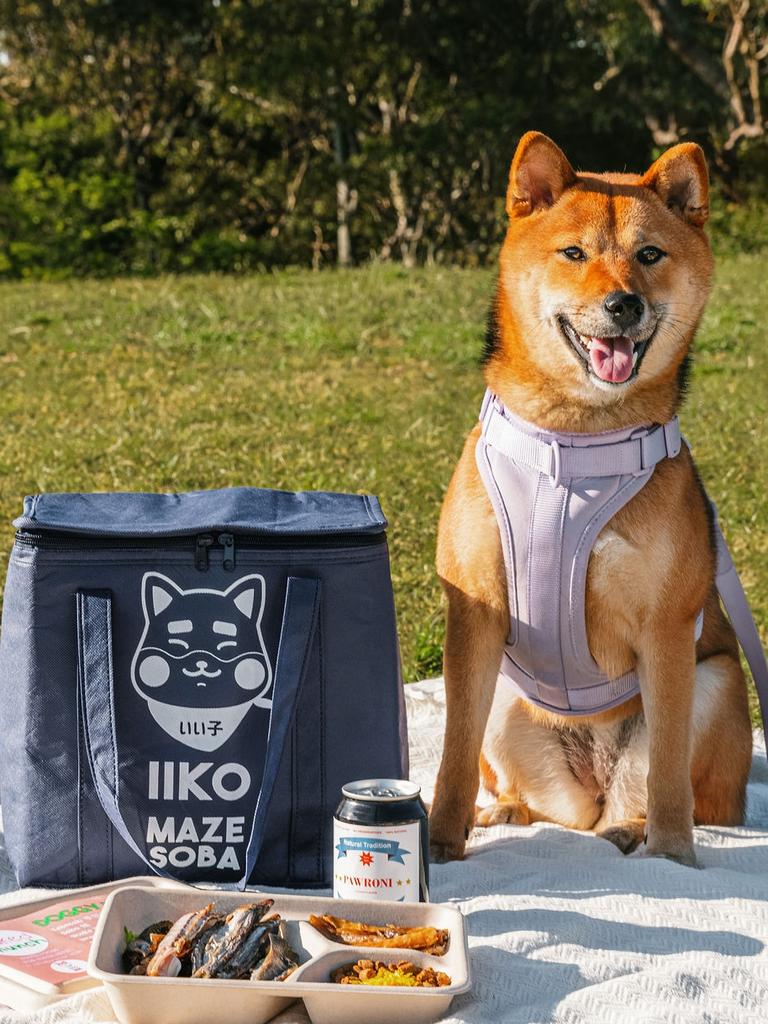 IIKO Mazesoba's Picnic at the Park. Picture: Supplied
The menu started small, but the thick noodles have been a big success with bowls ranging from Chicken karaage Mazesoba to Zenbu Mazesoba made with pork chashu and spicy pork mince as well as Wagyu steak mazesoba.
Keep a close eye on their calendar; once a month, Michelle partners with an artist and hosts Paint & Slurp sessions — dog-friendly art events where you can paint with your canine companion over a big bowl of noodles.
— SE13, 86 Hay St; mazesoba.com.au
Pier One
Big, small, long, or short – there are no limits at Pier One Sydney Harbour. Dogs of all shapes and sizes are welcome to experience fine dining – along with their owners, of course – prepared at the onsite hatted-restaurant The Gantry.
"We have always been a dog-friendly hotel, but in 2020 we removed our dog-size limit and welcomed dogs of all sizes," Kim Mahaffy, Pier One's general manager, says.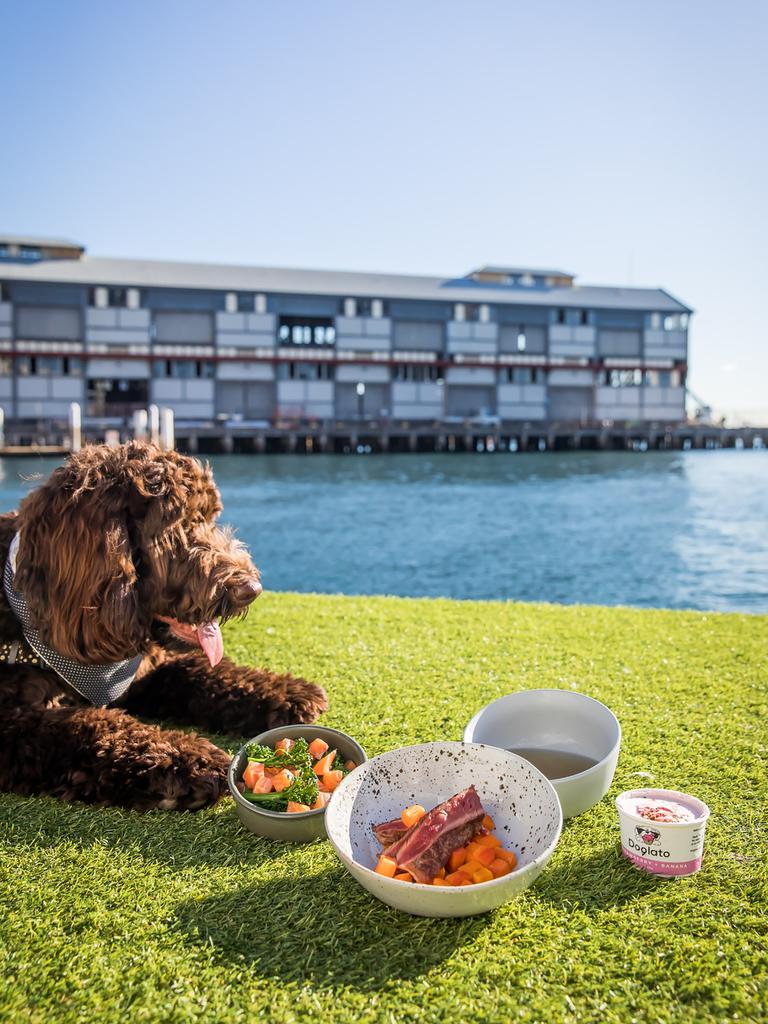 Mack enjoying the Doggie Degustation at Pier One. Picture: Anna Kucera
"Embracing the local travel trend of the past few years, we saw more people enjoying drive holidays which meant that they could holiday with their dog and avoid the stress of leaving their beloved pet behind."
Kim encourages a casual drink – or two – and a specially designed 'Doggie Degustation' menu for your furry friend.
"Our location on Sydney Harbour means we have stunning foreshore walks and parks in all directions, so it's truly a dog-friendly holiday with plenty of options for dog owners to enjoy when they step out of the hotel," Kim says.
"With pier access rooms and our stunning pier for onsite drinks and dining, we have the ideal location to welcome guests and their dogs to enjoy premium cocktails and food outdoors next to the water. We listened to guests and launched doggie degustation dining in The Gantry Garden area, which took our dog experience to the next level."
Now that we're able to get out and about, why not hang out for the weekend treat your bestie to the Puppy Package, an overnight stay in a Water View Room with a doggie-welcome amenity on arrival, the use of a premium Furf food and water bowl and luxury, eco-friendly P.L.A.Y. dog bed during your stay.
Good luck keeping your canine companion away from the in-room doggie minibar and doggie dining menu.
— Pier One Sydney Harbour, 11 Hickson Rd, Walsh Bay; pieronesydneyharbour.com.au
Elm Rooftop Bar (rooftop bar of The Taphouse)
Question one: which Sydney bar stumps up for the first beer if you bring your pup to their trivia nights on Mondays? Answer: The Elm Rooftop Bar in Darlinghurst.
"The dog-friendly policy at Elm Rooftop Bar is simple; dogs are allowed everywhere in the venue – even on the seat at the table with you," Taphouse owner Joshua Thorpe says.
"We've been a doggie friendly venue since I bought the pub nearly five years ago. I absolutely love dogs and know they are a part of the family, so there's no reason why they shouldn't be able to go everywhere with their parents, including trivia after the pub."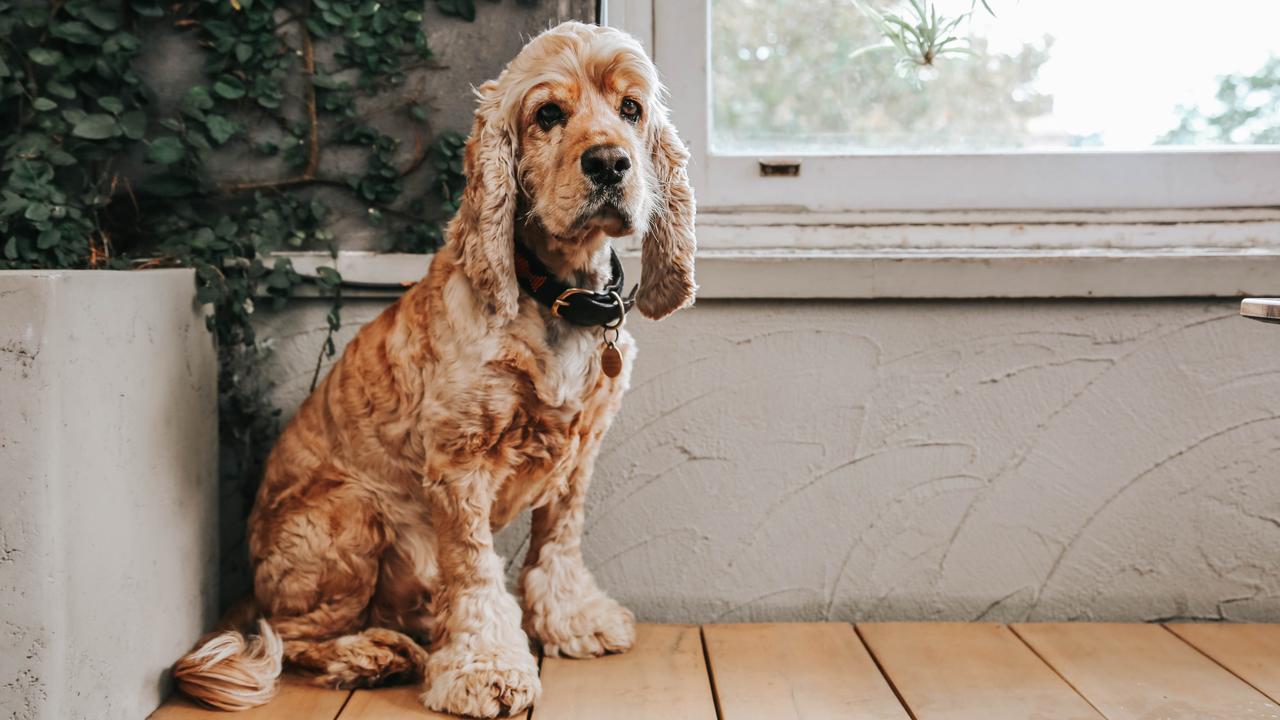 Head to the Elm Rooftop Bar for some Doggo Rooftop Trivia. Picture: Supplied
Every Monday is Doggo Rooftop Trivia at Elm Rooftop Bar, and it's fair to say your four-legged companion might not answer too many questions, but they do score you a free beer just for bringing them along.
The "people food" is also something to howl about, mainly the pub deals including $12 cocktails and $15 schnitzels.
The Taphouse is known for its Sunday roasts and craft beer selection (60 on tap), but head chef Axel Chilton has added an in-house smoker for his new Texas-style smokehouse menu, including the Andouille dog with housemade Andouille sausage.
"My grandfather's southern-American roots influenced my style of cooking growing up, and in combination with my Canadian upbringing, I've cultivated a unique style of southern American BBQ with a touch of Canadian flair," Axel says.
The low and slow meats are a must, there are vegetarian options such as peach-smoked corn "ribs" make sure everyone gets a taste.
— 122 Flinders St, Darlinghurst; taphousedarlo.com.au
The Erko (The Erskineville Hotel)
It's been puppy love since day one at The Erskineville Hotel, affectionately known as The Erko.
"The Erko community has always been dog-friendly," general manager Steph Casarotto says.
"Dogs are a big part of the Erskineville area, and it wouldn't be right if dogs couldn't join their parents inside for a drink or a meal. They light up the room, and they make everyone happy; it's a no-brainer."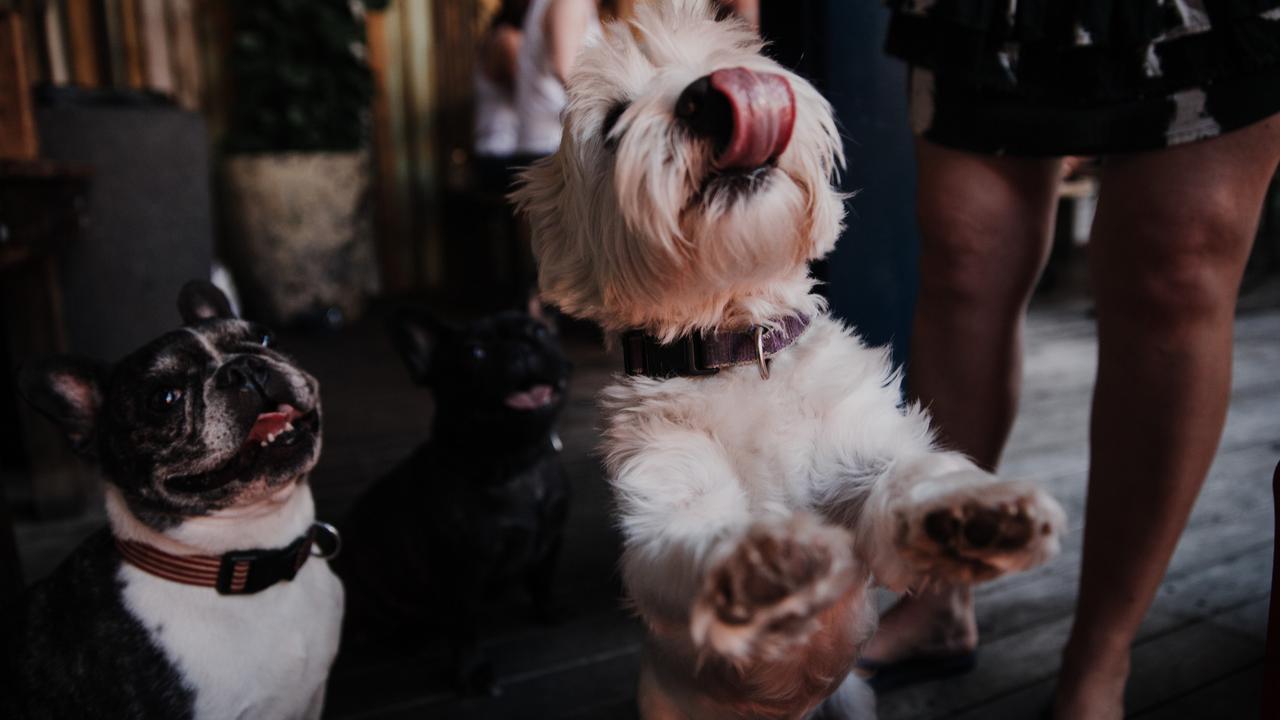 Some pups at The Erko. Picture: Oliver Minnett
The Erko is a famous waterhole for people and puppies alike as the beer garden has plenty of water bowls along with well-stocked doggie treats behind the bar.
Walls filled with polaroids of dogs, and there is barely a table without a canine companion. There is plentiful pub grub on the people food front, including a Parmi & Pint for $30 every Tuesday night.
— 102 Erskineville Rd, Erskineville; theerko.com.au
The Carrington (The Carro)
Sit and stay at the Carrington for a long as you like, but you need to follow some essential rules or end up in the doghouse: All paws on the floor; all breeds must be on leads; if you bark, it's to the park; no passing the kitchen for those with fur, and take the side door, please concur.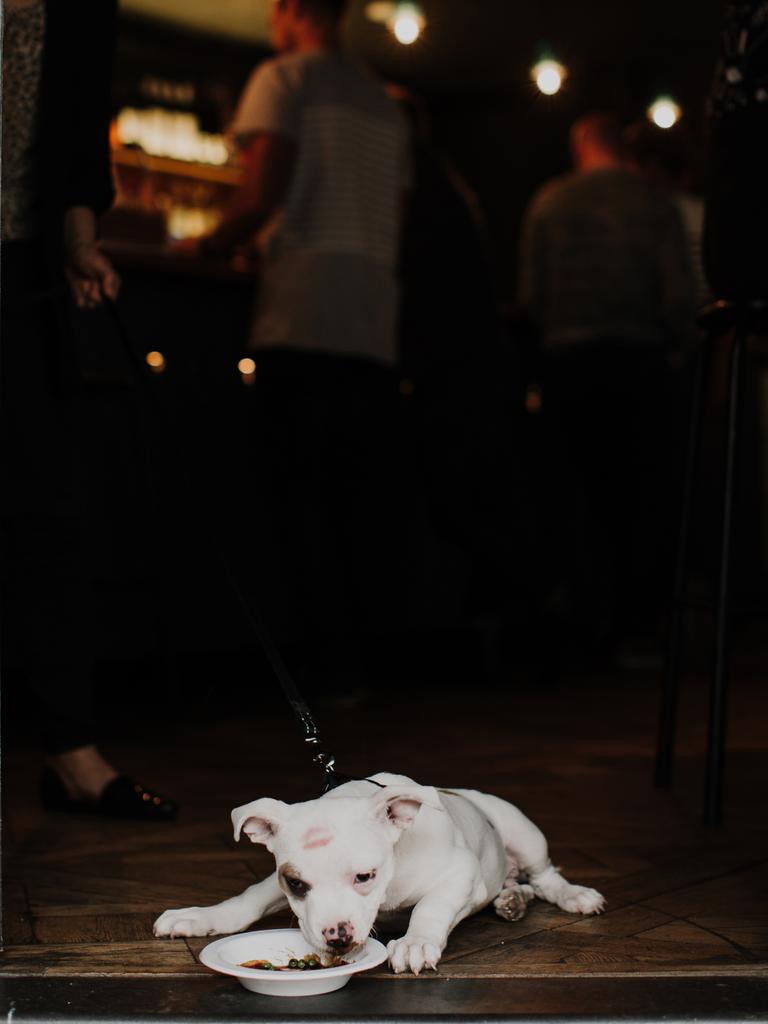 Dog enjoys some food at The Carrington. Picture: Oliver Minnett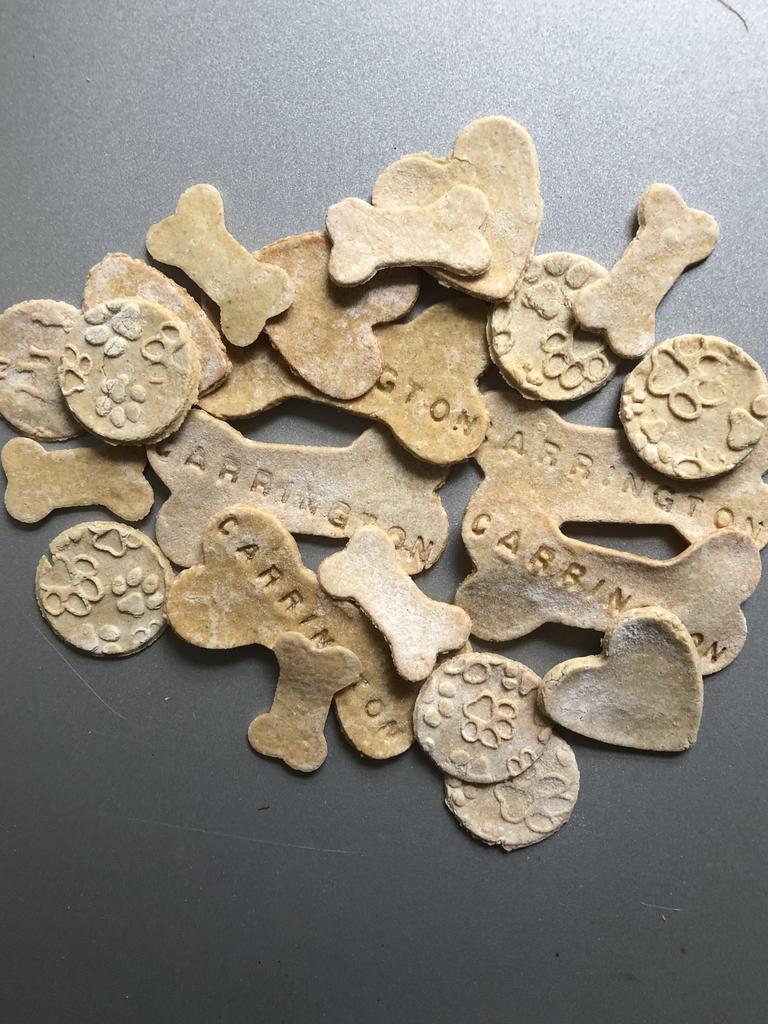 The Carrington's housemade dog treats. Picture: Supplied
The Carro in Surry Hills is a dog-friendly institution; dogs can be both indoors and outdoors, with a special puppy menu just for the furry friend in your life.
The dog menu includes brown rice and veggies ($6), steak and veggies ($6), and beef tartare ($6). Pupcakes will set you back $4 along with housemade Carro Dog Biscuits.
— 565 Bourke St, Surry Hills; thecarringtonsydney.com
Dachshund Coffee
You needn't even ask if dogs are allowed at this Hunters Hill cafe; it's right there in the name. And while all pups are welcome, there is a clear bias for Dachshunds, so much so that if you bring these cheery little chappies in with you, your whole table gets 10 per cent off the bill.
The menu here is a mix of breakfast and lunch staples, emphasising plant-based dishes such as their signature Reformed Avocado — smashed avo on sourdough, fresh tomato, our housemade quinoa tabouli, a poached egg, and delish goats chevre.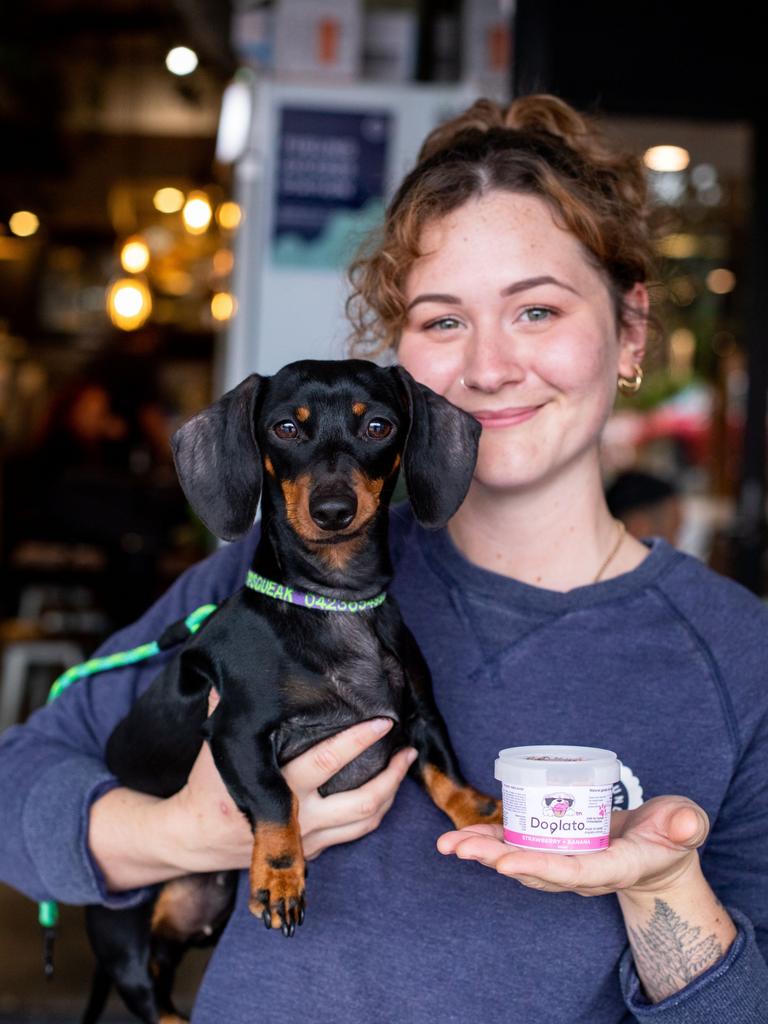 There is food and treats available for dogs too. Picture: Nick Diomis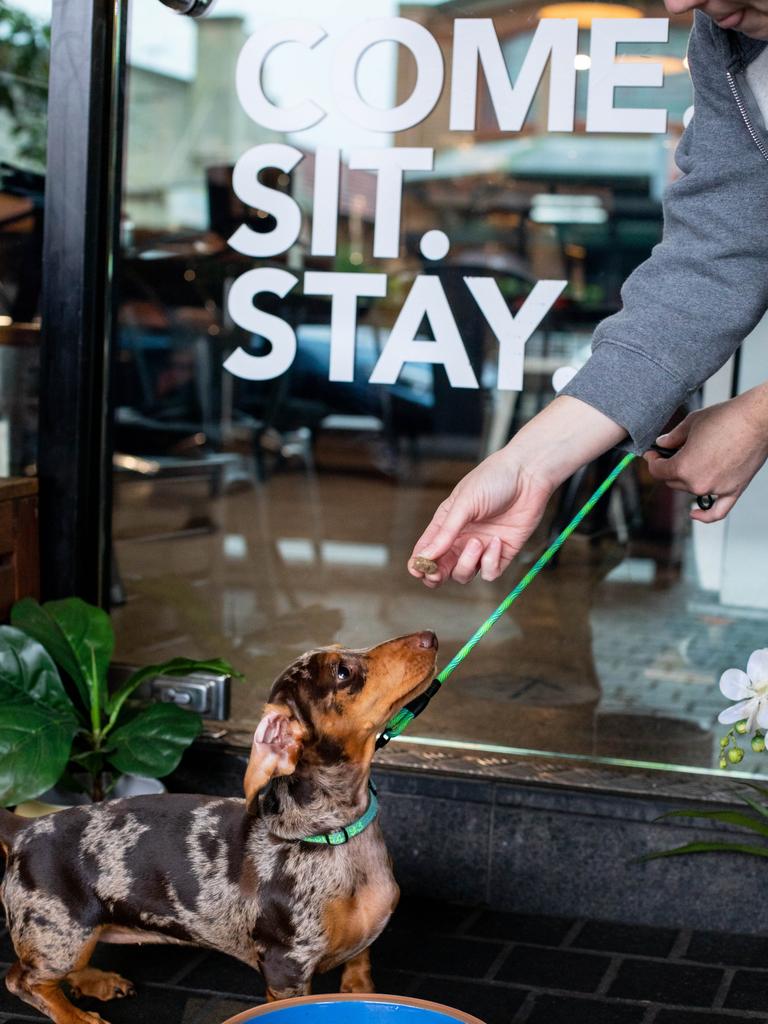 Dogs are welcome at Dachshund Coffee. Picture: Nick Diomis
That's not to say that meat is off the menu, only that it must come from producers with sustainable and ethical practices.
Along that line, then you'll find the big brekkie with double-smoked bacon, Wagyu brisket sandwiches and miso-baked salmon poke bowls.
But, of course, pups also get their own menu, including the always-popular DOGLATO – "Dog Gelato" available in honey, coconut, mango, carrot and carob flavours, and Puppycinos textured lactose-free puppy milk.
With great food, great coffee, and a fantastic dog-friendly vibe, it's easy to abide by Dachshund Coffee's tagline: COME. SIT. STAY.
— 4/64-66 Gladesville Rd, Hunters Hill; dachshundcoffee.com
Baffi & Mo Espresso
Early risers will appreciate Baffi & Mo's early opening hours (6.30am-3pm). Plenty of time to get that coffee and a walk in before the day gets started.
"As paw parents ourselves, we are completely smitten with all our fur babies that join their owners at our cafe and understand not only the joy and unconditional love they bring to our lives but the importance of companionship, especially during this lockdown period," says the cafe's co-owner, Margarita Aljabary,
It's not all grab-and-go, though; it's worth a visit just for their Corn & Pea fritters housemade 9-hour roasted relish and golden grilled halloumi, and since dogs are allowed throughout the venue, your canine companion is welcome to hang out as well.
"We welcome all sizes for indoor and outdoor dining and although we don't have a doggie menu, our treat jar is always full of tasty treats ready to dish out," Margarita says.
— 94 Redfern St, Redfern; facebook.com/BaffiMoEspresso
Dogs are welcome to eat at EVH. Picture: Supplied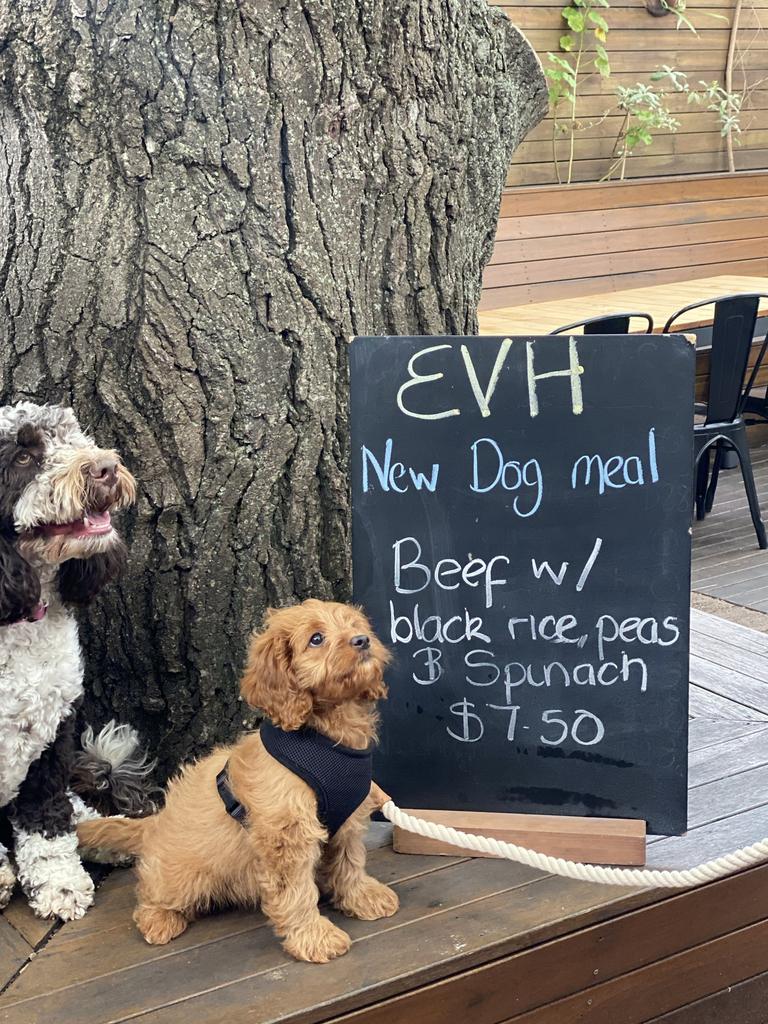 There's a dog menu at EVH. Picture: Supplied
EVH
Frustrated with having to rush home after work to feed the dog, East Village Hotel's owners found a solution: just bring their dog to work with them.
It seems that there are plenty of people that concur, and it wasn't long till EVH became a dog-friendly favourite, complete with an evolving dog menu.
And for humans, you'll find refined pub classics, casual contemporary dishes, and an expansive drinks list.
— 82 Darling St, Balmain; eastvillagebalmain.com.au
Flour Drum
'Tis the season to hunt down holiday treats, and one of the best on the block is Flour Drum.
Get in early for their Christmas fruit mince pies or venture out to their charming pet-friendly (they also have rabbits and birds on site) garden for dishes such as Housemade Pappardelle Lamb Ragu or an all-day breakfast favourite, Buttermilk Banoffee Pancake Stack.
— 531 King St, Newtown; flourdrum.com.au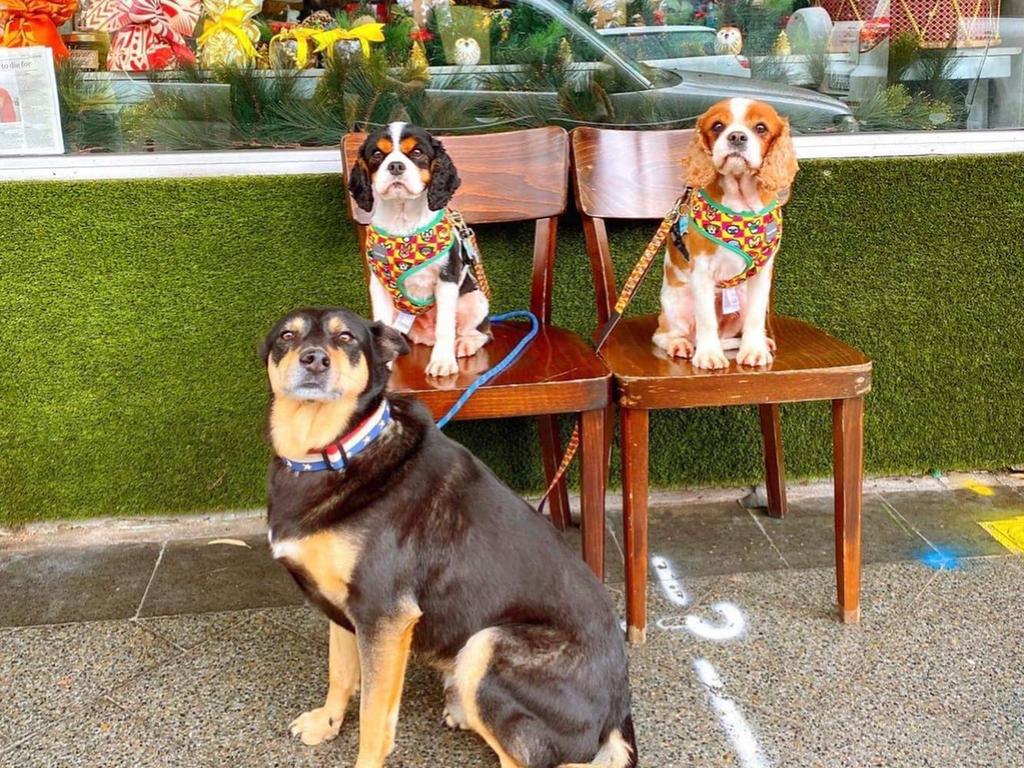 Dogs hanging out outside Flour Drum. Picture: Facebook
Bondi Beach Public Bar
For dog lovers, no day at the beach is complete unless it's shared with their furry friend, just like no trip to Bondi is complete without a visit to Bondi Public Bar.
Situated practically at the water's edge, BBPB is an ideal spot to hang out over a burger and beer or share plates and cocktails.
Dogs are allowed both indoors and out, and there are plenty of water bowls throughout the venue – ideal for those warm summer days.
— 203/180 Campbell Parade, Bondi Beach; bbpb.com.au
Bopp & Tone
It's not just the burbs that are pup-friendly; this CBD hotspot welcomes both the after-work crowd and their canine companions out on the Carrington terrace.
Order some Mediterranean-inspired bites prepared on the in-house wood grill or charcoal oven, all of which are ideally suited to the Happy Hour drinks specials that run 4pm-6pm Monday-Friday.
— 60 Carrington St, Wynyard Park, Sydney; boppandtone.com.au
The Pawfect Cafe
With a dog menu that features salmon and celery, chicken and sweet potato biscuits, beef meatloaf, and doggie beer, The Pawfect Cafe has pretty much perfected fine-dining for your furry friends.
"All of the dog-friendly food we serve is prepared fresh by our sister company Pawfect Gourmet," says the cafe's manager, Mao Watanabe.
"Everything (except for the doggy beer) is all natural and contains no artificial colours, flavours, preservatives or any other additives and is made and sold here exclusively."
The Pawfect Cafe's puppy treats. Picture: Supplied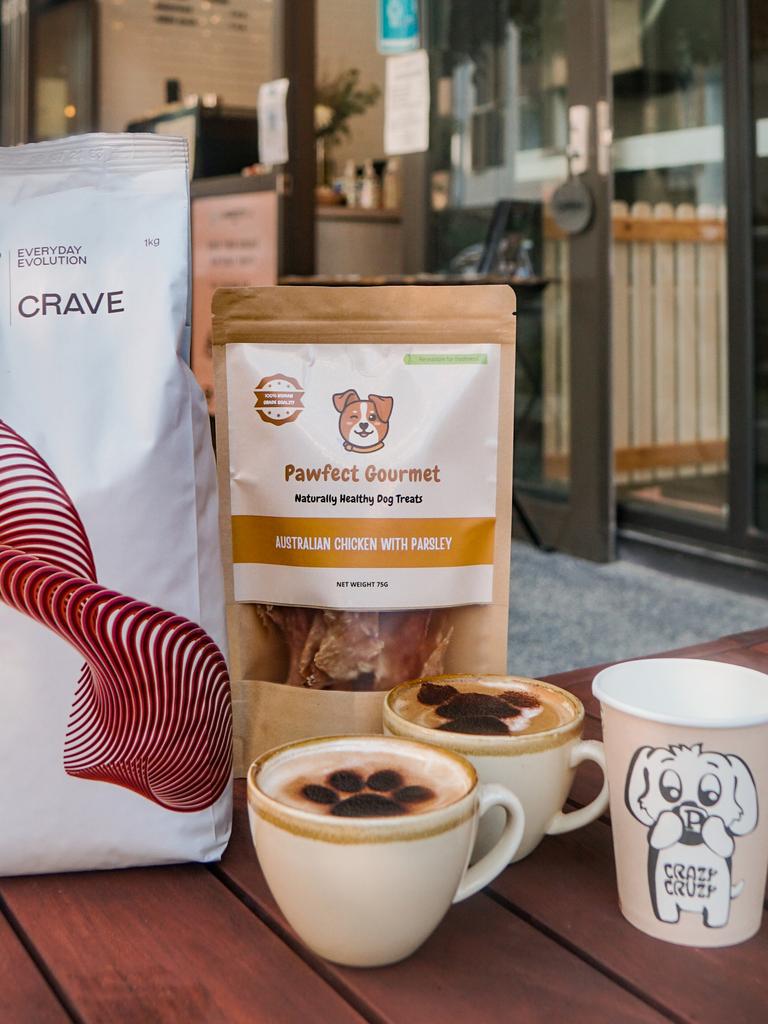 The Pawfect Cafe's coffee and dog treats. Picture: Supplied
The same criteria applies for people food – all fresh and made onsite.
"We offer traditional breakfast options such as the bacon & egg roll, and eggs benedict, but also menu items with a special Japanese twist, such as our yuzu avocado toast and hayashi doria," Mao says.
"And of course, all of your coffee, juice and tea needs to keep you powered throughout the day. We opened during lockdown when people could only takeaway. Since then, we've enjoyed welcoming guests and their furry friends to dine in with us in our outdoor area. For doggy parents, this means a venue where they can be completely comfortable knowing they're surrounded by dog-loving staff and patrons."
And with appealing menus all around, this new cafe is just pawfect for dog-lovers.
— Shop 4/6 Galloway St, Mascot; thepawfectcafe.com.au
WHAT'S FRESH
Organica
Every dog-lover will tell you that their dog is part of the family, which means when the whole crew goes out for a meal, that includes their much-loved fur baby.
"Being a pet owner myself, I look for great outdoor pet-friendly areas," Costa Meitanis, Director of Organica, says.
"They can be hard to find, especially when you want a nice meal.
"Our large outdoor area allows our customers and their furry family to enjoy some quality time together."
Located in the historic 1921 Central Picture Palace & Ritz Theatre, in 2006, Concord community welcomed a new resident in the old familiar location with the opening of Espresso Organica, a Mediterranean-inspired eatery/patisserie which has since grown and evolved, embracing the mantra: "Celebrating the past, embracing the future."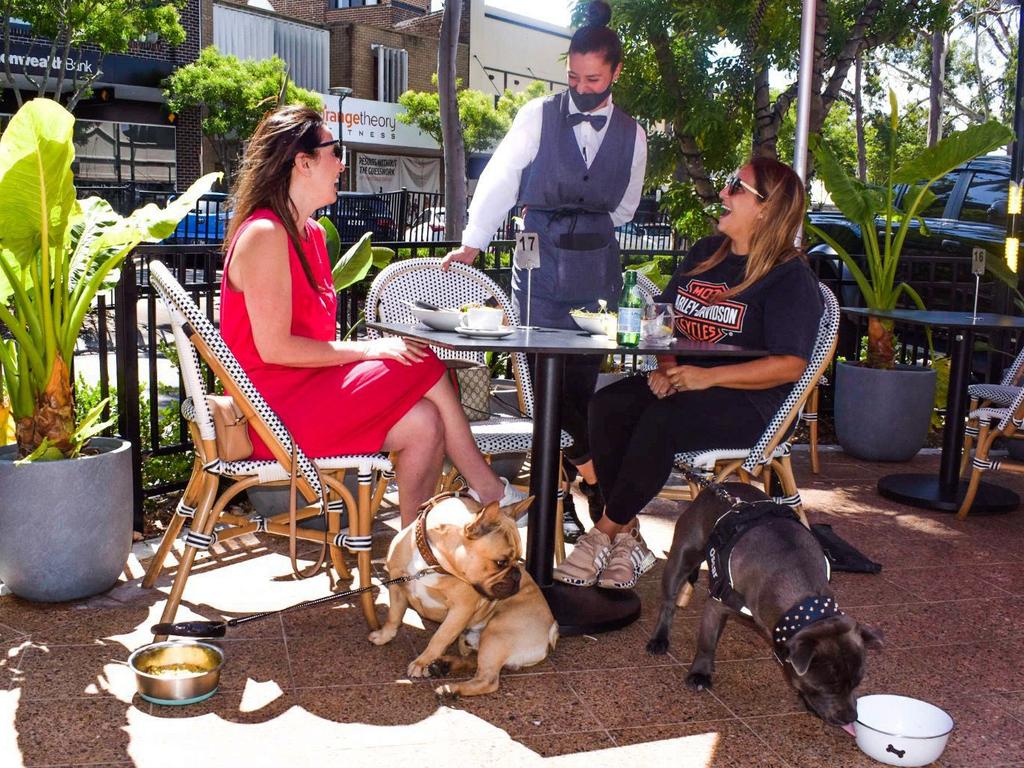 Outdoor dining with dogs at Organica Cafe. Picture: Supplied
Starting with a name-change (to Organica), a second location in Leichhardt, and now, after enduring two lockdowns, a relaunch with the new fit-out of their original venue.
From early morning to late evening, Organica offers a "cafe/restaurant/patisserie experience with a Mediterranean cuisine, homemade cakes, Organica boutique coffee blend, and, ideally suited to pet-owners, a large 70-seater outdoor dining area.
While guests of the human variety enjoy such dishes as Crispy Skin Grilled Salmon, dressed with our Meunière Sauce, woodfire slow-roasted Lamb Lemonato, plus an abundance of cakes, crepes and waffles, pups are welcomed with a treat, a fresh bowl of water, and an Organic Dawg Menu with choices that include housemade minced beef mixed with rice and brown jelly ($10), ground lamb and sweet potatoes topped with warm oats and Chobani dog yoghurt ($13), grilled chicken, salmon and rice topped with crunchy bacon ($15), and Paw Bites, miniature treats with peanut butter, banana, blueberries and Chobani dog yoghurt. Guests of all sorts are sure to love the latest addition to Greater Sydney's dog-friendly hot spots.
— 43 Majors Bay Rd, Concord; organica.com.au