The NRLW returns this weekend, here are the players to keep an eye on this season.
Brisbane Broncos 
PLAYER TO WATCH – Amber Hall
RISING STAR – Nakita Sao
Gold Coast Titans
PLAYER TO WATCH – Evania Pelite.
RISING STAR – Jetaya Faifua.
St George Illawarra Dragons
PLAYER TO WATCH – Emma Tonegato.
RISING STAR – Talei Holmes.
Newcastle Knights
PLAYER TO WATCH – Caitlyn Johnston.
RISING STAR – Katelyn Vaha'akolo.
Sydney Roosters 
PLAYERS TO WATCH – Jessica Sergis, Isabelle Kelly.
RISING STAR – Jocelyn Kelleher.
Parramatta Eels 
PLAYER TO WATCH – Botille Vette-Welsh.
RISING STAR – Tommaya Kelly-Sines.
Related Cultural Exports: Media Release: Major funding into Sunshine Coast's international tourism recovery
Related Momentum: Brisbane giant with 450 jobs up for grabs
from courier mail 25.2.22
While NRLW players continue to campaign for full-time status, 144 of the code's best athletes have signed on for a historic season of league that features Parramatta, Newcastle and Gold Coast all making their debuts.
The expanded tournament will culminate with a stand-alone decider in Redcliffe on April 10 and three-time champion Brisbane will again be the favourite heading into season four of the NRLW.
This season will also feature 35-minute halves – an increase from 30 in previous seasons – and for the first time the competition will hold semi-finals. The top four will advance to week six, when first will play fourth and second will face third.
Despite expansion and player movement, the Broncos are still my clear favourites.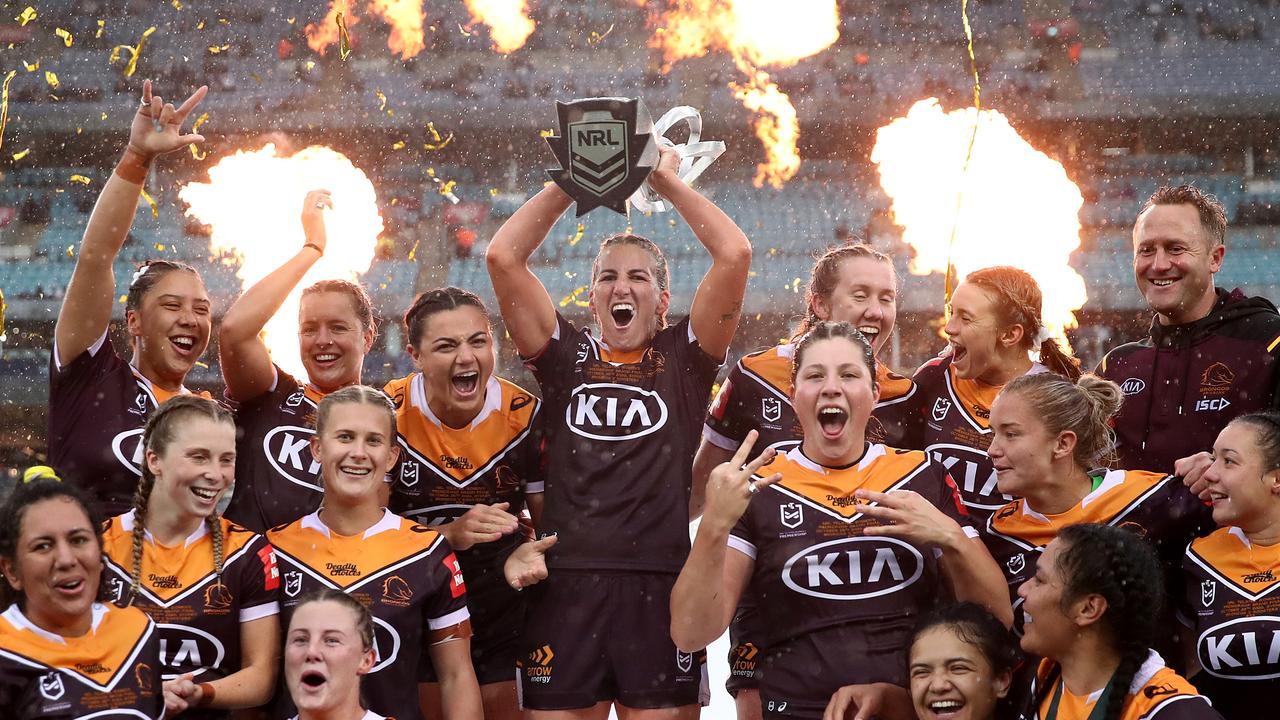 The Broncos are favourites to win their fourth NRLW premiership. Picture: Cameron Spencer/Getty Images
BRISBANE BRONCOS
The three-time champions will be the favourites because of the star power of Ali Brigginshaw, Tarryn Aiken, Tamika Upton, Amber Hall, and Millie Boyle.
PLAYER TO WATCH – Amber Hall
While reigning Dally M Medallist Brigginshaw is considered the best player in the women's game, her rampaging Kiwi teammate Hall has been the fearless leader of this Broncos pack in their past two premierships. The winner of the Karen Murphy Medal for best on ground in the 2020 NRLW grand final, who swept the Broncos awards night in the same year, Hall is one of the most feared forwards in the game and plays a pivotal role in a strong defensive unit.
RISING STAR – Nakita Sao
In a star-studded line-up, coach Kelvin Wright can see a bright future for teenage forward Sao. Yet to make her NRLW debut, Sao played most of her football as a halfback but with the Under-19 Queensland Origin representative making a move to the forwards, her greatest assets will be her leg speed and footwork.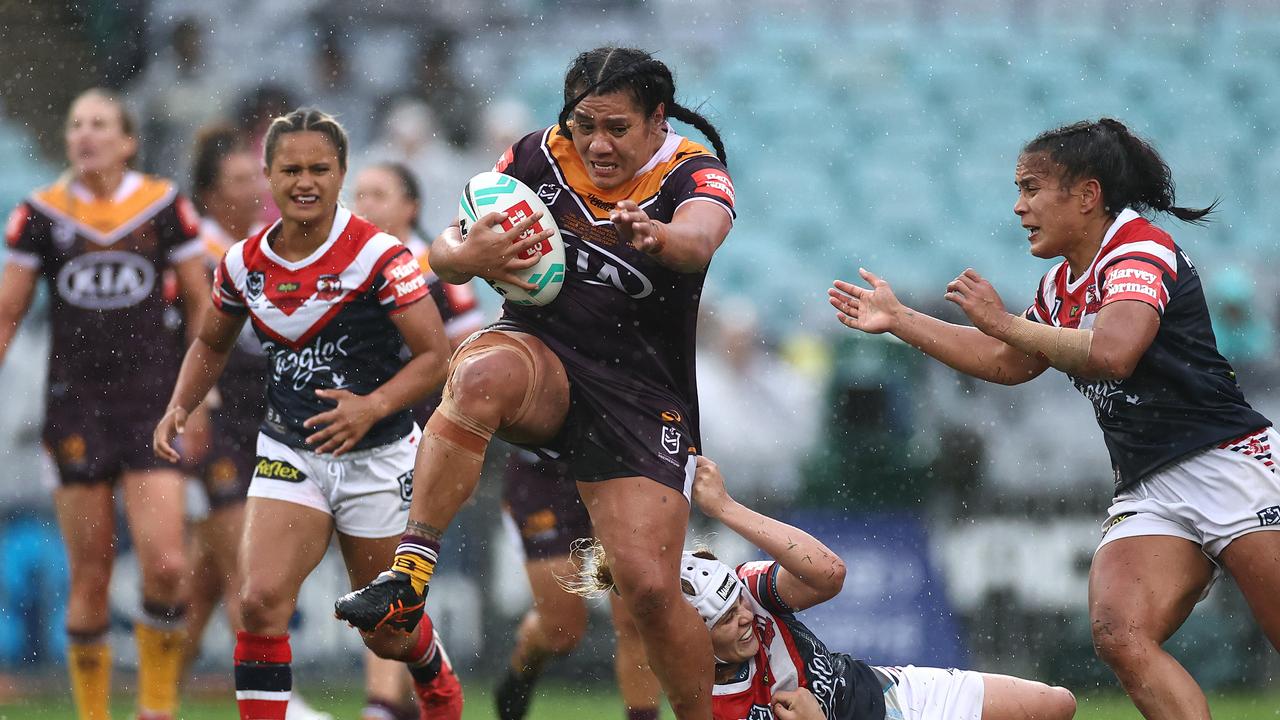 Ambere Hall is the leader of the Broncos' pack. Picture: Cameron Spencer/Getty Images
GOLD COAST TITANS
History will be made in round 4 when newcomers the Gold Coast Titans host the first Queensland derby against the Broncos. Coach Jamie Feeney has assembled a side with the experience of Broncos premiership winners Karina Brown, Tazmin Gray, Brittany Breayley-Nati and legend Steph Hancock, who is running around one last time.
The Titans have also signed exciting young talent such as hooker Destiny Brill, who burst on to the scene last year with a stunning performance on debut for Queensland.
PLAYER TO WATCH – Evania Pelite.
The Sevens superstar is back after competing at the Tokyo Olympic Games last year. This tough competitor took the NRLW by storm in her rookie season when she last played rugby league for the Warriors and Titans fans can look forward to seeing the backline star bust plenty of tackles in their colours.
RISING STAR – Jetaya Faifua.
Another former sevens player, the 19-year-old Gold Coast local has impressed since making the switch to rugby league last year. Capable of playing in the halves, centre, wing or fullback, Faifua's footwork, speed and vision mean she has representative player written all over her.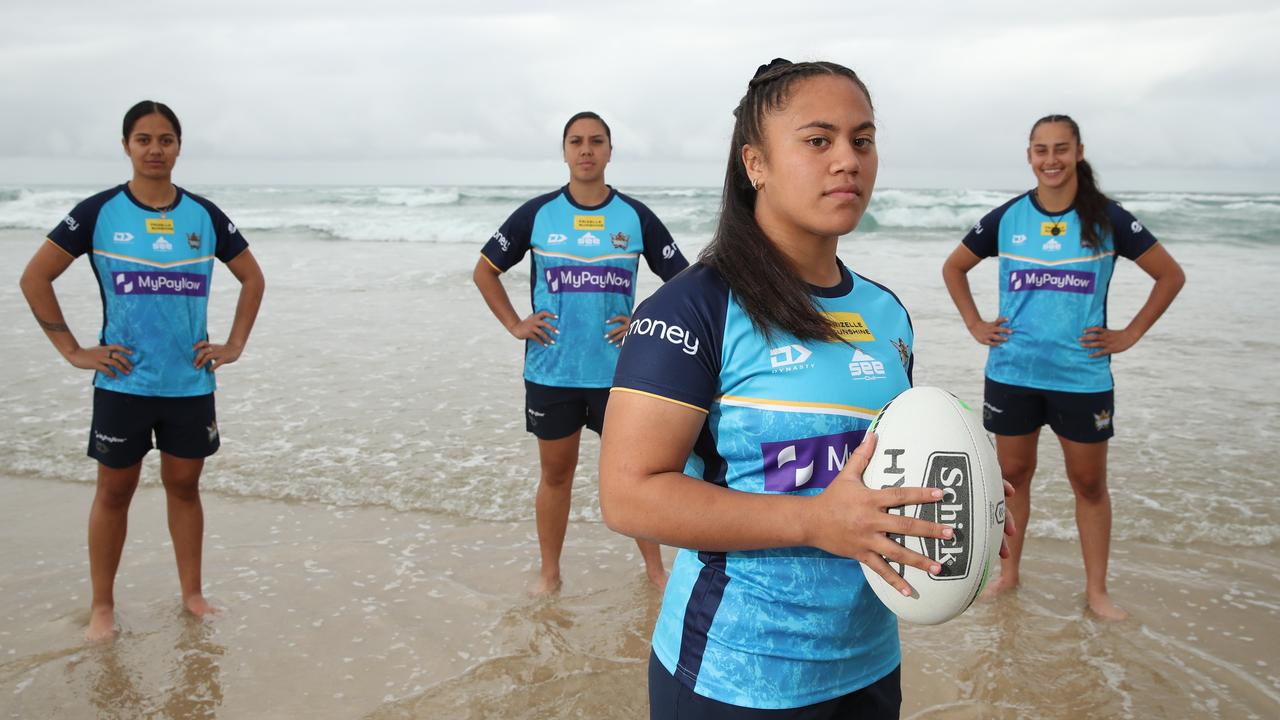 Karli Hansen, Shannon Mato, Destiny Brill and Tiana Raftstrand-Smith are part of an exciting Titans' squad in the club's inaugural season in the NRLW. Picture: Glenn Hampson
ST GEORGE ILLAWARRA DRAGONS
The Dragons lose marquee Jess Sergis (Roosters), Isabelle Kelly (Roosters) and Sam Bremner (maternity leave) but new coach Jamie Soward is quietly confident his squad will surprise a few people this season with an exciting, young team.
PLAYER TO WATCH – Emma Tonegato.
It is a homecoming for former Jillaroo Tonegato, who was born in Wollongong and returns to rugby league after eight years in Rugby Sevens. The Rio gold medallist has picked up the nickname "Ferrari" this pre-season due to her incredible fitness and speed. The fullback is definitely one to watch.
RISING STAR – Talei Holmes.
Such is the wrap on this 21-year-old, the Eels attempted to lure her to Sydney to be in their inaugural side. But Holmes remains in Wollongong and will run out for a second season of NRLW with the Dragons. The second-rower has impressed with her work rate and while not huge in stature, she runs strong lines and can cause havoc on an edge. Good judges are expecting representative duties very soon.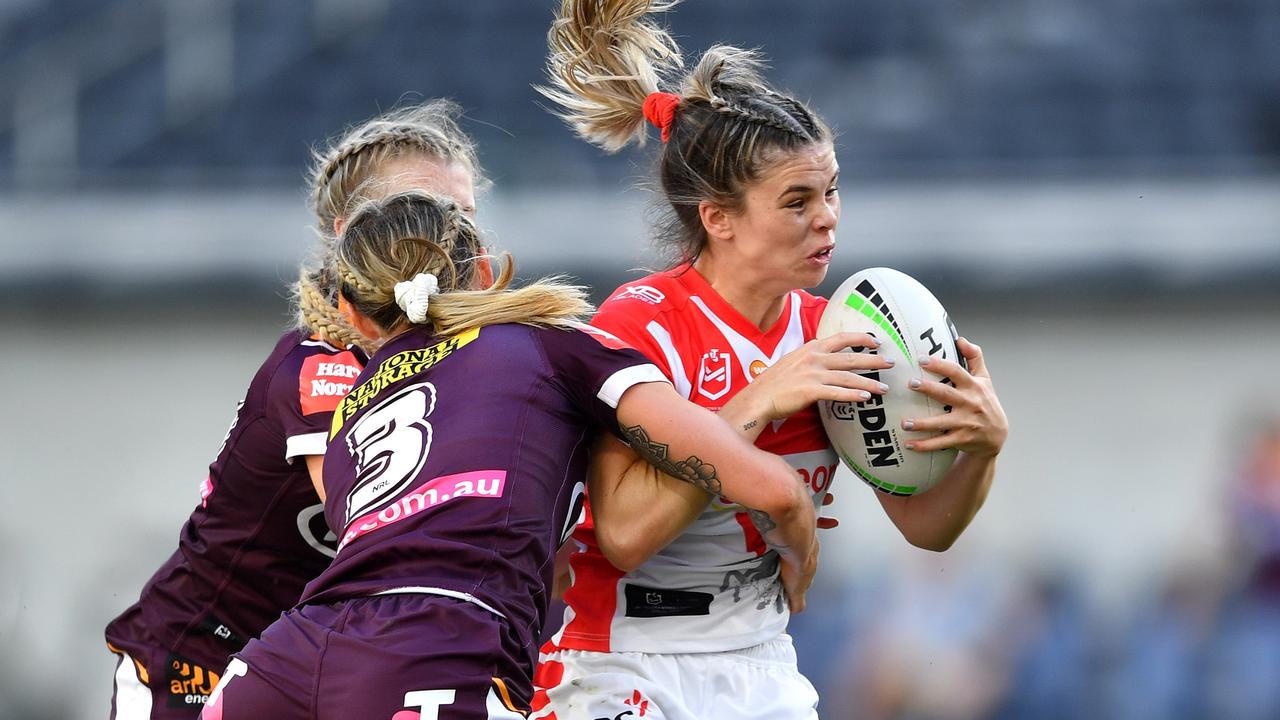 Talei Holmes impressed with her work rate in her first season at the Dragons. Picture: NRL Photos
NEWCASTLE KNIGHTS
NRLW newcomers the Knights have assembled a strong New Zealand contingent, including a nearly all representative pack. But it's a number of promising youngsters who coach Casey Bromilow is expecting to capture the hearts of fans in the Hunter.
PLAYER TO WATCH – Caitlyn Johnston.
If Johnston's form at the All-Stars was anything to go by, this incredibly talented and tough forward will make a huge impact this year. With the World Cup at the end of the season, the Newcastle product will be looking to book her ticket on the plane to England.
RISING STAR – Katelyn Vaha'akolo.
The 21-year-old netball and rugby convert has made the move across from New Zealand for the opportunity to strut her stuff in the NRLW. Apart from bringing a bundle of energy to this Knights squad off the field, Vaha'akolo loves the tough stuff and will bring an explosive power game on the wing.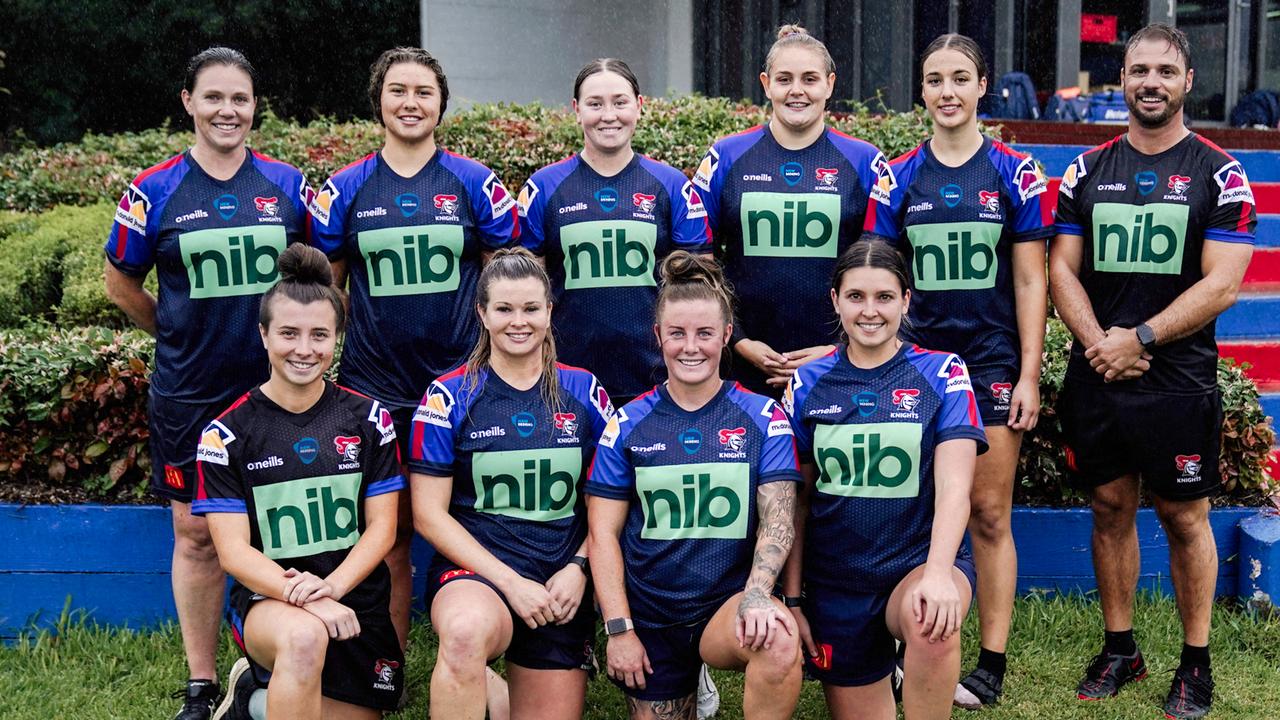 The Knights will make their debut in the NRLW this season. Picture: Newcastle Knights media
SYDNEY ROOSTERS
The 2020 grand finalists will be out to avenge their humbling by the Broncos the last time the NRLW was on our screens. The advantage for coach John Strange is that 12 of the 24-player squad have been plucked from his two-time Harvey Norman Premiership-winning side the Central Coast Roosters. It is hoped that the familiarity between players translates to immediate chemistry this NRLW season.
PLAYERS TO WATCH – Jessica Sergis, Isabelle Kelly.
It's hard to go past the powerful backline duo of Jessica Sergis and Isabelle Kelly. While both could feature at fullback at some stage of the season, they are expected to take their place in the centres in round 1. They are sure to provide headaches for opponents in attack and also shore up the Roosters' edges with rock-solid defence.
RISING STAR – Jocelyn Kelleher.
This AFL convert was spotted by coach John Strange two years ago and has made a remarkable transition to rugby league. After playing in the backrow and centres, the 21-year-old moved into the halves last year and will play an integral role if the Tri-colours are to go one better.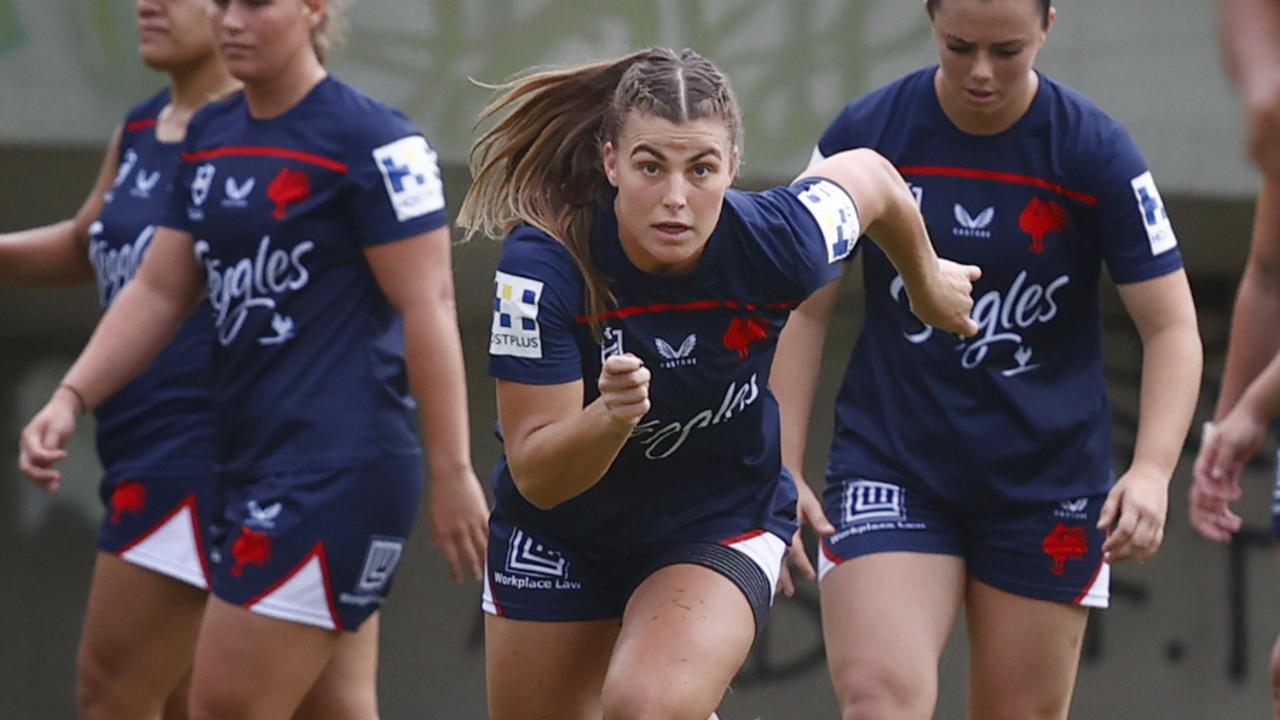 Jessica Sergis is part of a powerful backline at the Roosters. Picture: Richard Dobson
PARRAMATTA EELS
New kids on the block the Eels are looking to make the most of their opportunity to win over the huge fan base in Western Sydney and have started by bringing "home" local some talents – 2017 Dally M Medallist Simaima Taufa as well as 2020 NRLW Rookie of the Year Kennedy Cherrington. Coach Dean Widders' focus has been on building a strong team culture first but he believes he has a few "hidden packages who will take the competition by storm".
PLAYER TO WATCH – Botille Vette-Welsh.
In a World Cup year, the competition for the Jillaroos' No.1 1 jersey will be red hot and a story to follow this season. By all reports, the Eels and NSW No.1 has put in the hard yards, which suggests she will have her biggest year yet and stake her claim to wear the green and gold.
RISING STAR – Tommaya Kelly-Sines.
At 27-years of age, Kelly-Sines might be considered a late bloomer but the front-rower has worked really hard to drop around 10kg over the past year to be at her dominant best. A standout performance for the Indigenous All-Stars all but cemented her spot in the Eels front-row and caught the eye of Jillaroos coach Brad Donald.