It's hard to take public pride in indigenous culture when the flag is owned commercially.
The Tourism News is following the story of the Indigenous flag which, after being designed in 1974, has recently been commercially acquired by a litigious group.
Some Indigenous leaders think the flag should be purchased by the Australian Government with compensation given to the original owners, whilst others, such as Nova Peris say that the original designer of the flag, an Indigenous member of the Stolen Generation, gave implicit free use to Australians, especially indigenous people.
On checking the Federal Government's stance, the Tourism News sees that the Aboriginal flag is considered an 'official flag' by the Department of Prime Minister and Cabinet, suggesting the flag is already somewhat considered 'owned' by the Australian government. See the PMC reference here: https://pmc.gov.au/government/australian-national-flag
From The Guardian story below: "Peris told the inquiry Thomas had already made "hundreds and thousands" of dollars from royalties and had implicitly given the flag to the Aboriginal people of Australia to use for free."
The Tourism News, 25th September 2020
'Do you intend to answer any questions?' WAM Clothing fronts Senate Committee on Aboriginal flag licence issues
If you were hoping for some more info on how the company that holds exclusive rights to use the Aboriginal flag – on clothes, towels and digital media products – uses their copyright, then you'll have to keep waiting.
WAM Clothing appeared before a Senate Committee on Monday – the first time the company has really spoken since acquiring the rights from Luritja artist and flag designer, Harold Thomas, in 2018.
And they didn't give much away.
Many of the questions directed to the company directors, Semele Moore and Benjamin Wooster, were not answered.
Ms Moore cited the confidentiality of business agreements and the fact she did not have her laptop in front of her to check records.
They also refused to take any questions on notice, which would have given them until 18 September to respond to questions in writing.
The committee, chaired by NT Labor senator and Yanyuwa woman Malarndirri McCarthy, was established on 3 September.
It's investigating copyright and licensing arrangements for the Aboriginal flag design, with particular focus on who benefits from payments to use the design, and how that affects Aboriginal organisations, Aboriginal communities, and Australia broadly.
The flag was designed by Harold Thomas in 1971.
As its creator, he privately owns the copyright for the flag – and decides who gets the licences to reproduce it.
He's given licences to three companies, who create their own products, and hand our permissions / charge fees to use the flag: WAM Clothing, Gifts Mate and Flag World.
These companies are not owned by Indigenous Australians.
Just a few weeks ago, the AFL revealed it wouldn't be using the Aboriginal flag during its annual Indigenous Round, deciding not to enter into a commercial agreement with WAM Clothing.
Many clubs joined the 'Free the Flag' campaign, which is calling for the licencing agreements to change.
(We've done a handy Instagram explainer about the debate here).
Federal Government negotiating to acquire rights to Aboriginal flag
"Ben and I are both passionate supporters of the Aboriginal flag and recognise the unique unifying effect of the flag for all Australians," said Ms Moore during her opening statement.
She confirmed that WAM Clothing, and flag designer Harold Thomas, were currently in negotiations with the National Indigenous Australians Agency [NIAA] – a Federal Government organisation.
The NIAA is looking into acquiring rights to the flag.
Those discussions are still in the works, and she did not reveal further details about them.
"WAM Clothing pays licence fees and pays ongoing royalties to Harold [Thomas] in accordance with our confidential licence agreement," Ms Moore said in her opening statement.
That set up what would become a point of contention throughout their evidence: confidentiality.
Senator Pat Dodson from WA opened with questions about how many organisations had been sent cease and desist letters; how many businesses had paid WAM to use the flag design; and what the company's profits had been over the last financial year.
Moore declined to answer all these, saying they were either confidential information or not directly in front of her.
"Do you intend to answer any questions?" Senator Dodson eventually asked.
Liberal Senator Amanda Stoker questioned whether it was appropriate to delve into the business arrangements between WAM Clothing and Mr Thomas.
"The purpose of this inquiry is to deal with the more complex and big picture issue of how we ensure that the importance of this symbol is given significance, whilst respecting an individual's private property rights," she said.
Senator McCarthy noted the Committee hadn't had the chance to discuss those details yet.
The WAM Clothing directors also refused to disclose details about how they were chosen to hold the rights to the flag, and for how long that period would last for.
And they did not elaborate on their dealings with the AFL, citing confidentiality.
They stressed that reproduction of the flag, for individual use, was okay under the Copyright Act.
Ms Moore also noted they had waived the licence fee for some initiatives and community groups.
Senator Stoker asked WAM Clothing what it might mean for Mr Thomas if the Commonwealth were to acquire intellectual property rights for the flag.
"I think quite clearly that it would have a fairly negative effect overall," Ben Wooster replied.
The Senate Committee will hand down its final report on the 13 October.
Aboriginal flag should be free to use but designer should be compensated, inquiry told
Marcia Langton says flag should be under ownership of commonwealth body acting as trust with Indigenous board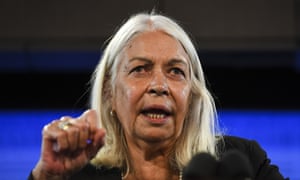 The Aboriginal flag should be owned by the government, but not without compensation to, or the consent of, its original designer, a Senate inquiry has heard.
On Thursday, the Indigenous academic Professor Marcia Langton told the inquiry into the flag's use that the current commercial restrictions on the flag had "tainted" it, and it should be placed in the hands of an independent, Aboriginal-run body and made free to people and community groups.
However, she said the government should not compulsorily acquire the flag without compensating the original designer, the Indigenous artist Harold Thomas.
"He is a member of the stolen generations and for the government to cause him harm a second time would be unconscionable," Langton said.
"The only way forward is for him to relinquish all of his rights to the Australian government, and I understand from reading newspapers that minister Ken Wyatt has engaged in negotiations with him to acquire the rights to the flag."
But other witnesses before the inquiry, such as Mick Gooda, said the government should not acquire the flag at all, while former senator Nova Peris said the flag should be compulsorily acquired without compensation to Thomas.
Peris told the inquiry Thomas had already made "hundreds and thousands" of dollars from royalties and had implicitly given the flag to the Aboriginal people of Australia to use for free.
Thomas, a Luritja man, designed the flag in 1971, 24 years before it was made an official flag of Australia, and has retained its copyright since. In November 2018, he granted exclusive use of the flag on clothing, physical and digital media to WAM Clothing, a non-Indigenous owned company, which has since issued infringement notices to the AFL, the NRL and non-profit Aboriginal organisations for using the flag.
On Thursday, Langton said that this commercialisation had "tainted" it as a public symbol, and it ideally should be owned by the government, but that Thomas's copyright had to be respected.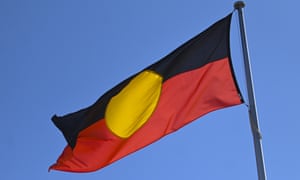 "His ownership of the rights of the Aboriginal flag has been affirmed by the federal court," she said. "He used ordinary intellectual property rights that are available to anybody. He has used licences to make a living and provide for his family. How can the government [acquire it] without being unjust to Mr Harold Thomas?
"If [negotiations are] successful, the flag should be under the ownership of a commonwealth body that acts as a trust and would have an Aboriginal board, a small board, say three people, who give approval for its use," she said.
This trust would only intervene in "extraordinary circumstances" for commercial use, and ordinary people and groups would be free to use the flag, she said.
However, Mick Gooda, a former Aboriginal and Torres Strait Islander social justice commissioner of the Australian Human Rights Commission, disagreed. He said the government should "never" have copyright over the flag, but it should instead go to an Aboriginal community-controlled organisation.
Gooda told the inquiry he was willing to "abandon" the flag as a public symbol, and would not pay a "ransom" for its use.
"I understand and support Mr Thomas's right to benefit from his intellectual knowledge and contribution," he said. "While he has a right to do so, I have a right to not use and contribute to some white bloke who is going to benefit from our flag.
"I have sort of abandoned the flag now, and I belong to the Gangulu people of central Queensland, and we are designing our own flag now … This is a personal thing, but I am not at ransom for paying people for that right [to use Thomas's flag].
"If somebody is going to take ownership, it should not be government. We should be looking for an Aboriginal community-controlled organisation … Step one is consent, and government can be part of the negotiation, but the ownership should be with an Aboriginal or Torres Strait organisation."
Writer Claire Coleman also told the inquiry that Thomas never wanted the government to acquire the flag, and intended it as "a flag of protest". She said the government had a poor track record of looking after Indigenous intellectual property, citing the example of Albert Namatjira, where a government trustee sold his copyright for "a pittance" as his family lived in poverty.
Coleman said an elected body of Aboriginal people would need to hold the copyright. For example, the Naidoc committee, or the Indigenous voice to parliament as set out in the Uluru statement.
Former senator and Olympian Nova Peris said the rights to the flag should be compulsorily acquired.
Peris and lawyer Peter Francis told the inquiry they believed Thomas gave express permission and later implicit permission to Aboriginal people to use the flag in 1972 when it was given to Dr Gary Foley in 1972 to fly above a Tent Embassy in Canberra.
She said the flag was different to the example of Namatjira, because his artwork was not flown on flags or printed on uniforms and clothing.
"People have marched under this," she said. "People have put this flag over their coffins when they have died, they have it as tattoos … When it was given to us it was free. Now, 49 years later, you are saying we need to pay to use it?"
Peris said Thomas should not be compensated by the government because he had already made hundreds of thousands of dollars from the flag, including royalties from MPs and senators who paid for the right to use the flag.
"Harold Thomas has been paid," she said. "He has been paid hundreds and thousands of dollars … The Aboriginal flag is a lot more expensive than the Australian flag [to reproduce]. Don't think Harold Thomas has not been compensated – for 23 years he has been receiving royalties from the world."
Earlier, Langton also told the inquiry, chaired by Labor's Malarndirri McCarthy and including Labor's Patrick Dodson and Greens senator Lidia Thorpe, that she respected Thomas's copyright but the flag had gained a broader meaning to Aboriginal people that meant it should be public.
"The flag would not have the meaning it has today solely on the basis of Harold Thomas's design," she said. "It has the meaning it has today because of all the Aboriginal people who have used it and flown it, who have used it as a symbol."
Peris agreed, saying: "He gets [money] because Aboriginal people gave the value of that flag to him. He didn't do it."
The former Olympian also said that Ben Wooster, the non-Aboriginal part-owner of WAM Clothing, was exploiting Aboriginal culture by holding the exclusive license and sending cease-and-desist letters.
Wooster's previous company, Birubi Art, was fined a record $2.3m by the federal court in 2019 for breaching the consumer law by selling fake Aboriginal art.
Peris said: "I understand it is part of this process, but I find it disgusting that anybody in our federal parliament can give the time of day to Mr Ben Wooster.
"He has been found guilty of exploiting our culture and art, he has disrespected our 40,000 years of culture in pursuit of cashing in on gullible tourists at the expense of it."
Francis told the inquiry there was a legal argument that there is an implied license for Aboriginal people to use the flag.
"The right to reproduce the flag has already been granted to Aboriginal people, by the force of how the flag was produced in the first place," he said.
Earlier, Langton said her suggestion was similar to the current ownership of the Torres Strait Islander flag, and that similar legislation had set up other independent government bodies..
She said that if negotiations failed, then regretfully she would recommend that the government hold a competition to design a new, publicly owned Aboriginal flag.
"I think that would be a tragic outcome," she said. "We should preserve the flag design of Mr Harold Thomas as the Aboriginal flag."
Under her recommendation, the government would pass legislation to establish the independent Aboriginal trust, and would set out its limits and roles.
"It's quite normal for flags to be owned by government," Langton said. "And this is an extraordinary and quite strange history that this flag is not owned by government. But nevertheless it is important that the flag is owned by the government, but that there be checks and balances – legislation that sets it out very clearly.
"Compulsory acquisition may be attractive but it doesn't solve the problem. There must be a total and voluntary relinquishment of his rights to the Australian government."
Langton also said the government should publish a history of the Aboriginal flag to explain its complex past and its significance.
New licence owners of Aboriginal flag threaten football codes and clothing companies
Australia's major football codes have been drawn into a conflict over the copyright of the Aboriginal flag, after a non-Indigenous company secured exclusive clothing rights to the flag.
Key points:
In late 2018, a new non-Indigenous business secured the exclusive licence to reproduce the Aboriginal flag on clothing
Since then, WAM Clothing has threatened legal action against several organisations
A copyright expert says the Government could buy the licence to ensure community access to the flag
The Aboriginal flag is unique among Australia's national flags, because the copyright of the image is owned by an individual.
A Federal Court ruling in 1997 recognised the ownership claim by designer Harold Thomas.
The Luritja artist has licensing agreements with just three companies; one to reproduce flags, and the others to reproduce the image on objects and clothing.
WAM Clothing, a new Queensland-based business, secured the exclusive clothing licence late last year.
Since acquiring it, the company has threatened legal action against several organisations.
The ABC understands WAM Clothing issued notices to the NRL and AFL over their use of the flag on Indigenous-round jerseys.
A spokesman for the NRL said the organisation was aware of the notices, but would not comment further.
The ABC has contacted the AFL, but no official response has been received.
WAM Clothing said simply it was "in discussions with the NRL, AFL and other organisations regarding the use of the Aboriginal flag on clothing".
The Aboriginal flag has been widely used on the country's sporting fields, carried by Cathy Freeman in iconic moments at the 1994 Commonwealth Games and 2000 Sydney Olympics.
It only became a recognised national flag in 1995 under the Keating government, but had been widely used by the Aboriginal community since the 1970s.
The Torres Strait Islander flag was also recognised as a national flag at this time, but the copyright is collectively owned by the Torres Strait Regional Council.
The move to adopt both flags as symbols of state was somewhat controversial at the time, with the then opposition leader John Howard opposing the move.
Former head of the Australian Copyright Council Fiona Phillips said there could be an argument for the Government or another agency buying back the copyright licence from Mr Thomas.
"The fact that the flag has been recognised since 1995 as an official Australian flag takes it out of the normal copyright context and gives it an extra public policy element," she said.
She said it was an image of significance to a large part of the nation and it was important there was some control to avoid potential exploitation.
"It's quite unusual for copyright to be held by an individual and controlled by an individual rather than a government or statutory authority who, maybe for policy reasons, has other interests in mind," Ms Phillips said.
Fight to stop flag 'monopoly'
A Victorian-based health organisation, Spark Health, which produces merchandise with the flag on it, was issued with a cease and desist notice last week and given three business days to stop selling their stock.
The flag represents much more than just a business opportunity, the organisation's owner, Laura Thompson said.
"It's been an important symbol to Aboriginal people for a really long time, a symbol of resistance, of struggle of pride, and that's why we've got such a strong attachment," Ms Thompson said.
The organisation started an online petition, that has attracted about 13,000 signatures, calling on Mr Thomas to stop the exclusive licensing arrangements.
"We want flag rights for our people, we've fought enough, we've struggled, we don't want to struggle to use our flag now," Ms Thompson said.
WAM Clothing said it would work with all organisations, and provide them with options to continue manufacturing their own clothing ranges bearing the flag.
"WAM Clothing has obligations under its Licence Agreement to enforce Harold Thomas' Copyright, which includes issuing cease and desist notices," a spokeswoman for the company said.
Mr Thomas said it was his "common law right" to choose who he enters licensing agreements with.
Wiradjuri artist Lani Balzan designed the NRL's St George Illawarra Indigenous jersey for four years.
She said it was a disappointing development and will make her reconsider her designs for the football club and other institutions in the future.
"Schools, when they buy their uniforms through me, we put the Torres Strait and the Aboriginal flag on both shoulders, so I don't know if we will be allowed to do that anymore," she said.
"It's not just the flag, it's what represents them and our culture and who we are, to have some non-Indigenous company get copyright, it's really upsetting.
"It's disappointing because it's coming down to money and the flag doesn't represent money, it represents us as Aboriginal people, and our culture and who we are."
Conduct of WAM director's former business 'unacceptable'
One of the directors of WAM Clothing, Benjamin Wooster, is the former owner of the now defunct Birubi Arts, a company taken to court over its production of fake Aboriginal art.
In October last year, the Federal Court found Birubi Arts was misleading customers to believe its products were genuine, when in fact they were produced and painted in Indonesia.
At the time, the Australian Competition and Consumer Commission said Birubi's conduct was "unacceptable".
Weeks later Birubi Arts ceased operating, and the next month the director and a new partner opened a new business, WAM Clothing.
Birubi Arts company sold more than 18,000 fake boomerangs, bullroarers, didgeridoos and message stones to retail outlets around Australia between July 2017 to November 2017.
The case is due before court again this week, for a penalty hearing, which some lawyers expect could see a hefty fine handed down that could run into the millions.
The company is now in the hands of liquidators, and the ABC understands it "doesn't have any capacity" to pay further debts.
The director of WAM Clothing is also in charge of another company, Giftsmate, which has the exclusive licence with Mr Thomas to reproduce objects with the Aboriginal flag on it.
Mr Thomas reiterated his support for all the companies he worked with.
"It's taken many years to find the appropriate Australian company that respects and honours the Aboriginal flag meaning and copyright and that is WAM Clothing," Mr Thomas said.
"I have done this with Carroll & Richardson [flag licensee], Gifts Mate and the many approvals I've given to [other] Aboriginal and Non-Aboriginal organisations."