The new-look Silky Oaks hotel quietly reopened last year after a $20 million refurbishment, offering a luxury hideout at Port Douglas with its ultra-exclusive rock star retreat.
Related QLD: Dunwich ferry terminal $41m facelift
Related Attractions: AFL Boss supports Hobart's proposed $750m stadium
from cairns post 14.3.22
THE Far North is showcased and presented in breathtaking fashion at the revamped Silky Oaks Lodge at Mossman, which is set to take the spotlight from luxury hideouts at Port Douglas with its ultra exclusive rock star retreat — the Daintree Pavilion.
The resort, which opened beside the bubbling Mossman River in 1985, was snapped up by James and Hayley Baillie of Baillie Lodges in 2019, but the $20m revamp was delayed by Covid.
The new-look Silky Oaks quietly opened its doors late last year, with bold changes and additions such as the secluded Daintree Pavilion, ideal for two couples, with its own infinity pool – and will set you back $5,000 a night.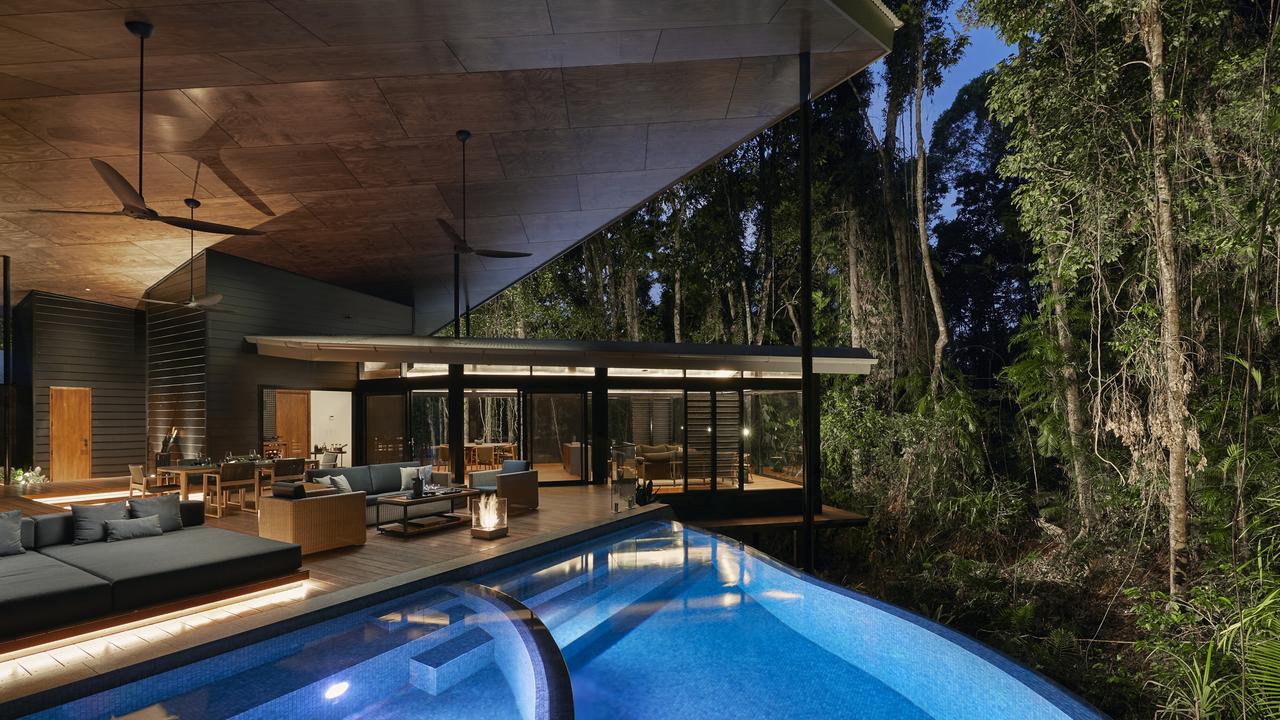 A stay in the stunning Daintree Pavilion at Silky Oaks Lodge at Mossman is $2500 per person, per night. Picture: supplied.
But it is easy to see how cashed-up southerners and international visitors will adore Silky Oaks as a truly immersive experience in the 180 million-year-old Daintree Rainforest.
The Baillie Lodges portfolio encompasses luxury retreats at Lord Howe Island, Kangaroo Island, Uluru, the Barossa Valley, New Zealand and Canada.
At Silky Oaks, Hayley Baillie has worked hard to infuse the premises with an intrinsic and authentic Far North feel.
One of her favourite features is images called "orbs" by artist Catherine Nelson, who layered thousands of photographs of the Daintree region to create extraordinary prints featured in every one of 40 lodges.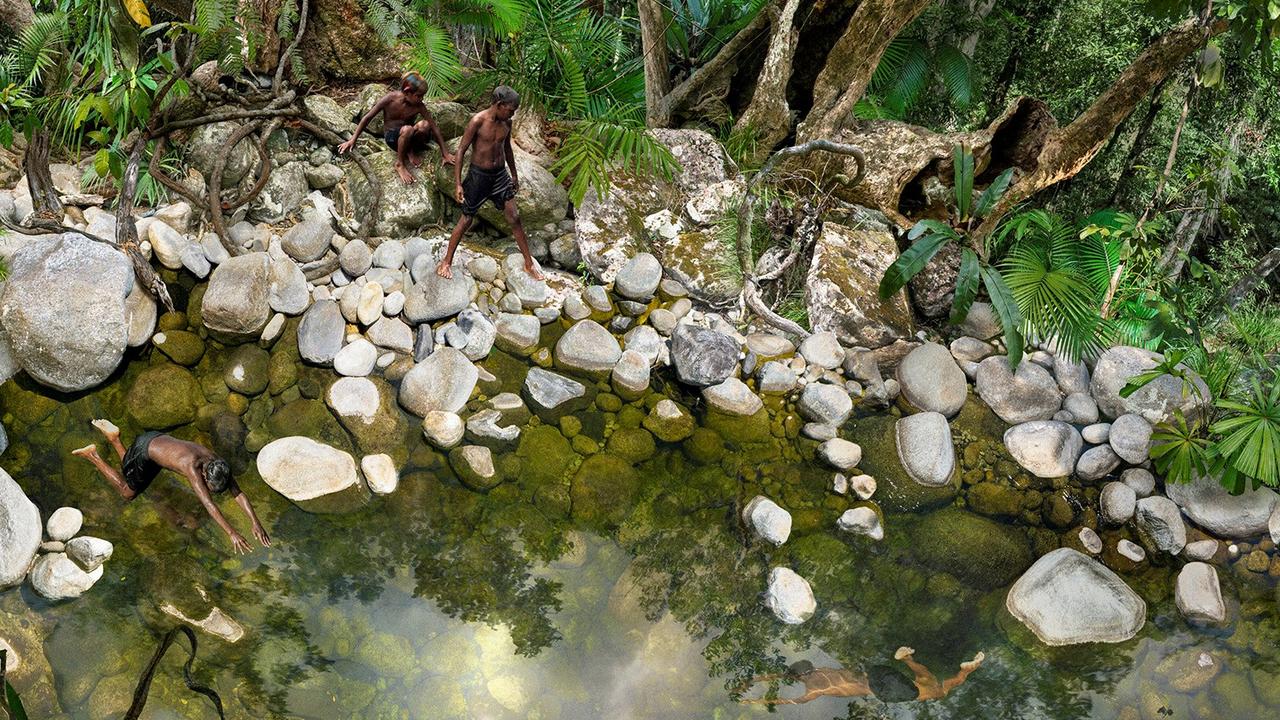 A close up of work depicting the Daintree rainforest, by fine art photographer Catherine Nelson, created for Silky Oaks Lodge. Picture: Catherine Nelson.
"We've loved working with the artists at the Kuku Yalanji Arts Centre and we commissioned them to create the 45 ceramic tiles of the Daintree flora and fauna which line the lodge entrance – each one represents the name of one of the suites, and guests like to spot theirs on the way in and out," Ms Baillie said.
Striking Indigenous art lines the walls at the main pavilion, which has soaring seven metre ceilings.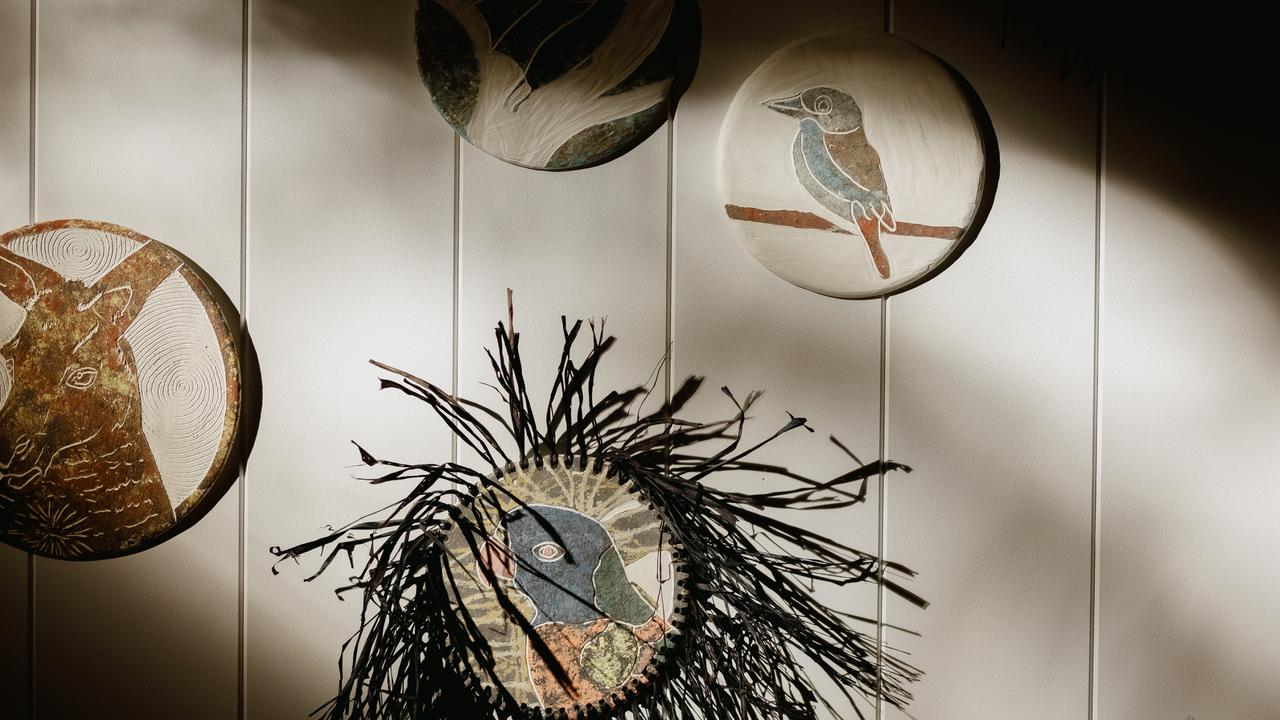 Work by local Indigenous artists in prominent places at Silky Oaks Lodge at Mossman. Picture: supplied.
Silky Oaks has employed 54 people to date and has engaged locals wherever possible, including Port Douglas architect Gary Hunt and Cairns-based construction company Prime Australia.
There's an emphasis on polished timber and glass walls to integrate the surrounding forest with interiors, and plenty of natural light.
My Treehouse room has a deck with an outdoor hammock just a stone's throw from Mossman River, which is noisily burbling over rocks, reminding me the rainforest is never actually quiet.
There's a separate deck space with a big stone bathtub positioned for privacy.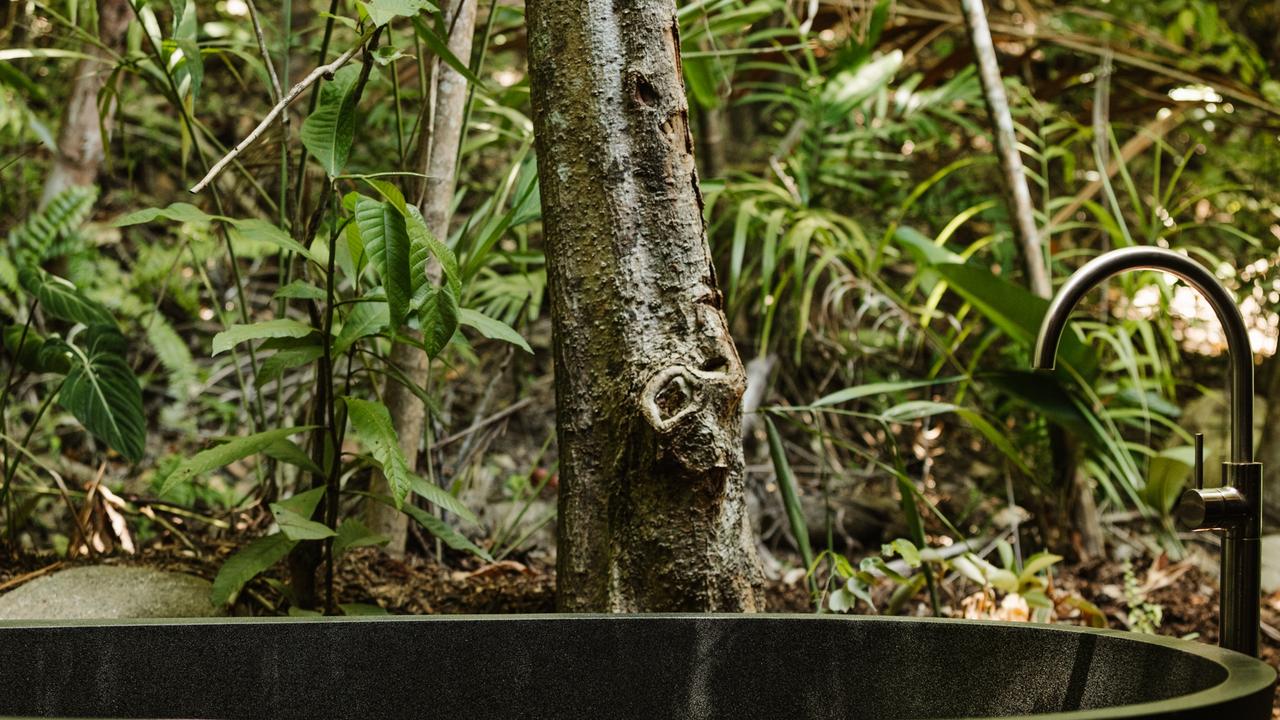 A selection of books includes Marcia Langton's Welcome To Country and the minibar is stocked with locally-sourced Jacques Coffee and Daintree Tea and touches such as Stillwater Sweets from Kuranda.
Big bottles of tropical-inspired toiletries, created just for Silky Oaks, such as a lime and cassis body wash, adorn beautiful bathrooms.
The room has state-of-the-art technology tucked discreetly within and a colour palette that complements the peculiarly Australian colours of the rainforest.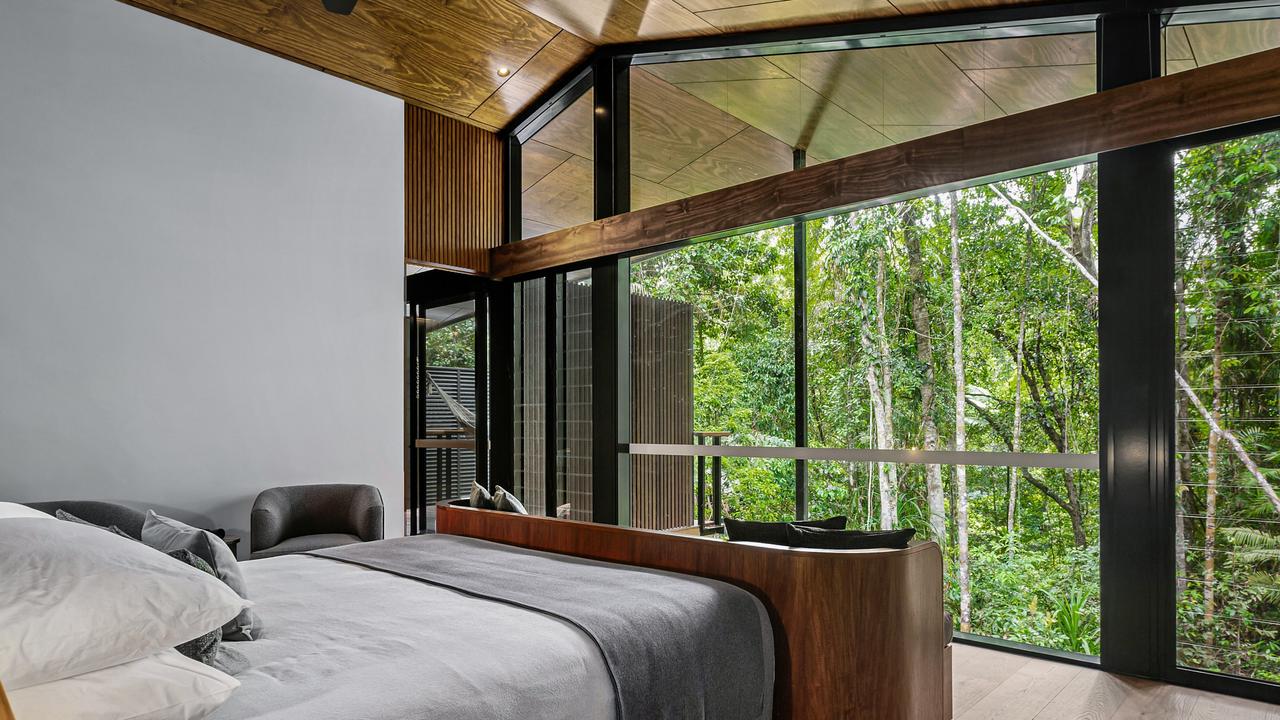 A stay in the stunning Daintree Pavilion at Silky Oaks Lodge is $2500 per person, per night. Picture: supplied.
There's bespoke accessories such as bedside lights with handblown glass shades and ceramics in organic forms – an example of Ms Baillie's attention to detail is the patterned bathrobes, which, if you look closely, reveal a design of women dancing – taken from her mother's wood etching.
Food at the Treehouse Restaurant is creative and delicious, expertly-balanced and presented so prettily it seems a shame to tuck in.
Dinner starts with drinks and canapes – expect cocktails made with wattleseed or lemon myrtle syrup, and Wolf Lane gin, Mt Uncle rum and Hemingway's ales.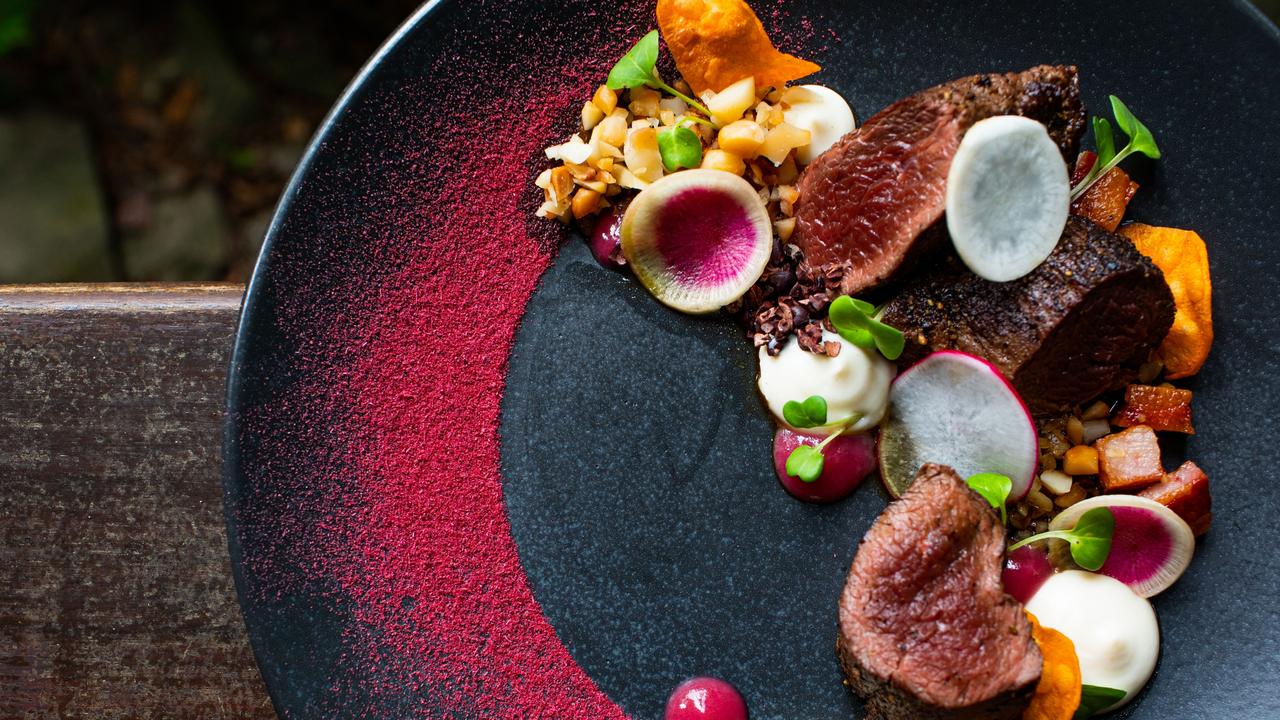 Fine dining at Silky Oaks Lodge at Mossman, where the emphasis is on local produce and ingredients typical of the Far North. Picture: supplied.
A four course meal showcases Far North produce – dishes incorporating ingredients such as finger lime, quandong, Lilli Pilli, and cumquat.
Executive chef Mark Godbeer, who moved from Longitude 131 at Uluru three years ago, said he loved how tropical produce translated to light and refreshing menus.
He continues to build relationships with local producers.
There's microgreens from Eats, Shoots and Leaves in the Mowbray Valley, tropical fruits from Daintree Exotics at Whyanbeel, dairy from Mungalli Creek, meat from Port Douglas-based Malones Butchery, fish from Port Produce, Gallo Dairy cheese and chocolate and Wondaree macadamia nuts from the Tablelands.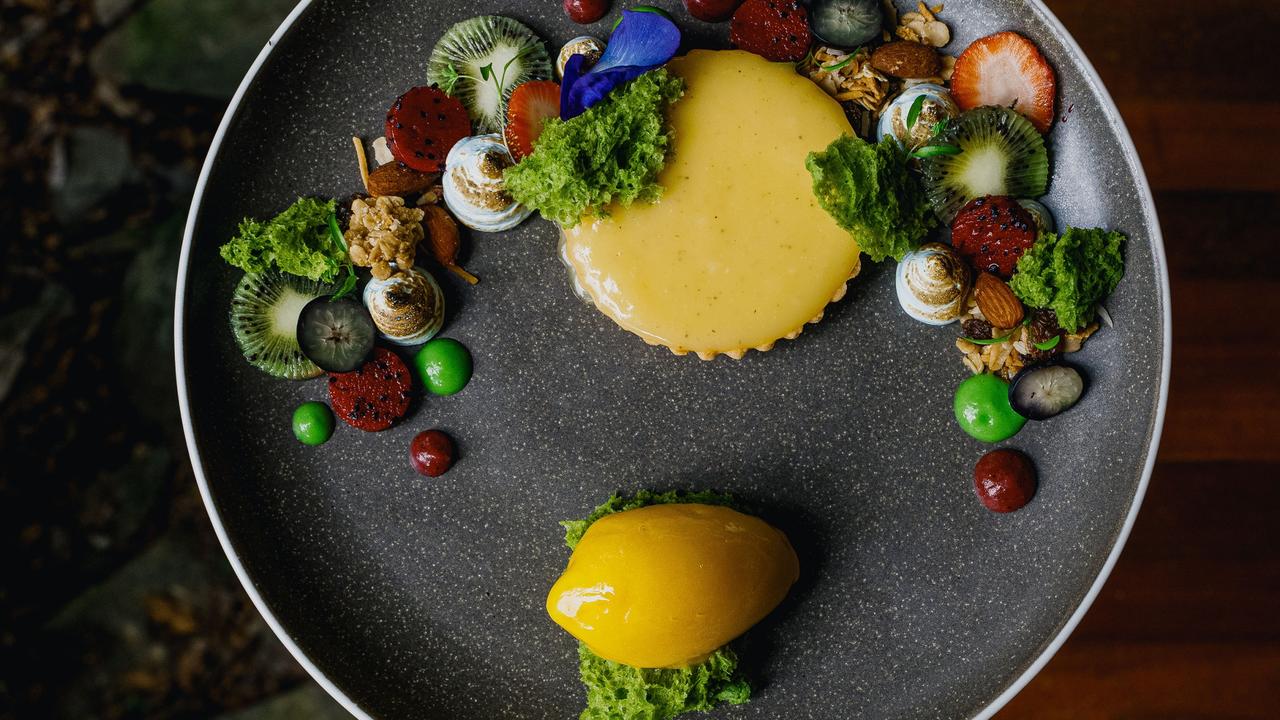 Silky Oaks Lodge is open to non-guests for lunch. Picture: supplied.
The day starts with an 8am yoga session with an experienced instructor from Cooya Beach, who imparts some local lore about the river.
Breakfast includes a Daintree Fruit Plate, swift choice options and main choices such as a coconut waffle, brioche with pandam jam and smoked almond, or a sesame and zucchini slice with lime and cherry tomato.
A flourishing kitchen garden now occupies a space where there were once tennis courts.
Among 30 raised corrugated iron beds, plantings include sapote, mangosteen, herbs, betel vines and oriental greens.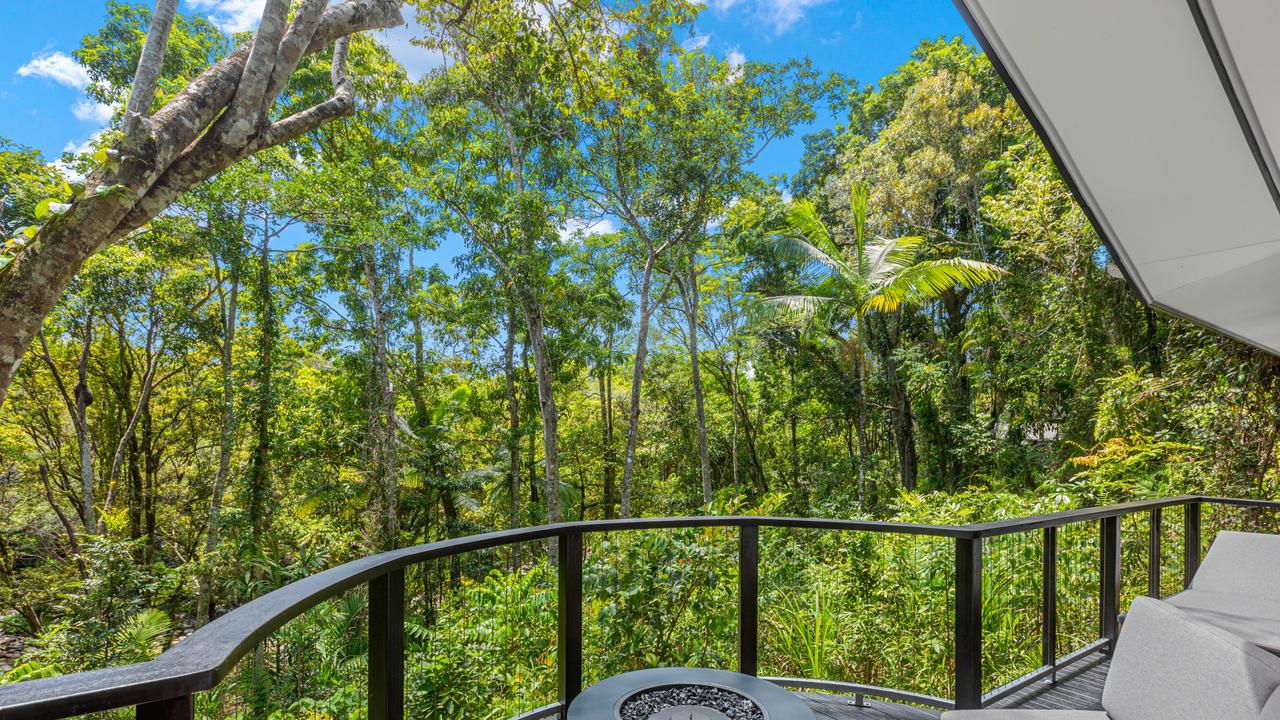 A stay in the Billabong Suite, pictured, is $1050 per person, per night, at Silky Oaks Lodge at Mossman. Picture: supplied.
Perhaps it was a bold move for Baillie Lodges to establish a foothold at Mossman rather than Port Douglas, but the couple has backed the beauty of the rainforest in doing so.
It is a big vote of confidence from industry heavy-hitters in the Far North.
The reinvented lodge is on 32ha and has several hiking tracks, kayaking, snorkelling, cycling, yoga, and, interestingly, a gym that is not airconditioned because Silky Oaks wants people outdoors.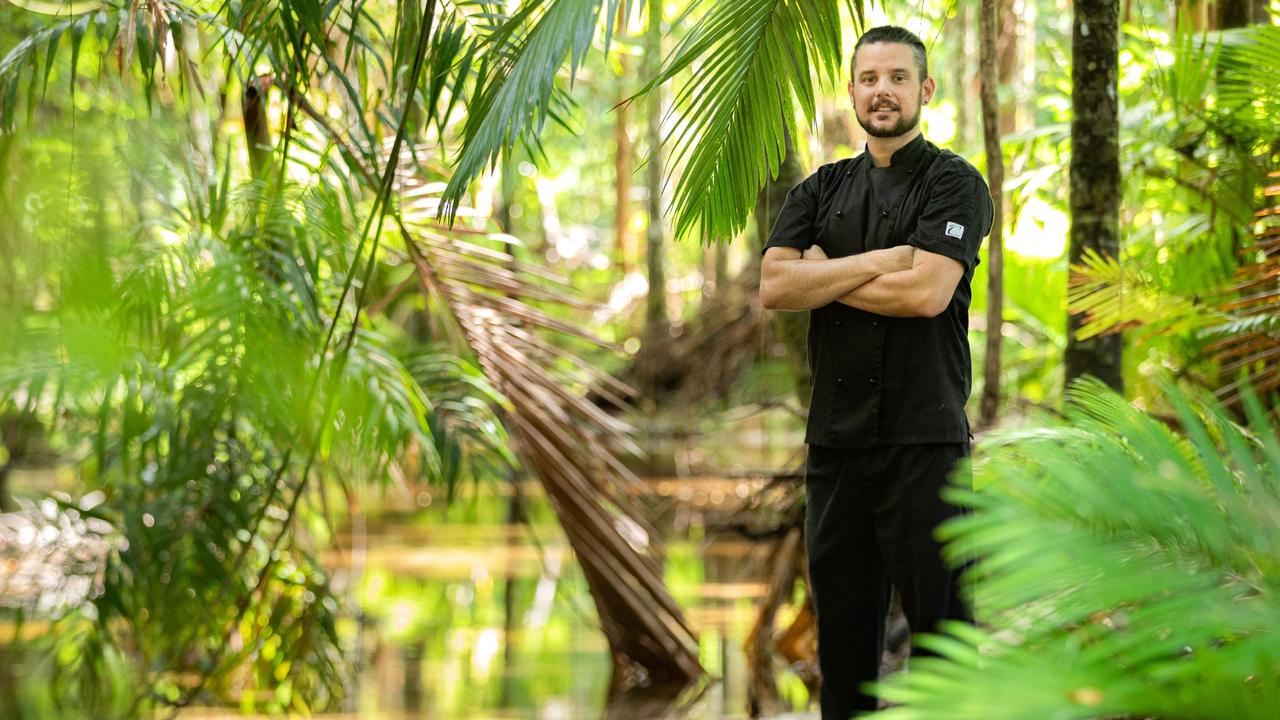 It has a beautiful pool with giant day beds on the deck, but staff encourage guests to take a dip in the river, with courteous but wise safety advice on the strength of currents in some spots.
A shuttle to Port Douglas is offered.
The Healing Waters Spa offers signature treatments with names such as Ulysses, Sacred Songlines, Daintree Dreaming and Alkeme Awakening – some start with a clearing Or'Yarrang incense smudge.
Silky Oaks promotes local tourism operators and encourages visitors to venture out on bespoke tours, cultural experiences and cellar door experiences.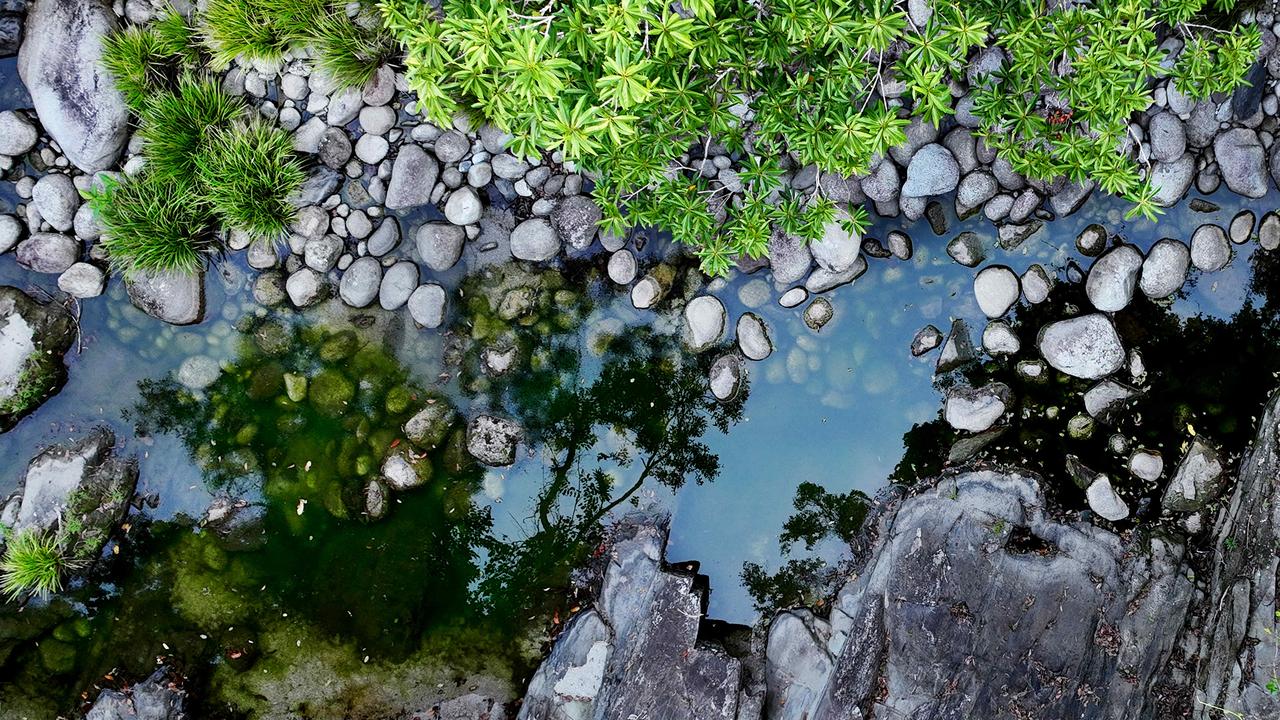 The Mossman River runs past Silky Oaks Lodge at Mossman Picture: Brendan Radke
Manager Sonya Boaden said locals were loving lunch visits to Silky Oaks.
Rooms start from $480 a person a night for the Rainforest Retreat to $2500 per person a night for the two-bedroom Daintree Pavilion.
Rates include breakfast, sunset drinks and canapes at The Jungle Perch bar and lounge, dinner, yoga and lodge-based activities.
Children 10 years and over are welcome.
There's a two-night minimum stay.
Visit silkyoakslodge.com.au.
Bronwyn Farr stayed as a guest of Baillie Lodges.