Far North Queensland is currently having a record winter season following a tough couple of years as borders were closed during the pandemic. Domestic visitors have embraced Far North Queensland placing the region more popular than destinations like Bali and Thailand.
Tourism Port Douglas and Daintree chief executive Tara Bennett said occupancy in the region was at 95 per cent and would be at 90 per cent in August.
Cairns-Bali direct flights cancelled, raising concerns with travel agents
After two years, Cruise ships are returning to Cairns
from Cairns post
AUSTRALIANS appear to have a bright new love affair with the Far North and hotels across the region are bursting at the seams.
With international borders closed during the Covid pandemic, interstate visitors began to freshly embrace Far North Queensland ahead of typical destinations like Bali and Thailand.
And the trend has gained momentum with scores of hotels fully booked out well past the school holidays.
Online hotel booking website Wotif lists 1031 properties across the Cairns region – but if you're trying to book a weekend getaway in a fortnight's time, dozens of hotels and apartments in all price brackets are sold out.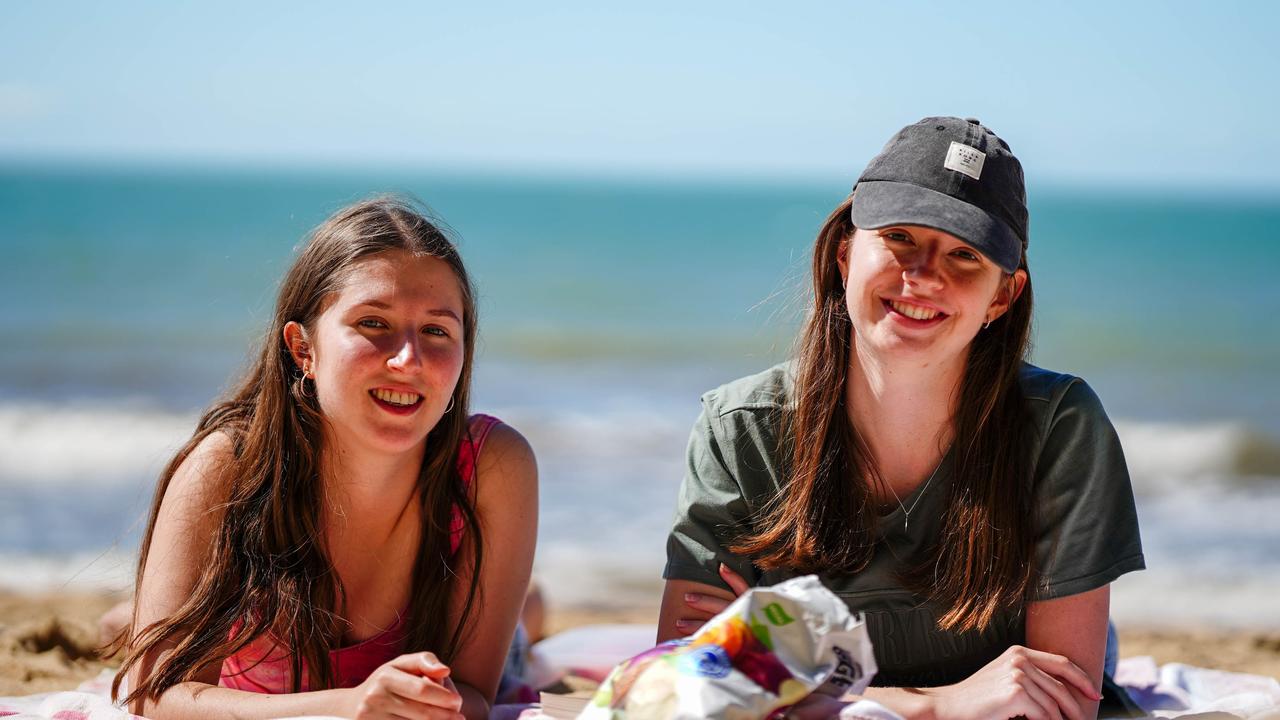 Georgia Glasson and Rachel Cavallaro soak up the winter sun at Trinity Beach. Picture: Nuno Avendano
There's very little availability in the mid-range price bracket although rooms can still be found by determined holiday-makers.
University students Georgia Glasson and Rachel Cavallaro were enjoying the sun at Trinity Beach on Friday.
"It is great talking a break from colder weather in Brisbane, and we're really enjoying being close to the beaches," Ms Glasson said.
Oaks Cairns Hotel spokesman Craig Hooley said the property was either completely full or close to full every day.
"It's fantastic to see a renewed sense of consumer confidence in booking holidays and a strong desire to travel, following an uncertain couple of years," Mr Hooley said.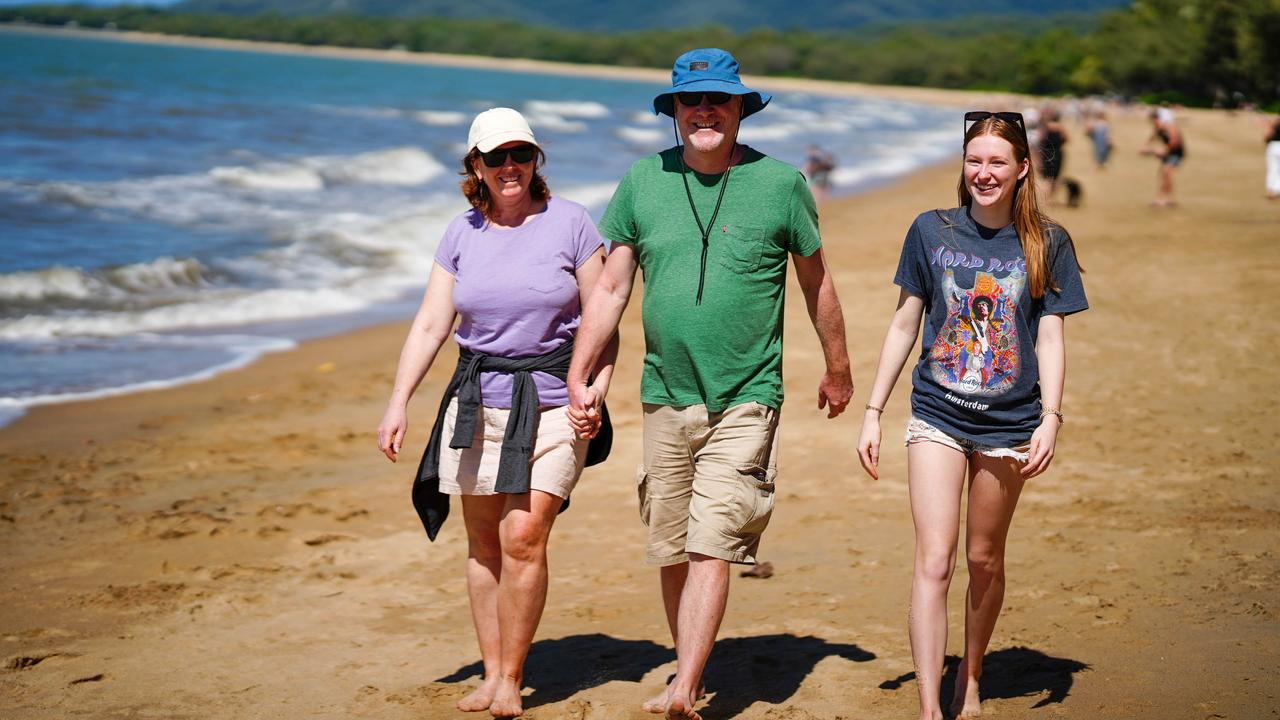 Sydney visitors Maria, Greg and Emily Dunn enjoy a tropical winter beach outing. Picture: Nuno Avendano
Crystalbrook Hotels spokeswoman Belinda Danks-Woodley said occupancy was above 85 per cent for July.
"July has shaped up to be the busiest yet for our three Crystalbrook Collection properties," she said.
"With all restaurants and bars now open it's been fantastic to see the destination come back to life.
"There is a great buzz around town and with the Esplanade precinct in full swing visitors are really using the space.
"Continuing to drive Cairns as a sustainable, luxurious destination is at the forefront of our strategy and travellers are really responding well to it."
She said international tourists were slowly returning.
"Travellers are looking to soak up glorious tropical weather," she said.
Crystalbrook Riley opened in November 2018 with 311 rooms, Crystalbrook Bailey opened a year later with 255 rooms – and the 311-room Crystalbrook Flynn opened in November 2020 – months after Covid hit our shores.
Tourism Tropical North Queensland (TTNQ) chief executive Mark Olsen said there had been very strong visitation.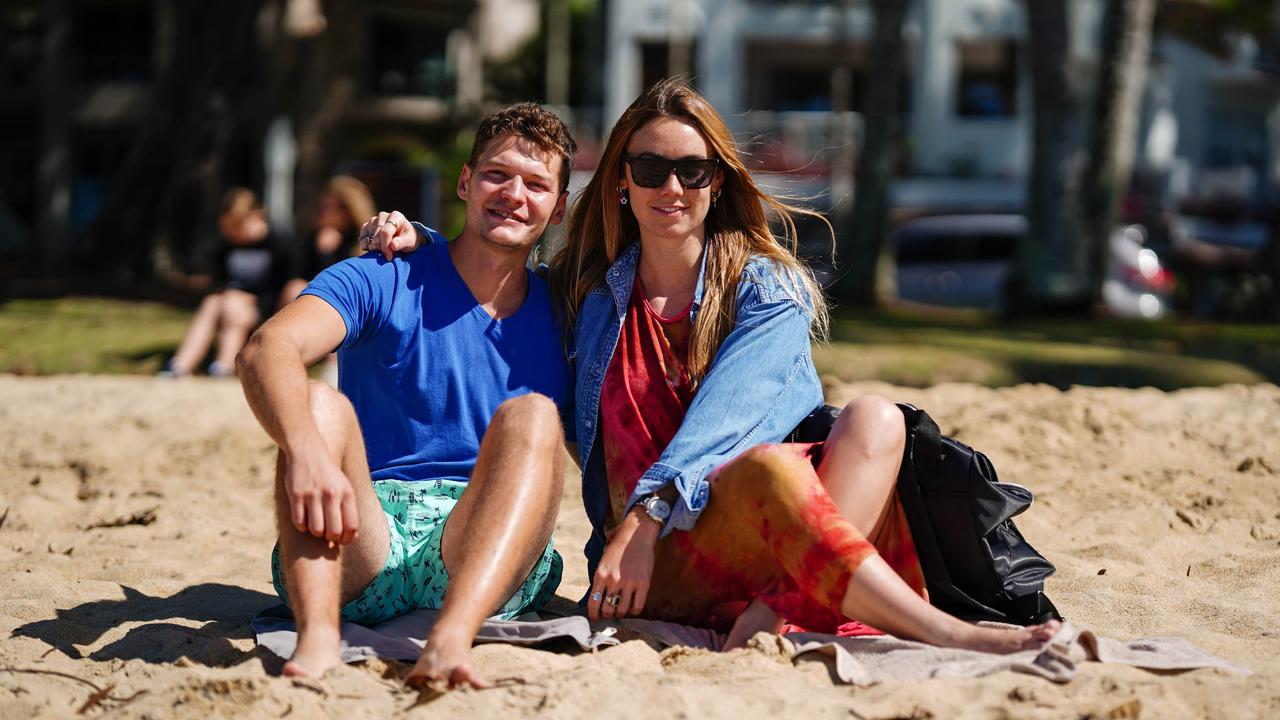 Gianfranco Novello and Abril Linages on the beach at Port Douglas. Picture: Nuno Avendano
"Tropical North Queensland has been sitting at about 85 per cent occupancy throughout the holidays and at times visitation has peaked above pre-Covid levels.
"It is a real testament to the industry that they have met this demand so quickly.
"The outlook for the rest of winter is strong with solid bookings through to the September school holidays," he said.
Tourism Port Douglas and Daintree chief executive Tara Bennett said occupancy in the region was at 95 per cent and would be at 90 per cent in August.
She said pre-Covid numbers had been exceeded since February.
"It is the build-up of people who have had their travel plans cancelled for the past two years, who may normally have travelled overseas and are now travelling domestically," Ms Bennett said.
"Port Douglas is aspirational and a little bit exotic, it is being discovered by travellers who may not have been here before, and we are welcoming back people who came here some time ago."
There are 13,000 rooms across the region plus 3000 Airbnb.
TTNQ data shows intrastate visitors – from within Queensland – was the biggest market from January to March, with visitors from throughout Australia staying longer and spending more – a record $3bn in three months – up by 18.8 per cent from 2019.