A true fishing story that was captured on camera as a pod of dolphins helped the fishos net a feed of big barra and mangrove jack in a croc infested channel. The remarkable scene happened off Hinchinbrook Island.
Related Attractions: London's bridges are falling down
Related Cultural Exports: The $66 million plan to revive Sydney's alfresco dining
from cairns post 13.11.21
LOCAL fishos have captured an amazing video revealing how a pod of threatened snub-fin dolphins helped them net a feed of big barra and mangrove jack in a croc infested channel off Hinchinbrook Island.
Hayden Golchert, Nathan Carter and Corey Cronin, collectively know as the Salty Shenanigans got together last week for an annual fishing trip having no idea what the adventure would bring.
They were flicking lures around the mangroves skirting a vast network of channels between the mainland and Hinchinbrook Island when one of the trio noticed splashing in the water close to the bank.
"We were just cruising along in the boat and Corey said 'look over there'," Mr Golchert said.
"We couldn't really see their faces but there was about five or six of them working as group.
"And one would go up and flick fish up on the bank.
"It was crazy seeing them working as a team, it was hectic."
Australian snub-fin dolphin taking a curious look.
Mr Golchert said he thought the dolphins were the snub-fin species as they looked very different to the common bottlenose variety.
Only identified as new species in 2015 the snubfin dolphin lives in estuary systems of northern Australia ranging between Brisbane and Broome in the west.
It's known as a very shy animal that keeps away from boats.
Motoring up to the bank the trio were blown away to see what the dolphins had flicked out of the water.
"And then we could believe it, old mate jumped out and started scooping up the fish in a net," he said.
"I wouldn't recommend doing it again, crocs are pretty smart and I sure they clued on to the ruckus."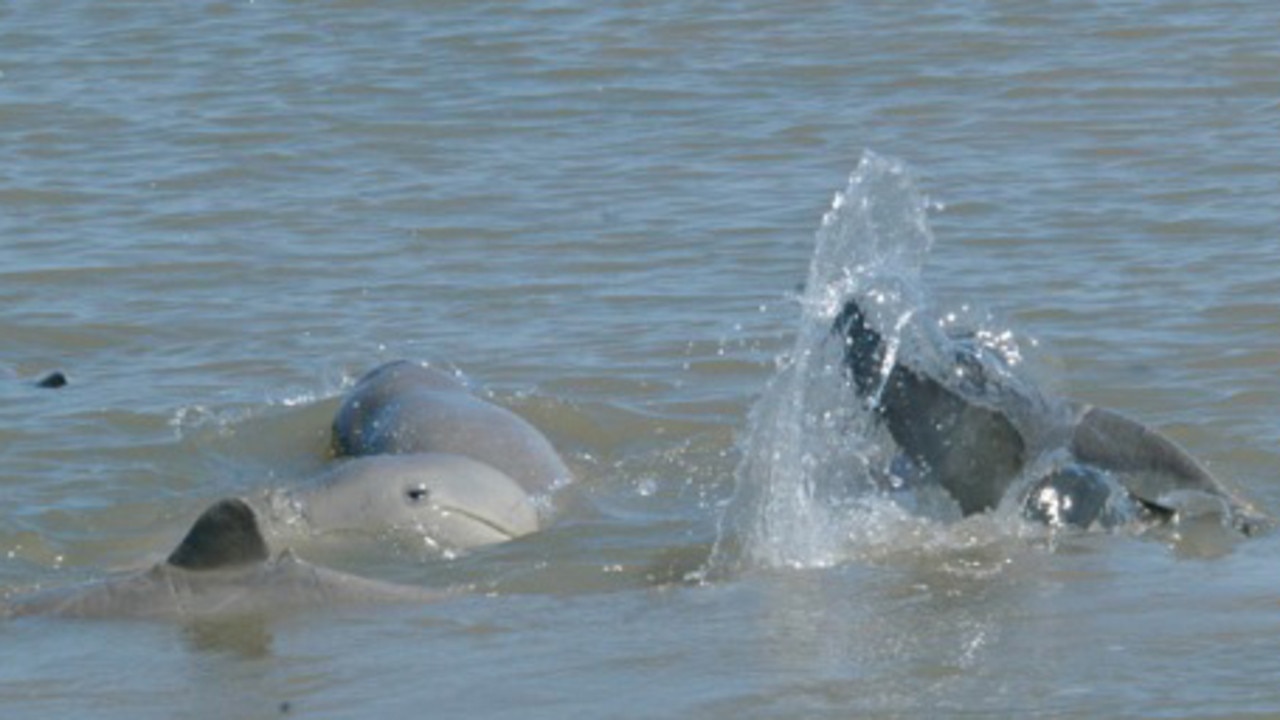 The snub-fin dolphin inhabits estuary systems in Northern Australia from Brisbane to Broome. Photo Contributed
The Yarrabah-based teacher's aide said it was a fishing trip he and his mates from Bundaberg will never forget.
"We were pretty blown away and not only to see the dolphins but to see them herding fish, it the kind of thing you see in docos. I'm I glad I had the Gopro rolling," he said.