Papua New Guinea plans to turn Ihu into a new futuristic city is already attracting Chinese investment. The town of Ihu, less than 500kms from the tip of Cape York, is currently mainly jungle, however, the area has large gas deposits.
While in the early stages there could be serious implications for Far North Queensland and Australia at large given the deteriorating relations between Australia and China.
Related China: China Doesn't See or Value Tourism The Way We Do
Related Attractions: WA's push for an Ashes reshuffle
from cairns post 02.10.21
PAPUA New Guinea's vision to build a futuristic city less than 500km from the tip of Cape York with military bases, heavy industry and an international airport has been revealed – and it is already attracting Chinese investment.
The town of Ihu in the Kikori district is largely jungle with a small number of homes dotting the western banks of the Vailala River.
There is no industry, limited agriculture and a population of about 18,000 people.
However, its position in relation to both Australia and major untapped gas deposits makes it a strategically crucial element in PNG's future expansion – one that has clearly not been overlooked.
China has just bought into the Kikori Special Economic Zone plan with a modest $30m grant, although it is unknown what strings are attached.
However, $30m is a drop in the ocean compared to what has been envisioned for Ihu.
A 13-minute 3D video with English and Chinese subtitles was first published in 2019 outlining a 50-year plan to build an entire city from scratch.
The scope of the project is staggering.
It is questionable whether it will attract the vast investment required but there are serious implications for Far North Queensland and Australia at large if it goes even a fraction of the way.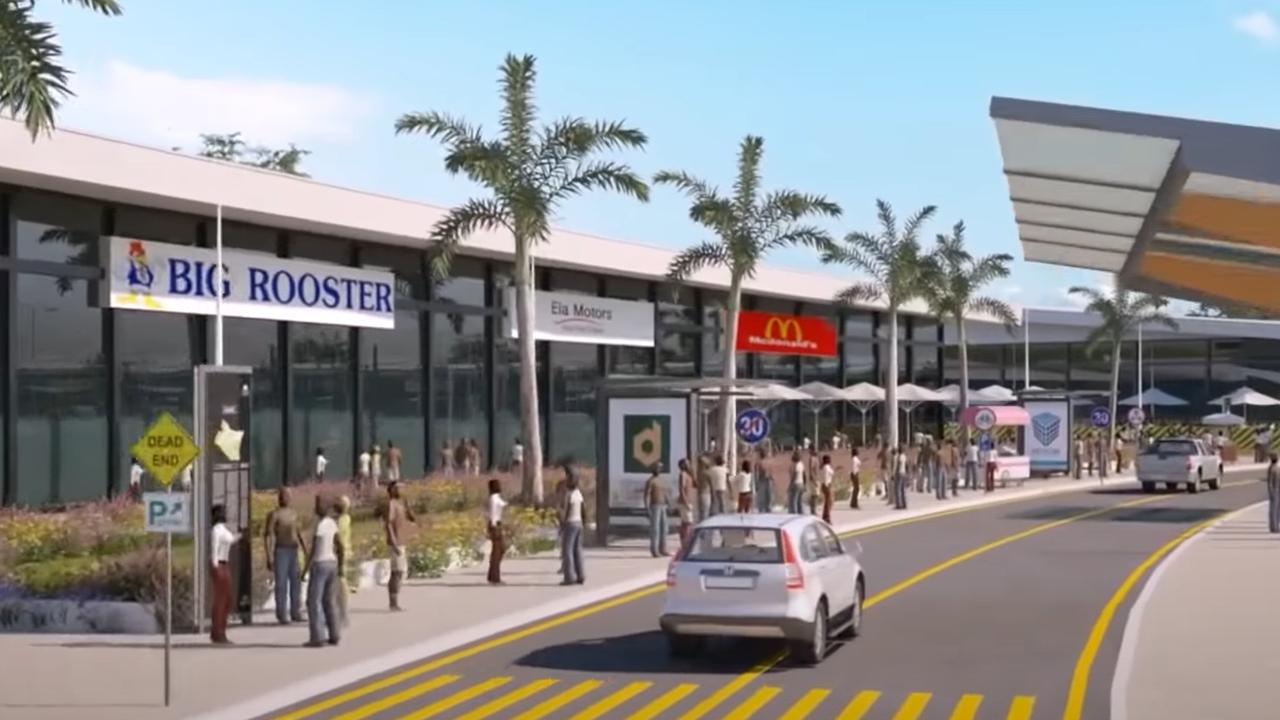 A main market and commercial spaces with McDonald's, airlines and other operators are a key part of the overall vision. Picture: Supplied
Political strategist and former adviser to several PNG prime ministers, Jeff Wall, said Australia had likely missed its chance to get some skin in the game.
He said Canberra's rumoured plan to "lend" PNG another $300m-plus would not achieve the desired effect – enhancing Australia's relationship with its closest neighbour while diminishing that of China.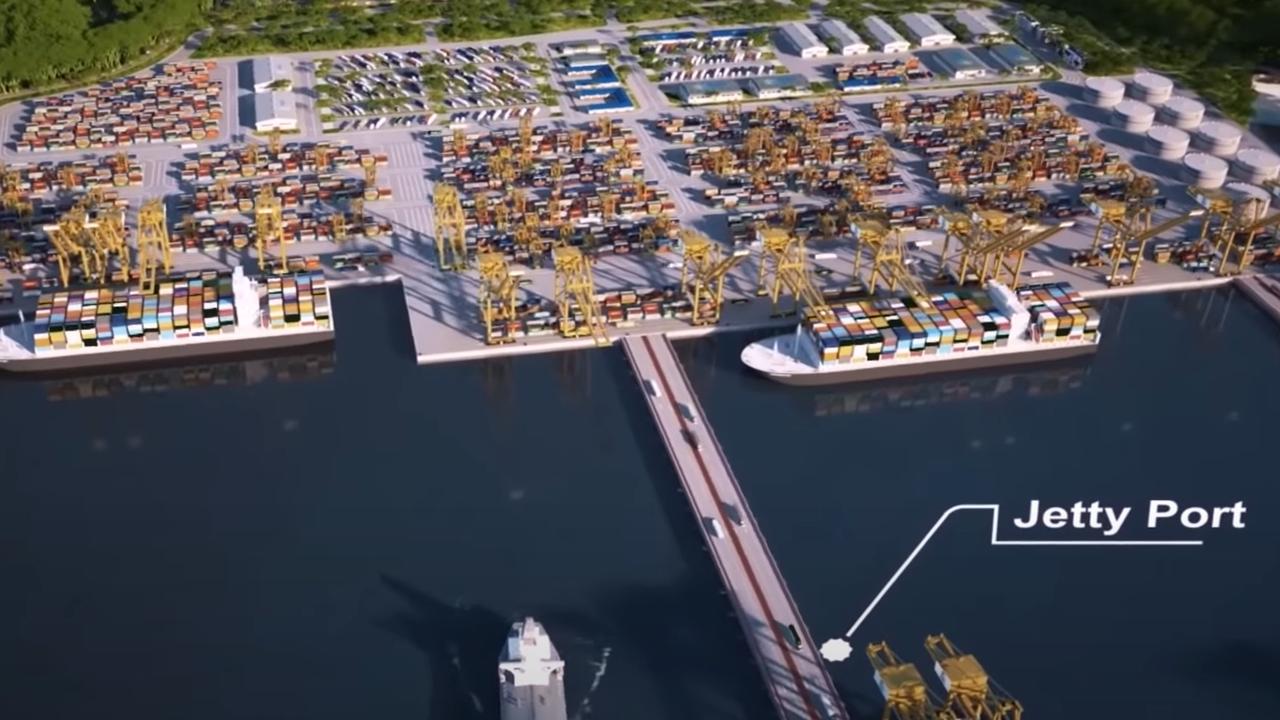 A proposed new seaport has been envisioned in a 3D flyover video for the proposed Kikori Special Economic Zone. Picture: Supplied
"The immediate question is – what would ($30m) deliver for China in return?" Mr Wall said.
"To me the answer is quite simple.
"It gives China an effective veto when it comes to foreign investors interested in the project.
"It is clear that as Australia's relations with China have deteriorated.
A technology park would be a key pillar of the new city's economy. Picture: Supplied
"China has shifted its focus to the Papuan provinces closest to Australia – Western Province (Daru) and now the Gulf Province."
The plan etches out a masterplanned city divided into separate zones including a naval base, army base, jetty port and deepwater port, and an international airport.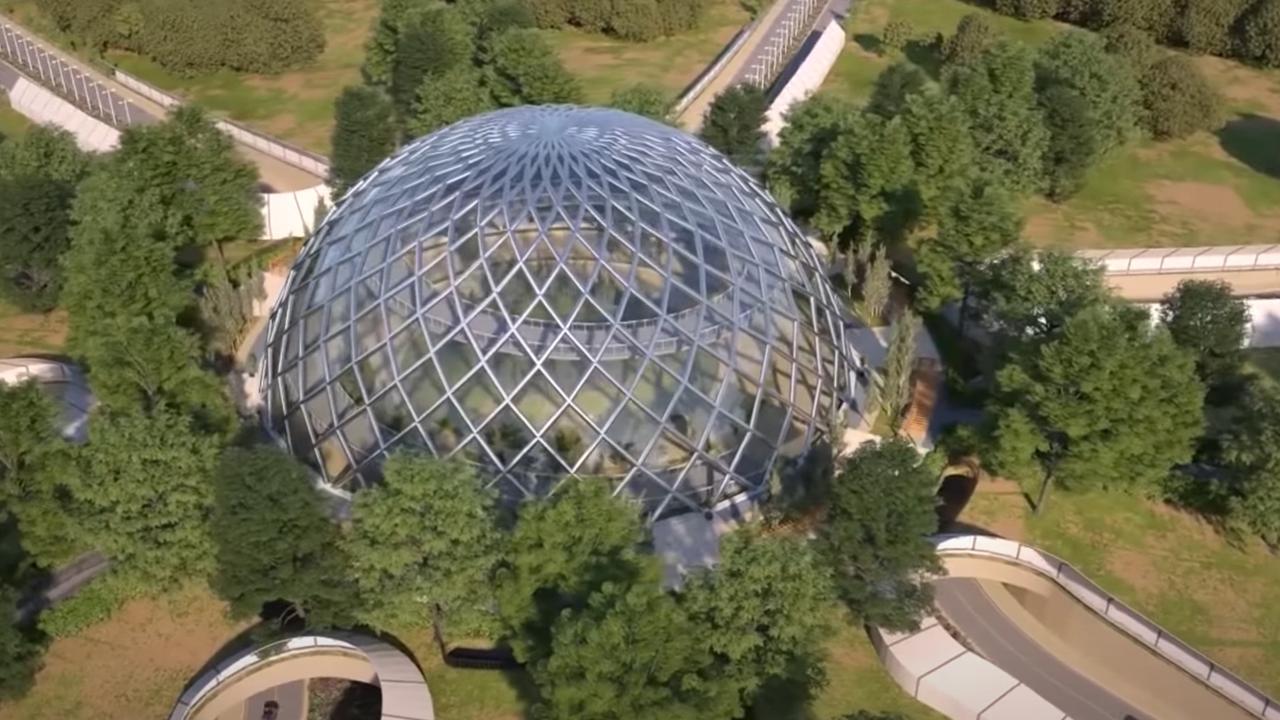 Perhaps the flashest roundabout in the southern hemisphere is depicted in the vision. Picture: Supplied
A free-trade zone sits alongside a massive petroleum park where gas resources would be processed for export via the port, and schools, recreational centre, sporting stadiums, hospital and a technology park have all been laid out.
The significance to Australia is especially clear when considered alongside a $200m Chinese-funded "fisheries facility" proposed for Daru, even closer to Queensland territory.
A critical element of the Ihu city plan is the proposed new naval base, which will play an increasingly important role as tensions grow in the South Pacific region. Picture: Supplied
"This project, far-fetched though it may seem, is most definitely not dead," Mr Wall warned.
"Discussions continue, and no doubt the first priority will be the construction of a wharf of Daru capable of berthing Chinese naval vessels."