The daily telegraph has found where you can enjoy a Bottomless brunch in Sydney.
Venues include: 
Carbon
Bopp & Tone
Butter
The Winery
Planar
Albi's Taverna
Beast & Co
Nour
Poppy Planet
SoCal Neutral Bay
The Pacific Club
The Sackville Hotel
Untied
Related Community: Britains fourth wave
Related Food: Where to eat and drink in Sydney
from daily telegraph 30.10.21
Carbon
One tequila, two tequilas, three tequilas … pour. Forget watered-down candy-coloured slushies in novelty glasses; it takes top-shelf Mexican tequila to make a proper margarita, just like the ones you get at Carbon Mexican Woodfire.
And nothing goes better with authentic margaritas than authentic Latin-American tacos, which, on Saturdays and Sundays, you can get your fill of at Carbon.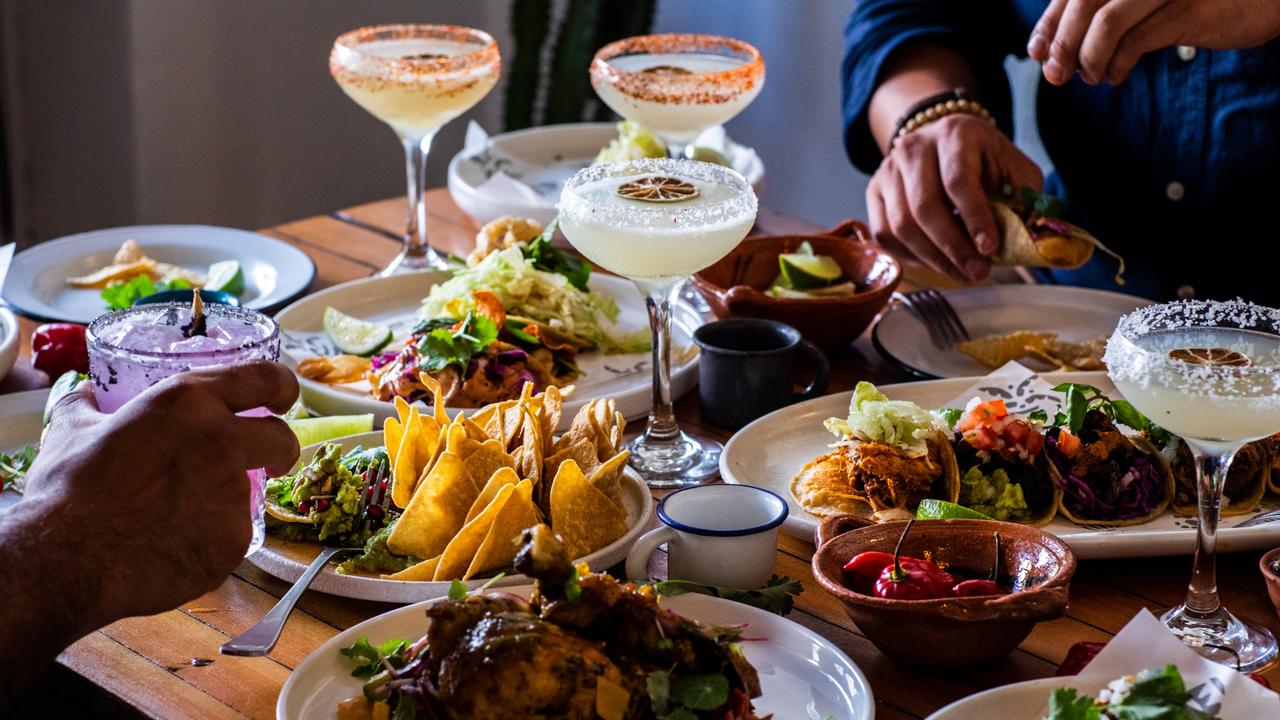 Enjoy some margaritas with your meal at Carbon. Picture: Kitti Gould
A menu selection at Carbon. Picture: Kitti Gould
Take a seat at this popular Bondi restaurant, and for 90 minutes, you can indulge in bottomless classic margaritas and a selection of tacos including beef birria (slow-cooked beef cheek); Baja fish (beer-battered barramundi); and garlic field mushroom with guacamole and Pico de Gallo ($85pp).
Sittings are between 12pm and 5pm. Bookings are essential.
— 288 Bondi Rd, Bondi; carbonmexican.com.au
Bopp & Tone
For those looking to unwind and quell the worries of the week, Soul Saturdays at Bopp & Tone should hit the right note.
Inside this CBD restaurant, the dark woods and marble tiles speak of grandeur, but the jewel-toned furnishings and gilded accents that seemingly divide the bar and dining areas give it a lived-in look, one that begs you to slide into the gold-velvet banquette, order a mimosa and sit back to enjoy the soulful sounds of Pu-Siki.
Every Saturday from 12.45pm-2.45pm, you can book a two-hour seating for bottomless drinks and a six-course meal of Mediterranean share food that includes spatchcock, rump cap, roast cracked potatoes, and more.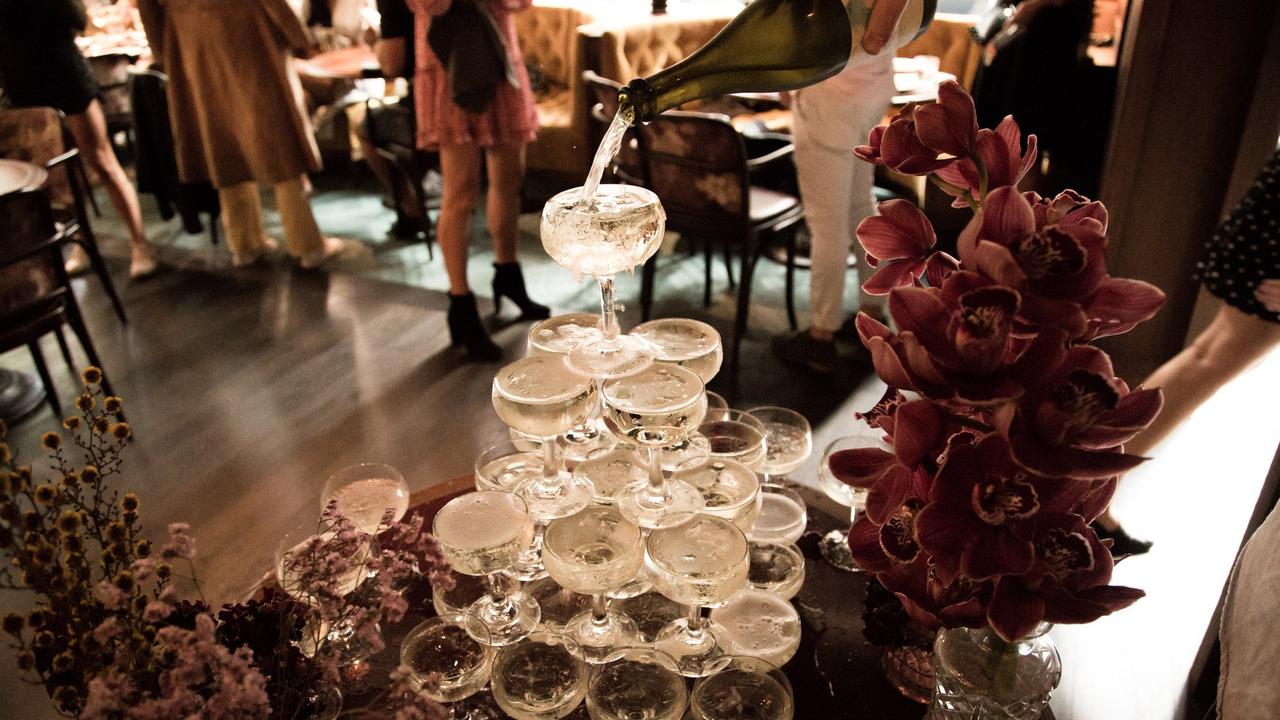 A champagne tower at Bopp & Tone. Picture: Supplied
The menu comes with either bubbles, mimosas, and beer ($99pp) or Perrier-Jouët ($165pp). "Following lockdown we're seeing how thrilled everyone is to be back out with friends, family and work mates in venues," Bopp & Tone co-owner Hamish Watts says.
"Bottomless brunches have always been popular, but even more so now – they're the perfect way to get together with your group, enjoy the warmer weather and celebrate being back together."
Bookings are essential and require a minimum of four people.
— 60 Carrington St, Sydney; boppandtone.com.au
Butter
Pull 'em out, lace 'em up and sneak into Butter for a perfect pair — fried chicken and champagne. And not just any fried chicken, rather these wings, thigh and tender pieces are made with a buttermilk base leaving them unbelievably moist inside with a crispy (and spicy) coating.
While you could wash it down with a basic beer, beat the heat with a glass of champagne, correction, bottomless glasses of champagne.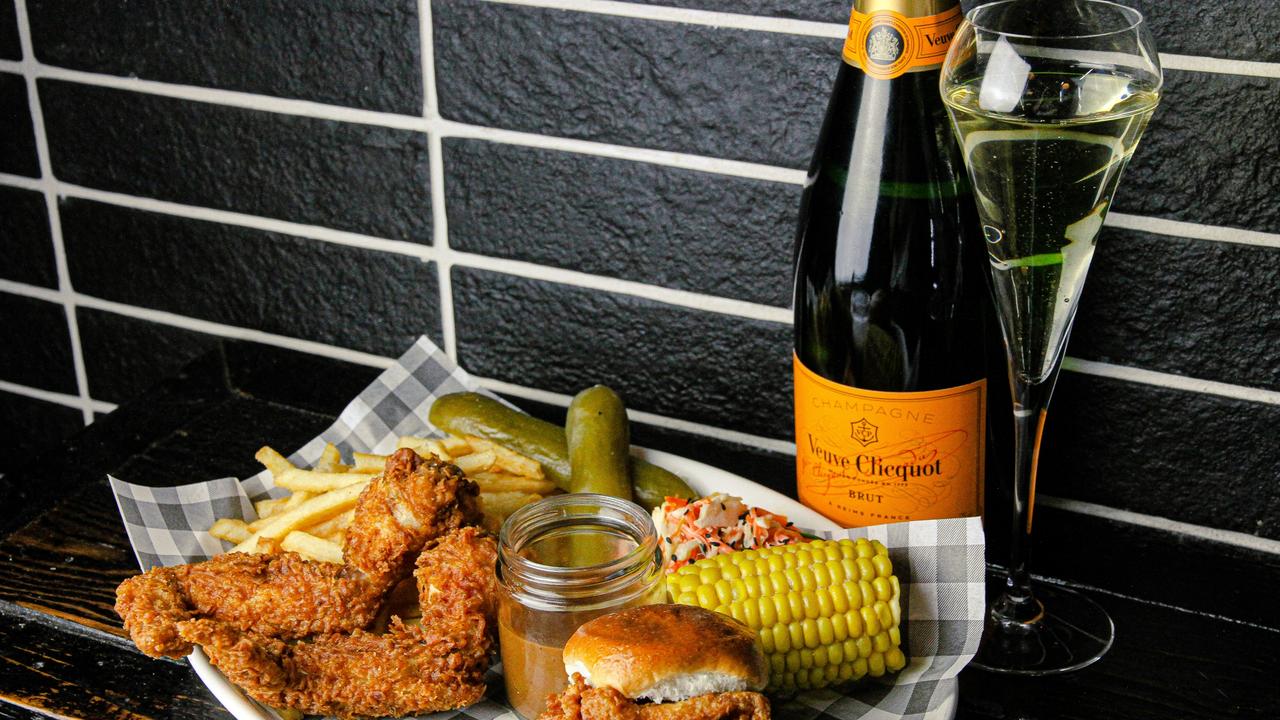 Champagne and fried chicken at Butter. Picture: George Alcantara
Over a 90-minute sitting, you can opt for one of Butter's three bottomless drink packages: Chandon Blanc de Blanc ($55pp), Hennessy VS Iced Tea ($55pp), and what is probably one of the best deals in town, Veuve Clicquot ($90pp).
To get the whole Butter experience, order the Fried Chicken Feast – Butter's mini spicy fried chicken sandwich, two crispy fried wings, miso corny, haloumi bite, pickles, coleslaw, ramen gravy and, choice of hot sauce – Fire or Hot AF served in a Butter shoebox (natch).
Of course, with time on the clock, you can't get away without indulging in their famous hot cinnamon doughnut.
Butter's Bloody Mary and fried chicken. Picture: George Alcantara
Or you could take a box of five for the road.
"What better way to spend a summer afternoon then Bottomless Brunch at Butter," says Julian Cincotta – co-owner and executive chef, Butter Sydney.
"The ultimate way to reconnect with your crew are long, easy afternoons, out of the house, sipping on Chandon, Veuve, or Hennessy – life doesn't get much better than that! And we all definitely need a bit of the good life right now."
The bottomless drink packages are available every day at all three locations.
— Chatswood, Parramatta, Surry Hills; buttersydney.com.au
The Winery
The laneway location with its leafy courtyard, elevated terrace, indoor bar, and dining are worth the visit alone but come the weekend, there's the added lure of The Winery's two-hour Bottomless Brunch.
The three-course menu includes grilled olive bread with whipped labne; Haloumi cheese with heirloom tomato, micro-basil, and artisan honey dressing; slow-braised beef cheek Ragu with calamarata, cavolo nero, Parmigiano; roast pumpkin, farro, mint, rocket, smoky coconut sauce, and puffed amaranth; and for dessert, triple chocolate brownie, chocolate sauce, chocolate crumb.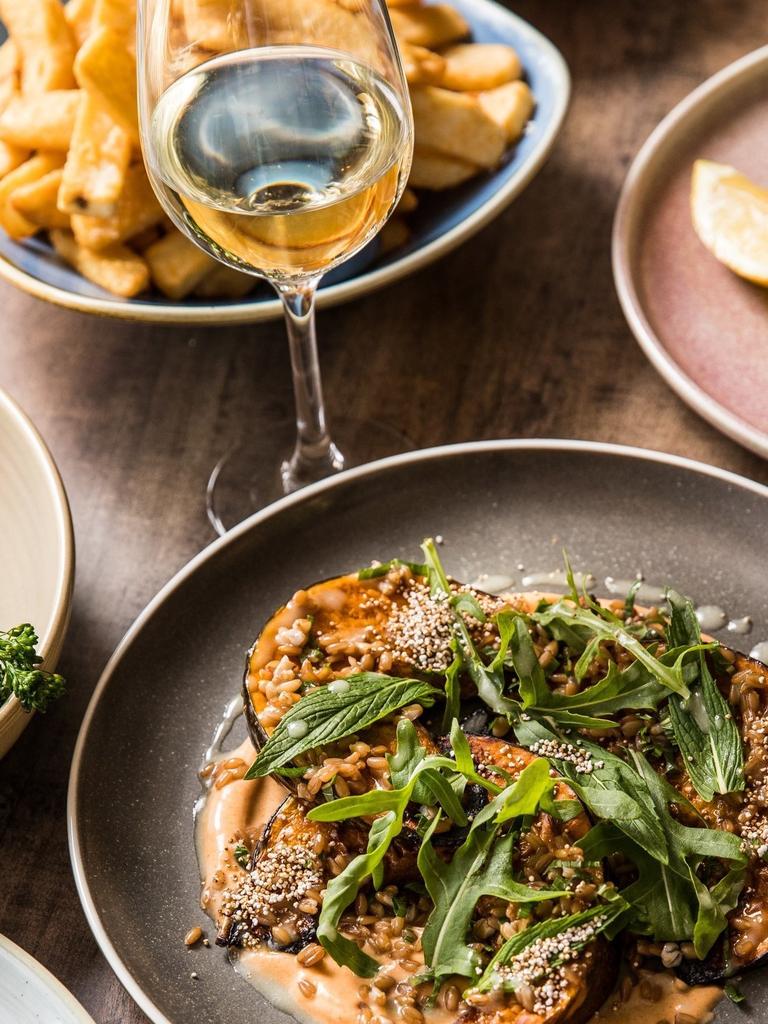 The Winery offers a bottomless brunch for patrons. Picture: Lauren Gray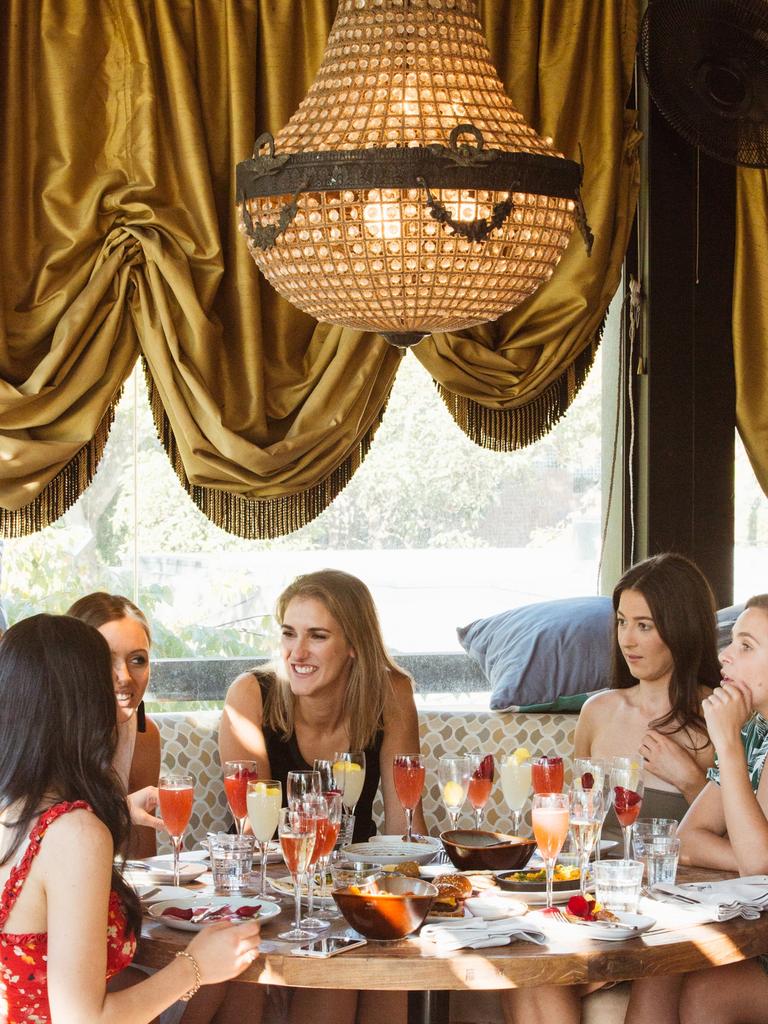 Enjoy a bottomless brunch with friends at The Winery. Picture: Leticia Almeida
True wine lovers will be smitten as rather than the copious amounts of generic red, white and bubbles, The Winery serves bottomless Bellinis, or glass of select Sauvignon Blanc, Rosé, Cabernet Sauvignon, and sparkling wines.
"Our bottomless brunches are the perfect way to kick off the weekend, especially with so much overdue catching up to do with friends. We're excited to welcome Sydneysiders back into our venues to relax, eat and drink and most importantly, have a great time," says Evan Gargaro, Australian Venue Co's NSW state manager.
Bookings are for two-hour blocks on Saturdays at 11.30am, 2pm or 4.30pm and Sundays at 11.30am or 2pm. ($79pp)
— 285A Crown St, Surry Hills; thewinerysurryhills.com.au
Planar
While the throngs of tourists are still at bay, now is a great time to rediscover Darling Harbour and finally snag that window seat.
At one end, you have upscale dining outlets in Barangaroo; on the other end is Darling Square, a modern and vibrant precinct with an abundance of diverse eateries and right in the middle is Planar, a modern-Australian restaurant with an abundance of outdoor lounges and alfresco dining.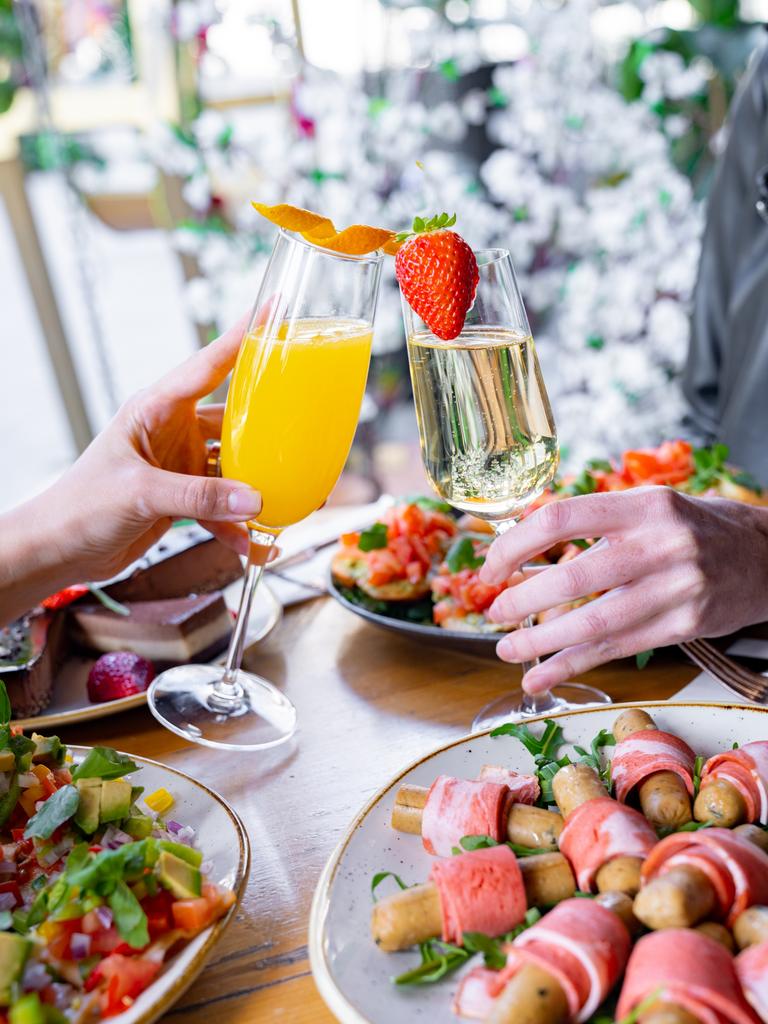 Planar Restaurant's bottomless brunch. Picture: Jason King
Enjoy some good food at the brunch. Picture: Jason King
Situated just far enough away to avoid crowds but close enough to enjoy the view over Cockle Bay Wharf towards the city skyline, Planar is an excellent option for weekend catch-ups over share plates and drinks.
There are two menu options to be had, alongside the ever-flowing select wines, Aperol Spritzes, mimosas, and other cocktails.
One is traditional brunch with sweet and savoury dishes, including stone-baked dips, wagyu sliders, smoked salmon bites, fig & prosciutto, and Planar's signature pancakes ($79pp, two-hour seating, 10am-3pm); the other option is a Vegan Bottomless Brunch with stone-baked dips, tomato bruschetta, Mexican salsa bites, vegan sweet treats, and vegan wraps ($79pp, two-hour seating, 11am-3pm).
Bookings must be made 48-hours in advance with a minimum of six people per group.
— ICC Sydney, Ground Floor, C08/14 Darling Drive, Darling Harbour; planarrestaurant.com.au
Albi's Taverna
The bottomless experience doesn't need to wait for the weekend, as at this authentic Italian restaurant, weekdays are also on the table. So take a pass on cooking and head in for a 10-course share menu that includes such dishes as Humpty Doo barramundi bruschetta, Sydney rock oysters, pumpkin arancini, salmon carpaccio and fusilli with veal & lamb ragu and two hours of endless bubbles, white wine, rosé and house beer.
The menu is available for dinner Tuesday-Thursday ($89pp, minimum four people) and Friday-Saturday ($110pp, minimum 10 people) or for lunch Friday-Sunday ($89pp, minimum four people). Two-hour sittings.
— Shop 1-2/1 Ocean Grove Ave, Cronulla; albistaverna.com.au
Beast & Co
There's a new take on old-world fare at Beast & Co, where the food is all about European flavours and cooking that rises above typical dumplings and heavy sauces with dishes such as steak tartare ceviche, roasted cabbage and baked beetroot and crackling pork belly.
Beast & Co's brunch menu. Picture: Supplied
Those and more of their signature items are available for brunch on Saturdays and Sundays ($49pp) along with the option to purchase a two-hour bottomless drinks package – mimosas, house wines and beer ($30pp), or margaritas ($40pp). Weekends, 11am-3pm.
— Shop 15/425 Bourke St, Surry Hills; beastandco.com.au
Nour
Casual elegance awaits at this sun-drenched restaurant off Crown St in Surry Hills. Inside, the neutral-toned furnishings and polished marble reflect the modern approach Nour has applied to classic Lebanese flavours.
You won't find the ubiquitous falafel & tahini plates here; rather, dishes such as zaatar crispy Yellowfin tuna navyeh, glazed lamb shoulder and shucked oysters make an appearance. With so much to choose from, the banquet menus are pretty much a must, and the bottomless drinks packages are a real no-brainer.
There are Saturday lunch ($89pp, $119pp), Sunday Brunch ($49pp) and Sunday lunch ($79pp) options, as well as three different drinks packages: French Rosé or Almaza beer ($39pp), cocktails and French Rosé and beer ($49pp), cocktails, French Rosé, beer, Negronis and Tommy's Margaritas ($79pp). Seatings are for 90 minutes. Saturdays, 12pm-2.30pm, Sundays, 10am-2.30pm.
— Shop 3, 490 Crown St, Surry Hills; noursydney.com
Poppy Planet
Put some colour back into your life at this fun and funky eatery that sports vibrantly painted walls and actual swings for seats. Steady yourself for their Bottomless Brunch on Saturdays where for 90 minutes, you'll enjoy dishes of their unique Japanese inspired Italian fare, including spaghetti al pesto, Napoli rigatoni, and mixed salads, alongside your fill of espresso martinis, mimosas, gin & tonics, and select wines. ($69pp, Saturdays, 11am-2pm)
— 251 Oxford St, Darlinghurst; poppy-planet.com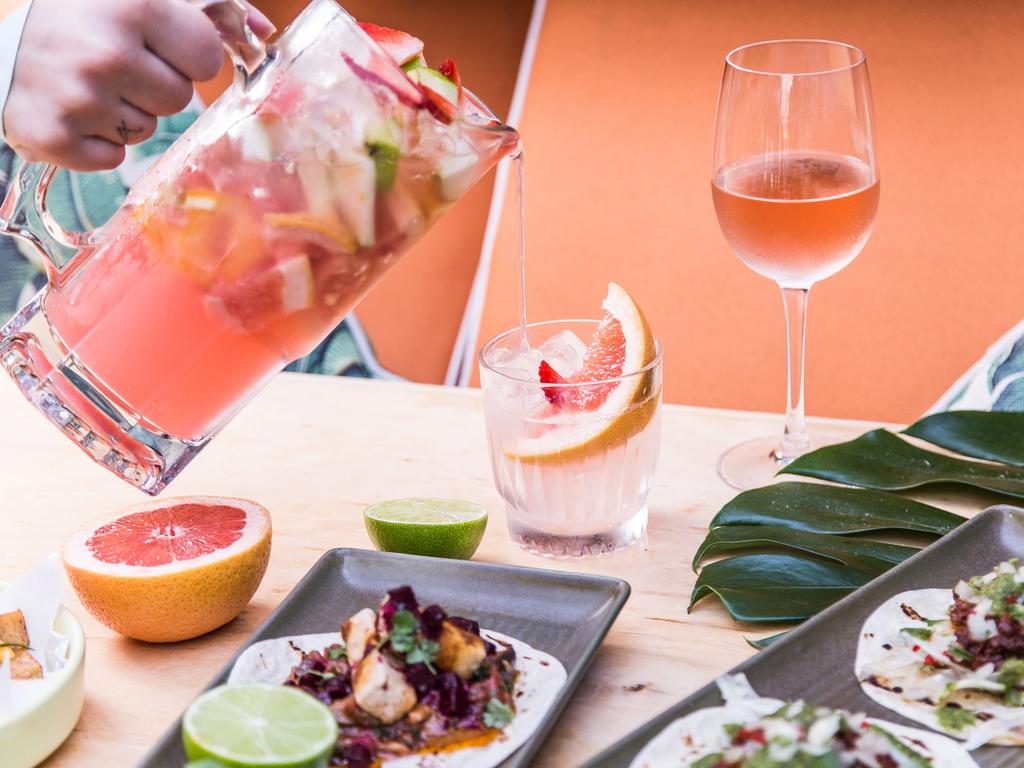 SoCal Neutral Bay's cocktails. Picture: Supplied
SoCal Neutral Bay
This summer, settle in for some Southern California vibes at SoCal Neutral Bay's Bottomless Rosé Lunch ($69pp).
Grab a table on the terrace and savour the flavours of Latin America 'street food' with share-style serves of house favourites including, Kingfish tiradito, house-smoked beef tacos, and house-made chorizo quesadillas.
While the weather warms up, you'll stay cool with two hours of unlimited rosé & rosé sangria or, for an extra $10pp, you can add on a tap beer. (Available Wednesday-Sunday, 12pm-3pm, minimum four people).
— 1 Young St, Neutral Bay; socalsydney.com.au
The Pacific Club
Surf, sand, and a sophisticated Saturday brunch; that's all part of the package at The Pacific Club in Bondi. Over two hours, guests will be served a set four-course meal accompanied by bottomless prosecco, spritz cocktails, and select wines. ($110pp; two-hour sittings, Saturdays from 12pm
— 182 Campbell Parade, Bondi Beach; thepacificclub.com.au
The Sackville Hotel's smoked salmon. Picture: HG Johnson Photography
The Sackville Hotel
While The Sackville Hotel has been around for over 100 years, The Sacky's Long Lunch is brand new. Launching Sunday, November 14, guests will be served a three-course meal with bottomless Tequila Patron cocktails. ($89pp; two-hour sittings between 12pm and 3pm).
— 599 Darling St, Rozelle; sackvillehotel.com.au
Untied's vegan brunch cocktails. Picture: Supplied
Untied
This rooftop oasis's modern Australian cuisine, tropical cocktails and creative drinks are a favourite of the after-work crowd, but it's the bottomless vegan brunch on Sundays that's getting the attention.
Over two hours, guests are treated to a four-course plant-based menu that includes chargrilled pumpkin, polenta crisps and scrambled tofu served on a potato and chickpea hash, and charred asparagus with roasted cherry tomatoes, all served alongside bottomless glasses of select wines, mimosas and two frosty cocktails – Apple Daze and Sunday Pash, all of which are also vegan. ($69pp; two sittings: 11am-1pm, or 2pm-4pm)
— Level 4/400 Barangaroo Ave, Barangaroo; untiedsydney.com.au