With Summer around the corner, a list of South Australias 20 best beer gardens is now available.
Pubs included;
Beer Garden Brewing
Bridgewater Inn
Caledonian Inn
The Edinburgh Hotel & Cellars
Gilbert Street Hotel
The Gully Public House & Garden
Kick Back Brewing
Marion Hotel
Parkside Hotel
Robin Hood Hotel
The Scenic Hotel
Palais Hotel
Stanley Bridge Tavern
The Stirling Hotel
Swell Brewing Co. Taphouse & Brewery
The Feathers
Victory Hotel
Watervale Hotel
Warradale Hotel
Wheatsheaf Hotel
Related South Australia: Stirling main street redevelopment plans
Related Alcohol: Where to eat and drink in Sydney
from Adelaide now 19.11.21
The great Australian pub is not complete these days without a brilliant beer garden to match and in South Australia we are blessed with an abundance of spots to enjoy a drink in the sun.
This is something Kick Back Brewing founder Brenton Schoemaker knew was essential when he opened the doors to the Aldinga taphouse and brewery in June this year.
With summer quickly approaching, The Messenger has picked out 20 beer gardens around the state to enjoy a cold beer, wine, cocktail or something lighter when the weather heats up.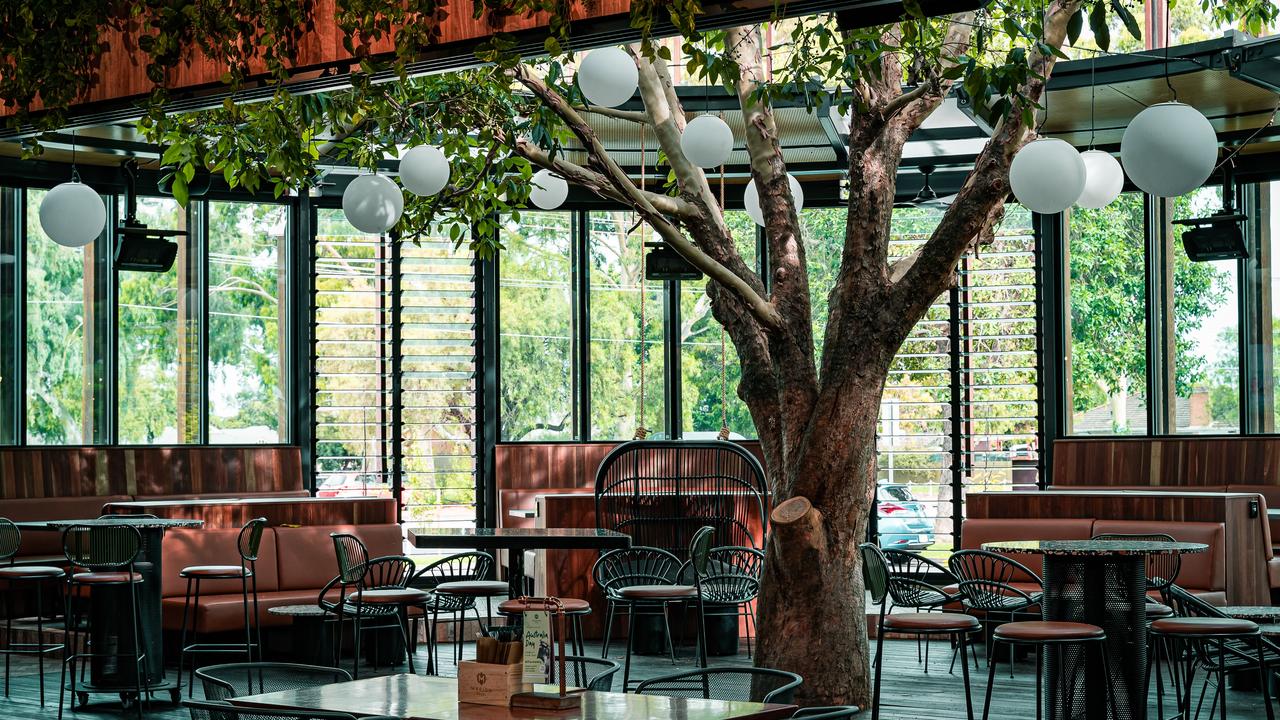 A large tree is the centrepiece of the revamped beer garden at the Marion Hotel. Picture: Supplied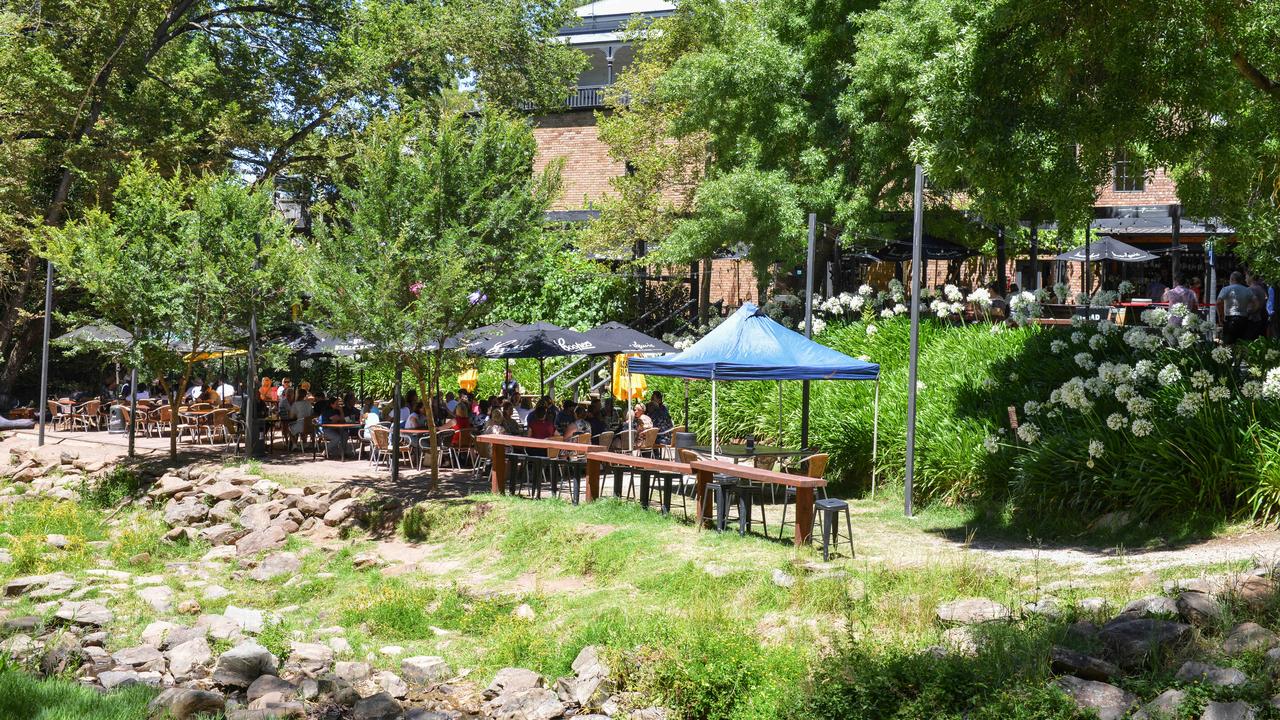 The Bridgewater Inn's picture-perfect beer garden is complete with two levels and a creek running alongside. Picture: Brenton Edwards
Mr Schoemaker left his career as a geologist last year to turn a passion for homebrewing into a full-time job, along with a dream of a brewery and venue in the growing southern region.
Sipping on tasters of his latest creations – a Mexican-style lager and a blood plum gose – the owner and head brewer says it wouldn't be the same without the freshly cut grass and open air of the Old Coach Road taphouse's vast beer garden.
"I knew an outdoor space was pretty vital in a summer coastal setting, it's certainly a point of difference to some other venues," Mr Shoemaker said.
"There's a match made in heaven when you have a sunny bench to sit on and a cold froth in your grasp."
Along with its range of small batch craft beer, the big, grassy space at Kick Back has attracted "overwhelming" support from locals and further-flung visitors alike.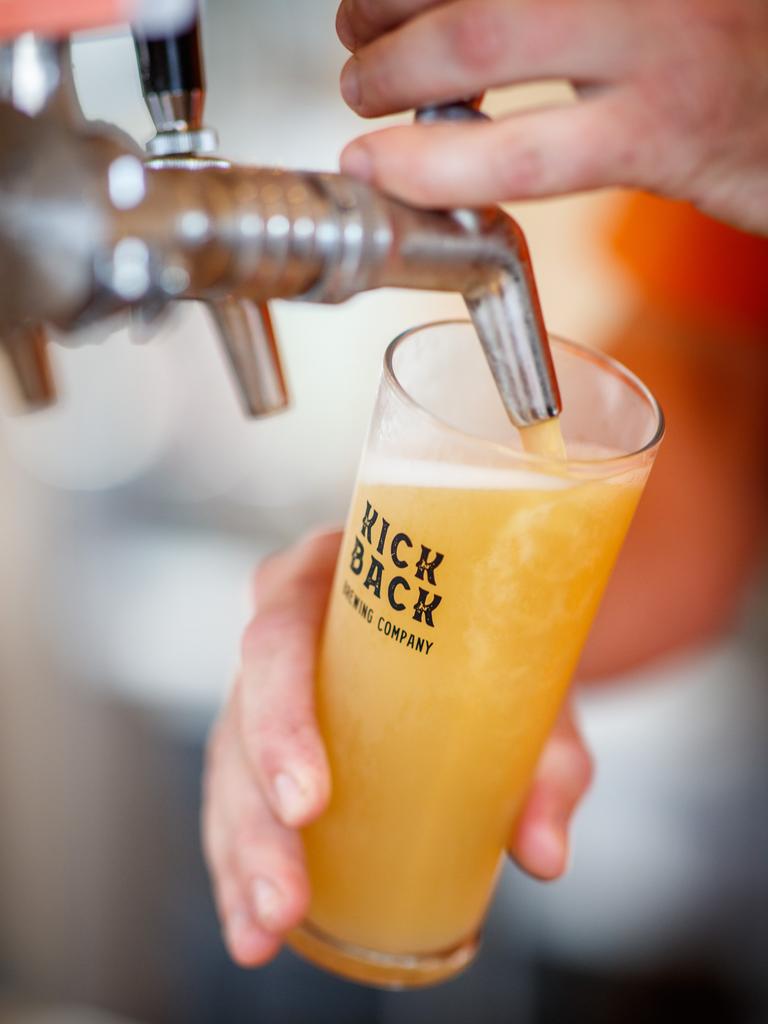 Kick Back's taphouse features 16 taps with beers brewed onsite. Picture: Matt Turner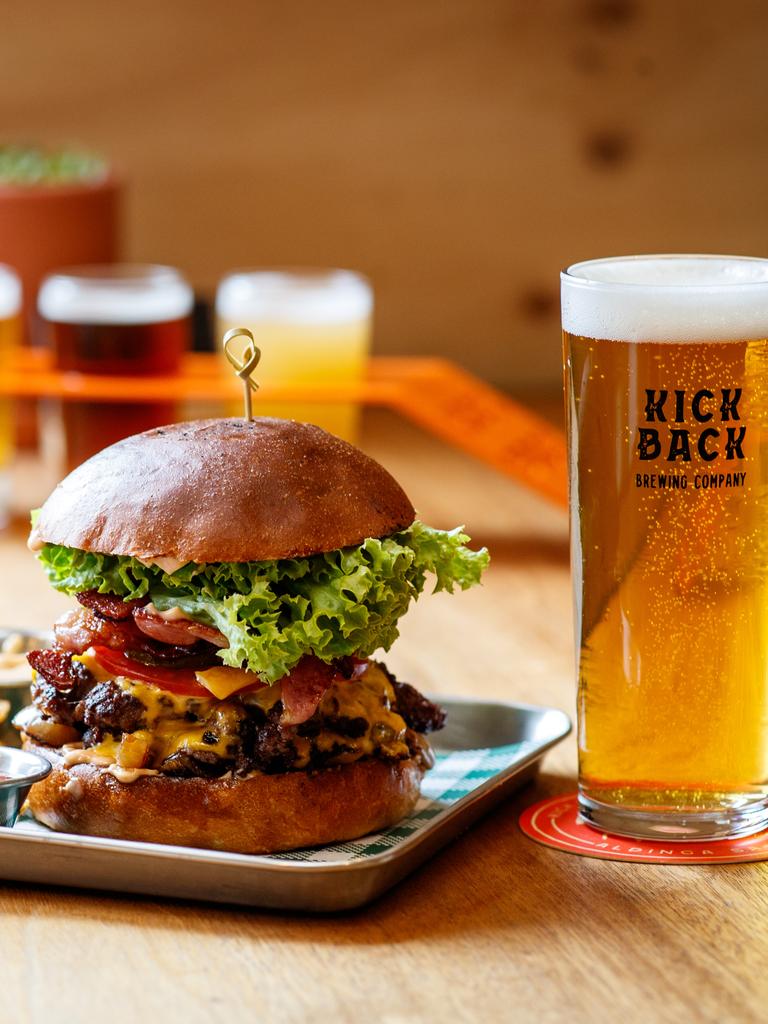 The burger on offer at the Aldinga taphouse. Picture: Matt Turner
Kick Back Brewing's outdoor space. Picture: Matt Turner
Large window panes inside offer a view into the brewery where early favourites such as their Welcome Stranger hazy and Off Leash pale are being fermented before being pumped into the 16 taps just metres away.
The latter beer – "an ode to the beach dogs" – fits well with the dog-friendly rules of the outdoor area, though pooches are very much required to be on a lead.
Mr Shoemaker says nailing both the indoor and outdoor spaces of the venue was important and believes plenty of room to spread out is key to a great beer garden.
"I think punters like that you can see the brewery through set large windows, you really feel connected to the process," he said.
"There's something special about trying something from the source.
"And beer gardens make for a more family friendly experience. Lawn games and outdoor entertainment only add to the experience too.
"We have a half a dozen picnic benches which get utilised regularly and in the winter we have fire pits."