The results from 2021 beer sales in-store have shown a seismic shift in Australia's beer market since 2016, as Australians are opting for a low or zero alcohol beer, with Great Northern super crisp taking the most popular spot.
Related Alcohol: Hard FIZZ to open on the Gold Coast
Related Australian Cultural Exports: Fight over native title mining royalties
from cairns post 26.12.21
Exclusive: Australian beer drinkers are avoiding hangovers, with a doubling in the market share of low or no alcohol beers.
The top-selling beer across the country in 2021 was the Great Northern Super Crisp Lager – a mid strength.
Exclusive figures from marketing research company IRI Australia have revealed the breakdown of Australia's changing tastes in beer.
Carlton Dry came in at second place, while XXXX Gold, another mid strength, was third most popular, based on bottle shops sales in 2021.
Victoria Bitter was fourth, while Great Northern's heavy beer rounded out the top five.
There has been a seismic shift in Australia's beer market since 2016, when IRI Australia figures showed that XXXX Gold was number one, with VB second, followed by Carlton Dry, Corona Extra and Carlton Draught rounding out the top five.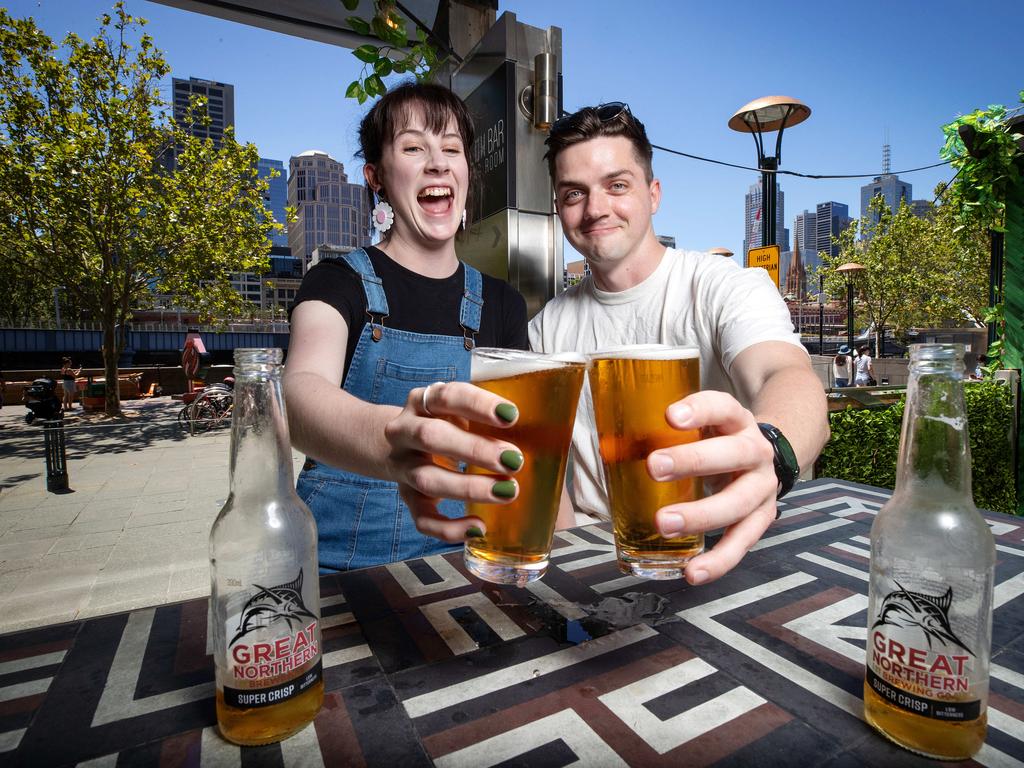 Johanna Scully, 23, and Sam Brick, 28, enjoy a Super Crisp at Ludlow Bar and Dining Room in Southbank. Picture: Mark Stewart
Matt Kirkegaard, founder and publisher of the beer trade's industry bible Brews News, said Great Northern had taken off because its advertising included women.
"Great Northern is reaching 50 per cent of Australia's potential beer drinkers, who are women," he said.
He said that Great Northern had found a sweet spot with its advertising based mainly around camping and outdoors, which anyone could do, without necessarily being "blokey".
"VB has the 'hard earned thirst' whereas Great Northern's branding is about being outdoors," he said.
The beer also tapped into the trend of less bitter beers, and the lower alcohol content made it cheaper because excise tax was linked to alcohol content.
Mr Kirkegaard said some beers like VB suffered in sales among younger drinkers because that was "the beer your dad drank."
"When I started writing about beer in the early 2000s one in every four beers sold in Australia was a VB, it was a juggernaut," he added.
Australia's two major brewing companies are now owned by Japanese drinks giants – Asahi owns CUB, and Kirin owns the Lion Group.
They control most of the market, with family-owned Coopers coming in with about a six per cent share.
Smaller breweries have become takeover targets, with Lion paying $500 million for Byron Bay's Stone and Wood brands.
CUB forked out up to $200 million for Balter Brewery – three years after it was started up with the backing of surfer Mick Fanning, whose fame after surviving a shark attack in South Africa drove the beer's branding.
Lauren Fildes, acting general manager of marketing at CUB, said the brewer launched Great Northern as a Queensland beer, but it had taken off nationally.
"Great Northern launched simply because we saw a gap for an easy drinking lager for a Queensland summer," she said.
"There's a growing preference for extra refreshing, less bitter beers along with mid-alcohol options as Australians increasingly moderate their alcohol intake.
"Low, mid and no-alcohol options now account for 28 per cent of our total beer sales."
Of VB and Carlton Draught, Ms Fildes added that "people have been writing them off for years and years but it just hasn't happened."
Industry sources said XXXX Gold had remained popular despite the increased choices for beer drinkers.
Antonia Tolich, Consultant – Liquor & Tobacco at IRI Australia, said the data was collated from sales of more than 500 clients across the country.