NSW liquor license boundaries can be expanded in just three days – compared to the old 51 days.
Alfresco everything, including rooftop bars and music are obvious tourism winners, but the NSW Government are at the moment demonstrating just how much coordination is required to wave through tourism initiatives.
From only the most extreme tourism emergency have governments been able to see the tangle of red tape tourism and hospitality operators have been working under. From only extreme financial pressure have governments been able to marshall the manpower required to change an entire suite of inhibiting regulation.#CutRedTapeCreateJobs.
Done right, the new NSW legislation (as Australia's most visited state or territory) should lead the way for other states to amend various legislation that inhibits doing good business in tourism and hospitality.
Done right, the increased capacity for operators to sell food and drink wherever and whenever possible will encourage extraordinary long-term growth in the complementary creative industries that suffer similar economic burdens of over-regulation.
These NSW changes are a huge step toward the biggest problem the tourism sector faces – an issue understood to be addressed in the near future by the federal government – Industrial Relations issues around casualised workforces.
In hospitality, tourism and creative industries, no employee can be made permanent and given rights to skip shifts (via too-easy-to-take sick leave etc.) because the results of those rights are catastrophically expensive to hospitality, tourism and creative industries.
If one chef doesn't show up to a Hunter Valley restaurant on a Friday, if one waitress doesn't show up to a restaurant on a busy Saturday, that restaurateur or cafe owner can lose thousands in income that needs to supplement the rest of a quiet week.
The Tourism News has reported before that it's the cottage industry-style of part-time hours and therefore work that holds back the hospitality and tourism sector. It is impossible to professionalise a workforce part-time, and it is impossible to convince young people to go into industries that provide inconsistent part-time work at best.
Only with more power to let go employees based on regular sickness (real or imagined) and an ability to fire employees based on impossible-to-define performance (a scowling, tight-lipped waitress will sell half what an informative, smiling one will), can the tourism and hospitality industries provide the salaried, long-term beneficial jobs that Australia needs it to. #JobsJobsJobs #CutRedTapeSaveJobs
The Tourism News, 6th October 2020
'A good NSW red wine in the sun': Sydney's al fresco revolution to begin
Sydney's al fresco revolution will start on October 16, with more than a dozen pubs, cafes and restaurants taking advantage of new regulations beginning in The Rocks before rolling out to the rest of the city.
The NSW government is amending liquor regulations to allow hospitality venues to expand their licence boundaries in just three days, in a change to the approvals process that usually takes up to 51 days.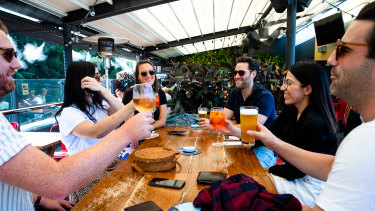 It is part of a broader overhaul of al fresco applications that will see them streamlined into a single request that takes a week. The changes are aimed at pulling the local economy out of its COVID-19 slump by making it easier for venues to operate.
There are 16 hospitality businesses in The Rocks whose participation will transform the streetscape of the ailing tourist hub into an area filled with outdoor drinking and dining options as part of a 12-month trial, with the rest of the CBD to be included on November 1.
Customer Service Minister Victor Dominello, whose portfolio includes liquor regulation, said the government had worked quickly after he announced his intentions to relax outdoor drinking rules just over a month ago.
"Red tape should not get between us and a good NSW red wine in the sun," Mr Dominello said, adding the trial would provide a template for the rest of Sydney and the state.
"We need to band together, the businesses in Sydney's CBD need us back."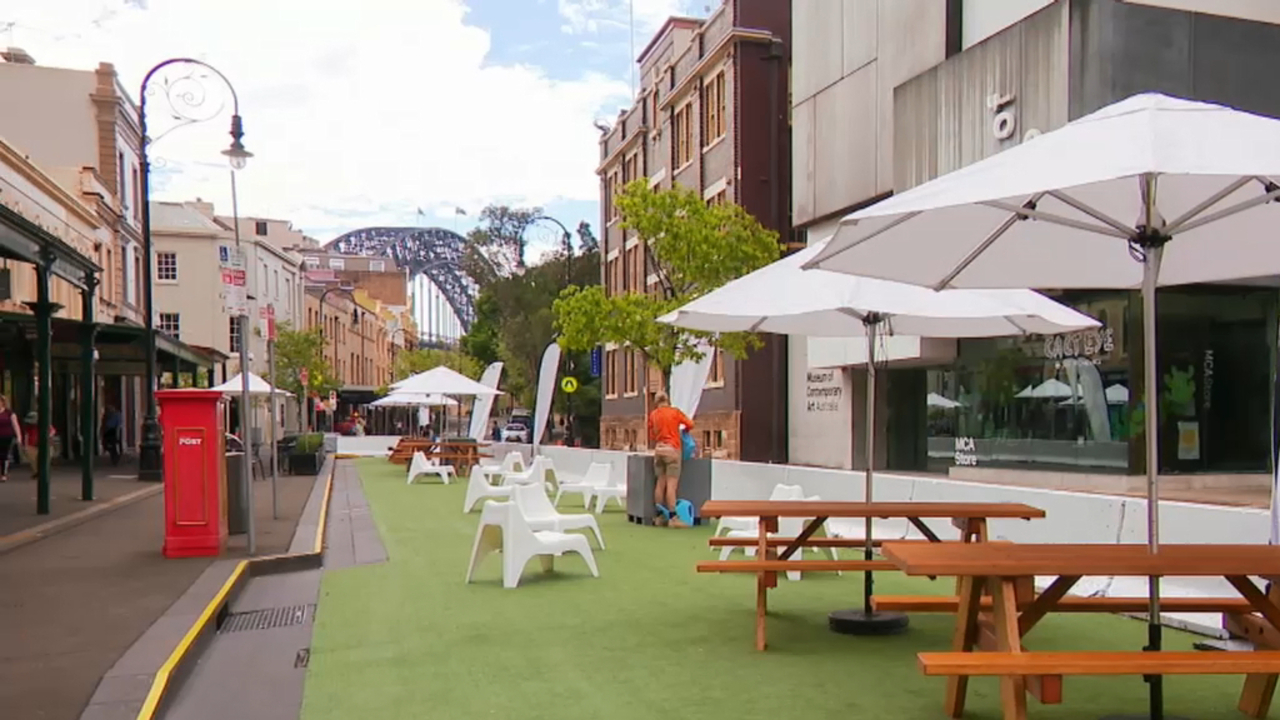 Al fresco dining will be introduced to over a dozen venues in Sydney's The Rocks from October 16.
Planning and Public Spaces Minister Rob Stokes said businesses would also be able to apply for al fresco licences without the specific need to get planning approval.
Following previous comments from Mr Dominello about his desire for more rooftop bars, Mr Stokes agreed: "If it's good enough for Manhattan, if it's good enough for London, if it's good enough for Berlin, it's good enough for Sydney. I mean, we've got much better climates than any of those cities, and they're ahead of us, which is absurd."
Fortune of War owner Steven Speed said his George Street venue was already trialling an initiative with Place Management NSW, the authority that oversees The Rocks, to block off part of the roadway for outdoor seating, and the state government trial would allow him to expand further.
"This was done as a trial setting up as a gateway to The Rocks," Mr Speed said. "We have capacity restrictions inside and people feel safer outside."
He said that, despite the hot weather and long weekend crowds, many businesses in The Rocks were closed on Monday, while his venue had customers lining up.
Mr Speed said he hoped the government would relax the four-square-metre rule in venues to two square metres. NSW Treasurer Dominic Perrottet said last week that discussions with health officials were ongoing on the issue.
The Glenmore, Australian, Orient and Mercantile hotels are among the venues to take advantage of the relaxed rules, as well as the Bakers Oven Cafe, The Rocks Cafe, and Appetito.
Peter May, executive officer of the CBD Sydney Chamber of Commerce, said he hoped the long weekend was a turning point for consumer and business confidence, and that the trial would have flow-on effects for increased foot traffic to nearby shops.
Local Government Minister Shelley Hancock said councils were also being encouraged to look at how they could expedite al fresco approvals.
Businesses in The Rocks have been crying out for a lifeline since the income from overseas tourism dried up.
Last Friday, the NSW government and the City of Sydney pledged $20 million towards reviving entertainment in the city, including by having members of the Sydney Symphony Orchestra play at key outdoor locations, and public servants are being urged to return to their CBD offices.
Opposition night-time economy spokesman John Graham had previously called for proposed legislative changes to outdoor dining to happen immediately, and for those changes to make it easier for live music to operate.
The City of Sydney has also prepared a pilot to help bring bars and restaurants outdoors, including onto the street along thoroughfares such as Crown Street in Surry Hills and Pitt Street in the city.